WHY Does God Answer Prayer?
On What Basis Does Our Access
to Him Come?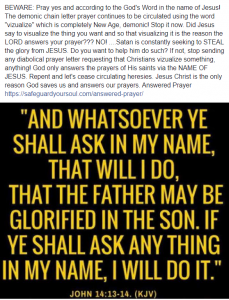 There's no end to the phony gimmicks that Satan is using his human agents to use in replacing Jesus Christ from the center of salvation! There is no salvation without Jesus Christ! Read Colossians 2.
Today we see SO much pride-filled witchcraft going on in the name of "prayer warriors" and special "intercessors". Personally I am learning to stay clear of the "prayer warrior" terminology and those who claim they are such, etc. Seems to lift up us, the mere pray-ers, and not Him and leads to pride in people as they boast of themselves, that they get prayers answered or that their prayers and calling is more important than others. Nonsense! Prayers are answered on one basis – the blood, the cross, the name of Jesus Christ. Any and every child of God can pray in the name of Jesus and God will answer it based on the righteousness of His only begotten Son, not some "powerful prayer warrior" or self-appointed  "intercessor" witch (John 14:13-14; 16:23-24).
Beware that in any "prayer group" all it takes is for just one of those members to introduce a sugar-coated stealth request or attitude and the whole group is influenced. The course and direction of that group will be off target from that time forward. This is why many a disciple has and is learning to keep things down to a simple minimum void of the "need" or false obligation to join in with any and every "prayer group" that comes along.
The key is joining with one or two or so believers who are truly Christ-centered, biblical, crucified with Christ, teachable, humble, broken, and sincerely seeking the face of the LORD.
TODAY: Someone was circulating a request for Christians to come together at a certain time tonight to "visualize" something that pertained to our nation.
ANY time you see someone using the word "visualize", or "visualization" it's the devil! New Age, occultism that is in open denial of Jesus Christ, it's antichrist. Satan's whole job description is to STEAL, to kill, and to destroy (John 10:10). This is just another way he seeks to steal the glory from the only nail scarred risen LORD and Savior who alone paid the perfect price to bring men back to God! (Colossians 2:8-10, 18-19)
God answers HIS people's prayer by His own blood that gave access to HIM, not us visualizing it, or quoting it enough times…. this robs the glory from Jesus Christ and gives it to men, sinners. ANTICHRIST!
Praying in Christ's Kingdom is Definitive and Absolute
In Christ's kingdom, praying is not a guessing game or a roll of the dice. Believers don't need to "make a wish" because they have a God who answers all their prayers! The Almighty Himself beckons His children to simply "ask, and ye shall receive, that your joy may be full."
"And in that day ye shall ask me nothing. Verily, verily, I say unto you, Whatsoever ye shall ask the Father in my name, he will give it you. 24 Hitherto have ye asked nothing in my name: ask, and ye shall receive, that your joy may be full." John 16:23-24
LET'S TALK ABOUT THE WITCHCRAFT!
I heard a "ministry" commercial beckoning people to send in their prayer requests so the false ministry could pray for those people in the "holy land." As if that was going to be the reason God answered their prayers! Pure gimmick! Totally phony. WHY? WHY are prayers answered? Is it due to the geographic location on the earth from which prayer is made? Pure antichrist witchcraft! The NAME OF JESUS CHRIST is the only reason God saves and answers prayer! And you must know Him first of all!
Anti-Christ means "in place of Christ." Now repent and return to Jesus.
SOME are under the delusional myth that if 1,000 pray that God will answer prayer. Some erroneously believe that the more quantity of people who pray, the more God will answer. Not! Stop it now! Rid your mind of this…. here's why…
"Again I say unto you, That if two of you shall agree on earth as touching any thing that they shall ask, it shall be done for them of my Father which is in heaven. 20 For where two or three are gathered together in my name, there am I in the midst of them." Matthew 18:19-20
Two or more Jesus says…. makes no difference if it's 2 or 2 million BECAUSE PRAYER IS ANSWERED BY FAITH IN AND DUE TO THE NAME OF JESUS, not the amount of people praying (John 14:13-14; 16:23-24).
"And his name through faith in his name hath made this man strong, whom ye see and know: yea, the faith which is by him hath given him this perfect soundness in the presence of you all." Acts 3:16
Answered prayer is just like salvation – it only comes in the name, the divine authority of Jesus Christ.
"Neither is there salvation in any other: for there is none other name under heaven given among men, whereby we must be saved." Acts 4:12
YOU have NO clue how much power is at your disposal …. if you simply abide and ASK …. in the ALMIGHTY name of Jesus….. WHATTTT DID HE SAY???? CAN YOU READ??????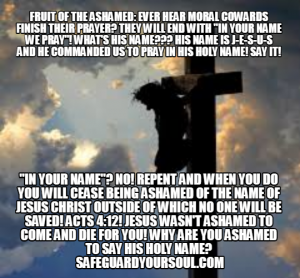 SATAN is always trying to remove the worship of CHRIST (Colossians 2:8, 18-19). That's his job, right? (John 10:10) We do not earn our place with God. Answered prayers from God are not by continuous intercession, fasting, and repentance! NO! While those things, namely repenting are essential, we must realize that all these things are gifts from God which came only by the perfect sacrifice of Christ. Over emphasizing anything else, even good things, is not holding up and exalting the HEAD, Christ but rather robbing the glory due His holy name alone (Colossians 2:18-19). Let's read what Jesus said about our access to God, praying and the simplicity of it…. John 14:13-14; 16:23-24…. EVERY blessing of salvation comes exclusively through JESUS CHRIST.
When we pray in the name above all names, let us rest in the NAME of Jesus, the only reason why any prayer can be answered! Matthew 11:28-30 amen?
Repentance is a necessity. God requires it (Luke 13:3, etc.). And yet Christ alone paid the way with His own blood for us to be saved and receive all the blessings of God. Book of Hebrews!
PRAYER is ONLY answered by GOD through JESUS CHRIST – not "prayer bracelets," a pagan rosary used by bead-counting pagans, mary, the phony pope of rome, or any other gimmick…. Repent of the witchcraft now or you will perish. PRAYER CHAIN? 24 Hour prayer? ALL FLESH! WHY is prayer answered? Because many are involved? No. Because we pray long? NO! Prayer is answered through CHRIST not a chain or the amount of people or time! This type stuff sounds holy on the surface yet is a ploy of the enemy to rob the glory from Christ.
NEVER formularize God or praying to Him. Many heresies are circulating which sound holy and yet are poisonous! Beware saints. We have access to God by faith and only and exclusively in the LORD JESUS CHRIST who perfectly won salvation for us on that cross in which He bled to redeem us!
The blessings of the kingdom of God are appropriated by faith via the perfect, finished work of Christ! Romans 4-5
Beware of the good luck charm shotgun praying methods men and devils seek to utilize. God set forth a simple, clear plan for His children to have their prayers answered by Him.
The biblical key we should behold is that whether there is one person or many praying, it's only effective in the eyes of God if the emphasis is placed on JESUS CHRIST's heavenly priesthood and not anything else. The erroneous idea perpetrated today is that because many people are praying in a "chain" the prayer will be answered. This is evil – seeking to rob the glory from Christ alone!
Justification and all the blessings of God are individually appropriated BY FAITH in the finished work of Christ which alone gives us access to the throne and blessings of God.
Jesus Christ is the only way of salvation and the only way for answered prayer for those who are authentically born again. The unsaved can pray till they faint and those prayers are not promised to be answered, except a sincere prayer of repentance and faith to be saved. How be be Saved
God the Father answers prayer and does miracles in the name of Jesus and on His perfect merit alone! (John 14:13-14; 16:23-24) Anything added is of Satan in order to draw attention from and steal the glory from Christ! (Colossians 2:18-19)
The biblical key to know is that all prayer is answered by the Father through Christ – and not by any fleshly endeavor such as seeing how many people we can get to pray for some situation – as if the name of JESUS CHRIST were not enough for God to answer our prayer! Read John 14:13-14; 16:23-24 afresh.
Jesus for Salvation
"Jesus saith unto him, I am the way, the truth, and the life: no man cometh unto the Father, but by me." John 14:6
Ask the Father in Jesus' Name for Answered Prayer
IS OUR FAITH in our own ability to accomplish a certain thing? OR is our faith in God through Christ? Simply ask Him saints…. here's how ….
"And whatsoever ye shall ask in my name, that will I do, that the Father may be glorified in the Son. 14 If ye shall ask any thing in my name, I will do it." John 14:13-14
DID GOD say He answers prayers if a lot of people are praying (un-biblical "prayer chain") OR because an individual or 2 born again Christians pray in the name of Jesus????? (John 14:13-14; 16:23-24) Same principle: Did Jesus or His New Testament disciples have a rosary? No. Counting beads while praying pagan prayers is never going to get a prayer answered from God.
Of many of the prayers we see in Scripture, brother Charles Pray notes:
"Many of the prayers from the mighty men of God and Jesus Himself were prayers they made alone either on the mountain top or in the wilderness by themselves to God directly Amen. As we see in God's Word, I also believe that worship to God includes corporate prayer and in all cases God is receiving all the Glory and honor only due to Jesus' ultimate, perfect sacrifice."
Launching a campaign to get "as many people as possible praying" in a so called "prayer chain" on a certain matter is never seen in the New Testament. The idea of this all by itself is saying that JESUS' divine Person and perfect sacrifice was not enough to get God to answer our prayers. Read Hebrews. Prayer is a simple, humble request to God through Christ – the only reason we have access to God. Putting the emphasis on numbers of people we can get praying is stealing the glory from the nail scarred risen Savior who bled, was buried, and raised again to give each individual saint access to Him and the Father. Praying together is biblical but not seeing how many people we can ramp up.
"Prayer chains" or things like 24 hour prayer are no where in God's Word – and take the emphasis off of Jesus which is Satan's design – to rob the Son of God of the glory due only to Him (Romans 11:36). Jesus' blood is the only reason we have access to God – CHRIST's perfect sacrifice. Take a close look at Colossians 2:18-19.
There doesn't need to be a whole lot of people praying. No, there needs to be one or more praying with pure, sincere heart full of faith. Jesus promises He will answer when we pray to the Father in His holy name.
Did the LORD ever say anything like "Without working hard it is impossible to please Me." No.
"But WITHOUT FAITH it is impossible to please him: for he that cometh to God must believe that he is, and that he is a rewarder of them that diligently seek him." Hebrews 11:6
Are you living by faith or do you have "an EVIL heart of unbelief"?
"Take heed, brethren, lest there be in any of you an evil heart of unbelief, in departing from the living God. 13 But exhort one another daily, while it is called To day; lest any of you be hardened through the deceitfulness of sin. 14 For we are made partakers of Christ, if we hold the beginning of our confidence stedfast unto the end; 15 While it is said, To day if ye will hear his voice, harden not your hearts, as in the provocation." Hebrews 3:12-14  Fresh Start with God
SATAN'S job is to steal glory from Christ. Let's not help him! Elevate Jesus, the only Head of HIS body (Colossians 2:18-19)
PRAYERS are answered by God only after one is truly born again and prays to the Father in Jesus' name.
"And in that day ye shall ask me nothing. Verily, verily, I say unto you, Whatsoever ye shall ask the Father in my name, he will give it you. 24 Hitherto have ye asked nothing in my name (on the basis of My authority): ask, and ye shall receive, that your joy may be full." John 16:23-24
Learn this truth and "your joy" will "be full." If you for a moment believe that your prayers can be answered by God based upon any goodness or performance of your own, you have been deceived.
Praying in Christ's Kingdom is Definitive and Absolute
In Christ's kingdom, praying is not a guessing game or a roll of the dice. Believers don't need to "make a wish" because they have a God who answers all their prayers! The Almighty Himself beckons His children to simply "ask, and ye shall receive, that your joy may be full."
Pray harder? No! Pray in faith out of a pure heart to the Father in the mighty name of Jesus Christ!
It's time to cease complicating these simple truths the LORD gives us!
Jesus alone purchased you and your place with God. Prayerfully pour over this truth in Romans 4:4-5 and Titus 3:5-6.
In contrast to the good luck, shot in the dark, bead counting, prayer genie, new age occultic vizualization, Christ-denying concoctions of the world's cults, the Father promises and answers the prayers of His saints, ALL who trust Jesus Christ, His holy name alone, as the exclusive reason for all access to the one true and only God.
BEWARE OF THE GLORY-ROBBERS! Colossians 2:18-19
FIND one "prayer chain" in the Bible. Nowhere. The number of people doesn't get a prayer answered, the NAME OF JESUS DOES!!!! (John 14:13-14; 16:23-24)
Isn't the idea of a "prayer chain" paramount to the pagan, catholic rosary? Same devil behind it! It shuns Christ's perfect sacrifice which exclusively gives us access to God! (Hebrews 4:14-16; 7:34-35; 10:19-21, etc.)
"For there is one God, and one mediator between God and men, the man Christ Jesus;" 1 Timothy 2:5
JESUS CHRIST alone bought our access to the Father with His own precious blood! (Hebrews 4:14-16; 7:24-26; 10:19-22) Trying to confess your sins to another sinner – a priest dressed up in a black costume, "Practicing His presence," or saying a rosary, novena or any other type witchcraft is an occult, works-based, Christ-denying, glory-robbing, works-based, Christ-defying lying philosophy that contradicts Scripture. Repent sinner. Prayers are only answered by the Father in THE NAME OF JESUS! 
"Therefore being justified by faith, we have peace with God through our Lord Jesus Christ: 2 By whom also we have access by faith into this grace wherein we stand, and rejoice in hope of the glory of God." Romans 5:1-2
All of our own good works or righteousness is as putrid in the eyes of the Almighty as can be stated. The Bible puts it this way:
"But we are all as an unclean thing, and all our righteousnesses are as filthy rags; and we all do fade as a leaf; and our iniquities, like the wind, have taken us away." Isaiah 64:6
Attention: YOU are a sinner and nothing you could do could change that. Christ alone can justify you – by mercifully granting you HIS righteousness.
"But now the righteousness of God without the law is manifested, being witnessed by the law and the prophets; 22 Even the righteousness of God which is by faith of Jesus Christ unto all and upon all them that believe: for there is no difference: 23 For all have sinned, and come short of the glory of God; 24 Being justified freely by his grace through the redemption that is in Christ Jesus: 25 Whom God hath set forth to be a propitiation (atoning sacrifice) through faith in his blood, to declare his righteousness for the remission of sins that are past, through the forbearance of God;" Romans 3:21-25
Here's the only way to be saved, forgiven, and have God answer your prayers:
"For by grace (unmerited favor) are ye saved through faith; and that not of yourselves: it is the gift of God: 9 Not of works, lest any man should boast." Ephesians 2:8-9
Are you willing to admit the obvious – that you are a sinner in need of the Savior? If you are ready to make peace with your Maker, go here.
GOD is not a genie or slot machine. We don't obey Him to get something from Him but because we are choosing to love and worship Him for who He is, the Almighty, supreme LORD our Redeemer!
Bead Counting Counterfeit
Here's an obvious example of how Satan seeks to rob the glory from Christ by getting his prey focused on something, anything else but the nail-scarred, risen LORD and Savior:
SCAM ALERT: The catholic rosary is an antichrist scam – making people believe that praying and counting beads is going to get them to God or get their prayers answered. Being forgiven, being right with God, and answered prayer, comes exclusively – ONLY – by the LORD Jesus Christ! All else is a scam! The LORD continually warns us to "Beware of false prophets"! Any person who does not come to God in repentance and faith THROUGH CHRIST, will have their eternal soul scammed/cast into hell forever.
Long before the roman catholic cult arose, bead counting to earn favor from God has been around. It's an ancient pagan practice.
Christ alone gets the glory for access to the Father and answered prayer – not you for all your 24 hour praying, bead-counting rosary praying, supposedly practicing His presence, or any other human effort.
"But when ye pray, use not vain repetitions, as the heathen do: for they think that they shall be heard for their much speaking." Matthew 6:7  
Many today vainly believe that they shall be heard of God for something other than the blood and mercy of Jesus Christ. They believe they are earning their way to God and answered prayer by their own self effort of much praying, and other forms of asceticism (suffering to earn divine merit). This is paganism and shows they are not trusting the LORD but self.
"But without faith it is impossible to please him: for he that cometh to God must believe that he is, and that he is a rewarder of them that diligently seek him." Hebrews 11:6
"I am not worthy of the least of all the mercies, and of all the truth, which thou hast shewed unto thy servant." Genesis 32:10
"Not by works of righteousness which we have done, but according to his mercy he saved us, by the washing of regeneration, and renewing of the Holy Ghost; 6 Which he shed on us abundantly through Jesus Christ our Saviour;" Titus 3:5-6 
"Now to him that worketh is the reward not reckoned of grace, but of debt. 5 But to him that worketh not, but believeth on him that justifieth the ungodly, his faith is counted for righteousness." Romans 4:4-5
Prayer is the divinely granted privilege of all who have truly been born again into Christ and His body. The precious precious blood of Jesus Christ alone purchased them to the Father in salvation and this includes every good blessing that accompanies salvation including answered prayer. Jesus says to His own to simply "Ask and it shall be given you" (Matthew 7:7) and "If ye shall ask any thing in my name, I will do it." (John 14:13-14)
We have access to God through Christ alone – for salvation and prayer.
"Having therefore, brethren, boldness to enter into the holiest by the blood of Jesus, 20 By a new and living way, which he hath consecrated for us, through the veil, that is to say, his flesh; 21 And having an high priest over the house of God; 22 Let us draw near with a true heart in full assurance of faith, having our hearts sprinkled from an evil conscience, and our bodies washed with pure water. 23 Let us hold fast the profession of our faith without wavering; (for he is faithful that promised;)." Hebrews 10:19-23
Debbie Lord writes:
"We should always be reminded of what a precious gift prayer really is. Communing directly with the Father–Who was and is and always shall be, and the Great Lover of our souls, This communion made possible by and in the Name of His humble, obedient and beautiful only begotten Son, who overcame all temptation and sin and willingly shed His blood in tortuous sacrifice. The veil was torn at the moment of His death so we could be one in Him, our Lord and King, together with the Father."
Yes, God requires our faith and obedience and such is vital to our relationship with Christ and answered prayer. Yet, first and foremost, we are brought into relationship with the Father through he merit of Christ Jesus alone and it's through His holy, wonderful, Almighty name that our prayers are answered. Making Peace with God
"If ye abide in me, and my words abide in you, ye shall ask what ye will, and it shall be done unto you." John 15:7
Beloved, YOUR PRAYERS are not answered because you or your group is so special.  Prayers are not answered by God due to any mere flesh or because someone stages themself to be this big "prayer warrior" or "intercessor." Oh no! No, God has no respect of persons and you and your group are depraved, wretched, and "filthy rags" outside of the present mercy of Jesus Christ (Psalms 139:4-5; Isaiah 64:6; Romans 7:18). God does not answer prayer because any of us are so "wonderful" but rather because of the one and only  "Wonderful Counselor"! (Isaiah 9:6-7) Prayers are not answered because someone pretends to have a more direct line to God! – "Ye are dead and your life is hid with Christ in God." (Colossians 3:3) If you are hidden with Christ presently, you can have your prayers answered on Christ's authority/Name alone! "ALL power (authority) in heaven and in earth"  is given to Him, not you (Matthew 28:18-20). Jesus is the only direct line or access to the Father, period! Christ alone is the only reason you have access and salvation. When we get impressed with Jesus Christ, all mere men will pale and we shall then repent and put away the idols of our hearts (Ezekiel 14:3).  God will share His glory with no mere man (Isaiah 42:8). Answered prayer is due to the perfection of Jesus Christ and let's make sure that HE ALONE is receiving the glory for buying us back to the Father and making us one with Him. The blood of His cross bought us back to the Father (Colossians 1:20). It's time to cease robbing the glory from the only One it's due to – Jesus Christ! His blood alone accomplished such an otherwise impossible task! – "And whatsoever ye shall ask in my name, that will I do, that the Father may be glorified in the Son. 14 If ye shall ask any thing in my name, I will do it." (John 14:13-14) When you pray in Jesus' name, you are praying in His authority and upon HIS MERIT which is perfection! Now, JUST ASK HIM – ASK< ASK< ASK! What are you waiting for?
The title or calling for any mere man of a "prayer warrior" or special "intercessor" appears nowhere in the Bible and in my estimation seems to steal the glory from the One who bled to purchase our redemption and answered prayers. This title seems to place undue importance upon the pray-er (person praying) than upon the nail-scarred risen LORD and Savior, who alone made our salvation and access to God possible.
Those who are God's are brought into relationship with Him through Christ alone. He hears their  prayers. They have such privilege on the basis of the mighty, divine, glorious Name of Jesus Christ!
We are saved by Christ alone and the sheer mercy of the Father given to us due only to the sacrifice of His only begotten Son. We are redeemed and called to glorify His holy name alone!
"O magnify the LORD with me, and let us exalt his name together." Psalms 34:3
"Let them praise thy great and terrible name; for it is holy." Psalms 99:3
"Forasmuch as there is none like unto thee, O LORD; thou art great, and thy name is great in might." Jeremiah 10:6
"O my God, incline thine ear, and hear; open thine eyes, and behold our desolations, and the city which is called by thy name: for we do not present our supplications before thee for our righteousnesses, but for thy great mercies." Daniel 9:18
Jesus came and died, was buried, and rose again to share His Father's love with all who will. Yet, Jesus will not, under and circumstance share his divine glory with any mere man.
"I am the Lord: that is my name: and my glory will I not give to another, neither my praise to graven images." Isaiah 42:8
There's only One to glory in – The only One in whom we have been granted "righteousness":
"That no flesh should glory in his presence. 30 But of him are ye in Christ Jesus, who of God is made unto us wisdom, and righteousness, and sanctification, and redemption: 31 That, according as it is written, He that glorieth, let him glory in the Lord." 1 Corinthians 1:29-31
Jesus Christ's sinless, holy, divine blood won your access to God:
"Seeing then that we have a great high priest, that is passed into the heavens, Jesus the Son of God, let us hold fast our profession. 15 For we have not an high priest which cannot be touched with the feeling of our infirmities; but was in all points tempted like as we are, yet without sin. 16 Let us therefore come boldly unto the throne of grace, that we may obtain mercy, and find grace to help in time of need." Hebrews 4:14-16
The Great Intercessor
"But when the fulness of the time was come, God sent forth his Son, made of a woman, made under the law, 5 To redeem them that were under the law, that we might receive the adoption of sons." Galatians 4:4-5
When God could find no other to stand in the gap bridging the chasm that separated Him from fallen mankind, in the fulness of times, He sent His only begotten Son.
"And I sought for a man among them, that should make up the hedge, and stand in the gap before me for the land, that I should not destroy it: but I found none." Ezekiel 22:30
No one else was worthy or qualified to pay that ultimate ransom price. Jesus Christ alone came – with the help of no other mere man – and paid in full price for his redemption. Christ satisfied the claims of the Father's justice to buy man back to Himself.
"God, who at sundry times and in divers manners spake in time past unto the fathers by the prophets, 2 Hath in these last days spoken unto us by his Son, whom he hath appointed heir of all things, by whom also he made the worlds; 3 Who being the brightness of his glory, and the express image of his person, and upholding all things by the word of his power, when he had by himself purged our sins, sat down on the right hand of the Majesty on high:" Hebrews 1:1-3
Christ now sits at His Father's right hand, making intercession and mediation for all who will repent and receive Him.
"But this man (Jesus), because he continueth ever, hath an unchangeable priesthood. 25 Wherefore he is able also to save them to the uttermost that come unto God by him, seeing he ever liveth to make intercession for them. 26 For such an high priest became us, who is holy, harmless, undefiled, separate from sinners, and made higher than the heavens." Hebrews 7:24-26
Your justification and salvation are because of Jesus Christ alone and not due to your own merit. In fact, you and I deserve only judgment for our sins yet through Christ we get justification! Fallen, Depraved Mankind
It is clear that our LORD wanted to be most remembered for the price He single-handedly paid for our sins:
"For I have received of the Lord that which also I delivered unto you, that the Lord Jesus the same night in which he was betrayed took bread: 24 And when he had given thanks, he brake it, and said, Take, eat: this is my body, which is broken for you: this do in remembrance of me. 25 After the same manner also he took the cup, when he had supped, saying, this cup is the new testament in my blood: this do ye, as oft as ye drink it, in remembrance of me. 26 For as often as ye eat this bread, and drink this cup, ye do shew the Lord's death till he come." 1 Corinthians 11:23-26
Our access to God came at a very high price – the highest price that has ever or ever will be paid. When Jesus was dying on that cross to redeem us, He said "It is finished" which means that the price of our redemption had been "paid in full!" (John 19:30) Jesus was intent upon us remembering this price that He paid. He wants to be "crucified among you (us)." (Galatians 3:1)
LET'S LEARN GOD'S WORD TOGETHER – ONE TRUTH AT A TIME: This message was sent out to each person who is on the Moments for My Master e-mail devotional list. In supplementation to your personal daily study of God's Word, we would love to add you and have the privilege of nourishing your heart with God's Word (Jn. 5:39; 1 Tim. 4:6, 16; Heb. 5:11-14; 1 Pet. 2:2). Sign up here.
Feedback:
"This is powerful message. Thank you Christ. You are our Provider. He already knows what we have need of even before we pray. He answers us according to his Word. He has answered many of my prayers in the past and He will in the future when we seek Him and empty our selves of our selves. Then the answer comes . Flesh is as grass and it will wither away but the Spirit is eternal and so is His Word." Carol B.
"This is just wonderful! I love reading these every day! I love where you said, "It's time to cease robbing the glory from the only One it's due to – Jesus Christ!" AMEN! He is to get ALL the glory! Going to share this one. 🙂 God bless!" Karen R.