The Sure Mercies of David [podcast]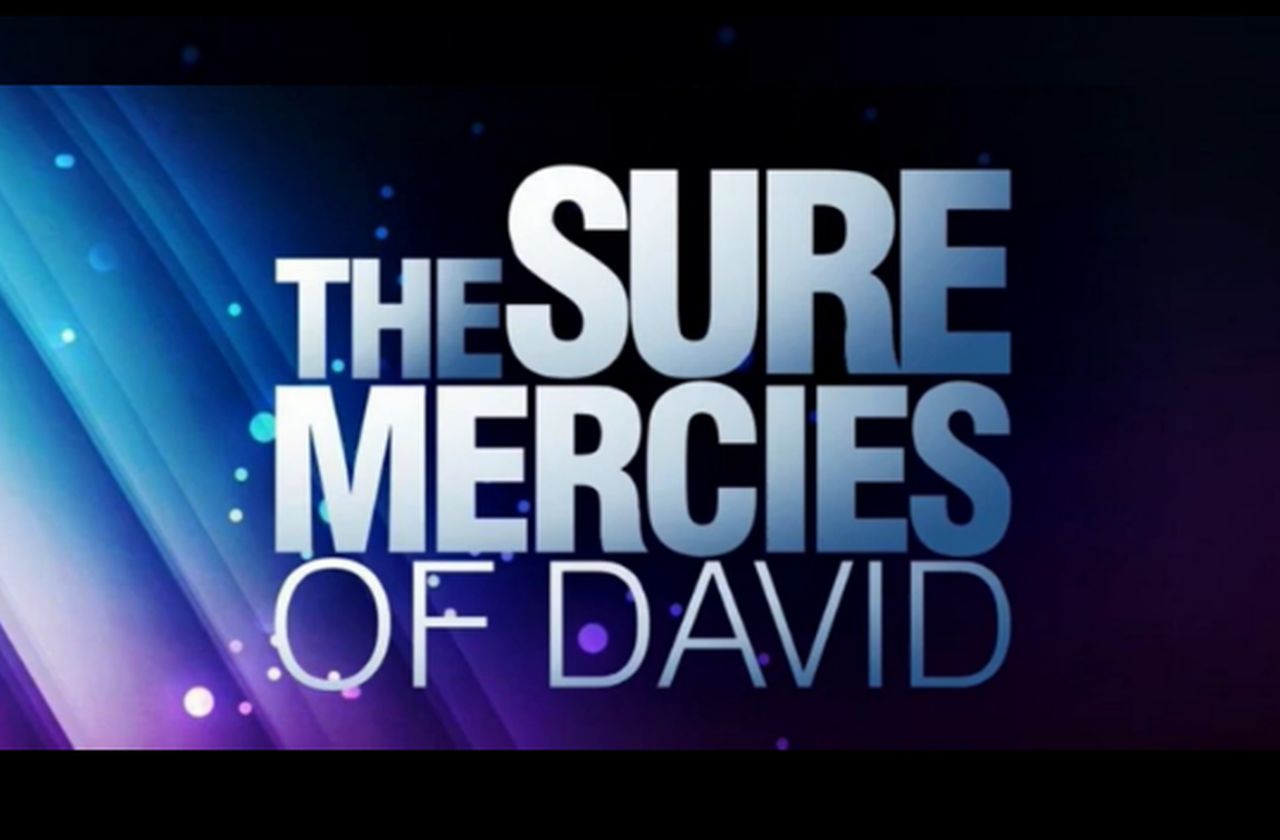 What exactly does the Bible mean by the phrase "the sure mercies of David"?
The divine guarantee in Christ is that God's mercies are upon your life as they were upon the beloved David, from whose lineage came the promised Messiah.
Biblical examples of Sinful People God Forgave:
Adam and Eve (Genesis 3).
David (2 Samuel 11-12; Psalms 51).
The prodigal son (Luke 15).
One of the two men who stood before the LORD to pray (Luke 18:9-14).
Peter (Matthew 26:26-69, Luke 22:31-32; John 21:15-17).
Thief on the cross (Luke 23:42-43).
Woman taken in adultery (John 8).
The fornicator in Corinth (1 Corinthians 5; 2 Corinthians 2).
According to Ezekiel 16:8-13 and many other Bible passages, God takes care of His beloved people.
Just as was the case with our earthly parents, so God took care of us, of you, when you couldn't take care of yourself, He, your loving heavenly Father was there, tenderly taking care of you.
"Now when I passed by thee, and looked upon thee, behold, thy time was the time of love; and I spread my skirt over thee, and covered thy nakedness: yea, I sware unto thee, and entered into a covenant with thee, saith the Lord GOD, and thou becamest mine. 9  Then washed I thee with water; yea, I throughly washed away thy blood from thee, and I anointed thee with oil. 10 I clothed thee also with broidered work, and shod thee with badgers' skin, and I girded thee about with fine linen, and I covered thee with silk. 11 I decked thee also with ornaments, and I put bracelets upon thy hands, and a chain on thy neck. 12 And I put a jewel on thy forehead, and earrings in thine ears, and a beautiful crown upon thine head. 13 Thus wast thou decked with gold and silver; and thy raiment was of fine linen, and silk, and broidered work; thou didst eat fine flour, and honey, and oil: and thou wast exceeding beautiful, and thou didst prosper into a kingdom." Ezekiel 16:8-13
The LORD saved Paul as an example to us – to every vile sinner to be born thereafter.
"This is a faithful saying, and worthy of all acceptation, that Christ Jesus came into the world to save sinners; of whom I am chief. 16 Howbeit for this cause I obtained mercy, that in me first Jesus Christ might shew forth all longsuffering, for a pattern to them which should hereafter believe on him to life everlasting. 17 Now unto the King eternal, immortal, invisible, the only wise God, be honour and glory for ever and ever. Amen." 1 Timothy 1:15-17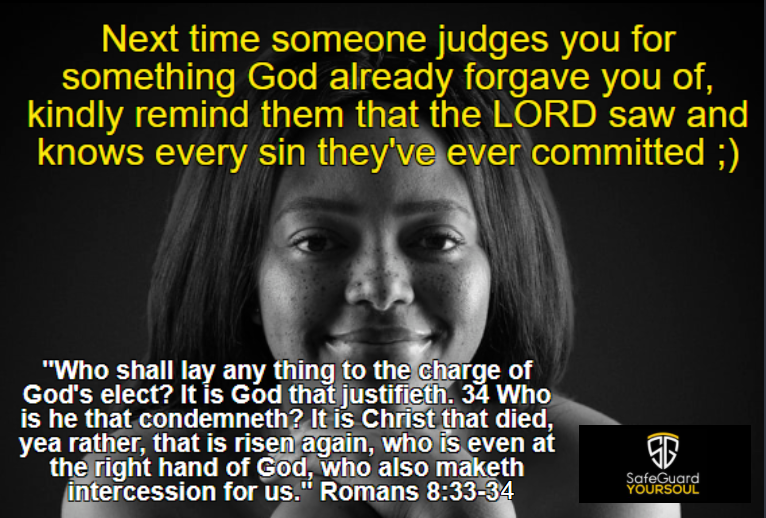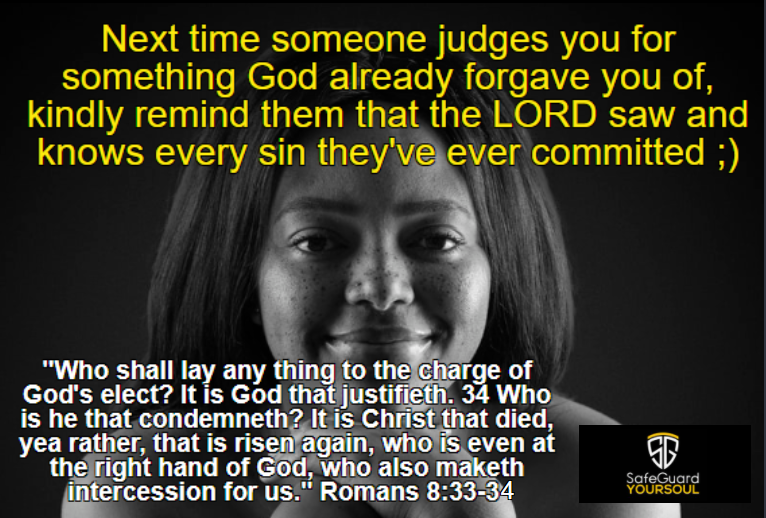 "Brethren, I count not myself to have apprehended: but this one thing I do, forgetting those things which are behind, and reaching forth unto those things which are before, 14 I press toward the mark for the prize of the high calling of God in Christ Jesus." Philippians 3:13-14 
IF God forgave David and told you that in Christ you have "the sure mercies of David," why wouldn't He freely forgive you? (Isaiah 55:3-4; Acts 13:34) If God forgave the fornicator of 1 Corinthians 5 in 2 Corinthians 2, WHY wouldn't He freely forgive your sins? Return to Him, confess all sin, forget the past, and "press toward the mark for the prize of the high calling of God in Christ Jesus" (Philippians 3:13-14).
The "sure mercies of David" are exclusively reserved for those who are in Christ!
"Who shall lay any thing to the charge of God's elect? It is God that justifieth. 34 Who is he that condemneth? It is Christ that died, yea rather, that is risen again, who is even at the right hand of God, who also maketh intercession for us." Romans 8:33-34
What is meant by the phrase we read in God's Word "the sure mercies of David"?
"Incline your ear, and come unto me: hear, and your soul shall live; and I will make an everlasting covenant with you, even the sure mercies of David. 4 Behold, I have given him for a witness to the people, a leader and commander to the people." Isaiah 55:3-4
"55:2-5 In its alienation from God, Israel has been wasting its energy and resources. True satisfaction and lasting pleasure are found only in the Lord. If Israel returns to the Lord, they will receive all the sure mercies promised to David in the everlasting covenant (see Psa_89:3-4, Psa_89:28-29). These blessings are fulfilled in the Lord Jesus and in His glorious reign. The Gentile nations, too, will share in the benefits of the kingdom, and there will be amicable relations between Israel and the nations." Believer's Bible Commentary
"the sure mercies of David" … yes those words definitely are so beautiful….. when we realize how wicked we are, we will find no stone to cast at any other. Instead we will send out the life saving message of "the sure mercies of David" which are in Christ.
UNTIL, as an individual, you begin to realize just how wicked you really are, you will never begin to appreciate what our KING and Savior did on that cross!
Read this verse carefully:
"For he shall have judgment without mercy, that hath shewed no mercy; and mercy rejoiceth against judgment." James 2:13
Recently, someone asked me what is meant by "mercy rejoiceth against judgment"? Reply: God's mercy is greater than the judgment of sin…… His mercy is powerfully forgiving. The LORD would clearly rather bestow His mercy upon sinners than His judgment.
"But God commendeth (exhibited) his love toward us, in that, while we were yet sinners, Christ died for us." Romans 5:8
"The Lord is not slack concerning his promise, as some men count slackness; but is longsuffering to us-ward, not willing that any should perish, but that all should come to repentance." 2 Peter 3:9
All men have sinned against our Maker and yet the LORD is so very good that He "gave his only begotten Son" to be sacrificed for "the sins of the whole world" so that none "should perish" (John 3:16-17; 1 John 2:1-2; 2 Peter 3:9).
I love this verse which puts it all in perspective…. "And be ye kind one to another, tenderhearted, forgiving one another, even as God for Christ's sake hath forgiven you" (Ephesians 4:32).
Stay in the mirror – the Word. When we are not in the Word we forget just how wicked WE are, how in desperate need WE are of God's mercy, and that's when we judge others when we should be extending that bless-ed divine mercy upon them.
"For if any be a hearer of the word, and not a doer, he is like unto a man beholding his natural face in a glass (mirror): 24 For he beholdeth himself, and goeth his way, and straightway forgetteth what manner of man he was. 25 But whoso looketh into the perfect law of liberty (Gospel), and continueth therein, he being not a forgetful hearer, but a doer of the work, this man shall be blessed in his deed." James 1:23-25
God freely forgives His people on the basis of Christ's perfect sacrifice…. and requires that we forgive all others as He freely forgives unworthy sinners like us on behalf of the perfect sacrifice of Jesus on the cross. We are unworthy in and of ourselves. Jesus' righteousness alone provides for our salvation, the justification of God.
Well, most of us would admit that we are not sinless… and sin is sin…. because God is holy….. and so we should have no stone of condemnation to cast at anyone except ourselves for any sin we committed in the past 😉
"Judge not, and ye shall not be judged: condemn not, and ye shall not be condemned: forgive, and ye shall be forgiven:" Luke 6:37
Does God forgive all sins? Yes, all except one…
"Wherefore I say unto you, All manner of sin and blasphemy shall be forgiven unto men: but the blasphemy against the Holy Ghost shall not be forgiven unto men. 32 And whosoever speaketh a word against the Son of man, it shall be forgiven him: but whosoever speaketh against the Holy Ghost, it shall not be forgiven him, neither in this world, neither in the world to come." Matthew 12:31-32
Well Judas committed perhaps the worst sin in history by betraying Christ and yet Jesus offered him mercy but he refused it.
Note that even in the midst of Judas betraying the innocent Son of God, Jesus called Judas, the traitor "friend." This would clearly convey that Christ had his forgiveness in mind, had the desire to restore him.
"And Jesus said unto him, FRIEND, wherefore art thou come? Then came they, and laid hands on Jesus, and took him." Matthew 26:50
Of this verse where even while betraying the LORD Jesus, He refers to Judas as His "friend" or companion, Adam Clarke writes:
"Jesus said – Friend – Rather, companion, wherefore, rather, against whom art thou come? How must these words have cut his very soul, if he had any sensibility left! Surely, thou, who hast so long been my companion, art not come against me, thy Lord, Teacher and Friend! What is the human heart not capable of, when abandoned by God, and influenced by Satan and the love of money!"
God's Word informs us that the LORD will love us all the way into hell if we choose to refuse to turn back to Him. Nothing "shall be able to separate us from the love (not life) of God, which is in Christ Jesus our Lord" (Romans 8:38-39.) We see such unconditional love extended from the Savior upon the very man who was previously His close companion, one hand picked by the LORD Jesus and promised an eternal throne (Matthew 19:28). All men are given free will – till they die (Deuteronomy 30:19; Joshua 24:15, etc.). Instead of turning back to the Lamb of Glory before it was too late, Judas chose to kiss the Gate of Heaven and turn and plunge headlong into eternal hell (Acts 1:25).
God's love is unconditional but His acceptance is not. | The Truth about Judas
"I would have been eternally lost if not for Jesus' parable in Luke 15…O, may the prodigal, lost in this world, hear the good news, turn, and repent before its too late. O the tender mercies of God!" Jon Crane
As we see illustrated in Luke 15, RE-TURNING, turning back to God (repentance) is always the answer (Hosea 14:1-2). Denying such a need simply prolongs the separation and the misery of being in sin (Isaiah 59:2; Romans 6:23). Just ask the prodigal son in Luke 15. Take a fresh look at the before and after on his life! Our loving heavenly Father, His mercy and desire to restore the fallen is so beautifully depicted in the three parables which makes up Luke 15.
Take a look at what our glorious LORD and Savior is depicting, is showing each of us in His parables of the lost sheep, silver, and son.
Mankind is already fallen, condemned, and separated from Him in sin. Never forget beloved that Jesus came to save and not to destroy! That's His stated desire and will (Psalms 86:5, 15; Luke 9:56; 19:10; John 3:17; 1 Timothy 1:15, etc.).
ALL sin is first and foremost committed against God, not man. God is the only law giver who determines what sin is (James 4:11-12).
ANY sin one would commit is first and foremost against our Maker, God Himself.
"Against thee, thee only, have I sinned, and done this evil in thy sight: that thou mightest be justified when thou speakest, and be clear when thou judgest." Psalms 51:4
God is the only One who is "Holy, holy, holy" (Isaiah 6:3; Revelation 4:8).
David is forever a trophy of God, set forth with the characteristic of the Messiah….. and yet, like all men, he fell, and was shown mercy….. in this we take heart and are forged with confidence by this example that if God forgave David, He will surely forgive and show mercy upon my life…. the key is to have a heart after God, which causes us to be honest and repent and confess all sin (Ps. 51).
"And as concerning that he raised him up from the dead, now no more to return to corruption, he said on this wise, I will give you the sure mercies of David." Acts 13:34
The promise of "the sure mercies of David"
"I Jesus have sent mine angel to testify unto you these things in the churches. I am the root and the offspring of David, and the bright and morning star." Revelation 22:16
"The sure mercies of David" are secure to us in Christ because they are from our loving merciful God who forgive the beloved David.
God's people are commanded to forgive others, to show them mercy toward, upon others as God has showed us His mercy in our sin.
"And be ye kind one to another, tenderhearted, forgiving one another, even as God for Christ's sake hath forgiven you." Ephesians 4:32
I Will have Mercy and Not Sacrifice: What Does this Really Mean?