WHAT ABOUT PEOPLE WHO CAN'T UNDERSTAND THE KJB? [podcast]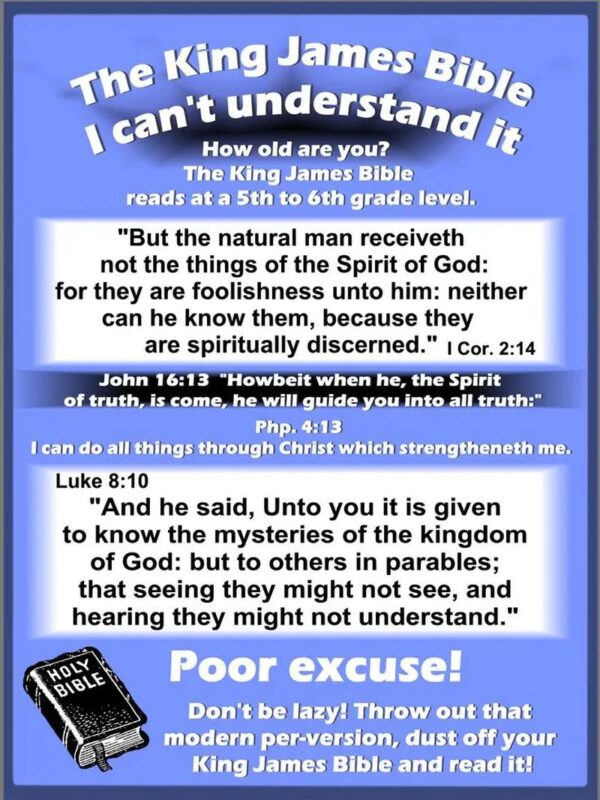 "For I am the LORD, I change not." Malachi 3:6
As the creation of God, we don't understand much of what happens when we eat physical food and yet to nourish our bodies. We don't question it. No, we just eat food in order to satisfy our hunger and to nourish our bodies, right?
That's how it is with God's Word. Though our understanding is minimal, we, as Jesus' born again saints hunger for more of Him and know we must be filled daily with His divine nutrients. So, we ingest His Word to nourish our hearts!
"As newborn babes, desire the sincere milk of the word, that ye may grow thereby: 3 If so be ye have tasted that the Lord is gracious." 1 Peter 2:2-3 
Some today whine about supposedly not being able to understand the King James Bible.
Understanding is not what's most important. Understanding will come yet it's not the highest priority. God is. Being a person of integrity toward God is priority. Think about this: It would be like alienating the affections of your heart away from your own husband to another man who is not your husband just because you don't yet fully understand your husband. The new "bibles" are clearly an attack on our Bridegroom Jesus. Oh and understanding comes from the true Word of God and Holy Ghost, right? (See John 14:26; 16:13-14; 1 John 2:20, 27.) That's what Jesus taught. 
"The words of the LORD are pure words: as silver tried in a furnace of earth, purified seven times. 7 Thou shalt keep them, O LORD, thou shalt preserve them from this generation for ever." Psalms 12:6-7
WHY would God have gone through the trouble of keeping His own promise to have His Word translated into our language if we weren't going to be able to understand it in our own language? THAT is an indictment against the Almighty and some are foolishly making such an indictment.
MESSAGE RECEIVED:
"The fact is I have a 7th grade education, and will not read anything but the King James Bible … It depends on how much you want to know about our Savior and how much you love Him, or not I think as to what you will read…cause all those other versions are just what they are, mere versions…. changed and rearanged!" Jeanette
REPLY:
Exactly. Think about how SELF serving it is to say "Lord, I know Your enemy Satan has attacked You by changing Your words and yet, I like his books better than Yours because it's easier for me to read." Wow! Let's think about that for a moment: What would you think of a family where the wife was an author and yet her husband didn't read her books but rather read the books of other women authors. How would that wife feel as she walked around their house and passed her husband as he sat and read some other woman's book? How would that make her feel? Can you say spiritual adultery? Adulterous heart? Yep. How does God feel as He looks down from Heaven at those who read "bibles" from mere human authors who slapped "Holy Bible" on the cover to make it look like it's His Word? Oh, and they did so to earn royaltie$? That's why all English versions are copyrighted except the King James Bible.
Nothing says it like the King James Bible. The language of cheap counterfeit fake "bibles" is lame. They sound like fairy tales and not the Word of the Almighty. WHO in their right mind would trade a Ferari for a Mazda?
CAN'T UNDERSTAND THE KING JAMES BIBLE? What's your education level? No offense but I know children who understand the KJB and yet also know full grown adults with college degrees who claim they can't understand the King James Bible. That's probably because they're really not born again (1 Corinthians 2:13-14). My son was genuinely saved at 4.5 years old having received God's Word via the KJB. If the Holy Ghost is the Teacher, explain why He is unable to teach His own people via His preserved Word? Oh, and explain why you'd rather read a corruption you claim is easier to understand and has butchered the Word of the LORD you claim to love?
UNDERSTANDING GOD'S WORD: The root of the matter is not God or His Word but rather the un-repentant hearts of sinners who have not repented and been saved and therefore live to appease and comfort the false god of self. God only gives understanding to those whom He knows as His own (Mark 4:11; 1 Corinthians 2:13-14; 2 Corinthians 3:14-16, etc.).
God used another Marine recruit, while I was in bootcamp, to speak His KJB Word to me. It put the fear of the LORD which is clean, in me (Psalms 19:9), and led me to Christ saving me from sin and into His kingdom (Colossians 1:12-14). The lame idea of using false "bibles" because people can't understand the KJB is ridiculous at best.
Charles Pray writes:
"It's not so much for you to understand as it is for the Holy Spirit to reveal it to you! There are scholars who have read the Bible many times in their lifetimes but yet found new truths many years later. It's not that those truths weren't there before but that God finally chose to reveal them in His time. You read and the Holy Spirit will reveal when it's time. Amen!"
---
Question: I know some people who basically refuse to read the KJV because they claim they don't understand it. However, they are willing to read the NIV. I feel bad recommending the NIV to them if they aren't willing to read the KJV because I do feel that the KJV is the word of God. But in a case like this, is it better to have them read the NIV over nothing at all?
Answer: A false Bible is not the truth. It's that simple. I am a kind and soft-hearted person. I would love to tell people it were okay to read other Bibles and just as good for them. That's my personality. But I cannot. I cannot compromise the truth and tell people that a Bible that is missing or adding or changing the truth is STILL the truth. False Bibles are not "The Truth, The Whole Truth, and Nothing but the Truth."
I have to tell people the truth. I myself found it out at 17 when I started reading a King James Bible and needed to understand it. This truth is simple: It is by the Holy Ghost that we understand the King James Bible. Look at these scriptures.
Luke 24:45 — Then opened he their understanding, that they might understand the scriptures,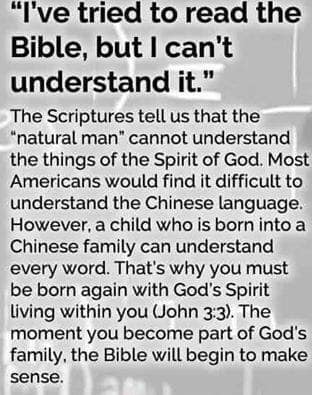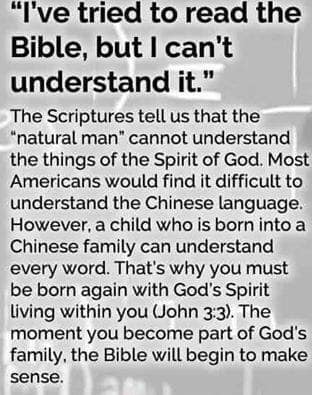 1 Corinthians 2:12-16 — Now we have received, not the spirit of the world, but the spirit which is of God; that we might know the things that are freely given to us of God. Which things also we speak, not in the words which man's wisdom teacheth, but which the Holy Ghost teacheth; comparing spiritual things with spiritual. But the natural man receiveth not the things of the Spirit of God: for they are foolishness unto him: neither can he know them, because they are spiritually discerned. But he that is spiritual judgeth all things, yet he himself is judged of no man. For who hath known the mind of the Lord, that he may instruct him? But we have the mind of Christ. Acts 17:11 — These were more noble than those in Thessalonica, in that they received the word with all readiness of mind, and searched the scriptures daily, whether those things were so.
It is by God's great grace that we can understand His words. Here is what I did. Just as the Bible says, I pray to the Father (Colossians 3:17; 1 Peter 1:17) in the name of Jesus, God the Son (Matthew 18:20; John 14:13-14; 15:16), and ask that the Holy Ghost reveal the scriptures to me (John 14:26; 15:26; 1 Corinthians 2:12-16).
Since the first day I prayed that way to God, even though I was still in the occult, the Lord began to show me His truth as I read His words in the King James Bible. Two weeks later I was saved!
What's more, I was amazed to find out two years later in Bible college that what God had shown me about the Bible was correct. What a blessing! And God is "no respecter of persons" (Acts 10:34) so I believe what He did for me He will also do for you or anyone who asks Him.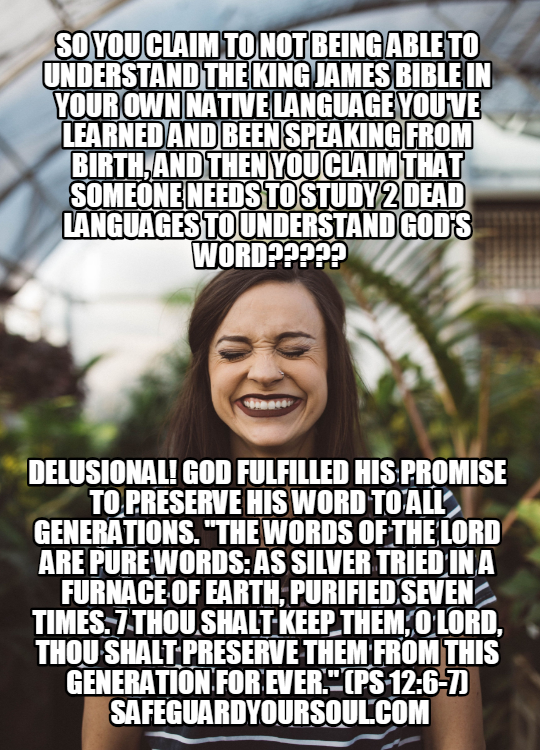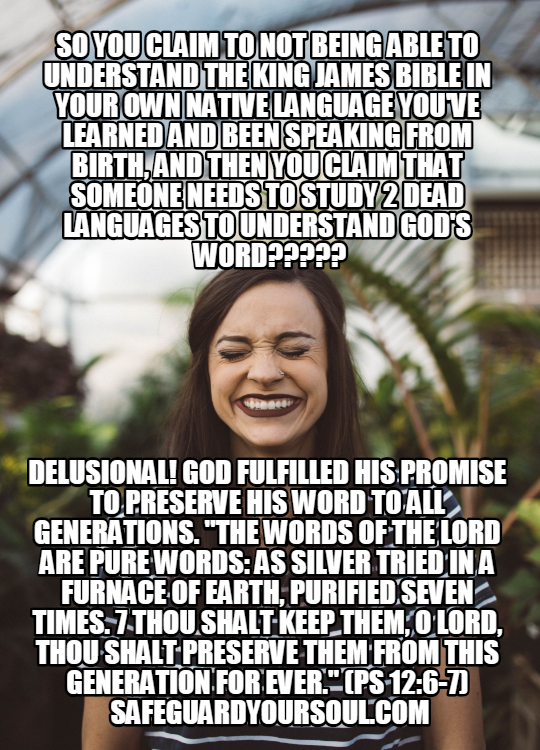 If we need help with words we do not understand, we use a Bible dictionary or King James Bible Companion. But when we do not understand Bible teaching, we pray to our God, in Jesus' name, who by the Holy Ghost richly supplies "all things that pertain unto life and godliness" (2 Peter 1:3).
May God bless us all as we read and trust God to understand His preserved words in English, the King James Bible.
"But I Can't Understand the King James" 
How I Discovered the Corruption of the New Bible Versions: Personal Testimony [podcast]