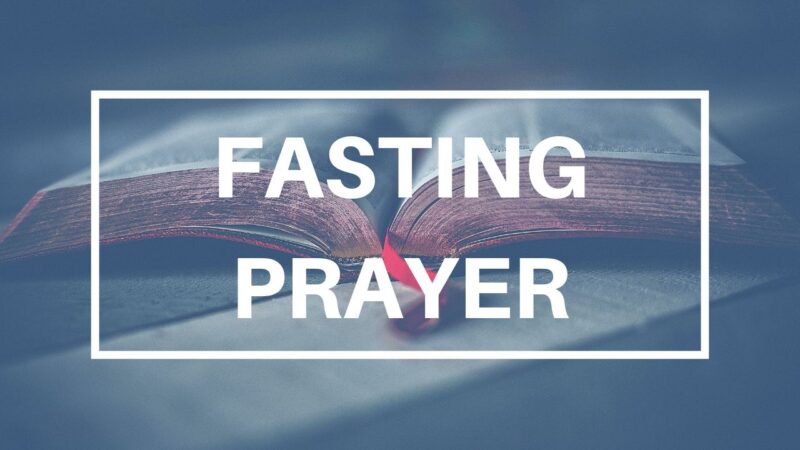 FALSE FASTINGS are simply an avoidance of dying which is exactly the divine purpose for a divine fast. It's very important to read what God's Word says about fasting before and during your fastings. Beginning in Isaiah 58 will greatly help you.
Until you crucify the flesh beloved, your life is going no where in God. There are no shortcuts. Fasting and prayer is the straightest line, the quickest route from point A to B.
WE should beware of those who have to TELL everyone how they fast, they fast for 40 days, etc. I've personally known people who claim they've done 40 day fasts and well, they didn't possess impressive fruit in their lives. In fact, one of them comes to mind who has now been backslidden for many years. Beware. Those who have to announce such are seeking to position themselves above others, directly violating the teachings of Jesus (Matthew 20:24-28; 23:10-12, etc.).
"Moreover when ye fast, be not, as the hypocrites, of a sad countenance: for they disfigure their faces, that they may appear unto men to fast. Verily I say unto you, They have their reward. 17 But thou, when thou fastest, anoint thine head, and wash thy face; 18 That thou appear not unto men to fast, but unto thy Father which is in secret: and thy Father, which seeth in secret, shall reward thee openly." Matthew 6:16-18
Fasting – GOD's Way!
UNTIL you begin obeying God by fasting and praying, your so-called desire to overcome is mere lip service ….. and perhaps false humility and hypocrisy …. It's time to truly repent …. Jesus is coming and if you are not overcoming daily, you are not ready …. Yet, fasting must be done GOD's way and no other.
Jesus has YOUR Breakthrough ! … but only if you do it HIS way.
WHEN you set apart a time to fast and pray, the way God intends and expects you to do, you are saying "Jesus, I want YOU to reign in my life! 'You must increase but I must decrease.' Anoint me to the death and burial of self Jesus so that You are reigning in Your power and grace in this life!"
YOU AND this mere fool have no chance at all to overcome … outside of doing things God's way!
YOU ARE NO MATCH FOR THE FLESH. THE FLESH OWNS ALL WHO REFUSE THE DAILY CROSS JESUS PRESCRIBED FOR TRULY FOLLOWING HIM (LUKE 9:23-24). IT'S ONLY BY THE POWER OF CHRIST BY "THE FAITH OF THE OPERATION OF GOD" THAT WE CAN BE RAISED UP INTO OVERCOMING RESURRECTION LIFE (COLOSSIANS 2:12-13). THE CROSS.
"BURIED WITH HIM IN BAPTISM, WHEREIN ALSO YE ARE RISEN WITH HIM THROUGH THE FAITH OF THE OPERATION OF GOD, WHO HATH RAISED HIM FROM THE DEAD." COLOSSIANS 2:12
The LORD rebukes His people Israel in Isaiah 58 as He is doing this day for their false fasts that are completely self-serving. The whole reason to fast is that you die and are buried so that Christ alone can reign supreme in your life.
If you fast TV for example, it will profit you nothing because sins like watching too much TV is not the root of the problem – the flesh is the root of your problem and it must be crucified daily. Fasting simply aids in this necessary cross mortification of the iniquitous fallen nature (Romans 6).
The cross is ultra important because the reciprocal divine response is resurrection.
THERE WILL BE NO FASTING IN HELL. IT WILL BE TOO LATE!
DO YOU HAVE A SIN OR SINS TO OVERCOME? IF YOU DON'T OVERCOME ALL SIN BY THE POWER OF THE CROSS – LAYING DOWN YOUR LIFE IN HONOR OF HEAVEN'S KING WHO BLED ON THE CROSS – YOUR WHOLE BODY WILL BE CAST INTO HELL. THAT'S WHAT JESUS PROMISED AND YOU ONLY HAVE THIS BRIEF WINDOW TO HAVE THE REALITY OF HIS HOLINESS SETTLED IN YOUR PERSONAL LIFE! READ THE MOST SEVERE WORDS IN THE BIBLE IN MARK 9:43-49. KING JAMES BIBLE.
Do you desire to be used of the LORD more powerfully in this late hour?
If so, it's clear that the LORD has led you to this post. He has your answers. They are only in Christ "Whom having not seen, ye love; in whom, though now ye see him not, yet believing, ye rejoice with joy unspeakable and full of glory: 9 Receiving the end of your faith, even the salvation of your souls" (1 Peter 1:8-9).
Dare you claim to be serving Jesus Christ and you don't fast? Jesus says "WHEN ye fast" and not IF you fast. When speaking to His disciples of the whole New Testament era, Jesus says:
"Moreover WHEN ye fast …" Matthew 6:16
Fasting directly effects the crucifixion of the self-life which is what is withholding the blessed power of Christ in the lives of believers today!
One man has correctly stated:
"Either you will crucify self or self will crucify Christ right out of your life!"
Is Colossians 3:3 a reality in your life today?
"For ye are dead, and your life is hid with Christ in God." Colossians 3:3
Do you wish to be daily empowered by the glory of Christ? Well, if so – die. Lay down your life. Surrender all.
Jesus Christ says He is "the resurrection and the life" and as you die, He will personally raise you up! (John 11:25). You will no longer be relegated to your own feeble strength but will walk in the limitless power of the divine Savior. God's will will truly be accomplished in and through your life.
"Always bearing about in the body the dying of the Lord Jesus, that the life also of Jesus might be made manifest in our body. 11 For we which live are alway delivered unto death for Jesus' sake, that the life also of Jesus might be made manifest in our mortal flesh. 12 So then death worketh in us, but life in you.  2 Corinthians 4:10-12.
PRIMARILY, FASTING IS NOT FOR YOU BUT TO THE CONTRARY, FASTING IS TO KILL YOU SO CHRIST CAN REIGN SUPREME IN YOUR LIFE.  FASTING IS ALL ABOUT DYING TO SELF. FASTING TV, ENTERTAINMENT, OR ANY OTHER MERE SYMPTOM OF SIN IS A WASTE. WE SEE NO SUCH FAST IN SCRIPTURE. BIBLICAL FASTING IS ABSTAINING FROM FOOD AND WATER OR A CERTAIN DIETARY FAST THAT IS LIMITED TO CERTAIN INGREDIENTS. NEVER NEVER DO WE SEE FASTING OTHER THINGS AS AFOREMENTIONED. DANIEL'S FAST CONSISTED OF A CERTAIN MIXTURE OF FOOD INGREDIENTS AND YET BIBLICAL FASTINGS GENERALLY CONSIST OF NO FOOD AT ALL (DANIEL 1:12, 16).
There will never be victory in our personal lives until we absolutely literally put God's Word into practice (James 1:22). Fasting and prayer is an indispensable component of a victorious Christian Life. Isaiah Chapter 58.
Chosen or Counterfeit Fastings?
Isaiah 58
"Cry aloud, spare not, lift up thy voice like a trumpet, and shew my people their transgression, and the house of Jacob their sins.
2 Yet they seek me daily, and delight to know my ways, as a nation that did righteousness, and forsook not the ordinance of their God: they ask of me the ordinances of justice; they take delight in approaching to God.
3 Wherefore have we fasted, say they, and thou seest not? wherefore have we afflicted our soul, and thou takest no knowledge? Behold, in the day of your fast ye find pleasure, and exact all your labours.
4 Behold, ye fast for strife and debate, and to smite with the fist of wickedness: ye shall not fast as ye do this day, to make your voice to be heard on high.
5 Is it such a fast that I have chosen? a day for a man to afflict his soul? is it to bow down his head as a bulrush, and to spread sackcloth and ashes under him? wilt thou call this a fast, and an acceptable day to the LORD?
6 Is not this the fast that I have chosen? to loose the bands of wickedness, to undo the heavy burdens, and to let the oppressed go free, and that ye break every yoke?
7 Is it not to deal thy bread to the hungry, and that thou bring the poor that are cast out to thy house? when thou seest the naked, that thou cover him; and that thou hide not thyself from thine own flesh?
8 Then shall thy light break forth as the morning, and thine health shall spring forth speedily: and thy righteousness shall go before thee; the glory of the LORD shall be thy rereward.
9 Then shalt thou call, and the LORD shall answer; thou shalt cry, and he shall say, Here I am. If thou take away from the midst of thee the yoke, the putting forth of the finger, and speaking vanity;
10 And if thou draw out thy soul to the hungry, and satisfy the afflicted soul; then shall thy light rise in obscurity, and thy darkness be as the noonday:
11 And the LORD shall guide thee continually, and satisfy thy soul in drought, and make fat thy bones: and thou shalt be like a watered garden, and like a spring of water, whose waters fail not.
12 And they that shall be of thee shall build the old waste places: thou shalt raise up the foundations of many generations; and thou shalt be called, The repairer of the breach, The restorer of paths to dwell in.
13 If thou turn away thy foot from the sabbath, from doing thy pleasure on my holy day; and call the sabbath a delight, the holy of the LORD, honourable; and shalt honour him, not doing thine own ways, nor finding thine own pleasure, nor speaking thine own words:
14 Then shalt thou delight thyself in the LORD; and I will cause thee to ride upon the high places of the earth, and feed thee with the heritage of Jacob thy father: for the mouth of the LORD hath spoken it."
"Just want to find out, if I fast, do I only fast when I feel Holy Spirit leading me to do it? I want to fast once a week but I'm scared that I might fall under the law if I do that."