Moments with Our Master 365 Day Devotional [ book ]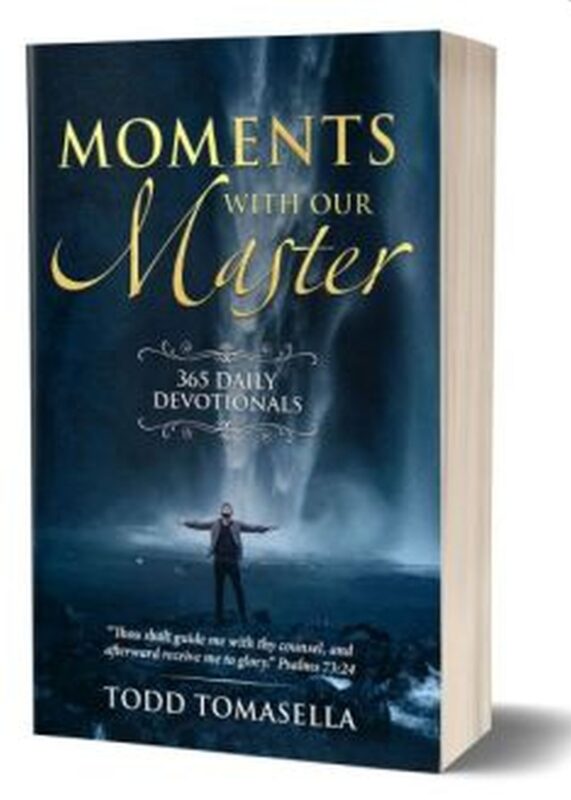 370 pages
"5 STARS! Excellent Devotional Moments with Our Master: This book should be alongside every bedstand. It is Scripture rich. It helps you to spend time daily with the Lord. Highly recommended!!" Dana
"People know about God but they don't know how to get started in a real relationship with him. Moments with our Master, a 365 Day Devotional book is a great first step. Everybody loves a one page-a-day devo! They've never been refused!" Debbie Lord
"Thank you for blessing me with your devotion book (Moments with Our Master).  I love starting and ending everyday in that devotional. It is turning my life around. Love and blessings." Jesse DeGrazio
A daily devotional designed to richly bless, edify, and teach the reader. Moments is a Scripture-rich, sound doctrine Bible study companion. Each daily devotional includes a brief prayer and will help the reader grow in the grace of Christ and knowledge of His Word (2 Peter 3:18).
Moments with Our Master is a collection of 365 brief, engaging, and powerful devotionals for Christ's disciples—daily reflections with Scripture portions on every page to strengthen your life with Jesus Christ.
Ancient words of divine wisdom for present day believers! Contained herein are brief daily meditations on the power of a holy, obedient life—meant to greatly increase your knowledge of God's Word and encourage your spirit to grow in the grace and the knowledge of our Lord and Savior Jesus Christ. This volume contains a broad spectrum of biblical truth on the most important doctrines of the Christian faith to nourish Christ's sheep daily with a well-balanced diet of scriptural content.
"As ye have therefore received Christ Jesus the Lord, so walk ye in him: 7 Rooted and built up in him, and stablished in the faith, as ye have been taught, abounding therein with thanksgiving." Colossians 2:6-7
A gift with an eternal impact! What better way to bless your friends and family than a gift of Moments with Our Master – a simple tool that will encourage each loved one to take time daily to get in to God's Word and prayer.
Moments with Our Master is also an excellent gift to have on hand for new believers or for any disciple.
BUY PRINT VERSION NOW (click below)
BUY PDF VERSION NOW $5 (click below)
All Todd's Books on Amazon
SAMPLE:
September 30
"Be careful (anxious) for nothing; but in every thing by prayer and supplication with thanksgiving let your requests be made known unto God. 7 And the peace of God, which passeth all understanding, shall keep your hearts and minds through Christ Jesus." Philippians 4:6-7
In other words, we are to rest in the LORD's perfect providence when we've lifted something to Him in prayer. We need not be anxious, or full of care about anything after we've prayed about it! It's in God's hands now!
Those who walk with God live by faith and can gloriously "dwell safely, and shall be quiet from fear of evil."
"But whoso hearkeneth unto me shall dwell safely, and shall be quiet from fear of evil." Proverbs 1:33
"The peace of God … shall keep" the "hearts" of all who trust in the LORD instead of self.
"Pray without ceasing." 1 Thessalonians 5:17
Father in Heaven, in Jesus' Name, please forgive my sin of self-dependence and lack of faith in You! I love You LORD. You alone are my Savior, my Source, my Supply, my Sustenance, and my Success! Without You I can do nothing LORD Jesus!
WHAT OTHERS ARE SAYING:
"I have been blessing my co-workers with the Moments with Our Master book. I'm ordering 3 more today. May God have all the Glory." Laurie
"I love this book!!!" Isavette
"Great book!" James McGinley
"So excited to start my daily devotional." Gina Rachelle
"Great Book. Inspired by the Holy Spirit." Tony Louvier
"I really enjoy my copy. Everyday I'm Blessed with another treasure." Laurie Cox
"I love this book (Moments devotional)!! It blesses me every day! Everyone should order one." Suzanne
"The Moments with Our Master 365 devotional book is a Great book. Thank you for your continued discipleship. Saving Souls for Jesus." Tony L.
"JUST READ TODAY'S DEVOTIONAL THIS MORNING. AWESOME SCRIPTURES AND PRAYERS IN THESE DAILY DEVOTIONALS. LOVE THIS. THIS IS GOD INSPIRED." Carol
"I love the Moments with Our Master Devotional book. Must read every morning before I leave for work and after my prayer time with Jesus. Funny how it always speaks to your heart about what word you needed for that day. God is so good!!" Suzanne
"I received your book! Read today's passage, and it brought me to tears. (happily) Thank you so much for this devotional! I will be reading this daily! (Love the Large print). Have beautiful day!" DeAnna | Moments with Our Master 365 Day Devotional [book]
"God bless you brother Todd. I love reading my copy of the Moments with Our Master devotional every morning before I head to work. It's such a blessing, I had to share it with family and friends. I have given away 8 of them so far and plan on giving some more. May God continue to bless your ministry." Mady Mendez
"5 STARS: Awesome book!!! I would recommend this book to anyone that wants to be inspired daily by a devotional and a teaching from God's Word. Each day is like a mini lesson for me. Biblically sound and true to God's Word and very enriching." Unknown
"In today's devotional in the Moments with Our Master book, the first line of the prayer is especially thought provoking. That really, really stopped me. I've never even thought of praying something like that. Amazing. It's dangerous to trust someone else to tell you what the Word says, instead of being in the Word daily for yourself…. That one line, we could talk about it for hours. This just jumped off the pages to me." Ron Miears
"You just won't find any better author or book! The thing I love most about this book is that it is so repetitive! The author is moved by the Holy Spirit for only one thing—the souls of mankind! Throughout the whole book he speaks about repenting and following hard after God. It's high time we had more saints like this who have taken off the kid gloves and let the punches land hard where they may. He would much rather offend you and see you in Heaven than coddle you and you end up in Hell! God has raised this brother up for such a time as this. I love you Brother Todd, and only when you enter Heaven will you find out just how much you helped this wretched soul stay on the path to glory. ALL praise, glory and honor go to JESUS! AMEN." Charles Pray
"I just need to share this with you Brother. This book Moments with Our Master, is really Blessing me. This is the third time the Lord delivered me from something while in your book, that went on in my walk with him due to things that were being spoken over me that were not true in the church. I shed a lot of tears not understanding what I was going through. I didn't understand these things that went on in churches.  I asked the Lord to please send someone that understood these things that I was going through.  I never heard of you, but I dreamed about your book Predators in Our Pulpit. I knew which one to get because of the picture on it that I'd seen in the dream. That was around 2013. I know God put you in my path and I am so thankful for it. You are truly a Blessing in my Life, God Bless you Todd in Christ. Forever your sister in the Lord🙂. I have 7 of your books. They are all 5 stars to me." Laurie Cox
"I'm 5 days into Moments with Our Master. I love it. It's a great devotional. The Word of God, a little exegesis, and a good prayer." Mike
"What a magnificent blessing! Amazing book. Thank you for this book! It's such a magnificent blessing indeed! Interested in the divine gospel! Go to safe guard your soul. Com ! It's a Godly Gospel resource indeed!" Cassandra
"I love this prayer from M365 (Moments with Our Master [devo book]) May 13: LORD, please bless my life to know and to abide one with You. I love You LORD Jesus. Bring this life to the fullness of what You've ordained for Your blessed glory. I am all Yours. In Jesus' Name. Amen." Debbie Lord
"'Moments with Our Master' is a wonderful devotional book loaded with scriptures to help you daily in you're walk with Jesus. Amen! Very helpful inspirational and motivational daily journal. I recommend it for every believer in Christ. Amen! Love this devotional just packed with truth and Scriptures that wiil build your faith in Jesus. Do yourself a favor and get one for yourself today. It will be the best money spent on something that will build your faith in Jesus this year. But never forget this is second next to the Bible. The Word should always be our first source. Amen! Remember this devotional is full of King James Bible Scriptures that will help you grow closer to God." Brother Charles Pray
5 Star: "What a great way to start 2020 by charging our faith and reading this devotional. I am enjoying this devotional! Moments With Our Master is loaded with thought provoking daily Christian life lessons. Each daily reading is easy to understand, digest, and apply to our lives. The author reminds us early on in his book that God-not us-is MASTER and LORD of our lives (Galatians 2: 20; John 3:30). Things work correctly if we choose to lay down our own control over our lives and allow Jesus to take the lead. Scripture references in the King James Bible are bolded and the author ends each daily devotional with a corresponding prayer for that day's lesson. That prayer leaves an open door to add your own personalized prayer as you reflect on each daily lesson. As written in the opening page, the book is designed to be a companion to your own personal study of God's Word. Moments with our Master will help propel your own spiritual walk and deepen your faith, while you grow in the Word of God and learn and understand His daily purpose and will for you. This devotional will make the perfect gift for anyone who has made the commitment to grow spiritually in this new decade. It will also make a great gift for anyone who is seeking truth, peace and understating or those new to the Christian faith." Jesse DeGrazio
5 Star: "A friend bought a copy and sent it to me. You really CAN judge a book by its cover. This book is just as good on the inside as it appears outside. I have already used it for my devotions these past two days. Each day contains a key scripture, Todd's commentary, and finishes with a short prayer. Very well done." Jason Owens
5 Star: "Started my daily devotional today and I couldn't help but to keep reading. I am so excited to have received this devotional as I have had plenty before and this one seems slightly different. It is not just a daily motivational devotion but sound teaching, really made me want to open my Bible and read even more. I bought 3 for gifts of them and I'm so glad I did. Will definitely be buying more!!" R.