Revelation Bombshell! PREP THIS!!!! [podcast]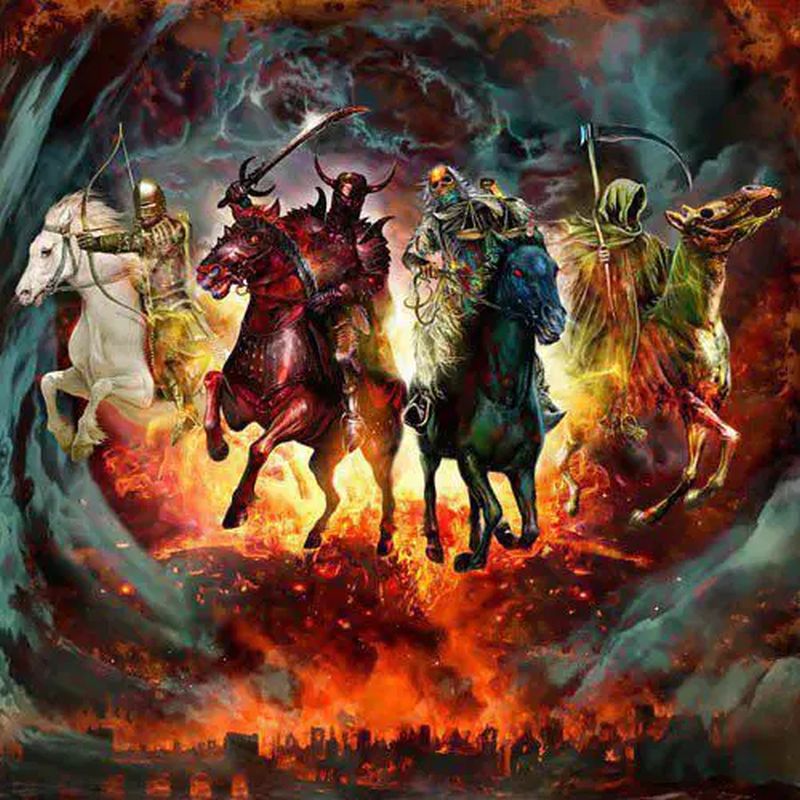 Revelation Bombshell!
A Refreshing Biblical Perspective of the Last Days
Are You Fretting, Worried, OR are You LAUGHING??
Biblically Based Apocalyptic Prep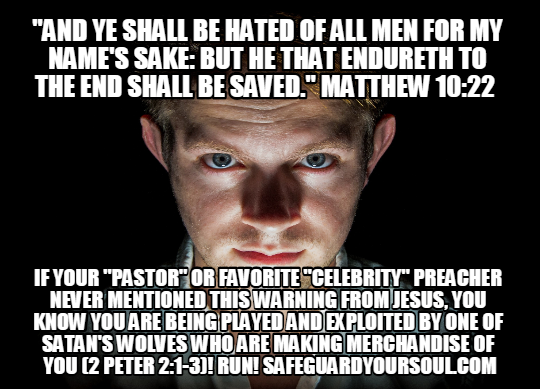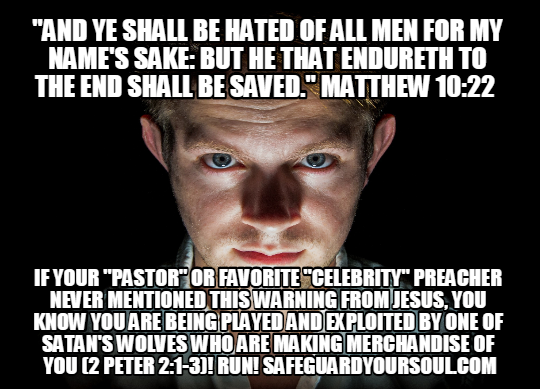 —– HERE'S WHAT'S Coming to this planet …. "And I will punish the world for their evil, and the wicked for their iniquity; and I will cause the arrogancy of the proud to cease, and will lay low the haughtiness of the terrible" (Isaiah 13:11).
"But as it is written, Eye hath not seen, nor ear heard, neither have entered into the heart of man, the things which God hath prepared for them that love him." 1 Corinthians 2:9
Proper preparation is essential in these final days before Christ's return – namely eternal prep. So many are being led astray from what is important to the LORD.
"That which is highly esteemed among men is abomination in the sight of God." Luke 16:15
Our LORD makes clear what is important, essential, in His Word. The following truth seems fitting to those who are living prepared to meet the LORD:
"At destruction and famine thou shalt laugh: neither shalt thou be afraid of the beasts of the earth." Job 5:22
The fight is on – for the eternal souls of men. NOT ONLY will Satan not fade away or go away in these final days, his work is increasing as was foretold. AND, the very fact that so many are ignorant of his presence, workings, and devices reveals and confirms the fulfillment of such a prophecy – "Therefore rejoice, ye heavens, and ye that dwell in them. Woe to the inhabiters of the earth and of the sea! for the devil is come down unto you, having great wrath, because he knoweth that he hath but a short time" (Revelation 12:12).
Yet, is God going to stop supplying for and watching over His beloved children just because it's the final days before Christ's soon return and the enemy's work increases? You would think so the way many act with the news of coming doom. Those seeking the face of the LORD relentlessly don't worry because they are anticipating with great joy the coming of Heaven's KING to whom they belong. Instead, they laugh in the joy of Jesus – because He is their Provider and Protector and He is coming soon to take them away forever! (See John 14:1-6.)
MANY WORRY AND FRET AND FEAR SURVIVAL IN THIS FLEETING LIFE BUT THE LORD AND HIS APOSTLES HAD LITTLE TO SAY OF SUCH, OTHER THAN TO GIVE THE MANY DIVINE PROMISES THAT GOD WILL PROVIDE. IN FACT, CONCERNING THE FEAR OF BAD THINGS COMING IN THE NEAR FUTURE, JOB TOLD US THAT WE SHOULD BE LAUGHING IN LIGHT OF THE PROVISION OF OUR LOVING HEAVENLY FATHER!
HAVE WE been so misguided by the epidemic of wolves who "mind earthly things" that we are not about our "Father's business" of edifying Jesus' people and winning lost souls? (See Luke 2:49; Philippians 3:18-19.) So, we want to run out and store up food to prepare for what is coming – in this temporary sinful world? Yet, we aren't obeying the Gospel's Great Commission command? How deceived so many are! Most who claim to know Christ couldn't speak for 5 minutes about the Great Commission and numerous don't even know what it means! (Read Matthew 28:18-20; Mark 16:15-20; Luke 24:47-49 and the book of Acts.) Astounding delusion and ignorance!
DO YOU HAVE A FULL PANTRY AND YET AN EMPTY HEART WITH SPOTTED GARMENTS AND AN EMPTY LAMP LIKE THE FIVE FOOLISH VIRGINS WHO WERE SHUT OUT OF THE ETERNAL KINGDOM? (MATTHEW 25:1-13)
"Behold, I come as a thief. Blessed is he that watcheth, and keepeth his garments, lest he walk naked, and they see his shame." Revelation 16:15
Jesus taught us over and over and over to "Be ye therefore ready," and nothing is more important than simply living "Ready" to meet Christ because any one of us could pass into eternity today. When our times comes – by His return or our death – if we are abiding holy in Christ, we shall be with Him but if not, we shall suffer "eternal damnation" (Matthew 24-25; Mark 3:29; Luke 12:35-40; 1 John 2:28-3:3; Revelation 2-3, etc.). Please keep this in mind precious saints. The LORD has never led me to try to figure out the details of His return, but only to know that it is at hand as a "thief in the night" and that He wants me to "be ready" (Luke 12:35-40; 1 Thessalonians 5:2; 2 Peter 3:10-17).
Specifically concerning the soon return of the Son of God, the apostle John wrote:
"And every man that hath this hope in him purifieth himself, even as he is pure." 1 John 3:3
WHAT are you preparing for? Are you preparing to be ready to meet Christ?
IF YOU NAME JESUS AS YOUR LORD AND SAVIOR, STOP SUPPORTING THE WOLVES WHO REFUSE TO PREACH THE FULL COUNSEL OF GOD'S WORD IN THE HOLY FEAR OF GOD! RUN FOR YOUR LIFE! IF A "CHRISTIAN" LEADER IS NOT PREPARING YOU TO MEET JESUS WITH A PURE WHITE GARMENT, YOU ARE SUPPORTING A WOLF!
Exactly what type of people is Jesus soon to return for?
"Christ also loved the church, and gave himself for it; 26 That he might sanctify and cleanse it with the washing of water by the word, 27 That he might present it to himself a glorious church, not having spot, or wrinkle, or any such thing; but that it should be holy and without blemish." Ephesians 5:25-27
"Be Ye Therefore Ready"!
"Let your loins be girded about, and your lights burning; 36 And ye yourselves like unto men that wait for their lord, when he will return from the wedding; that when he cometh and knocketh, they may open unto him immediately. 37 Blessed are those servants, whom the lord when he cometh shall find watching: verily I say unto you, that he shall gird himself, and make them to sit down to meat, and will come forth and serve them. 38 And if he shall come in the second watch, or come in the third watch, and find them so, blessed are those servants. 39 And this know, that if the goodman of the house had known what hour the thief would come, he would have watched, and not have suffered his house to be broken through. 40 Be ye therefore ready also: for the Son of man cometh at an hour when ye think not." Luke 12:35-40
Jesus' Specifics on Being "Ready"
"And take heed to yourselves, lest at any time your hearts be overcharged with surfeiting (overeating and overindulgence), and drunkenness, and cares of this life (too busy for God), and so that day come upon you unawares. 35 For as a snare (trap) shall it come on all them that dwell on the face of the whole earth. 36 Watch ye therefore, and pray always, that ye may be accounted worthy to escape all these things that shall come to pass, and to stand before the Son of man." Luke 21:34-36
ARE YOU TRULY "READY" ACCORDING TO JESUS? ARE YOU WATCHING, LIVING A LIFE OF PRAYER COMMUNION WITH THE LORD WHILE AVOIDING THE SINS OF THE FLESH, INCLUDING OVERINDULGING IN THIS WORLD'S GOODS? IS CHRIST TRULY FIRST IN YOUR DAY AND LIFE OR ARE YOU TOO BUSY FOR THE LORD?
If you wish to be with Christ eternally rather than in hell, you better fear this!
"And I say unto you my friends, Be not afraid of them that kill the body, and after that have no more that they can do. 5 But I will forewarn you whom ye shall fear: Fear him, which after he hath killed hath power to cast into hell; yea, I say unto you, Fear him." Luke 12:4-5
Are YOU about your "Father's business" or have you fallen away and are now lukewarm and ready to be spewed, vomited, rejected? (See Revelation 3:15-16.) IF  you are truly following the only Savior, you are today about HIS business and not your own. If you are not about HIS business, you do not possess saving faith and are deceived.
"And he said unto them, How is it that ye sought me? wist (knew) ye not that I must be about my Father's business?" Luke 2:49
Encouraging Word about these Final Days of History as we Know It
Do You "Love His Appearing"?
Those who are fretting about and running here and there to prepare for these last days and yet are not about the heavenly "Father's business" of building up and teaching God's Word and communicating the Gospel to lost souls, are in big trouble! They are not prepared to meet Christ, who is soon going to return for those who are looking for Him and "love his appearing" (2 Timothy 4:8; Hebrews 9:28).
Are You Looking Today for Him to Return?
"And as it is appointed unto men once to die, but after this the judgment: 28 So Christ was once offered to bear the sins of many; and unto them that look for him shall he appear the second time without sin unto salvation." Hebrews 9:27-28
So many are seeking to preserve their own flesh in this temporary world with no regard for eternity. The true remnant disciple is looking to the next world, not this one!
"Wherefore Jesus also, that he might sanctify the people with his own blood, suffered without the gate. 13 Let us go forth therefore unto him without the camp, bearing his reproach. 14 For here have we no continuing city, but we seek one to come. 15 By him therefore let us offer the sacrifice of praise to God continually, that is, the fruit of our lips giving thanks to his name." Hebrews 13:12-15
It would be better to be found of Christ with an empty stomach and your hand to the plow than with creature comforts on this earth and no Christ-magnifying fruit!
"And Jesus said unto him, No man, having put his hand to the plough, and looking back, is fit for the kingdom of God." Luke 9:62
Fearing God with Little in this World
"Better is little with the fear of the Lord than great treasure and trouble therewith." Proverbs 15:16
A smidgen of dried out food is better than to be out of fellowship with Christ and His people.
"Better is a dry morsel, and quietness therewith, than an house full of sacrifices with strife." Proverbs 17:1
THE PREPARATION we need is simply to be steadfast about our Father's business and not to panic or be fearful! That's what Scripture teaches. In fact, the true, abiding disciple can actually laugh at the thought of "destruction and famine" (Job 5:22). Has God changed? Is the LORD's arm shortened? Has He lost His infinite strength? (See Isaiah 59:1-2.) Please Share this timely message from the ever-relevant Word of God "which liveth and abideth forever"! (1 Peter 1:23)
"Therefore, my beloved brethren, be ye stedfast, unmoveable, always abounding in the work of the Lord, forasmuch as ye know that your labour is not in vain in the Lord." 1 Corinthians 15:58
It's clear that those who are busy trying to preserve their lives in this fleeting world and yet have no interest in being prepared to meet Christ as a wise virgin disciple, who is daily seeking His face, full of His Word and Spirit, and looking for His soon return, are lost and going to be shut out of the eternal kingdom of God (Matthew 25:1-13).
"Whosoever shall seek to save his life shall lose it; and whosoever shall lose his life shall preserve it." Luke 17:33
There's No Fear in those who Diligently Seek His Holy Face Continually!
"Glory ye in his holy name: let the heart of them rejoice that seek the Lord. 11 Seek the Lord and his strength, seek his face continually."  1 Chronicles 16:10-11
"Serve the Lord with fear, and rejoice with trembling. 12 Kiss the Son, lest he be angry, and ye perish from the way, when his wrath is kindled but a little. Blessed are all they that put their trust in him." Psalms 2:11-12
Memorize This!
"But whoso hearkeneth unto me shall dwell safely, and shall be quiet from fear of evil." Proverbs 1:33
It's Time to Sprint to the Finish!
LeeAnn Renee writes:
"Jesus says: 'Follow Me and I will make you fishers of men' Mathew 4:19.
We are saved to save others. We are Christians to make others Christians. We are born again to win others for the Kingdom. We are God's children to bring others into God's family… We are disciples of Christ to enroll others as His disciples. We are going to Heaven and we cannot meet God empty handed! We have to realize that the Devil is also fishing for souls… and His nets are full!!!"
"Wherefore seeing we also are compassed about with so great a cloud of witnesses, let us lay aside every weight, and the sin which doth so easily beset us, and let us run with patience the race that is set before us, 2 Looking unto Jesus the author and finisher of our faith; who for the joy that was set before him endured the cross, despising the shame, and is set down at the right hand of the throne of God. 3 For consider him that endured such contradiction of sinners against himself, lest ye be wearied and faint in your minds." Hebrews 12:1-3
"Know ye not that they which run in a race run all, but one receiveth the prize? So run, that ye may obtain. 25 And every man that striveth for the mastery is temperate in all things. Now they do it to obtain a corruptible crown; but we an incorruptible. 26 I therefore so run, not as uncertainly; so fight I, not as one that beateth the air: 27 But I keep under my body, and bring it into subjection: lest that by any means, when I have preached to others, I myself should be a castaway." 1 Corinthians 9:24-27
It's the exact hour for you to lay down your life without reserve. Fast and pray (Isaiah 58). Cry out to the LORD to unite your heart to fear His holy name (Psalms 86:11).
Sign up for free email devotional HERE... The Moments with My Master email devotional is sent out for the edification of the body of Christ.
FEEDBACK:
"Excellent word and warning for all of us, brother!  We should ask ourselves, what are we preparing for? Do we have oil in our lamps?  If not, the ONLY way we can is to go to the source of living water – Jesus.  We MUST remain in Him daily; especially at this most critical time when the enemies of the cross are numerous and rabidly opposed to the true Gospel of Christ."  –Steve M
Pass it on.
Support | STORE | Podcasts | H.O.T. Bible Study [podcast] | Divine Blessings | Exhort One Another Daily | The Return of Christ | The Joy of Fulfilling the Great Commission | The Love of Many Shall Wax Cold | Lie of the Ages (book) | Soul Damning Sins (small book) | Why We Need not Fear Death | Revelation Bombshell!
What's the Most Predominant Doctrine in the Whole New Testament? [podcast]