The Love of Many Shall Wax Cold [podcast]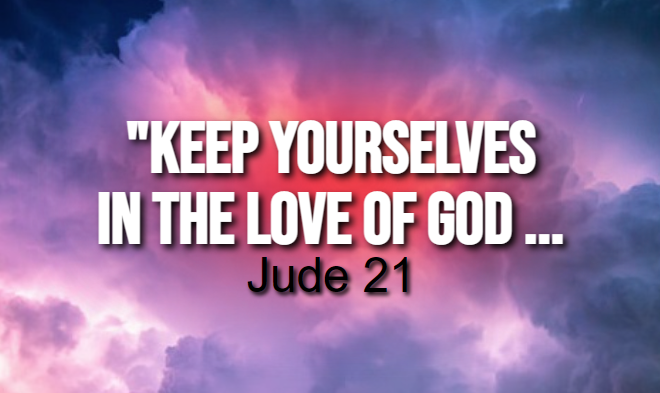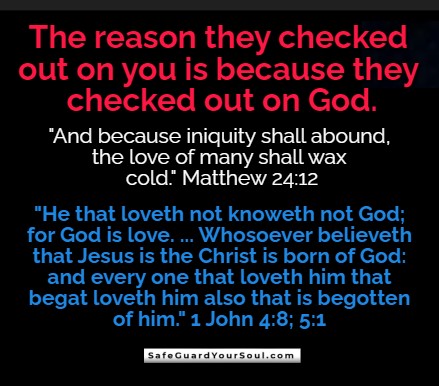 If someone's love toward God's people has waxed cold, it's only because their love for the LORD first waxed cold (Matthew 24:10-14). Today is the best day to repent and return to the LORD. 
"And then shall many be offended, and shall betray one another, and shall hate one another. 11 And many false prophets shall rise, and shall deceive many. 12 And because iniquity shall abound, the love of many shall wax cold. 13 But he that shall endure unto the end, the same shall be saved. 14 And this gospel of the kingdom shall be preached in all the world for a witness unto all nations; and then shall the end come." Matthew 24:10-14
Did you notice in verse 14 that those who hot for Jesus are participating in the preaching of His Word to the end of the earth (Mark 16:15).
Anyone not devouring God's Word daily is falling away, is not enduring to the end, does not have Jesus as their "first love" and is choosing to let their love for Jesus wax cold. They are choosing to be on the wrong, the losing end of this prophecy Jesus gave here on record in Matthew 24:10-14.
Notice here in the verse below how setting, allowing wicked things into our eye gates leads to turning aside, departing from Christ, backsliding.
"I will set no wicked thing before mine eyes: I hate the work of them that turn aside; it shall not cleave to me." Psalms 101:3
PRAYER: Heavenly Father, please break me, make me to be poor in spirit and pure in heart. In Jesus' name, amen.
IF you are not in God's Word every day, you have already backslidden!
God's Word is your life! Proverbs 4:20-23
Don't have a life of prayer? It's simply because you are refusing to fellowship with the LORD, you are pushing Him away and are in need of repenting and returning to Jesus as your "first love." (Revelation 2:4-5)
3 Essential Basics for Every Believer Per Holy Scripture
1. Daily Bible study (Job 23:12; Jer 15:16; 1 Pet 2:2)
2. Daily life of prayer (1 Thess 5:17)
3. Daily fellowship with other true believers (Acts 2:42-47; Heb 3:13; 10:25)
ALL of calvinism and OSAS/eternal security are a diabolical heresy. These are a lying excuse to deny Christ by not living crucified with Him – as He requires as a condition of abiding/remaining with and in Him (Luke 9:23-24; John 15:1-6, etc.). The blessings of God are conditional and not un-conditional as the false teachers teach. These are the very "ungodly men" we are warned about who continue to perpetuate Satan's first life as they are "turning the grace of our God into lasciviousness (license to sin)." (Jude 3-4)
OSAS dupes cling to John 10:28-29 and don't even know what Jesus' preceding words say (v27). They deliberately ignore John 15:6 and mountains of Scripture. WHY? They have not truly repented. No, they said a prayer and some wolf told them they were saved forever (Luke 8:12). Some of them actually did repent and yet have since backslidden – fallen away (Luke 8:13). All the lukewarm are going to hell if they don't repent. All it takes to go to hell is to be found "lukewarm." (Revelation 3:15-16)
Darlene writes:
"I have listened to 'The Love of Many Shall Wax Cold' audio. AMEN and AMEN! Do we think that we can live as we please while we are awaiting the return of Christ Jesus for His children?  My heart is full of sorrow this morning for those that call themselves Christians and still walk in the flesh, still carry on like the world, still conforming to the ways of the heathen. God calls us to come out of all that garbage. Father God I repent of my sins.  Cleanse me Lord and forgive me of any iniquity I have in my heart.  Father God you know how my heart is aching today.  It is hard to stay on track when one has so many arrows flying at them because they take a stance against false doctrine.  When we stick up for Your Truth we are shunned by so many, criticized and left standing alone.  Please Father don't let my heart become calloused by the unfruitful words of my enemy.  May I continue to pray for those that direct harsh words towards me as Your Word says I should do in MATTHEW 5:44. 'But I say unto you, Love your enemies, bless them that curse you, do good to them that hate you, and pray for them which despitefully use you, and persecute you;' May I continue to find joy that I am persecuted for You. Try my faith Lord so You will know the sincerity of my faith. 'My brethren, count it all joy when ye fall into divers temptations, Knowing this, that the trying of your faith worketh patience.' JAMES 1:2~3"
After listening to this same new audio message, Linda Gill writes:
"I do not think you were too harsh at all in this message. I don't want a watered down gospel preached and what you said really hit home. I appreciate your prayers very much. I pray you keep doing what you are doing spreading God's Words as I believe they were meant to be taught. I'm glad I listened. And I'm blessed that God directed you somehow to be a part of my life. Love in Christ," Linda
Without LOVE – God's love in us – we are NOTHING. if we don't have anything else, we better die with His love or hell awaits!
"Keep yourselves in the love of God, looking for the mercy of our Lord Jesus Christ unto eternal life." Jude 21
Reading 1 Corinthians 13 today will refresh your heart and mind on the divine importance placed upon LOVE.
If His love is in us through daily communion with Christ, we are loving others with His love! Study love. Learn love. Stop all spiritual activity and at all cost get in fellowship with He who "is love." (1 John 4:7-8)  Share this audio and brief written message to stir other saints.
DO you have at least one friend in Christ with whom you exchange Scripture?
"Let the word of Christ dwell in you richly (abundantly) in all wisdom; teaching and admonishing one another in psalms and hymns and spiritual songs, singing with grace in your hearts to the Lord." Colossians 3:16
PLEASE show us where anyone in the New Testament Scriptures went around looking for an elder, a pastor, a church? YES, fellowship is essential and so is submitting to our elders in Christ and yet, perhaps today, far too much emphasis is placed on these things (Hebrews 10:24-25; 13:7, 17, etc.). None of this matters if the individual disciple is not engaged in seeking the face of the LORD personally.
You don't need a preacher because you have a Bible. Read it. You don't need a preacher to tell you what the Bible says! Read it for yourself, learning yourself. Today is your day to take more personal responsibility to seek God for yourself! Jesus taught personal responsibility and the essential nature of it when He said "Take heed to yourselves" (Luke 21:34-36)…… Jesus is Coming.
The Return of Jesus | Lukewarm is Hell Bound | Fresh Start with God | What Church is Jesus Coming Back for? [podcast]