The Hope of Nations [podcast]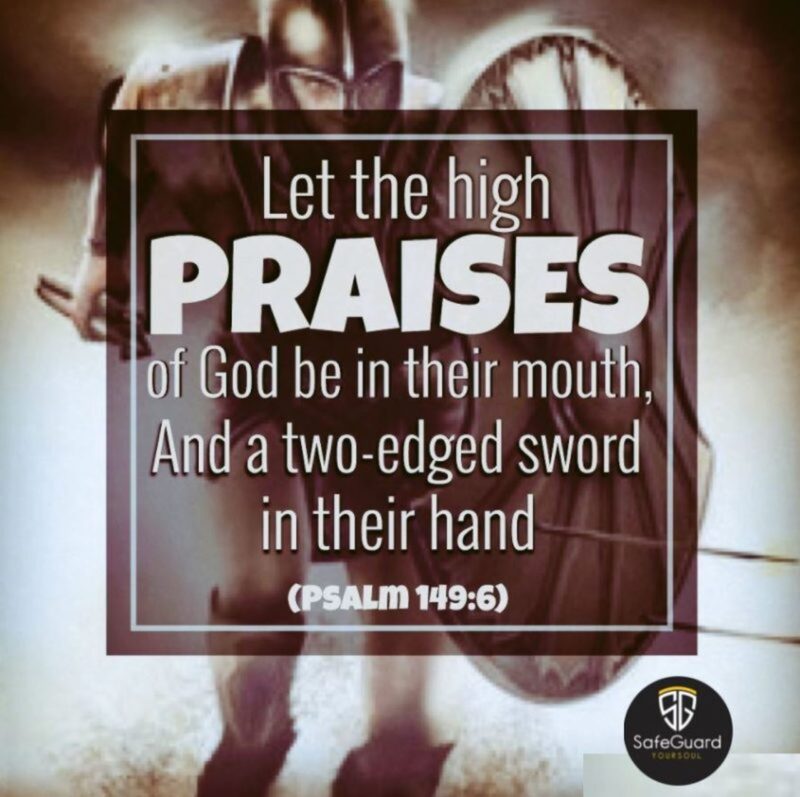 PRAYER: Heavenly Father, we come to You in the name of Jesus Christ and ask You to give grace, Your empowerment to those who are doing Your work. At every level of their involvement, may they prosper. May this operation be through the cross life – and Your raising them upward in this exploit. May the wicked, Satan's human agents, be exposed and brought to swift justice for standing against and warring against You dear LORD. In Jesus' name, amen.
2 Chronicles 7:14; 1 Timothy 2:1-4,8 etc.
"Conservatives" or "patriots" will not make the difference in this nation – only God's people can do that (2 Chronicles 7:14-15; Jeremiah 29:7; 1 Timothy 2:1-6, etc.).
The father of all traitors, the chief traitor of time and eternity, is Satan. Lucifer, who became known as Satan, the devil, etc., and his angels, rebelled against the LORD in eternity past in Heaven and were therefore ejected from glory irrevocably (Isaiah 14:12-15; Ezekiel 28:11-19; Luke 10:18; Revelation 12:7-12). Cain, Esau, Saul, Absalom, Judas, etc., come to mind as historically infamous traitors, men who betrayed the LORD at the cost of their eternal souls.  Traitors are nothing new and yet, there are truthful men of integrity who ceaselessly worship the LORD our God. Our hearts are encouraged as we contrast the righteous with the wicked: Abel obeyed – Cain murdered, Jacob worshiped – Esau rebelled, David praised – Saul disobeyed, Peter served God while Judas sinned against the Savior, etc.
"And from the days of John the Baptist until now the kingdom of heaven suffereth violence, and the violent take it by force." Matthew 11:12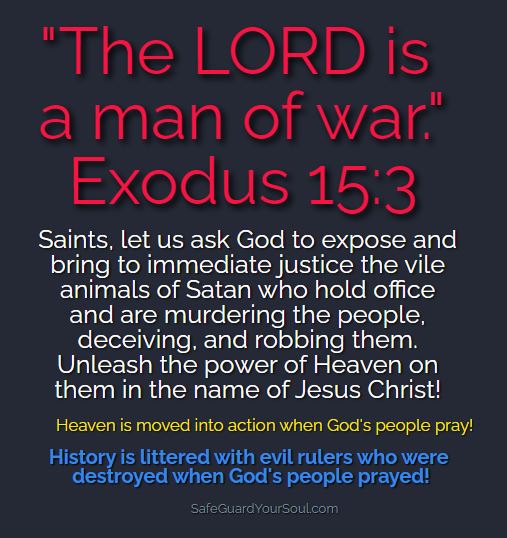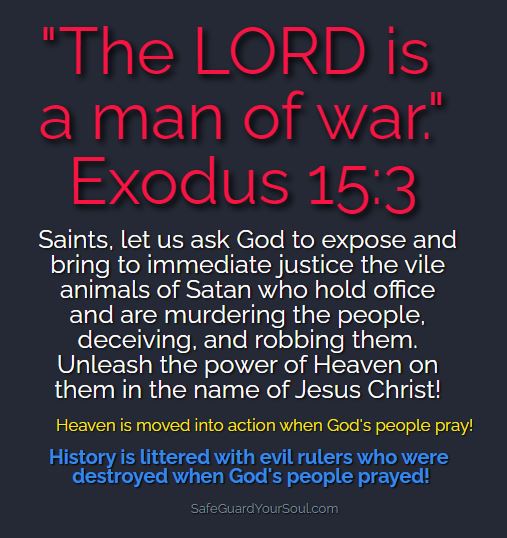 Recurring Biblical Theme: When our praises go up, divine judgment, victory comes down.
"A bruised reed shall he not break, and smoking flax shall he not quench, till he send forth judgment unto victory." Matthew 12:20
Current events from a biblical perspective.
God cannot bless a nation that murders its own innocent babies! This must cease! Pause to pray, now.
"Thou shalt not kill." Exodus 20:13
Communism, any communistic form of government arrangement is an example of the work of Satan and we know this because it steals money and freedom from the people, kills people who don't agree, and destroys everything good.
ANY person participating in the work of Satan is a child of the devil. Satan's work is "to steal, to kill, and to destroy." (John 10:10) Any questions? Any activity, operation, or plan to steal the freedom or money or anything from another, is the work of Satan himself. So is to kill or destroy people or property unjustly.
According to Psalm 149, the judge, the vengeance of God is enforced upon the wicked.
Psalms 149
1  Praise ye the LORD. Sing unto the LORD a new song, and his praise in the congregation of saints. 
2  Let Israel rejoice in him that made him: let the children of Zion be joyful in their King. 
3  Let them praise his name in the dance: let them sing praises unto him with the timbrel and harp. 
4  For the LORD taketh pleasure in his people: he will beautify the meek with salvation. 
5  Let the saints be joyful in glory: let them sing aloud upon their beds. 
6  Let the high praises of God be in their mouth, and a twoedged sword in their hand; 
7  To execute vengeance upon the heathen, and punishments upon the people; 
8  To bind their kings with chains, and their nobles with fetters of iron; 
9  To execute upon them the judgment written: this honour have all his saints. Praise ye the LORD.
From sea to shining sea God's people are praying and the LORD is bringing justice to the wicked.
"The LORD is known by the judgment which he executeth: the wicked is snared in the work of his own hands. Higgaion. Selah. 17 The wicked shall be turned into hell, and all the nations that forget God." Psalms 9:16-17
The words nation/nations appear 481 times in God's Word. This alone communicates to us that the LORD created and owns this earth and is the Author of nations, peoples….
"The earth is the LORD'S, and the fulness thereof; the world, and they that dwell therein." Psalms 24:1
"Dearly beloved, avenge not yourselves, but rather give place unto wrath: for it is written, Vengeance is mine; I will repay, saith the Lord." Romans 12:19 
God's creation of and plan for all nations, all peoples. The LORD ordained nations and answers the prayers of His people in those nations.
Acts 17
"God that made the world and all things therein, seeing that he is Lord of heaven and earth, dwelleth not in temples made with hands; 
25  Neither is worshipped with men's hands, as though he needed any thing, seeing he giveth to all life, and breath, and all things; 
26  And hath made of one blood all nations of men for to dwell on all the face of the earth, and hath determined the times before appointed, and the bounds of their habitation; 
27  That they should seek the Lord, if haply they might feel after him, and find him, though he be not far from every one of us: 
28  For in him we live, and move, and have our being; as certain also of your own poets have said, For we are also his offspring. 
29  Forasmuch then as we are the offspring of God, we ought not to think that the Godhead is like unto gold, or silver, or stone, graven by art and man's device. 
30  And the times of this ignorance God winked at; but now commandeth all men every where to repent: 
31  Because he hath appointed a day, in the which he will judge the world in righteousness by that man whom he hath ordained; whereof he hath given assurance unto all men, in that he hath raised him from the dead." 
HISTORY REPEATEDLY PROVES that when nations are in the balance … The LORD listens and watches for the desperate cries of His people.
"The righteous cry, and the LORD heareth, and delivereth them out of all their troubles. 18 The LORD is nigh unto them that are of a broken heart; and saveth such as be of a contrite spirit. 19 Many are the afflictions of the righteous: but the LORD delivereth him out of them all." Psalms 34:17-19
Read Psalm 34. AMAZING!!!!
Would it be true to say that the LORD has to first heal the land of our own hearts before He will use our prayers and otherwise to heal this land?
"If my people, which are called by my name, shall humble themselves, and pray, and seek my face, and turn from their wicked ways; then will I hear from heaven, and will forgive their sin, and will heal their land. 15 Now mine eyes shall be open, and mine ears attent unto the prayer that is made in this place." 2 Chronicles 7:14-15
It's always the praying disciples of Jesus who hold the key to victory, to seek God in repentance and supplications to see His victory wrought in their midst (2 Chronicles 7:14).
Was this 2 Chronicles 7 promise limited to Israel? Not at all.
The fact that God spoke that to the Jews, in no way negates that this is His clearly stated will for His people for all times…. and, it's consistent with the whole of Scripture. Long before and after 2 Chronicles 7 we see this divine truth, this divine condition. Before destroying Sodom, God negotiated with Abraham concerning the number of righteous people He required to stop His judgment which reveals that His non-negotiable condition was repentance and a changed life (Genesis 18). That truth is unchanging, It still stands now. John the Baptist and Jesus preached: "Repent ye: for the kingdom of heaven is at hand. … Bring forth therefore fruits meet for repentance:" (Matthew 3:2, 8; 4:17; Luke 13:3, etc.) And when there is true worship in the form of humility, repentance, faith, and obedience, God's blessings will follow!
"At what instant I shall speak concerning a nation, and concerning a kingdom, to pluck up, and to pull down, and to destroy it; 8 If that nation, against whom I have pronounced, turn from their evil, I will repent of the evil that I thought to do unto them. 9 And at what instant I shall speak concerning a nation, and concerning a kingdom, to build and to plant it; 10 If it do evil in my sight, that it obey not my voice, then I will repent of the good, wherewith I said I would benefit them." Jeremiah 18:7-10  
Think: Daniel and the three Hebrew children in Babylon.
Do you remember Mordecai and Esther in the days of Haman, an enemy of God's people? Haman sought to murder the innocent and yet he was hanged in the very gallows he created to do such. Book of Esther. The saints of the LORD humbly repented and obeyed God and were delivered. The enemy was crushed.
Psalms 75
"Lift not up your horn on high: speak not with a stiff neck.
6  For promotion cometh neither from the east, nor from the west, nor from the south.
7  But God is the judge: he putteth down one, and setteth up another.
8  For in the hand of the LORD there is a cup, and the wine is red; it is full of mixture; and he poureth out of the same: but the dregs thereof, all the wicked of the earth shall wring them out, and drink them.
9  But I will declare for ever; I will sing praises to the God of Jacob.
10  All the horns of the wicked also will I cut off; but the horns of the righteous shall be exalted." Psalms 75:5-10
GOD WILL TREAD DOWN OUR FOES
Psalms 60
"O God, thou hast cast us off, thou hast scattered us, thou hast been displeased; O turn thyself to us again. 
2  Thou hast made the earth to tremble; thou hast broken it: heal the breaches thereof; for it shaketh. 
3  Thou hast shewed thy people hard things: thou hast made us to drink the wine of astonishment. 
4  Thou hast given a banner to them that fear thee, that it may be displayed because of the truth. Selah. 
5  That thy beloved may be delivered; save with thy right hand, and hear me. 
6  God hath spoken in his holiness; I will rejoice, I will divide Shechem, and mete out the valley of Succoth. 
7  Gilead is mine, and Manasseh is mine; Ephraim also is the strength of mine head; Judah is my lawgiver; 
8  Moab is my washpot; over Edom will I cast out my shoe: Philistia, triumph thou because of me. 
9  Who will bring me into the strong city? who will lead me into Edom? 
10  Wilt not thou, O God, which hadst cast us off? and thou, O God, which didst not go out with our armies? 
11  Give us help from trouble: for vain is the help of man. 
12  Through God we shall do valiantly: for he it is that shall tread down our enemies." 
How about the Exodus?
Pray saint, like never before. Holy Scripture specifically instructs us to lift our leaders in prayer.
1 Timothy 2:1-6
1  I exhort therefore, that, first of all, supplications, prayers, intercessions, and giving of thanks, be made for all men; 
2  For kings, and for all that are in authority; that we may lead a quiet and peaceable life in all godliness and honesty. 
3  For this is good and acceptable in the sight of God our Saviour; 
4  Who will have all men to be saved, and to come unto the knowledge of the truth. 
5  For there is one God, and one mediator between God and men, the man Christ Jesus; 
6  Who gave himself a ransom for all, to be testified in due time. 
"Stand still, and see the salvation of the LORD"
"And Moses said unto the people, Fear ye not, stand still, and see the salvation of the LORD, which he will shew to you to day: for the Egyptians whom ye have seen to day, ye shall see them again no more for ever. 14 The LORD shall fight for you, and ye shall hold your peace."  Exodus 14:13-14
"Ye shall not need to fight in this battle: set yourselves, stand ye still, and see the salvation of the LORD with you, O Judah and Jerusalem: fear not, nor be dismayed; to morrow go out against them: for the LORD will be with you." 2 Chronicles 20:17
God wins – every time!
"And Jesus looking upon them saith, With men it is impossible, but not with God: for with God all things are possible." Mark 10:27
As God's people have humbled themselves in absolute repentance and confession of all sin, they can rest assured that He will answer and can therefore "be still and know that" He is God. (Psalms 46:1, 10)
"God is our refuge and strength, a very present help in trouble. … 10  Be still, and know that I am God: I will be exalted among the heathen, I will be exalted in the earth." Psalms 46:1, 10
"For the kingdom is the LORD'S: and he is the governor among the nations." Psalms 22:28
Some are content to sit back and judge America for its myriad of sins, not realizing that all men and therefore all nations are fallen, sinful, as was the case when God did all of His miracles throughout history when His people repented and sought His holy face, He healed their land! (2 Chronicles 7:14-15, etc.)
"Behold my servant, whom I uphold; mine elect, in whom my soul delighteth; I have put my spirit upon him: he shall bring forth judgment to the Gentiles." Isaiah 42:1
America | Peace with God | Fresh Start with Jesus