I'm Losing It!!!!! Lose it. Laugh. Love it!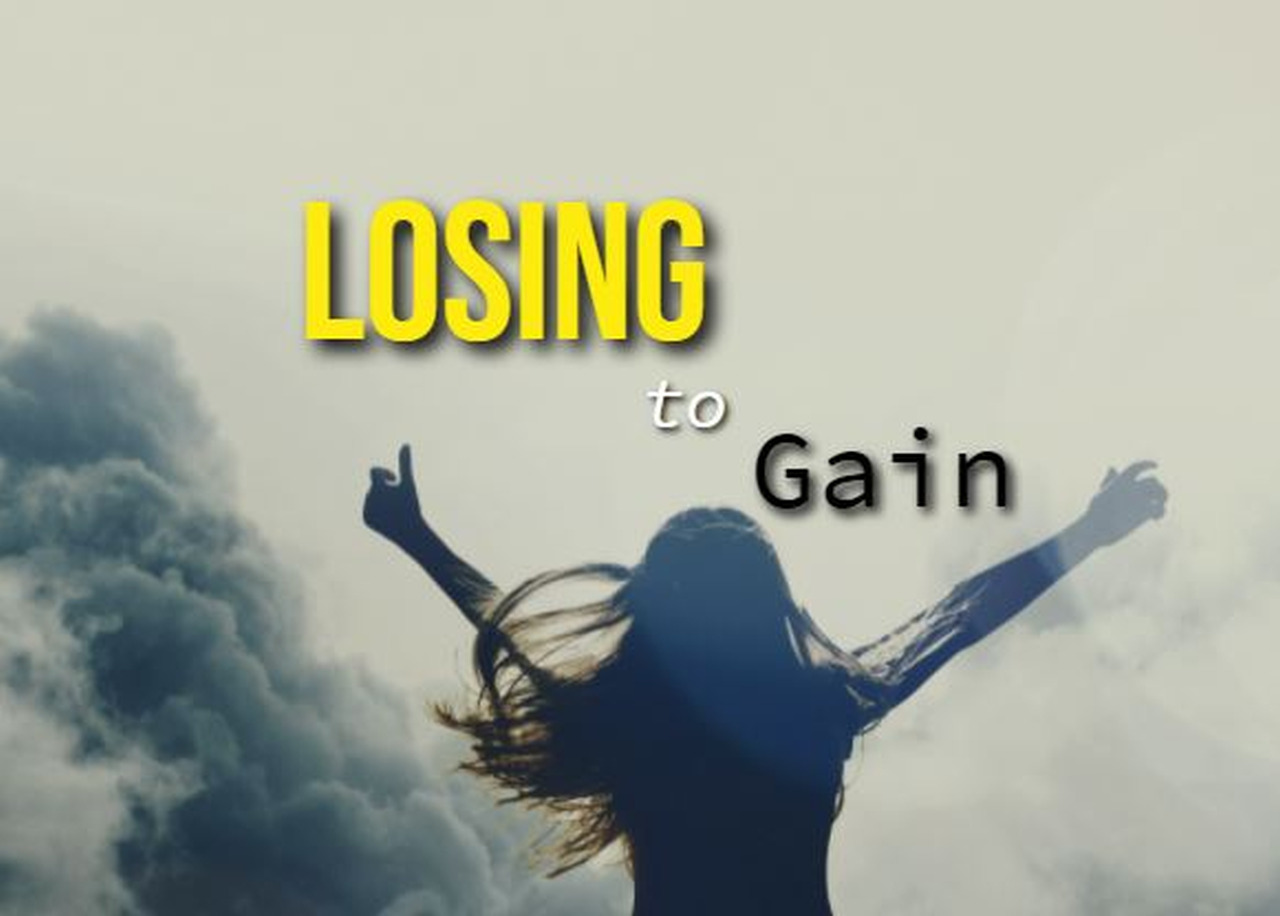 Get ready to laugh and love it when you lose it!
The devil gets livid when God's people lose it!!!
"Submit yourselves therefore to God. Resist the devil, and he will flee from you." James 4:7
Satan only loses control over those who lose their life in Christ! – In Christ they are now "hid with Christ in God."
"For ye are dead, and your life is hid with Christ in God." Colossians 3:3
Yes, they lose their lives into the hands of the LORD!
Notice in these glorious words below spoken to us just before He went to that cross to be crucified for our sins – to bring us to the Father and Himself (John 17). Jesus came to be crucified, buried, and raised again from the dead to glorify the Father and be glorified in us as the Father was glorified in Him. Check this out:
John 12:23  And Jesus answered them, saying, The hour is come, that the Son of man should be glorified. 
John 12:24  Verily, verily, I say unto you, Except a corn of wheat fall into the ground and die, it abideth alone: but if it die, it bringeth forth much fruit. 
John 12:25  He that loveth his life shall lose it; and he that hateth his life in this world shall keep it unto life eternal. 
John 12:26  If any man serve me, let him follow me; and where I am, there shall also my servant be: if any man serve me, him will my Father honour. 
Jesus here speaks of His own death and burial and also, of that death to self He calls us to experience daily – and the reciprocal, the corresponding resurrection life which fills our lives.
"But if the Spirit of him that raised up Jesus from the dead dwell in you, he that raised up Christ from the dead shall also quicken (make alive) your mortal bodies by his Spirit that dwelleth in you." Romans 8:11
God only raises up those who choose to do things HIS way – which is unalterably the way of the cross.
"And the remnant that is escaped of the house of Judah shall again take root downward, and bear fruit upward:" Isaiah 37:31
Jesus conquered death by dying, not by rising up. The Father raised Him from the dead only after the Son of God submitted to His own death (Hebrews 2:14).
Here, our LORD informs us to follow Him in the crucified life (v. 24), to let go of and "lose" our lives into His holy hands (v. 25), and to serve Him and follow Him (v. 26). The Father is honored in such!
Of this glorious passage, William MacDonald writes:
"John 12:21 No reason is given why they came to Philip. Perhaps his Greek name and the fact that he was from Bethsaida of Galilee made him attractive to those Gentile proselytes. Their request was a noble one indeed. 'Sir, we wish to see Jesus.' No one who has this sincere desire in his heart is ever turned away unrewarded.
12:23 Why did the Greeks want to see Jesus? If we read between the lines, we can surmise that the wisdom of Jesus appealed to them and that they wanted to exalt Him as their popular philosopher. They knew that He was on a collision course with the Jewish leaders and wanted Him to save His life, perhaps by going to Greece with them. Their philosophy was 'Spare yourself,' but Jesus told them that this philosophy was directly opposed to the law of harvest. He would be glorified in His sacrificial death and not by a comfortable life.
12:24 Seed never produces grain until first it falls into the ground and dies. The Lord Jesus here referred to Himself as a grain (or kernel) of wheat. If He did not die, He would abide alone. He would enjoy the glories of heaven by Himself; there would be no saved sinners there to share His glory. But if He died, He would provide a way of salvation by which many might be saved.
The same applies to us, as T. G. Ragland says:
'If we refuse to be corns of wheat—falling into the ground, and dying; if we will neither sacrifice prospects, nor risk character, and property, and health; nor, when we are called, relinquish home, and break family ties, for Christ's sake; then we shall abide alone. But if we wish to be fruitful, we must follow our Blessed Lord Himself, by becoming a corn of wheat, and dying, then we shall bring forth much fruit.'
12:25 Many people think that the important things in life are food, clothing, and pleasure. They live for these things. But in thus loving their lives, they fail to realize that the soul is more important than the body. By neglecting their soul's welfare, they lose their lives. On the other hand, there are those who count all things loss for Christ. To serve Him, they forego things highly prized among men. These are the people who will keep their lives for eternal life. To hate one's life means to love Christ more than one loves his own interests.
12:26 To serve Christ, one must follow Him. He would have His servants obey His teachings and resemble Him morally. They must apply the example of His death to themselves. All servants are promised the constant presence and protection of their Master, and this applies not only to the present life but to eternity as well. Service now will receive God's approval in a coming day. Whatever one suffers of shame or reproach here will be small indeed compared to the glory of being publicly commended by God the Father in heaven!"
LOSE it for Jesus! Got to lose it to find it – to save it!
Matthew 10:39  He that findeth his life shall lose it: and he that LOSETH his life for my sake shall find it.
Matthew 16:25  For whosoever will save his life shall lose it: and whosoever will LOSE his life for my sake shall find it.
Mark 8:35  For whosoever will save his (own) life shall lose it; but whosoever shall LOSE his life for my sake and the gospel's, the same shall save it.
Luke 9:24  For whosoever will save his life shall lose it: but whosoever will LOSE his life for my sake, the same shall save it.
Luke 17:33  Whosoever shall seek to save his life shall lose it; and whosoever shall LOSE his life shall preserve it.
Sister Debbie Lord notes:
"If I don't unreservedly yield myself to the Lord TODAY, how can I say I've given Him my life?
I haven't truly given the Lord my life if I haven't completely died to myself and submitted wholeheartedly to His will and His Word TODAY!"
Luke 9:23    And he said to them all, If any man will come after me, let him deny himself, and take up his cross daily, and follow me.
Luke 14:33    So likewise, whosoever he be of you that forsaketh not all that he hath, he cannot be my disciple.
Romans 12:1    I beseech you therefore, brethren, by the mercies of God, that ye present your bodies a living sacrifice, holy, acceptable unto God, which is your reasonable service.
Getting Lost!
Let's read again and begin to memorize this one:
"For ye are dead, and your life is hid with Christ in God." Colossians 3:3
Declare these words above right now with your mouth, out loud, so that you hear the Word of the LORD.
The crucified life is the way into "the secret place of the most high."
"He that dwelleth in the secret place of the most High shall abide under the shadow of the Almighty." Psalms 91:1
There are no shortcuts.
Any preacher who is not telling you that Jesus non-negotiably calls you to lay down, to lose your life in this fleeting life, is preaching "another gospel," is an enemy of the cross of Christ, and is making "merchandise of you" (Galatians 1:6-9; Philippians 3:18-19; 2 Peter 2:1-3). And, if you are sitting under that, you are supporting it, you are bidding Godspeed to it and will be judged with and as the enemy of Christ (2 John 10-11).
You have a Bible, so there's no excuse before a holy God with whom we have to do. Now repent and obey Him.
We are not good, not one of us (Romans 3:10). If we don't understand and own what the Bible states concerning the universal fall of all men in Adam, that there's "no good thing" in us, we will not recognize the need for the daily cross – to be truly crucified with Christ.  
The Galatians 2:20 effect! Getting up each morning and declaring this divine statement, the divine ordination of your conformity to the crucified image of Christ, is life-changing.
"I am crucified with Christ: nevertheless I live; yet not I, but Christ liveth in me: and the life which I now live in the flesh I live by the faith of the Son of God, who loved me, and gave himself for me." Galatians 2:20
Also, here's a triple threat package for your life with Christ, learning His cross and experience the power of His glorious resurrection in your personal, daily life!
PRAYER: Holy Father, teach me Thy way. Unite my heart to fear Your holy name and to learn the concept of the cross, of losing my life in You, just as You intended when You taught. In Jesus' name. Amen.
The Cross Life | Support | STORE | Podcasts |