Fruit Abounding To Your Account: Divine Incentive [video]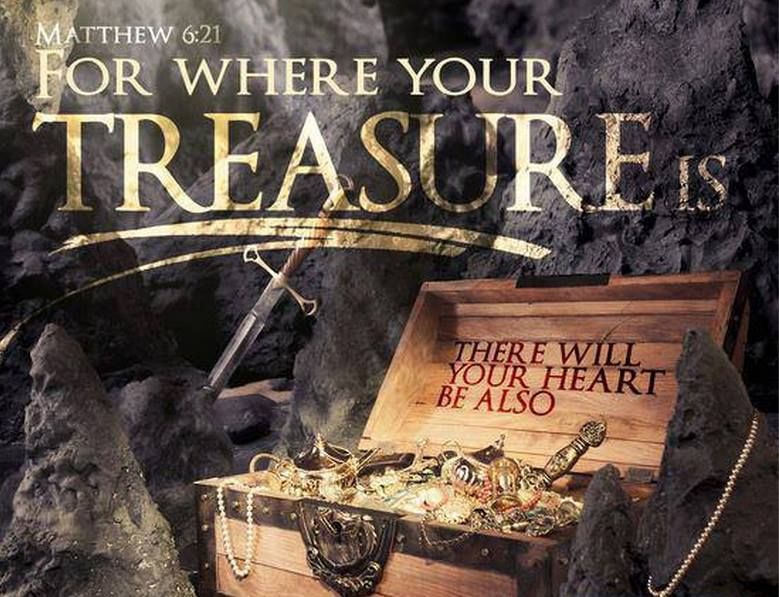 "Not because I desire a gift: but I desire fruit that may abound to your account." Philippians 4:17
Jesus told us that He has gone to prepare a place for His people. If you are born again and abiding presently in Christ, you have "mansion" in glory awaiting you! (John 14:1-6) Did you know that you also have an "account" in Heaven? Now, what's in that "account"? Is it empty or full?
Every single child of God has an "account" in Heaven.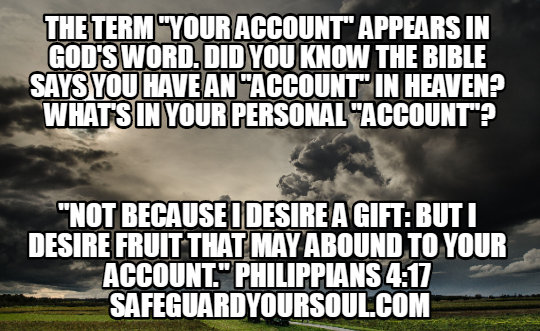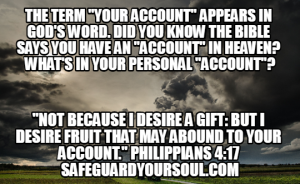 Paul the apostle of Jesus, cared deeply about the heavenly "account" of Christ's saints! YOU have an "account" in Heaven and Jesus instructed you to lay up treasure into it!!!! (Matthew 6:19-21)
Christ's ministers have answered HIS call, not their own (Matthew 10:1-8; 1 Peter 5:1-6). They lay down their lives daily to do His will – to feed His sheep, the highest calling on earth (Matthew 28:18-20; John 21:15-17). And by doing so they are laying up their treasures in Heaven, not on the earth (Matthew 6:19-24). This bless-ed answer to the call of our God gives each of us the bless-ed opportunity to do the same, by supporting them, by supporting the work of our Master in the lives of His people (1 Corinthians 3:6-9; 2 Corinthians 9:6-11). | Support
Gospel ministries that feed you and others are there by the ordination of God – to help you grown in Christ's grace and to have a place to give to further Jesus' Gospel and lay up treasure in Heaven (Matthew 6:19-21; Ephesians 4:11-12). God's Word calls us to support those feeding us (Galatians 6:6; 1 Timothy 5:17-18; 1 Corinthians 9:1-14, etc.). That's all a gift of God – in your lap. Yet the "labourers are few" and so are the suppliers (Matthew 9:35-38).
"WE are labourers TOGETHER with God." 1 Corinthians 3:9
Would the "few" Gospel "labourers" be near dead broke if the LORD's people were properly supporting HIS Work? Matthew 6:19-21; 9:35-38; 2 Corinthians 9:7-11; etc.
"For where your treasure is, there will your heart be also." Matthew 6:21