How to Walk in the Certainty, the Assurance of Salvation [podcast]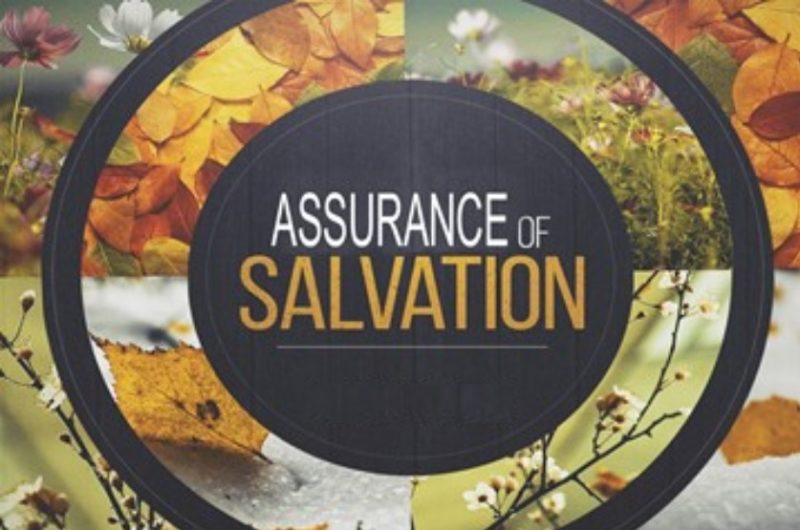 Regrettably, so many today who profess to know Christ have a mere "form of godliness, but denying the power (authority) thereof" (2 Timothy 3:5). They want the crown but not the cross. They want to have security, the assurance, but have not truly repented and are not living a crucified, raised up life (Luke 9:23-24).
Assurance only comes from obeying God. Assurance does not come from assuring ourself of assurance or that we're eternally secure.
God's promises are conditional, not un-conditional (Deuteronomy 30:19-20; Joshua 24:15; Matthew 6:33; Revelation 2-3, etc.). Only the rebellious balk at such a truth due to their own heart rebellion and refusal to lay down their life in this fleeting world. They love darkness rather than light because their own deeds are evil (John 3:19-21).
According to the whole counsel of Scripture, we only have the assurance of eternal life if we are 1. born again, and 2. presently abiding in Christ.
No one is going to walk in peace and assurance just because they speak of it, claim it, hear it preached, or because they desire to have peace and assurance. No, it's only when we obey the Word of God that His peace and assurance flood our being. There's no short cut to obedience (1 John 3:16-18).
False teachers, including all who teach eternal security, will never tell you this. They are lying to you, tickling yours ears to maintain your attention, accolades, and coin. You are being played for the fool. Nothing replaces obeying God.
"Assure" appears 1 time in the Bible.
Assurance comes from obedience to God, not by contriving, convincing or assuring one's self that they are secure. The false teaching of eternal security and the way assurance is taught today make them kissing cousins in the family of heresies today.
How do we have assurance? How are our hearts assured in Christ? Answer: by faith that is real and literally obeying God. Talk is cheap. The first verse contains the condition to having assurance. Read this closely:
"My little children, let us not love in word, neither in tongue; but in deed and in truth. 19 And hereby (by obedience) we know that we are of the truth, and shall ASSURE our hearts before him. 20 For if our heart condemn us, God is greater than our heart, and knoweth all things. 21 Beloved, if our heart condemn us not, then have we confidence toward God." 1 John 3:18-21 
Assurance of salvation in our hearts comes from abiding in and with Christ, from obeying Him (John 14-15).
Convincing people who aren't abiding in Christ that they are eternally secure is criminal, sinful, and perpetrated by "ungodly men" (Jude 4). Instead of teaching them that God requires that we love and obey Him, false teachers sidestep this unpopular truth, this divinely given condition, and evilly, insidiously tickle the ears of their prey. They peddle half-truths in the form of giving people promises without the biblically-stated conditions.
We should rid our lives of the selfish desire to feel assurance. Instead we should honestly assess and live by the Scriptures – the full counsel of God's Word. It's only then that the Son of God shall make us free from fear, anxiety, shame, guilt, and unrest (John :31, 32, 36; Matthew 11:28-20).
"In the fear of the LORD is strong confidence: and his children shall have a place of refuge. 27 The fear of the LORD is a fountain of life, to depart from the snares of death." Proverbs 14:26-27
Peace and assurance are inseparable. To appropriate the peace of God, the assurance of that relationship, one must be a true worshipper of the "Prince of peace" Himself, Jesus Christ (Isaiah 9:6-7).
"Assurance" appears 7 times in God's Word and in the following 3 applications is connected inseparably with abiding, obeying…
"And thy life shall hang in doubt before thee; and thou shalt fear day and night, and shalt have none ASSURANCE of thy life." Deuteronomy 28:66
"And the work of righteousness shall be peace; and the effect of righteousness quietness and ASSURANCE for ever." Isaiah 32:17
"And we desire that every one of you do shew the same diligence to the full ASSURANCE of hope unto the end:" Hebrews 6:11
Being one with the LORD, abiding in Him, will cause His love to flood the heart of the true disciple and irradicate all fear.
"And we have known and believed the love that God hath to us. God is love; and he that dwelleth in love dwelleth in God, and God in him. 17 Herein is our love made perfect, that we may have boldness in the day of judgment: because as he is, so are we in this world. 18 There is no fear in love; but perfect love casteth out fear: because fear hath torment. He that feareth is not made perfect in love." 1 John 4:16-18
"Thou wilt keep him in perfect peace, whose mind is stayed on thee: because he trusteth in thee." Isaiah 26:3
"Great peace have they which love thy law: and nothing shall offend them." Psalms 119:165
"But whoso hearkeneth unto me shall dwell safely, and shall be quiet from fear of evil." Proverbs 1:33
Jesus says:
"And he that overcometh, and keepeth my works unto the end, to him will I give power over the nations:" Revelation 2:26
The works save no one and yet, they are a measuring standard for who is truly remaining in Christ and who isn't. Only the unrepentant unaccountable hate this truth. But these are the words of Heaven's King and this is His stated condition.
Enduring "unto the end" in vital union with Christ is a requirement for eternal glory, otherwise you will be vanquished into the bowels of eternal damnation irrevocably. And it's going to be worse than if you'd never known Him.
"For if after they have escaped the pollutions of the world through the knowledge of the Lord and Saviour Jesus Christ, they are again entangled therein, and overcome, the latter end is worse with them than the beginning. 21 For it had been better for them not to have known the way of righteousness, than, after they have known it, to turn from the holy commandment delivered unto them." 2 Peter 2:20-21
If you desire true assurance in your heart, in your life, you must worship and obey the only One who can grant that gift.
One saint notes that "His sheep prove they are electing Him over all others, they hear His voice and follow Him John 10:27-29."
Yet, those not born again, not presently engaging in an abiding relationship with Christ the Great Bridegroom, will be shut out of His eternal kingdom (Matthew 25:1-13).
The eternal security cowards, HATE Jesus' teaching on the absolute necessity of abiding, continuing with Him after being saved – or else suffer the consequence of eternal fire. It's time to man-up, read John 15 honestly, and take personal accountability before the LORD who uttered those words (John 15:6).
Could it be that many who said a prayer and were told they were saved have never truly repented?
Why eternal securists do not have assurance: False assurance is when somebody believes a lie and God turns them over to it (2 Thessalonians 2:9-12). Such as the assurance, the fake assurance of the eternal securest.
God wants us to seek Jesus, not assurance. When we are one with Christ, His assurance will fill our hearts and lives.
What do eternal securists, homosexuals, and atheists have in common? – They all want everyone else to condone their sin, their rebellion.
Eternal securists are walking in lies and yet seek to have divine assurance by convincing their deceived minds of Satan's first lie – "eternal security." See Genesis 2:17; 3:4. This is why they do not have true assurance and are perpetually in anguish. They've forfeited the bless-ed benefit of divine assurance by their own rebellion. Instead of laying down their lives in true saving faith in the LORD and literally OBEYING Him, they spend their lives attempting to convince their corrupted minds of something the Holy Ghost simply will not coincide with or confirm. God only grants His "great peace," an assurance in the hearts of those who truly trust, worship, and love Him, which is proven in that they literally obey Him.
Believing a lie doesn't come with the confirmation of the Holy Spirit. "Great peace" is reserved exclusively for those who love the Word of God (Psalms 119:165).
"Great peace have they which love thy law: and nothing shall offend them." Psalms 119:165
Have you spent endless hours seeking to convince yourself that you are "eternally secure"? Why not repent today truly and trust the One who will keep, who will be the keeper of your eternal soul if you simply "abide" in Him? And the proof that one is saved and abiding in Christ is the good fruit He will produce in their life (John 15:1-6). If after being saved you are not abiding, continuing with, remaining in Christ, you will ultimately be cast into the fires of eternal damnation.
"If a man abide (continue, remain) not in me, he is cast forth as a branch, and is withered; and men gather them, and cast them into the fire, and they are burned." John 15:6
Abiding, continuing in Christ is essential for those He's saved. Those who don't will be "cast … into the fire, and … burned." To say otherwise is to call the Son of God a liar.
Simple Question: Did the 5 foolish virgins who were engaged to be married to Christ the Bridegroom make it into the bridal chamber of eternal glory? No. They were shut out due to not continuing to be faithful to the One they were espoused to marry. See Matthew 25:1-13.
Why is it that some believe that while an engaged partner should be dumped for unfaithfulness, that the Son of God is going to marry a spiritually adulterous fornicator? Blasphemy!
We can be certain, fully assured of 2 things:
In and through Christ alone, we are presently saved, and

As His sons, Jesus says that in order to have His true assurance in our hearts, we must "endure to the end." Such is the condition to be with Him eternally (Matthew 10:22; 24:13; 2 Timothy 2:12; Hebrews 3:6, 12-14; 10:26-39; 2 Peter 2:20-21; Revelation 2:26; 3:15-16, etc.). As seen in these passages and many, many more, the Word of God speaks of both initial and final salvation. So many today want to treat the Son of God like a cheap prostitute – where they get what they want with no commitment.
The saved must abide, remain, continue to follow to the end of their earthly life (John 15:1-6). Those saved from sin by Christ must deny self, take up the cross daily, and follow Him to the end (Luke 9:23-24, etc.). Only cross-less rebels balk at this because they don't wish Jesus to truly reign over their personal lives and therefore migrate to the grace-perverting lie of "eternal security" (Jude 4).
"But those mine enemies, which would not that I should reign over them, bring hither, and slay them before me." Luke 19:27
Christ's apostle Paul is never on record saying things like "I'm saved and assured that I am eternally secure." But he did declare things like "But I keep under my body, and bring it into subjection: lest that by any means, when I have preached to others, I myself should be a castaway" (1 Corinthians 9:27; 10:12). Here Paul openly declares his own need to keep under his body, that is to live the crucified life, or he too would ultimately be cast away from God who is "Holy, holy, holy" – into hell (Isaiah 6:3; Revelation 4:8; 1 Peter 1:15-16).
If those preoccupied with being sure they will be Heaven no matter what, would spend their time worshipping, obeying, trusting, and abiding in Christ, they'd have His assurance instead of some conjured up fake assurance.
This truth is borne out throughout Scripture. Notice in Romans 8:1 that there are 2 conditions necessary to be met to abide in grace instead of condemnation:
"There is therefore now no condemnation to them which are in Christ Jesus, who walk not after the flesh, but after the Spirit." Romans 8:1
Those in Christ are under grace, not condemnation.
Those presently in Christ must walk after the Spirit, not the flesh, or they too will be under divine condemnation.
Beware of the many fake "bibles" which chopped Romans 8:1 in half. | Fake "bibles" Exposed
Only those whose hearts and lives are washed from all sin will enjoy the blessing of deep peace and assurance. And, it's only those who truly abide in Christ, who "walk in the light, as he is in the light" who enjoy the blessing of His cleansing blood and full assurance.
"If we say that we have fellowship with him, and walk in darkness, we lie, and do not the truth: 7 But if we walk in the light, as he is in the light, we have fellowship one with another, and the blood of Jesus Christ his Son cleanseth us from all sin." 1 John 1:6-7
Jesus confirms this truth:
"Blessed are the pure in heart: for they shall see God." Matthew 5:6
PRAYER: Holy Father, I come to You in the name of Jesus Christ. I return to You in repentance, asking You to forgive my rebellion, for being wise in my own conceit, and for doing things my way instead of Your way. Please wash me afresh with the precious blood of my LORD Jesus Christ and fill me with Your Holy Spirit. Please use me dear LORD. I love You Jesus. In the name of Jesus, amen.
More on Assurance here | Eternal Security Debunked | The Cross Life | 100's of Christ-centered, Scripture-rich podcasts for your edification in Christ.