Sending Up Treasures to Heaven
"It is more blessed to give than to receive." Acts 20:35
You're going to spend your life and energy doing something. Should it not be that which holds eternal value? Isn't everything else waste? Why waste your time and energy in this brief life on temporal trinkets and pursuits? Riches
There's no heavenly treasure to be gain by giving to political causes.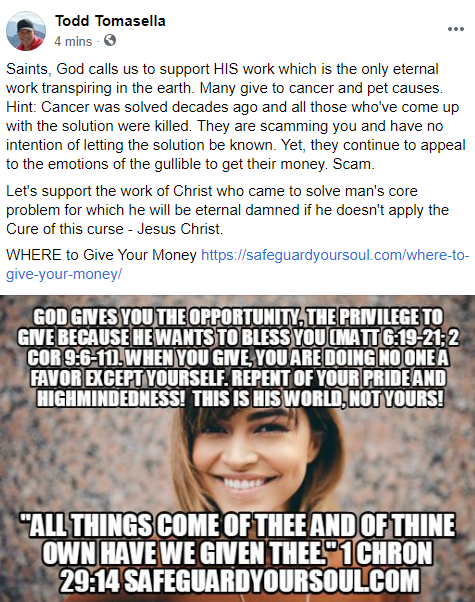 Sending support overseas? Did you know there is a priority laid out in God's Word as to where we are to give? First, we should only fund full-counsel Christ-centered ministries. Then, we are given instructions on the geographical scope. Read Acts 1:8 and note that we are first and foremost responsible to help that which is in our Jerusalem (immediate local-city/state/country), then out a bit to Judea, Samaria, and only then to the uttermost parts of the earth.
"But ye shall receive power, after that the Holy Ghost is come upon you: and ye shall be witnesses unto me both in Jerusalem, and in all Judaea, and in Samaria, and unto the uttermost part of the earth." Acts 1:8 
The first priority of support is that which is in your immediate surrounding – Acts 1:8.
Anna Lisa writes: "Misguided 'Christians' who AREN'T SEEKING GOD are putting their tithes and offerings into the FAKE, COUNTERFEIT churches (buildings, religion) instead of giving to the REAL TEMPLE, the REAL BODY of Christ where it is needed."
God won't reward you for supporting His enemies-He will judge you for doing so! Discern (2 John 10-11; 2 Chronicles 19:2).
DISCERNMENT: IF a man isn't preaching some serious volumes of literal BIBLE and doesn't yet have a proven track record over a long period of time, proving himself, I'm not giving to it. "And we beseech you, brethren, to know them which labour among you, and are over you in the Lord, and admonish you;" (1 Thessalonians 5:12)
Are you supporting the WORK of Christ or some mere man's "church" enterprise?
CLUE: Modern wolves repeatedly invite their gullible prey to give them money to perpetuate their circus act they call "church" and yet can never be heard calling people to come in repentance and faith before a holy God through His only begotten Son Jesus Christ! Run!
"You go to a 'church'. You are encouraged to contribute financially. The Bible backs up this concept. But if you don't ask yourself the next question, 'give to what'?, you may well be propping up a false gospel." Jeffrey Siegfried
SUNDAY MORNINGS: Did he preach Christ? The cross? Hell? Repentance? Holiness? The return of Jesus? If not, run! The Apostate Modern Church: SO much about raising money for man's "building projects" and little or nothing about Christ! Hint: They are raising more money to entertain more goats!
EVERY believer should support Christ's work-in a discerning manner.
True servants of Christ do not minister for the money. No, in fact, because they are true to God they are usually broke. In spite of the lack, they preach the LORD's Gospel (1 Corinthians 9:16).
Among the earliest followers of Christ, we see New Testament Christians giving only to ministers and the poor CHRISTIANS – and never to dogs, to cancer research, the lost, or any other worldly cause. "Let the dead bury their dead." (Luke 9:60) Think. Act wisely. Be biblical. God is watching and will judge according to what we do (Matthew 25:40, 45-46).
"Now concerning the collection FOR THE SAINTSSSS, as I have given order to the churches of Galatia, even so do ye. 2 Upon the first day of the week let every one of you lay by him in store, as God hath prospered him, that there be no gatherings when I come." 1 Corinthians 16:1-2
THE EARLIEST followers of Christ are our example and they gave to the body of Christ, not the lost! Divine priority! (Acts 2:44-5; 4:32-35; 1 Corinthians 16:1-3; Galatians 6:10, etc.) "And the King shall answer and say unto them, Verily I say unto you, Inasmuch as ye have done it unto one of the least of these my brethren, ye have done it unto me. … Then shall he answer them, saying, Verily I say unto you, Inasmuch as ye did it not to one of the least of these, ye did it not to me." (Matthew 25:40, 45)
The earliest Christians gave to the needy Christians, not the world.
"But now I go unto Jerusalem to minister unto the saints. 26 For it hath pleased them of Macedonia and Achaia to make a certain contribution for the poor saints which are at Jerusalem." Romans 16:25-26 
"Let the dead bury their dead." (Luke 9:60) The lost will help the lost in most cases. The lost will not help the righteous. God is all wise saints. Let's humble ourselves and simply obey, follow the wisdom of His Word.
In Acts 2:44-45 and 4:32-35 we see the earliest saints of Christ helping the CHRISTIANS in their own locale, then, we see them sending support specifically to the poor CHRISTIANS in Jerusalem (1 Corinthians 16:1-3). Galatians 6:10 tells us the LORD's priorities for our giving: "As we have therefore opportunity, let us do good unto all men, especially unto them who are of the household of faith." (Galatians 6:10)
Christians and authentic Gospel ministries in America need our support saints. Many of the calls for donations overseas are fraudulent scams disguised as Christian. Muslims and other thieves prey upon the giving nature of God's people. Yet. believers must be wise and harmless:
"Behold, I send you forth as sheep in the midst of wolves: be ye therefore wise as serpents, and harmless as doves." Matthew 10:16
Do you spend more time in "church" than in the Bible itself? Wow! Red flags flying!
What to Beware of the Self-Righteous
It seems we should beware of self-righteous false watchmen and pastors who pat themselves on the back by saying things like "I don't take any money from the ministry. I work and make my own money." Then they spurn the pastoral watchmen who give people the opportunity to do what Jesus taught us to do – to "give." (Luke 6:38; Acts 20:35).
Don't buy this so fast. They may sound noble until you look closer at the whole counsel of God's Word which defies such a notion and exposes these who assert such.
Did the apostle Paul and the early church take up collections? Answer: Yes. See 1 Corinthians 16:1-2. To refuse to allow God's people to give is a sin and out of the order of God established from Genesis to Revelation. In Exodus 35, God's people gave so much that the LORD had to tell them to stop. Would to God we had that problem these days. It's quite the opposite in this late hour unless you look at the masses of gullible dupes who empty their pockets on the end time wolves who are making merchandise of them (2 Peter 2:1-3).
–—  Nearly half of Jesus' parabolic teachings deal with stewardship. Remember, in the temple Jesus never told the Jews to remove the treasury (coffers where people have the privilege to give). No, in fact, He sat right next to it in order to watch how people were giving and neglecting to give (Mark 12:41-44).
Giving is instituted by the One who gave all and on record for us from Genesis to Revelation. It's the givers privilege to give (1 Chronicles 29:14; 2 Corinthians 9:6-11; Acts 20:35). Also, God forbid that those called out by God to do His work shut up the blessing by not allowing their audience – those they feed – to contribute and thereby lay up treasure in Heaven while warding off the false god of mammon (Matthew 6:19-24).
Where we give is important.
Barry Bugh says it correctly when writes: "Sow…where you see fruit." And saints, the building based local churches are not fulfilling the Great Commission our Master gave us and therefore are producing bad fruit. As usual, as we see throughout biblical history, God is calling a remnant out from among the apostate system.
It seems that church going people feel they need to pay their dues to the country club, entertainment center they call the "church building" and it's associated organization.
If you are born again and abiding presently in Christ, you have "mansion" in glory awaiting you! (John 14:1-6) Did you know that you also have an "account" in Heaven? Now, what's in that "account"? Is it empty or full?
"Not because I desire a gift: but I desire fruit that may abound to your account." Philippians 4:17
Paul, Christ's apostle, wanted to see the heavenly accounts of God's people full!
God is not going to reward you good for not contributing to that which He stated is most important.
Saints let's support REAL ministry and no longer fund the bureaucratic religious frauds of the apostate modern church world.
Are we going to be biblical? WHAT does 1 Corinthians 9:1-14 establish? What does Galatians 6:6 and 1 Timothy 5:17-18 say? Do you know what the LORD told us for His church in these passages? God read and get in the know – God's know-ledge.
It's all in God's Word … The fact that wolves have made merchandise of the biblically illiterate, including us in the past, does nothing at all to negate or diminish aught from the clearly stated will of God. In this late hour, as the remnant is being delivered out of the deceptions of these wolves, it is not the will of God that they cease giving but rather that they re-appropriate that giving to where there is true New Testament, Great Commission fruit being born. Why should the LORD further suffer through our lives by cheating His true work out of the fuel needed? Was it His fault that we were deceived and funded false ministries in the past? This is an ugly picture saints. Let's not abandon to abuse (throw the baby out with the bath water).
Think with me for a moment ….. Some love the fact that tithing is not a New Testament teaching? Why? Is it because they can now spend all their money on self? Many of these cease all giving and go back to spending all their money on the false god of self. They will spend and waste dollar on top of dollar on trash and entertainment and give little or nothing to God's work while they soothe themselves in the knowledge that tithing is not a New Testament teaching. Yet, 100% of what we receive is from God. Jesus commands us to give. What about putting God (not self) first place in every part of our lives – including stewardship of the monies He allows us to bring in?
"Honour the LORD with thy substance, and with the firstfruits of all thine increase: 10 So shall thy barns be filled with plenty, and thy presses shall burst out with new wine." Proverbs 3:9-10
In all things God must be "first" Jesus says (Matthew 6:33; Proverbs 3:9-10).
Saints, may our LORD bless each of us to have His wisdom concerning giving back to Him. May He bless us not to lean to our own understanding, but to fully trust in what He told us in His Word (Prov. 3:5-6).
The unchanging God will never contradict His holy Word and will only lead His children in accordance to it.
Please allow me to exhort you in the matter of your giving – according to the all-wise Counsel of the Most High.
Speaking of previously funding false prophets, one sister writes:
"Yep! Been there done that as many have! We need to continue to give but we need to truly know where the monies are going! Investigate before you give." Darlene T.
Is it a sin for people doing God's work to give the ongoing opportunity for others to give/donate? No. – "And Jesus sat over against the treasury, and beheld how the people cast money into the treasury: and many that were rich cast in much." (Mark 12:41-44) Jesus never told them to remove the treasury/coffer/place of opportunity to give. No, instead He sat right next to it in order to watch people giving and how they gave. He never rebuked the idea of coffers, only the misuse of them such as when He drove out the money changers (Matthew 21; John 2).
First of all, giving should be a joyful event. Our hearts should rejoice to release God's money back into His work.
"The LORD loveth a cheerful giver." 2 Corinthians 9:7
Our LORD tells us that all that we have comes from Him and what we give Him came from Him (1 Chron. 29:14). We will be brought into accountability before His Holy Throne of Judgment concerning our stewardship of every penny He gave us, and "To whom much is given, much shall be required." (James 4:17) We should proceed with fear and trembling in this matter. It is no small one.
Where are Christians to Give?
So many times, we have all heard Christians say things like: "It doesn't matter where I give. God is going to bless me anyway. He handles the rest after I give."
BE NOT DECEIVED: God is not going to violate His own Word by blessing those who are funding His enemies. By giving to a ministry or local church that is not fulfilling Christ's Great Commission command to teach and preach His Word to saint and sinner alike, you are bidding God speed (helping, condoning) His enemies. See 2 John 7-11. To think that God doesn't watch exactly where you give – to fruit-producing or fruitless ministries – is naive and untrue.   
"Bring ye all the tithes into the storehouse…" Malachi 3:8-11 
His "storehouse" is not a physical building, but rather the place where His original Gospel is truly being obeyed and furthered in His love – where His Word of truth is being proclaimed and upheld with all boldness. 1 Peter 2:5 says the body of Christ is a "spiritual house." 1 Peter 5 says to "Feed the flock of God."
We must carefully place every dollar we give – into rich Gospel soil. The LORD holds us accountable for how and where we give – and what it promotes. For the disciple of Christ, the only ministries that qualify are those which are authentically carrying out the Great Commission Christ gave – holding forth the original Gospel unwaveringly. Christ's Gospel program consists of building up the saints, preaching the Gospel and seeing people saved, water baptized, and filled with the Holy Ghost (Acts 2:37-39, 3:19, etc.). See what the early Church did in the book of Acts for a view of what the Original Gospel of Christ really is. God is good.
Saints, untold thousands of Gospel workers are in lack right here and now in America. Thousands of called men of God have had to go back to their secular work, due to the lack of giving among those who claim to know Christ. In light of these facts, How can the true child of God possibly give revenues to already well-funded, secular organizations?
When we truly begin to aggrandize divine truth, we will then begin supporting only those who truly endeavor to preach all of it (full-counsel) fearlessly and cease from funding the ministries of hireling false prophets who allow most of their ministry revenues to be absorbed on things other than that which is at the core of importance in the divine economy, like the true building up of the saints – getting them into the Word for themselves, and winning lost souls.
Concerning the work, workers and building up of God's kingdom, the Bible instructs us in Ezra 6:8 – "forthwith expenses be given unto these men, that they be not hindered."
The reason all of God's people are to give to His authentic work is "that they (His servants) be not hindered." (Ezra 6:8)
The Almighty who is all-knowing and all-just, is going to bring to light the pain suffered by those He called to serve Him and yet were "destitute" (Heb. 11:37). Today some in our midst are without basic necessities and/or funds to operate their divinely-inspired and called ministries. This is directly due to the disobedience of those who possess the ability to give to help sustain their lifestyles so they can continue to further the eternal Gospel (all get rewarded for eternity). Saints, God is going to judge us according to how we spend every dollar and punish the disobedience. Much eternal treasures remains to be laid up in your account. See 2 Corinthians 9:6-10.
Authentic, born again saints must cease from funding worldly organizations, ministries or causes that are not divinely inspired, eternal works, according to the original Gospel. Those causes and works which align with the mission and mind of Christ are to be funded joyfully by His true disciples. They will always involved the very first Word and command of the Gospel – "Repent: for the kingdom of heaven is at hand." (Matt 3:2; 4:17; Lk. 13:3, 5; Acts 2:38; 3:19)
We should also refrain from supporting any entity furthering the cause of their own organization/denomination, or the leader(s). Jesus is the KING of the eternal kingdom and He alone will be reigning when all men are laid low (Is. 2:17-18; 42:8). In our giving, we must make certain that every dollar is put to use to the end person in need and not to be absorbed into some religious bureaucracy (denominational, etc.). Of course, we must keep in mind that the Bible says in both testaments that "the workman is worthy of his hire" and those who do the most important work -the Gospel – are to be well taken care of so they are not hindered in their work (Matt. 10:10; 1 Tim. 5:17-18)
"For where your treasure is, there will your heart be also." Matthew 6:21
HIS CAUSE
Jesus told us He came on a mission from the Father to "seek and to save that which was lost" (Lk. 19:10), and instructed us to "Let the dead bury their dead: but go thou and preach the kingdom of God." (Luke 9:60) The Son of God says here plainly to "let those that are of the world fund and further their own fleeting cause, but you my people, do all that you can to further my eternal Gospel, to rescue the perishing from eternal damnation in the lake of fire from which there will be no escape."
"He that hath the Son hath life; and he that hath not the Son of God hath not life." 1 John 5:12
Make No Mistake: There are and will be souls in hell due to the lack of obedient and charitable giving of those today who call themselves by the name of Christ and yet disobey Him in not giving their lives and revenues to His work (Matt. 7:21). The disobedience of withholding has tied the hands of God's workers and greatly hindered their ability to do what the LORD has sent them to do in the care of souls and winning the lost.
True believers are to be possessed with the exact vision and passion of the One who came to shed His very own blood for all/our sins on that wooden cross. He was raised again 3 days later. We are to use every possible resource He gives into our hands to further His unaltered cause – preparing men to meet Him/the care of souls. On top of all this, Christ our LORD promised unending eternal rewards for every penny we give to His work in this life. He instructed us to lay up for ourselves treasure in heaven and not on earth, and He told us that where we put our treasures is exactly where our hearts will to/follow/be (Matt. 6:19-21). Where ones money flows, ones heart goes. The certain recipe for backsliding, is to not give to the furtherance of God's Word. One of the quickest ways to have a revival in your own heart is to write a check to the work of Christ. Do it now and the LORD promises to reward you.
Remember, we should Let the dead (unsaved) do the work of the dead – and we as the living, should do the work of the living (those made alive by Christ).
"There is that scattereth, and yet increaseth; and there is that withholdeth more than is meet, but it tendeth to poverty. The liberal soul shall be made fat: and he that watereth shall be watered also himself. He that withholdeth corn, the people shall curse him: but blessing shall be upon the head of him that selleth it." Proverbs 11:24-26
"I believe GOD WILL hold Christians ACCOUNTABLE for sinking HIS MONEY into man-made ORGANIZED RELIGION rather than helping poor, struggling families!!! THOSE who SINK GOD'S MONEY into CHURCH BUILDINGS OBVIOUSLY are NOT SEEKING GOD to know HIM by his HOLY SPIRIT!!! I believe that those who put tithes into a "religion," a "church building," are a SIGN that they are LUKE WARM CHRISTIANS!!!" Anna Lisa
Let's learn God's Word together, one truth at a time. Sign up here to receive the Moments with My Master email that is sent out to edify Christ's body.