God Says it's Time to LAUGH and Here's Why!!!! [podcast]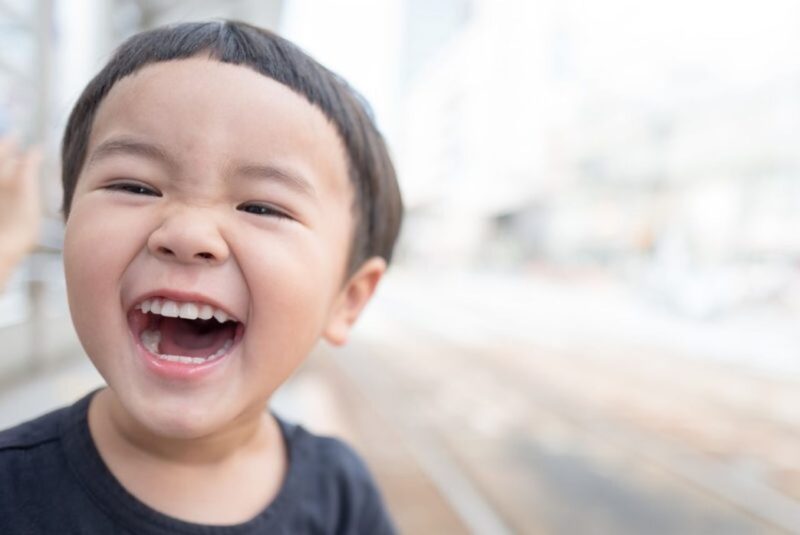 WHEN TO LAUGH!
"At destruction and famine thou shalt laugh: neither shalt thou be afraid of the beasts of the earth." Job 5:22
The next time you hear of destruction (war, famine, etc.) coming to your country – that's your que to "LAUGH"!
The World's Economy or Christ's Kingdom Economy?
"But my God shall supply all your need according to his riches in glory by Christ Jesus." Philippians 4:19
I just read this headline shown in this graphic screen capture: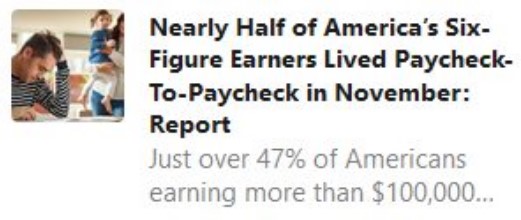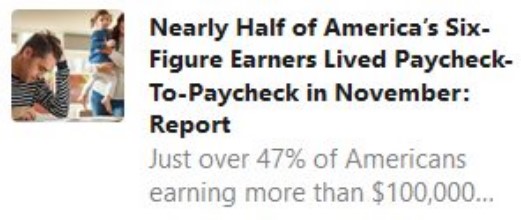 In light of the above headline, article, let us stop and think about how God has taken care of His people, most of whom do not earn anywhere near a 6-figure income. What does that say for the faithfulness of our LORD no matter what? We live under His blessing, His kingdom economy! Read Psalms 67 and 112; Philippians 4:19.
"They shall not be ashamed in the evil time: and in the days of famine they shall be satisfied." Psalms 37:19
IT'S TIME TO LAUGGGGHHHHH. Divinely sanctioned LAUGHING from Our Maker who created laughter for His purposes and our blessing.
Memorize Job 5:22 today!
God created laughter and He expects His children to enjoy it for the right reasons and in the right seasons!
Why do we laugh at destruction? – Because God is our

Protector

!
Why do we laugh at famine? – Because God is our

Provider

!
Fake, Fear-Inducing "News" is from "the prince of the power of the air (Satan)." Ephesians 2:2
There's never a time when the devil's children will cease their fear mongering! We trust in the living God who has no shortage of wealth – and never will! Here's a laughable, all-too-typical, agenda-driven fake news article now trending on yahoo fake news: "The housing market is slowing down, and that's a bad sign for the economy." … Satan seeks to induce fear! God calls us simply to trust Him!
Remember when you were just a child? Did you ever lay in bed worrying if there was going to be provision? No. You knew your parents were going to provide. How much more shall our heavenly Father, who owns all that is, provide for us!
"Ask, and it shall be given you; seek, and ye shall find; knock, and it shall be opened unto you … If ye then, being evil, know how to give good gifts unto your children, how much more shall your Father which is in heaven give good things to them that ask him?" Matthew 7:7, 11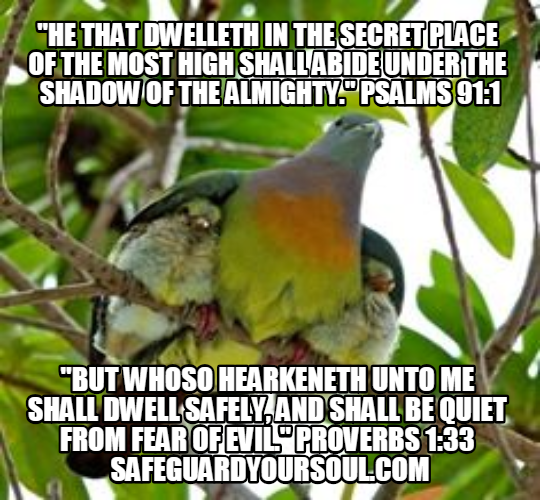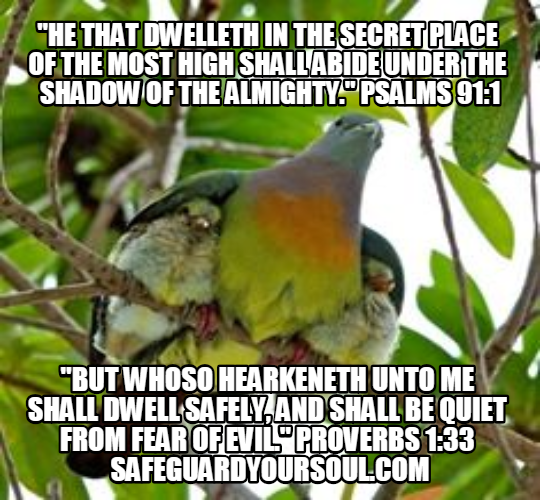 "Trust in the LORD with all thine heart; and lean not unto thine own understanding. 6 In all thy ways acknowledge him, and he shall direct thy paths." Proverbs 3:5-6
"I have been young, and now am old; yet have I not seen the righteous forsaken, nor his seed begging bread." Psalms 37:25
Now, to you who are not truly, genuinely born again: You will not be laughing but rather crying profusely for all eternity in the bowels of eternal damnation (hell) if you do not make peace with your Maker who is the Judge of your eternal soul. Go here and make peace with God so that He will save, forgive, and fill your heart with joy! Peace with God
As long as we're on this earth there will be fear- mongering children of the enemy seeking to induce fear into our hearts. They broadcast live around the clock, pumping fear in all who listen, all who give ear.
But the LORD says:
"But whoso hearkeneth unto me shall dwell safely, and shall be quiet from fear of evil." Proverbs 1:33
What did our LORD Jesus teach us about provision and trust?
"Therefore I say unto you, Take no thought for your life, what ye shall eat, or what ye shall drink; nor yet for your body, what ye shall put on. Is not the life more than meat, and the body than raiment? 26 Behold the fowls of the air: for they sow not, neither do they reap, nor gather into barns; yet your heavenly Father feedeth them. Are ye not much better than they? 27 Which of you by taking thought can add one cubit unto his stature? 28 And why take ye thought for raiment? Consider the lilies of the field, how they grow; they toil not, neither do they spin: 29 And yet I say unto you, That even Solomon in all his glory was not arrayed like one of these. 30 Wherefore, if God so clothe the grass of the field, which to day is, and to morrow is cast into the oven, shall he not much more clothe you, O ye of little faith? 31 Therefore take no thought, saying, What shall we eat? or, What shall we drink? or, Wherewithal shall we be clothed? 32 (For after all these things do the Gentiles seek:) for your heavenly Father knoweth that ye have need of all these things. 33 But seek ye first the kingdom of God, and his righteousness; and all these things shall be added unto you. 34 Take therefore no thought for the morrow: for the morrow shall take thought for the things of itself. Sufficient unto the day is the evil thereof." Matthew 6:25-34
Our God promises to load us daily with His "benefits."
"Blessed be the Lord, who daily loadeth us with benefits, even the God of our salvation. Selah." Psalms 68:19
David was able to conquer Goliath because he was in the Spirit with the LORD. David communed with the LORD and so laughed if you will, at the idea of anything, anyone, any giant being more powerful than the Most High. Think about it: While the others in Israel were running scared to God saying "O God look at how big that giant is!" In contrast David ran to the giant and said "I'm going to show you how big my God is, boy!" 1 Samuel 17
Comforted in ALL Our Tribulation
Going through difficulties only enhances our ability to enjoy God and experience His comfort and blessing (James 1:2-4; Romans 8:18).
"Blessed be God, even the Father of our Lord Jesus Christ, the Father of mercies, and the God of all comfort; 4 Who comforteth us in all our tribulation, that we may be able to comfort them which are in any trouble, by the comfort wherewith we ourselves are comforted of God. 5 For as the sufferings of Christ abound in us, so our consolation also aboundeth by Christ." 2 Corinthians 1:3-5 
The comfort our God's love is never more realized than when His people endure suffering in this life.
Soon, "we shall ever be with the LORD" with no discomfort forever (1 Thessalonians 4:17; Revelation 21:4; 1 Corinthians 2:9).
"For I reckon that the sufferings of this present time are not worthy to be compared with the glory which shall be revealed in us." Romans 8:18