FURNISHED unto all Good Works [podcast]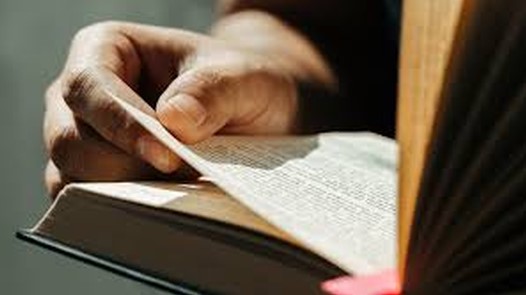 IF our hearts, minds, and mouths are not loaded to overflowing with God's written Word, that's the clear sign that we are not yet called to preach for Him. So, preparation! Study, read, learn, memorize, meditate upon Holy Scripture.
"Bow down thine ear, and hear the words of the wise, and apply thine heart unto my knowledge. 18 For it is a pleasant thing if thou keep them within thee; they shall withal be fitted in thy lips. 19 That thy trust may be in the LORD, I have made known to thee this day, even to thee. 20 Have not I written to thee excellent things in counsels and knowledge, 21 That I might make thee know the certainty of the words of truth; that thou mightest answer the words of truth to them that send unto thee?" Proverbs 22:17-21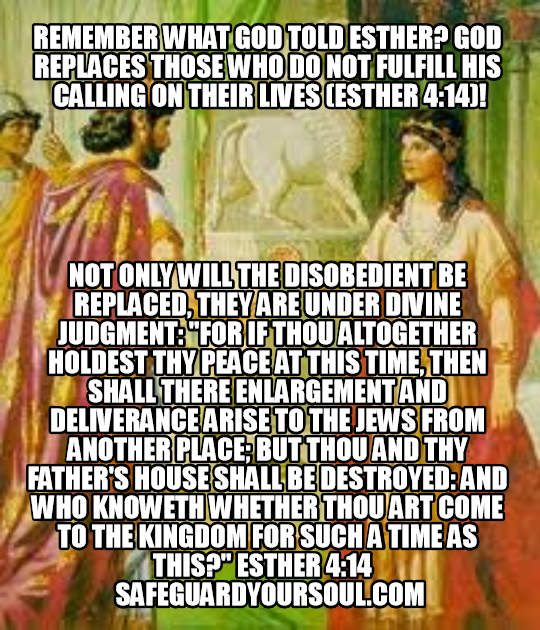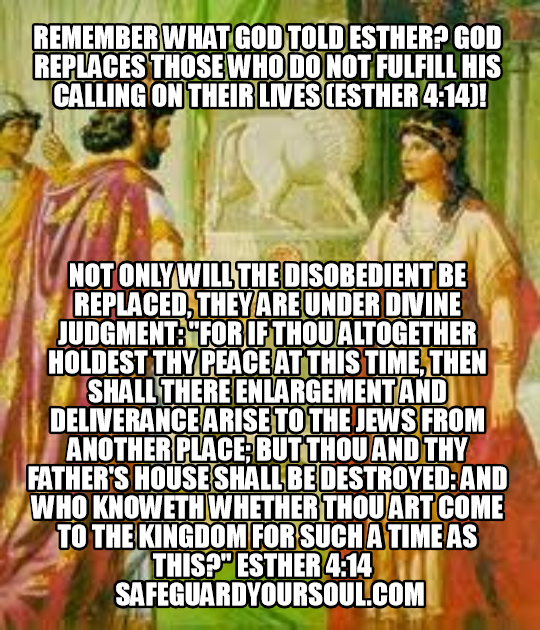 The only way to learn to walk and talk Biblically/biblical is to study God's Word like He told you to (2 Timothy 2:15). Do it now.
If you won't be faithful to learn God's Word, He can't use you to minister it – because you don't know it (2 Timothy 2:15). And if you go forth trying be minister, you'll be a false witness.
"Prepare thy work without, and make it fit for thyself in the field; and afterwards build thine house." Proverbs 24:27 
Prepare in private and God will use you in public (Matthew 6:6).
God's Word cannot be in me unless I am in it – daily in reading, study, meditation, and obedience.
We can only speak the truth into the hearts of men and dispel the opposing arguments if we know the truth so well that the truth is the only thing that flows from our lips (Proverbs 22:17-21; 1 Peter 3:15).
Until a man's heart and mind are filled to the full with the counsel of God, the written Word, having walked it out through years in Christ, he is not yet qualified to be in an eldership calling in Christ's body. He is still a "novice" – "Not a novice, lest being lifted up with pride he fall into the condemnation of the devil" (1 Timothy 3:6).
ALL who desire God to use them, for God's Word to flow through them, are filling up daily with His Word (Proverbs 22:17-21; 2 Timothy 2:15; 1 Peter 4:11). Are you being prepared to be mightily used of God? (Daniel 11:32)  Anyone who says they want to be used of God and yet is not deeply, diligently, daily devouring God's Word, is a liar.
"For every one that useth milk is unskilful in the word of righteousness: for he is a babe. 14 But strong meat belongeth to them that are of full age, even those who by reason of use have their senses exercised to discern both good and evil." Hebrews 5:13-14 
It is more than obvious to the diligent Bible student that a large percentage of those men who lead in the apostate modern church world, are babes, novices.
Until a man is deeply seasoned by the knowledge of and obedience to the Word of God, he is not ready to lead. This takes many years involving seasons of testings, trials, purgings, corrections, humblings, repentances, and chastening. No one who truly walks with Christ escapes (John 15:2; 2 Timothy 2:21; Hebrews 12:5-12; 1 Peter 1:5-7). There are no short cuts.
"Christ's words must abide or continue in us. We must study His words, fairly devour His words, let them sink deep into our thought and into our heart, keep them in our memory, obey them constantly in our life, let them shape and mold our daily life and our every act." R.A. Torrey
GOOD NEWS: If God is purging you, that proves that you are truly in Christ and have born good fruit and now He is purging you so that even more good fruit will be produced in your life! Victory!
"Every branch in me that beareth not fruit he taketh away: and every branch that beareth fruit, he purgeth it, that it may bring forth more fruit. 3 Now ye are clean through the word which I have spoken unto you." John 15:2-3
"If a man therefore purge himself from these, he shall be a vessel unto honour, sanctified, and meet for the master's use, and prepared unto every good work." 2 Timothy 2:21
For the way God works in and then through men, study the disciples of Christ and the Old Testament men of God and the progression of their spiritual maturity in Christ. This gives us much hope that if God could work in them, He can work in us – if we, like David, choose daily to be men after God's own heart (Acts 13:22).
True disciples who walk with God, like beloved David, know what it means to fall, to sin, to repent, to re-turn to the LORD, and to be restored by the LORD. They therefore help you, they encourage, they admonish, and warn you to hasten to the throne of grace to obtain mercy and grace!
"Let us therefore come boldly unto the throne of grace, that we may obtain mercy, and find grace to help in time of need." Hebrews 4:16 
YOU may not be acting it out BUT if it's an un-crucified iniquity in your heart, God sees it just the same! We better get a kingdom clue saints! See Matthew 5:28; 1 Samuel 16:7; Proverbs 4:13.
Has the Word of God, the very "sword of the Spirit" cut you deep? (Ephesians 6:17) Is it circumcising your heart – cutting away the evil?
"For thus saith the LORD to the men of Judah and Jerusalem, Break up your fallow ground, and sow not among thorns. 4 Circumcise yourselves to the LORD, and take away the foreskins of your heart, ye men of Judah and inhabitants of Jerusalem: lest my fury come forth like fire, and burn that none can quench it, because of the evil of your doings. … 14 O Jerusalem, wash thine heart from wickedness, that thou mayest be saved. How long shall thy vain thoughts lodge within thee?" Jeremiah 4:3-4, 14
True, seasoned disciples are "furnished" not only with the head knowledge of God's Word but also a performance of the workings of God in their own daily lives. They are "doers of the word, and not hearers only" and therefore "by reason of use have their senses exercised to discern both good and evil" (Hebrews 5:14; James 1:22).
"Furnished" – Are you putting the furniture of God's Word in your heart daily? Are you furnishing the vessel?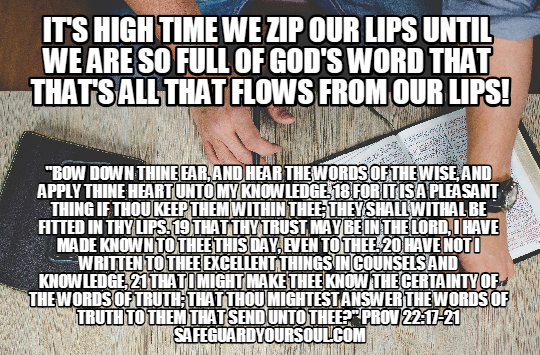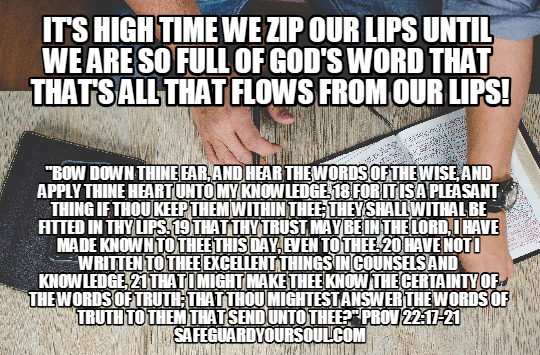 "That the man of God may be perfect, throughly FURNISHED unto all good works." 2 Timothy 3:17
This word "furnished" here means fully equipped. And according to this passage, the only way to be "throughly furnished" is by being full of God's Word.
ONLY if we are devouring God's Word daily, will we be able to speak His words (Proverbs 22:17-21; 2 Timothy 2:!5; 4:2; 1 Peter 4:11).
ANY leadership curriculum that isn't literally the Scriptures – and learning THEM – is a scam! (See Psalm 119; 2 Timothy 2:15; 3:16-17; 2 Peter 1:20-21, etc.) How long shall we prop up the wolves and their self-agenda "ministries"? How long shall we be be deceived?
Be aware that clever men, operating as Christian pastors, authors, singers, etc., can make nearly anything look biblical. This is done in part by over emphasizing certain things while ignoring others. We must ask, we must test the spirits by asking whether or not their doctrine is expressly, directly, explicitly stated in Holy Scripture, or not – just exactly as the Berean disciples did (Acts 17:10-11). Again, nearly anything can be extrapolated using select Scriptures and yet, is that what the whole of Scripture communicates? Test. Discern.
You were made by God and placed on this HIS earth for such a time as this. Will He have to bring deliverance, ministry to those around you through another vessel? Or, will you obey Him? Esther 4:14