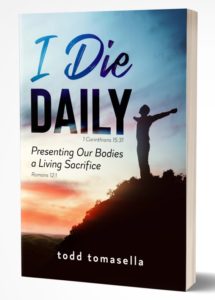 Prayer is inseparably connected with knowing God (John 17:3).
"But thou, when thou prayest, enter into thy closet, and when thou hast shut thy door, pray to thy Father which is in secret; and thy Father which seeth in secret shall reward thee openly." Matthew 6:33
"A sinning man stops praying. A praying man stops sinning." – Leonard Ravenhill
"And in the morning, rising up a great while before day, he went out, and departed into a solitary place, and there prayed." Mark 1:35
Anyone not praying is not seeking God and has already fallen away (Luke 12:40).
"A glorious high throne from the beginning is the place of our sanctuary." Jeremiah 17:12
The LORD's people are known as His "house" and He calls them His "house of prayer."
"And said unto them, It is written, My house shall be called the house of prayer; but ye have made it a den of thieves." Matthew 21:13
Those who truly love and worship the LORD perpetually seek His holy face and that's called prayer.
"Pray without ceasing." 1 Thessalonians 5:17
Spending quality moments with God is your best time spent (Matthew 6:6).
"The preaching of the Word of the Lord fails to run and be glorified from many causes. The difficulty may lie with the preacher himself, should his outward conduct be out of harmony with the rule of the Scriptures and his own profession. The word lived must be in accord with the word delivered; the life must be in harmony with the sermon. The preacher's spirit and behavior out of the pulpit must run parallel with the Word of the LORD spoken in the pulpit. Otherwise a man is an obstacle in the success of his own message." E.M. Bounds, E.M. Bounds On Prayer,  p. 421
"A sinning man stops praying. A praying man stops sinning." – Leonard Ravenhill
"The men who have done mighty things for God have always been mighty in prayer, have well understood the possibilities of prayer, and made the most of these possibilities. The Son of God, the first of all and the mightiest of all, has shown us the all-potent and far reaching possibilities of prayer. Paul was mighty for because he knew, how to use, and how to get others to use, the mighty spiritual forces of prayer." EM Bounds, The Complete Works of E.M. Bounds on Prayer, P. 341
"It has been said that no great work in literature or in science was ever wrought by a man who did not love solitude. We may lay it down as an elemental principle of religion, that no large growth in holiness was ever gained by one who did not take time to be often long alone with God." Austin Phelps
Life of Prayer | The Place of Our Sanctuary | Having a Heart After the LORD