The Goal of Grace [podcast]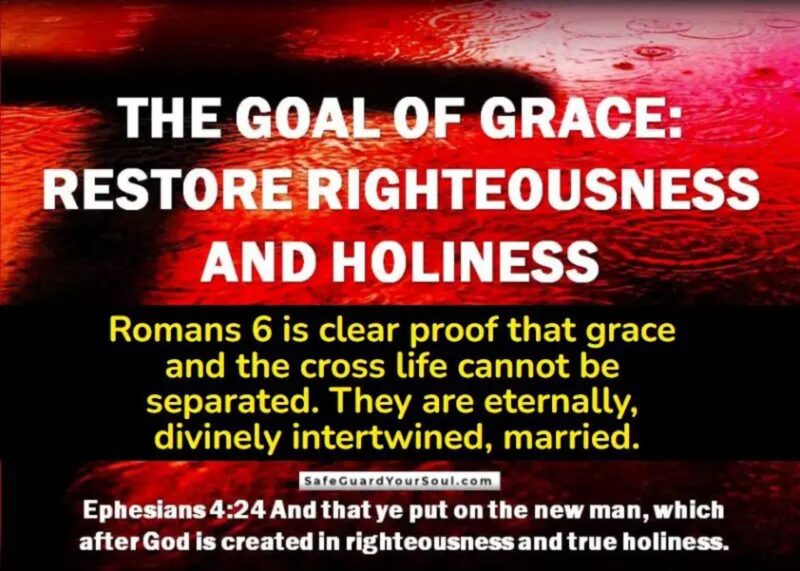 Reckoning with the Depravity of the Old Man
"But God forbid that I should glory, save in the cross of our Lord Jesus Christ, by whom the world is crucified unto me, and I unto the world." Galatians 6:14
Rightly assessing what the Bible informs us of concerning the old man is essential.
Nothing good exists in us except Christ Himself, His perfect righteousness!
"For I know that in me (that is, in my flesh,) dwelleth no good thing: for to will is present with me; but how to perform that which is good I find not. … 24  O wretched man that I am! who shall deliver me from the body of this death?" Romans 7:18, 24

The only righteousness we have is that which our LORD Jesus lovingly, mercifully, graciously provided for us by the one-time shedding of HIS precious blood for our sin – to pay the price in full, the exclusive redemption price which alone could and did satisfy the claims of the Father's justice to redeem fallen mankind back to Him and the Father (Ezekiel 22:30; John 19:30; Romans 3:21-25; 1 Timothy 2:4-6; Titus 3:5-7, etc.).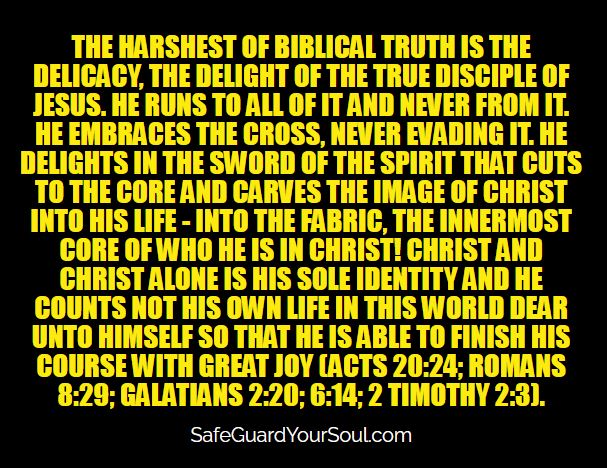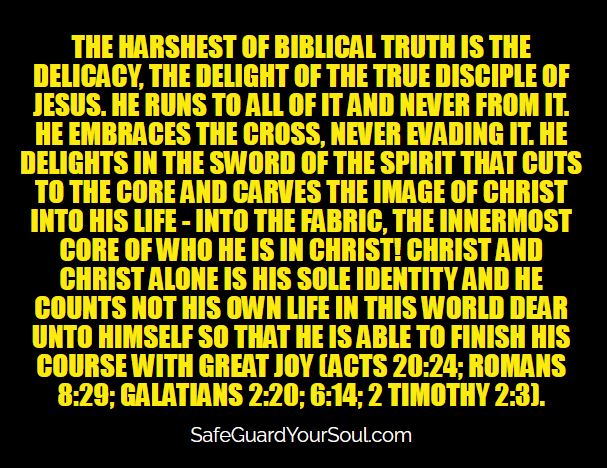 "… sin that dwelleth in me. 18 For I know that in me (that is, in my flesh,) dwelleth no good thing: for to will is present with me; but how to perform that which is good I find not." Romans 7:17-18
There is "no good thing" in us, except Christ (Romans 3:10; 7:18, etc.). This is God's pronouncement upon fallen mankind, upon sinful man. The LORD requires that we agree with this declaration of the inability of fallen man to be anything but "deceitful above all things, and desperately wicked." (Jeremiah 17:9) Hence the need for the cross…. that the old man might be redeemed, liquidated….raised up…
Read Romans 6-8 this week.
The closer we walk with the LORD, the greater realization we have of our own utter depravity outside of Christ – and hence the need for the crucified life.
Those who don't recognize their own depravity, prove they are not truly close to God at all. He is holy and all who draw nigh to Him will be made aware of their own utter iniquitous nature.
IF you presently view God as anything other than first and foremost "Holy, holy, holy", you are working on a wrong level, you are utterly deceived, not realizing your own need to humble yourself before Him, to be "crucified with Christ" (Isaiah 6:3; Revelation 4:8). This is exactly why so many listen to false preachers preach a false gospel, "another gospel." (Galatians 1:6-9) They are not aware of their own depravity. No, instead the false teachers build them up in their pride and wickedness. They affirm them in the state of sinful self. They preach affirmation without regeneration. False prophets are known by the reality that they tickle ears, they don't preach the holiness of God, the essential of repentance, and overcoming all sin through the crucified life the Savior and His holy apostles commanded (Mark 9:43-50; Luke 9:23-24; 13:3; Galatians 2:20; Ephesians 5:25-27; Hebrews 12:14-17, etc.).
"Created in Righteousness and True Holiness"
"That ye put off concerning the former conversation the old man, which is corrupt according to the deceitful lusts; 23 And be renewed in the spirit of your mind; 24 And that ye put on the new man, which after God is created in righteousness and true holiness." Ephesians 4:22-24
Each of His children, bought by His blood, merely stand as unworthy beggars, shoulder to shoulder in honor of our KING, Jesus!
"I am not worthy of the least of all the mercies, and of all the truth, which thou hast shewed unto thy servant…" Genesis 32:10
The recognition of the old man, that inherent nature of iniquity in us (Romans 7) is the reason for the crucified life, the cross. The old man must die – must be dead and buried daily and God will raise him up. There are no shortcuts.
"Now we know that what things soever the law saith, it saith to them who are under the law: that every mouth may be stopped, and ALL THE WORLD MAY BECOME GUILTY BEFORE GOD." Romans 3:19
Every man born after Adam has broken God's law and is "guilty before God."
Let's read a larger portion of Romans 3 on this matter:
"for we have before proved both Jews and Gentiles, that they are all under sin; 10 As it is written, There is none righteous, no, not one: 11 There is none that understandeth, there is none that seeketh after God. 12 They are all gone out of the way, they are together become unprofitable; there is none that doeth good, no, not one. … 19 Now we know that what things soever the law saith, it saith to them who are under the law: that every mouth may be stopped, and all the world may become guilty before God. … 23 For all have sinned, and come short of the glory of God;" Romans 3:8-12, 19, 23
When Adam sinned and fell, mankind because a fallen race, made in God's image and yet, separated from Him in their sin. Hence the need for Christ to come and reconcile the world back to God (2 Corinthians 5:19-21).
"Wherefore, as by one man sin entered into the world, and death by sin; and so death passed upon all men, for that all have sinned:" Romans 5:12 
"Therefore as by the offence of one judgment came upon all men to condemnation; even so by the righteousness of one the free gift came upon all men unto justification of life. 19 For as by one man's disobedience many were made sinners …" Romans 5:18-19
The only way to reckon with the old man is with the cross. The crucified life is the only solution to victory given to us by our Savior.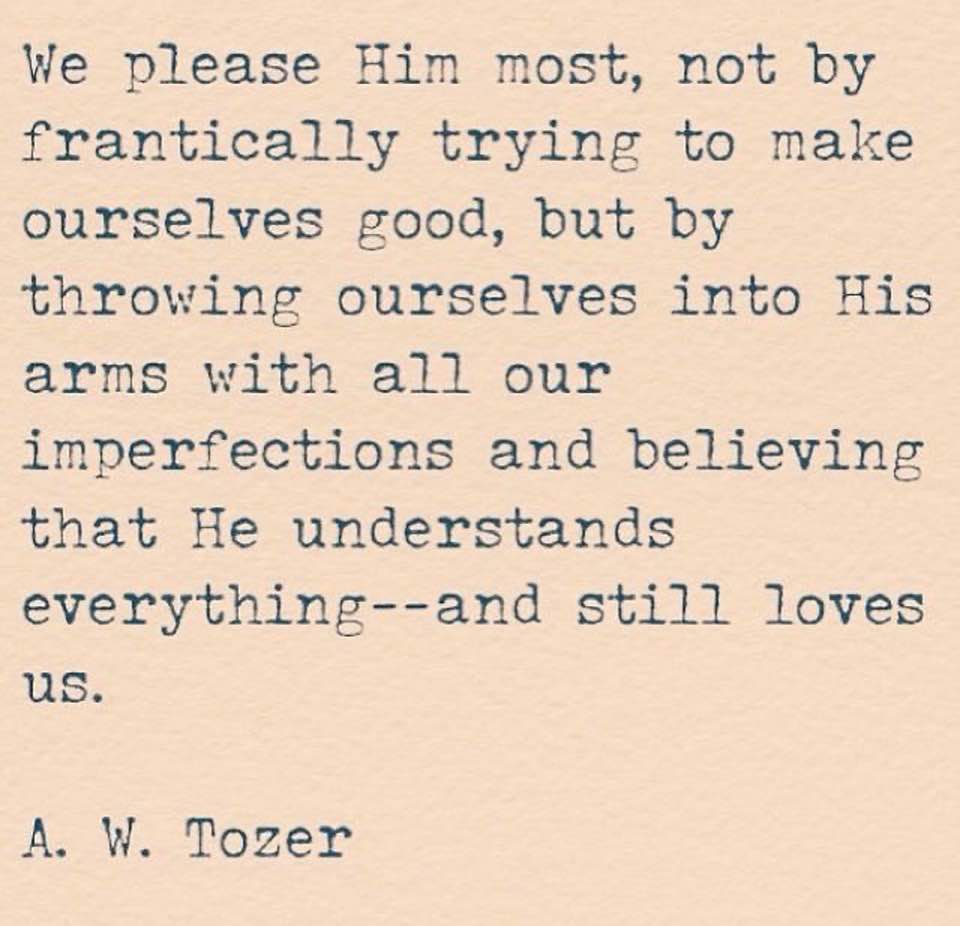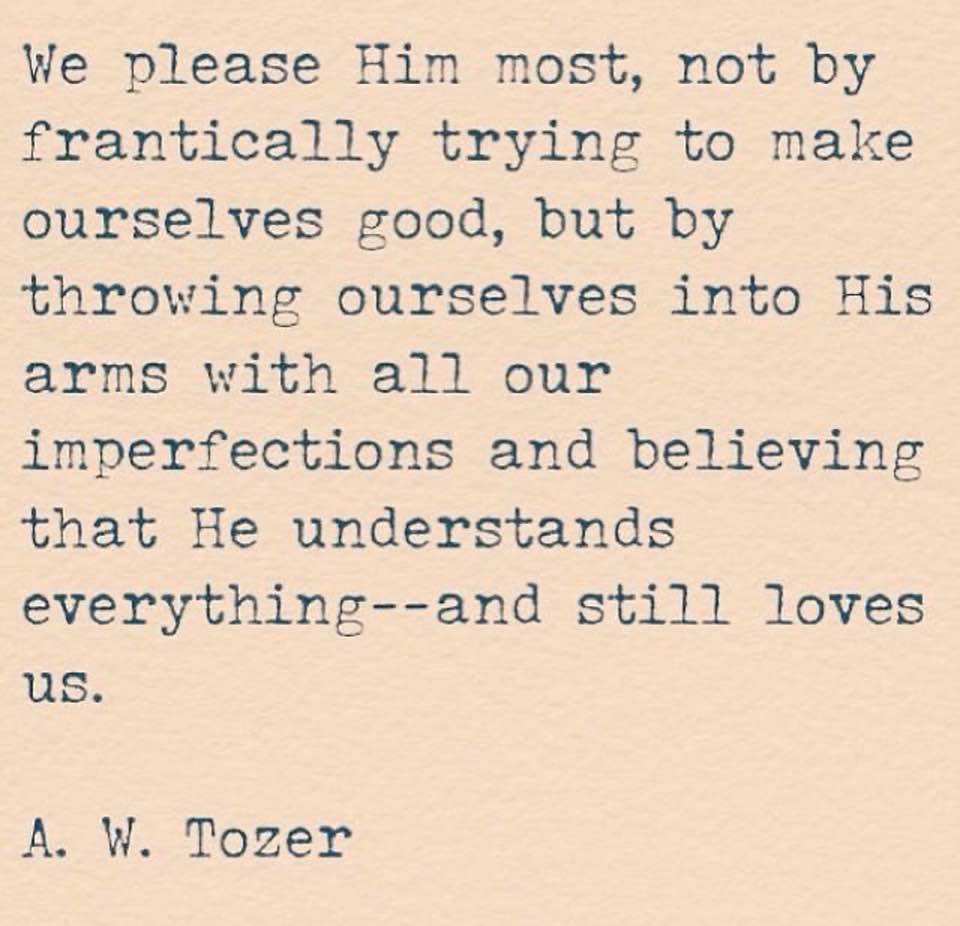 One disciple stated the following:
"There is a tension always present with the believer who is still physically alive. He is a caught in "betwixt" (Philippians 1), a "concurrent working of deep opposites."  2 Cor 4:8-11.  He is both a vile sinner in his old man flesh but, at the same time, is a fully righteous new man saint in his spirit.  He who is born of the Spirit is spirit.  John 3. He is a sinner/saint.  This is why Paul called the saved people in Corinth who were having a lot of vile problems, "saints."  1 Cor 1:2.
This contradiction in the life of the believer is true as long as he remains physically alive on this earth.  When he physically dies this tension between the opposites comes to an end.  He is 100 % saint.The only way to resolve these opposites in us daily is to "take up the cross daily" dying to or unplugging from the old vile part of us and living out of the new man spirit.2 Cor 4:10-11.
We cannot "unplug" by human effort.  We unplug by denying SELF's screams and letting them go, a surrender or a yielding to the voice of SOMEONE ELSE, Christ within.  When that cursing voice within wants to retaliate and punish.  I learn to deny that voice in the moment and choose the other voice within me which gently says love, bless, forgive and lay down your selfish retaliatory ways
This is an unplugging done by faith alone, faith in the loving voice, HIS voice within us that the world says is weak and will make me look like a fool.  This is the way we handle the concurrent working of the opposites of the two voices within the sinner/saint."
Jesus taught that while on earth, there's no length we should not go to in order to miss hell (Mark 9:43-49). The cross He prescribed that we are to take up daily, is the only solution to sin.