DID Jesus' Apostles Teach "Eternal Security"? [podcast]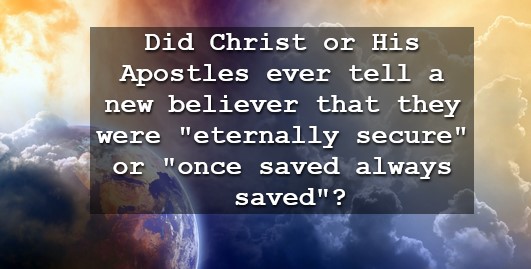 Excerpt from the book Lie of the Ages 
"Great podcast, 🔥❤️ – EVERYONE should and needs to listen to this. I found that too many believe that sharing these harsh truths that come from the Bible is putting out negativity……. Why anyone would think that God's words are negative is beyond me. With this way of thinking, says a lot to me, of what their true beliefs are…. sad. – Thank You for putting up another great podcast, and I pray that everyone will take the time out to give it a listen to. God Bless! 🙏✝️
GOD is going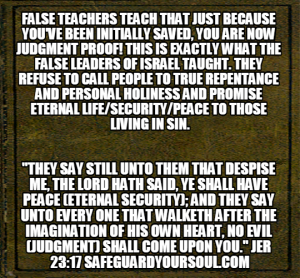 to judge and damn into hell all who console or in any way condone people in their sins – instead of calling them to the absolute necessity of repentance and turning from all sin. ALL who teach OSAS/eternal security are clearly false teachers. Did Jesus and His apostles teach this lie? No.
"Then they that gladly received his word were baptized: and the same day there were added unto them about three thousand souls. And they continued stedfastly in the apostles' doctrine and fellowship …" Acts 2:41-42
The soul who is subject to Christ should clearly desire to continue "stedfastly in the apostle's doctrine" and in so doing experience "fellowship" with His remnant – the true body of Christ.
The Message of Jesus Christ
"And ye shall be hated of all men for my name's sake: but he that endureth to the end shall be saved." Matthew 10:22
Here Jesus Christ, the Almighty God, tells His own twelve disciples that those among them who persevere to the end of their lives, remaining and continuing in obedience to Him – "shall be saved."
Notice here in Matthew 10, the utter difference between what Jesus told His disciples and what so many leaders today lead people to believe. First, realize that Christ hand picked these twelve men and one of them didn't continue with him and went to hell (Acts 1:25). There is the complete absence here and throughout the New Testament Scriptures of words like:
"You are eternally secure."
"No matter what you do, you are sure for Heaven."
"You are guaranteed Heaven because God is not an Indian giver."
"It's eternal life not temporary life."
"Jesus is the Good Shepherd, how could Jesus ever lose a sheep?"
"You can't obtain salvation by works, so you can't loose it by bad works (sinning), it doesn't matter what you do, you still have it."
"Once in grace, always in grace."
These are a mere sampling of the many clichés we here today used by those who seek to promulgate the eternal security heresy. Yet none of these are Scripture and those clichés are contrary, in blatant opposition to what the Bible actually states.
Those who teach the fairytale heresy of eternal security/OSAS teach something Jesus and His holy apostles never taught and refuse to teach what they did teach – the necessity after being initially saved to "endure to the end," to "abide" which means to remain, to continue in Him or lose all, whom He shall "cast them into the fire, and they are burned." (John 15:6; Matthew 10:22; 24:13; Colossians 1:23; Hebrews 3:6, 12-14; 10:26-39; 2 Peter 2:20-21) 
SO, you aren't personally responsible to "endure to the end" abiding in Christ? If this is your idea, you've openly called the Son of God a liar (Matthew 10:22; 24:13; John 15:6, etc.).
Falling away and being lost again is a biblical reality and that won't change. Jesus invented the term "fall away" and so that means it's possible, and yet those who believe eternal security, in classic satanic style, have to try to redefine terms and twist their plain meaning (Luke 8:13).
Concerning the last days, Jesus gives His disciples a vastly different message than what we hear today. Notice what Jesus says here and compare it to the messages of modern wolves who are doing everything they can to accommodate sin in the lives of their listeners:
"But before all these, they shall lay their hands on you, and persecute you, delivering you up to the synagogues, and into prisons, being brought before kings and rulers for my name's sake. And it shall turn to you for a testimony. Settle it therefore in your hearts, not to meditate before what ye shall answer: For I will give you a mouth and wisdom, which all your adversaries shall not be able to gainsay nor resist. And ye shall be betrayed both by parents, and brethren, and kinsfolks, and friends; and some of you shall they cause to be put to death. And ye shall be hated of all men for my name's sake. But there shall not an hair of your head perish. In your patience (perseverance) possess ye your souls." Luke 21:12-19
The message the Son of God gives here to His very own includes:
Persecutions from the religious (v12)
Prison (v12)
Giving answer to rulers (v13)
Divine inspiration in words (v15)
Betrayal by family and friends (v16)
Death for some (v16)
Hated for Jesus' sake (v17)
Protection (v18)
The necessity of patience (endurance) to the end (v19)
Then, in this discourse concerning the last days, Jesus warns His very own: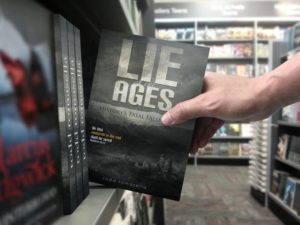 "And take heed to yourselves, lest at any time your hearts be overcharged with surfeiting, and drunkenness, and cares of this life, and so that day come upon you unawares. For as a snare shall it come on all them that dwell on the face of the whole earth. Watch ye therefore, and pray always, that ye may be accounted worthy to escape all these things that shall come to pass, and to stand before the Son of man." Luke 21:34-36
As one can see from these passages, Christ's message to His own was anything but a promise of ease and comfort in this life or automatic unconditional eternal security or some kind of fixed guarantee of immunity from judgment. There is no such language in the Word. All assurance is conditional upon the present state of the individual.
"If you don't believe that you can live in victory over sin, you'd better cross omnipotence off your calendar." – Leonard Ravenhill
Rather, Christ's words were those of promise of great trials and tribulations and even martyrdom for some, and yet eternal bliss for those who endure.
"These things I have spoken unto you, that in me ye might have peace. In the world ye shall have tribulation: but be of good cheer; I have overcome the world." John 16:33
Jesus' message was certainly no promise of tiptoeing through the tulips with automatic and irrevocable eternal security.
Based upon the whole testimony of Scripture we must conclude that only false teachers would tell believers, something the Word never promises – that they are guaranteed a place in Heaven no matter what, no matter how they live after being saved.
Neither Jesus nor His holy apostles taught an un-conditional eternal security. There is no such teaching as eternal security by the apostles and Christ. Jesus simply gave a promise of being kept in the hand of the Father and yet only to those who "abide" (remain, continue) in Him – those who get saved and who hear his voice, who keep his Word and follow Him (John 10:27-29). Those who do not "abide" in Christ "to the end" after being saved will be cast into the fire (John 15:6; Matthew 10:22; 24:13). That's what Jesus taught.
The Message of Paul, the Apostle of Christ
"But I keep under my body, and bring it into subjection: lest that by any means, when I have preached to others, I myself should be a castaway (reprobate)." 1 Corinthians 9:27
Notice the word "keep" here which denotes the necessity of staying in the will of God – to remain "crucified with Christ." (Galatians 2:20) Paul tells us here of the essential nature of keeping the deeds of the flesh under subjection to the Holy Spirit and Word of God. He reveals that even though he himself was saved and "preached to others," it was still a possibility that he could become "a castaway." This apostle did not count himself exempt from becoming cast away from Christ. His words here reveal the distinct possibility of becoming reprobate. The apostle Paul would never have stated these words if he believed the myth of "once saved always saved." This apostle did not consider himself unconditionally eternally secure (immune from holy and divine judgment if he resorted back to sin). The very phrase "I myself should be a castaway" introduces the clear and present danger that after all the LORD did to find and work in him, the apostle Paul could lose out if he did not "keep under" his "body, and bring it into subjection" to the Lordship of Christ.
It is clear from these words that the apostle Paul never believed he was UN-conditionally eternally secure. He divulges here that there was still the potential of becoming one who is cast away from God ultimately if he didn't "keep under" his body which speaks of abiding in Christ, and when we are, the sinful man and its deeds will be subdued by the Holy Spirit (Rom. 8:13-14).
Now if he were here with us today, this world-changing, historic apostle of Christ would agree and resolutely affirm the danger of becoming a "castaway" after knowing and serving Christ. If such is not the case, then God has changed and we know that can't happen. The Holy Spirit gave this truth to His Church and God has not changed (Mal. 3:6). Yet as Jude foretold, today the landscape of the church world is littered with "ungodly men" who are "turning the grace of our God into lasciviousness" and would argue against the truth in the face of volumes of Holy Scripture. They would argue with Paul that once a person is saved they are always saved no matter what (Jude 3-4). Such was never the message of Christ and His holy apostles. When we look at the lie in the Garden and throughout Scripture, we can clearly conclude that this falsehood is the message of Satan and his emissaries and is unthinkably being peddled today as a component of the Gospel or a Christian doctrine.
More from Paul:
"For in this we groan, earnestly desiring to be clothed upon with our house which is from heaven: If so be that being clothed we shall not be found naked." 2 Corinthians 5:2-3
This language is far different than that heard coming from those who corrupt the message of God's grace in our day. The implication here is that even after being saved, one can be "found naked." Being "found naked" means that the person in question is no longer clothed with the garment of Christ's righteousness. Was this not the case with those believers in the church at Laodicea? See Revelation 3:14-20.
"We are confident, I say, and willing rather to be absent from the body, and to be present with the Lord. Wherefore we labour, that, whether present or absent, we may be accepted of him. For we must all appear before the judgment seat of Christ; that every one may receive the things done in his body, according to that he hath done, whether it be good or bad. Knowing therefore the terror of the Lord, we persuade men…" 2 Corinthians 5:8-11
Under the Holy Spirit's inspiration, here Paul says that "to be absent from the body" is "to be present with the LORD" and therefore in light of this "we labour, that whether present or absent, we may be accepted of him." As is plainly witnessed here by every honest student of Scripture, Paul upheld "labour" as a prerequisite of continuing in the grace of God and being ready to meet Him. "Labour" here refers to fighting the good fight of faith and laying hold on eternal life, continuing in the faith and not sinking or drawing back to sin and destruction (Col. 3:6, 14; 1 Tim. 6:12; Heb. 3:12-15, 10:34-39).
In the face of so much divine truth, why, why, why do some insist upon defending and promoting the unfounded "once saved always saved" myth which is not only NOT taught in Scripture by Christ and His apostles, but is actually refuted repeatedly and identified as the first and resounding lie of the enemy of God.
So far we have witnessed that Jesus never taught an abiding grace without holiness. Paul didn't believe that he nor any believer was "once saved always saved."
After leading people to Christ in Antioch, the apostle Paul returned to that city and notice here what his divinely inspired message to them was:
"Confirming the souls of the disciples, and exhorting them to continue in the faith, and that we must through much tribulation enter into the kingdom of God." Acts 14:22
Today, in stark contrast to the original apostles of Christ, we have people who have dedicated themselves to making those around them to feel "eternally secure" or assured no matter how they are living and without the need to truly and to serve the One who bled to deliver them from all sin.  What are these people going to "feel" eternally in hell if they die in sin and stand before a holy God and Judge?
The message of the apostles was not one of automatic security, assurance and ease, but rather that "we must through much tribulation enter into the kingdom of God."
Those who know the LORD and will be preserved in Him in this treacherous last hour, must be willing to endure trials and suffering (Matt. 24:10-13). Whatever the loneliness, anguish, and pain we may suffer here in this brief life, it is minuscule in comparison to the eternal terror to be experienced by all who deny Christ.
Mark This: Only a deceiver would neglect to preach the full-counsel of the original Gospel and name sin by name as the Bible does. Only a false teacher would promise eternal assurance to any person living in rebellion against the LORD (Ezek. 33:12-13; Lam. 2:14; Amos 9:10).
As we just witnessed firsthand in the Holy Scriptures, the LORD and His apostles admonished new converts to "endureth to the end" and to "continue in the faith," and that we must through much tribulation enter into the kingdom of God." 
This view of an unconditionally guaranteed surety of salvation that requires no diligence of active and ongoing faith, is foreign to the authentic Christianity found throughout Holy Scripture, and is therefore a false form of Christianity, facilitating a mere form of godliness, denying the need for the power or reign of Christ in the individual life. Such supposes that Christ will remain in the life of all who have been born again, no matter what vile sins they may now be living in. Nonsense. Unbiblical. Not true.
Wow! This is telling! OSAS/eternal security was never preached by Christ and His apostles. Repent.
Beloved, the truth is, if we are not diligently seeking the LORD this day, we are backslidden and in danger of becoming like one of the foolish virgins to whom the door of entrance into the kingdom of Heaven was shut (Matt. 25:1-13).
Acts 14:22 can't be answered by the OSAS/eternal security crowd. It clearly and further demonstrates the fact that Jesus and His apostles never taught "eternal security" – which is clearly Satan's teaching (Genesis 2:17; 3:4) …. Watch this ….
When the apostle goes back around to the churches that were formed at his preaching, he stands before them and says something – something that is on record. There the apostle stands to instruct these new believers in the way, the doctrine, the Word of God he is going to deliver. Let's peak in at what he told them….
What exhortation did Paul give to these new believers in Acts 14:22? Did he promise that they were guaranteed Heaven, eternally secure due to being now saved? Or, did he, in what's called "the apostles doctrine" confirm what Jesus taught – that you must "endure to the end" to be "saved"? (Matthew 10:22; Acts 2:42)
"Confirming the souls of the disciples, and exhorting them to CONTINUE in the faith, and that we must through much tribulation enter into the kingdom of God." Acts 14:22
"Continue in the faith"
"We must through much tribulation enter into the kingdom of God"
We are wise to ask: If there were no possibility of not continuing in the faith, why O why would Paul have bothered to exhort these believers to do such?
Where O where do we ever read that God's people lose their free will, their ability to choose? No where.
Beloved, the Holy Spirit of God had all the opportunity in the world here to tell these new converts to enjoy their salvation, be nice little Christians, attend church services on Sundays, build a denomination, give to the building funds, and live upstanding lives in their community. He didn't! He could have told them that they are unconditionally eternally secure, but He didn't. No, instead, Paul gave the same message Christ gave His twelve in Matthew 10:22 – continue and endure to the end and expect to be hated of all men for my name's sake and much tribulation between now and Heaven. Every leader should be disclosing these things to those they oversee. Every saint should acknowledge these truths.
Paul was inspired by the Holy Ghost to write much of the New Testament canon, correct? Why didn't he guarantee Heaven to everyone who was at one time born again? Why didn't the Son of God do so?
In the message of the modern church, we are told that believers will be rewarded for their good works, but are not in danger of losing their souls if they don't obey God. Some misuse 1 Corinthians 3 to come to this conclusion. Such a conclusion does not align with the whole of Scripture and therefore should not be embraced.
The early Church apostles obeyed the Master and taught new converts to continue in God's grace, just as Jesus taught them what they must do to ultimately inherit His eternal kingdom (Matt. 10:22; 25:1-13; Acts 14:22; Rev. 2-3). Do we espouse and teach what Christ and His apostles taught?
For more on what Paul was inspired to teach, see 1 Corinthians 9:27-10:12 and Romans 11:19-23. Any thought that this Holy Spirit inspired, true grace teacher taught an unconditional eternal security will be soundly silenced upon the honest reading of these texts.
If OSAS was an doctrine of the original Gospel to the New Testament Church, wouldn't the apostle Paul have included it in the books he contributed to the canon of the New Testament Scriptures?
The Message of Peter the Apostle
Okay so Paul clearly taught against OSAS/eternal security. So, since some just use the Bible to justify their own sin and aren't truly interested in being honest with God, with "ALL scripture", let's see if we can get a better answer from the apostle Peter to justify living in sin…..
"For if after they have escaped the pollutions of the world through the knowledge of the Lord and Saviour Jesus Christ, they are again entangled therein, and overcome, the latter end is worse with them than the beginning. For it had been better for them not to have known the way of righteousness, than, after they have known it, to turn from the holy commandment delivered unto them. But it is happened unto them according to the true proverb, The dog is turned to his own vomit again; and the sow that was washed to her wallowing in the mire." 2 Peter 2:20-22
After Simon believed upon Christ, Peter told him:
"Then Simon himself believed also: and when he was baptized, he continued with Philip, and wondered, beholding the miracles and signs which were done…But Peter said unto him, Thy money perish with thee, because thou hast thought that the gift of God may be purchased with money. Thou hast neither part nor lot in this matter: for thy heart is not right in the sight of God. Repent therefore of this thy wickedness, and pray God, if perhaps the thought of thine heart may be forgiven thee. For I perceive that thou art in the gall of bitterness, and in the bond of iniquity."  Acts 8:13, 20-23
Did you notice that there is anything but eternal assurance in this divinely inspired communication of the apostle Peter? Peter told Simon that he was going to "perish" after he was saved ("believed") and "was baptized."
Of course we all hope Simon repented before it was too late, yet all we know from this text is that he asked the apostle Peter to pray that none of the judgments pronounced would come upon him (v24). It is frightening to think of the millions of souls who when living in sin like Simon was, after being saved, do not have the voice of true, godly authority (like Peter) who follow Christ authentically, warning them to repent or they will "perish." Simon got saved then turned to sin again and Peter called him to repent or "perish." Simon was blessed because he had a man like Peter to rebuke the error of his way. Today, it is regrettably all too rare to find those authentic New Testament Christians, who endeavor to live and declare the apostolic faith once delivered to the saints (Jude 3-4). Beloved, are you willing to answer the call of God to learn and live real New Testament Christianity as we witness on the pages of New Testament Scripture? This would include helping "Christian" people living in sin by calling them to "repent" or they will "perish." Living like Jesus and His apostles means giving no hope of assurance or "eternal security" to anyone living outside of obedience to Christ's Word/will, but rather calling people who are living in rebellion and sin to "repent" or they will "perish." This means that they would ultimately go to eternal hell if they don't repent – and this is all regardless of any past relationship experience they had with the LORD as is clear in this instance with Simon (Ezek. 33:12-13; Acts 8:13, 20-23).
Those under-shepherds who truly fear the LORD, endeavor to speak the truth in love to safeguard the precious souls of those they oversee with divine truth (Eph. 4:15; Heb. 13:17).
The apostle Peter had all the opportunity in the world to overlook this new convert's sin. Peter had full and open occasion here to assure Simon that he was "eternally secure" no matter how he chose to live because he was now "saved." But Peter didn't. Why not? Because such would have been treason and utterly in opposition to the truth of God.
Even a cursory look at the New Testament Scriptures reveal that the LORD Jesus and His apostles had a completely different approach and instructions than do most ministries today. Unlike original and authentic Christianity found on the pages of New Testament Scripture, most ministers today give no admonition or warning to new converts.
The Message of Jude, the Half Brother of Jesus
"For there are certain men crept in unawares, who were before of old ordained to this condemnation, ungodly men, turning the grace of our God into lasciviousness, and denying the only Lord God, and our Lord Jesus Christ. I will therefore put you in remembrance, though ye once knew this, how that the Lord, having saved the people out of the land of Egypt, afterward destroyed them that believed not. And the angels which kept not their first estate, but left their own habitation, he hath reserved in everlasting chains under darkness unto the judgment of the great day. Even as Sodom and Gomorrha, and the cities about them in like manner, giving themselves over to fornication, and going after strange flesh, are set forth for an example, suffering the vengeance of eternal fire…These are spots in your feasts of charity, when they feast with you, feeding themselves without fear: clouds they are without water, carried about of winds; trees whose fruit withereth, without fruit, twice dead, plucked up by the roots; Raging waves of the sea, foaming out their own shame; wandering stars, to whom is reserved the blackness of darkness for ever." Jude 4-7, 12-13
By direct inspiration of the Holy Ghost, Jude says that "ungodly men" who have "crept in unawares (secretly)" are "turning the grace of our God into lasciviousness" and by doing such are "denying the only Lord God, and our Lord Jesus Christ." Then he begins to innumerate how the Almighty has destroyed those who were once in His kingdom and then departed. He brings New Testament believers into remembrance of the fact that "the LORD, having saved the people out of the land of Egypt, afterward destroyed them that believed not." Then he reminds us of how Lucifer and one-third of the angels who once occupied Heaven are now fallen into the eternally irrevocable state of condemnation: "And the angels which kept not their first estate, but left their own habitation, he hath reserved in everlasting chains under darkness unto the judgment of the great day."
Not once do we see the Son of God, any of the apostles, or any other believer, telling the newly saved that they are "once saved always saved" or intimating that they are unconditionally "eternally secure." Such a message is completely foreign to genuine and original New Testament Christianity. In the canon of Holy Scripture there is no hint of any God fearing man teaching or insinuating the diabolical lie that the believer has no need to trust God by faith, and to obey God in their daily life. Instead, there is abundance of warning that if after being saved, one goes back into sin, judgment awaits that transgressor. The teaching of "eternal security" is nothing new and is entirely alien to the teachings of Christ and His apostles and is therefore "another gospel." (2 Cor. 11:1-4; Gal. 1:6-9)
Please allow me to exhort true Bible believers to offer a challenge to any teacher or proponent of an unconditionally eternally secure salvation. The challenge is this: To produce any biblical record of such a teaching which would include a preponderance of Scripture in context with the passage it has been placed in. If such evidence cannot be clearly demonstrated through the preponderance of Scripture, I hope and pray that God will grant repentance to any who still believe such, that they might turn to the truth and away from this deadly fable (2 Tim. 2:2-5).
What one will find, in studying the New Testament Scriptures, is that no such hint of the notion nor teaching of an unconditional eternal security is found among the early disciples of Christ. The apostles of Jesus continued in His doctrines as He instructed them to do and no such doctrine of an unconditional 'eternal security' is taught.
The Million Dollar Question:  If God wanted His people to believe that once they believed unto salvation, there was no further need to obey Him in faith, why didn't He simply come out and tell us so in His Word?
Why in 66 books is there the deafening silence of such a teaching and yet, so many today in the evangelical church world teach and believe such?
Before leaving the earth and when sending forth His apostles, the Son of God commanded:
"And Jesus came and spake unto them, saying, All power is given unto me in heaven and in earth. Go ye therefore, and teach all nations, baptizing them in the name of the Father, and of the Son, and of the Holy Ghost: Teaching them to observe all things whatsoever I have commanded you: and, lo, I am with you alway, even unto the end of the world. Amen." Matthew 28:18-20
Notice in particular the command: "Teaching them to observe all things whatsoever I have commanded you." Jesus Christ never taught that a person is without responsibility after he is born again, but rather just the opposite. He commanded that all those in Him must abide or remain in obedience to Him or they will be thrown into the fire (Jn. 15:6). His many warnings alone make the reality of the jeopardy of the soul clear to the honest-hearted student of His Word (Matt. 24-25).
"Abide in me, and I in you. As the branch cannot bear fruit of itself, except it abide (remain) in the vine; no more can ye, except ye abide in me…for without me ye can do nothing. If a man abide not in me, he is cast forth as a branch, and is withered; and men gather them, and cast them into the fire, and they are burned." John 15:4-6
We must ask ourselves: Why would the very Son of God ever so much as mention abiding (continuing; persevering) in Him if such were automatic or some kind of a fixed state of grace? Was Jesus just filling pages with His words, or is this a divinely-given mandate – the personal responsibility of each and every born again believer?
"Salvation is of the LORD" said Jonah – after he had repented from his rebellion and returned to the LORD (read Jonah 2). Salvation surely is of the LORD and yet the LORD has made it clear that He never forces any person to love and serve Him or continue to remain in relationship with Him (Deut. 28; 30:19; Josh. 24:15; Isa. 1:18-20; Jn. 1:12; 3:16, 36; 5:24; 15:1-6; Rev. 3:20). Remaining with Christ is volitional. The one who is "willing and obedient," and "planted in the house of the LORD" will "flourish in the courts" of the LORD and be embellished with the blessings of the LORD (Deut. 28:1-14; Ps. 92:13-14; Isa. 1:19-20).
Jonah had rebelled against God. He then cried out in distress when the LORD blessed him to be swallowed up by a large fish (Rom. 2:4). As we learn in the parable of the prodigal son, the LORD will lead the wayward to repentance yet He will never force Him to repent even though He is "not willing that any should perish, but that all should come to repentance." (2 Pet. 3:9) The perfect will of God and the individual appropriation of such are two different issues. From the belly of that fish the prophet cried out to God in repentance and his prayer came into the ears of the LORD in whom is all salvation. The LORD heard, forgave, and restored Jonah. In his restored state Jonah said that those who "observe lying vanities forsake their own mercies." As a direct result of his returning to the LORD, the LORD then told that fish to spit His man out upon the beach and it did. Read Jonah 2. It wasn't till he repented that the LORD restored Jonah. When Jonah came to himself in the presence of God, he realized that he had embraced "lying vanities" in thinking he could forsake the LORD and not be forsaken by the LORD (2 Chron. 15:2).
If abiding in Him is a divine command, what is the consequence for not staying with Jesus? What did Jesus say is going to happen to all who do not remain in Him? Christ stated that any person who is in Him and doesn't continue faithful in His Word, will be "cast forth as a branch, and is withered; and men gather them, and cast them into the fire, and they are burned." (Jn. 15:6)
So, to teach that after a believer is saved, he is going to automatically go to Heaven, no matter what he does or does not do, is clearly not a New Testament teaching. Only those who get saved and continue to make the decision to "abide" in faith and obedience to Christ, will be eternally with Him – all others will be cast into eternal fire.
"But that which ye have already hold fast till I come. 26 And he that overcometh, and keepeth my works unto the end, to him will I give power over the nations:" Revelation 2:25-26
If unconditional eternal security was an original doctrine of Christ and the New Testament apostles, we would find it in the canon of New Testament Scripture.
Saint of the LORD, be exhorted to keep your soul diligently by removing yourself from any leader who espouses such a dangerous falsehood. Such a lie is a cancer to the soul, eating away at fervency and crippling the necessity of diligent faith in and obedience to Jesus.
"Wherefore the rather, brethren, give diligence to make your calling and election sure: for if ye do these things, ye shall never fall: For so an entrance shall be ministered unto you abundantly into the everlasting kingdom of our Lord and Saviour Jesus Christ…Seeing then that all these things shall be dissolved, what manner of persons ought ye to be in all holy conversation and godliness, Looking for and hasting unto the coming of the day of God, wherein the heavens being on fire shall be dissolved, and the elements shall melt with fervent heat? Nevertheless we, according to his promise, look for new heavens and a new earth, wherein dwelleth righteousness. Wherefore, beloved, seeing that ye look for such things, be diligent that ye may be found of him in peace, without spot, and blameless." 2 Peter 1:10-11; 3:11-14
PRAYER: LORD Jesus, please bless me to continue in the apostles doctrine once delivered to Your saints in Your Word. Quicken my heart to a deeper relationship with You and fervency of spirit, born out of the fear of the LORD. Please cause my conscience to be extremely sensitive to Your conviction and grant repentance to my heart for every depraved motive or action. Father, thank You so much for the sacrifice and resurrection of Your only begotten Son. In Jesus' name I pray. Amen.
IF God's saving grace is un-conditional, WHY then did He warn the first man and woman? WHY did He promised they'd "die" (be separated from Him) if they sinned against Him? (Genesis 2:17; 3:4) Remember, Adam and Eve were in perfect relationship with God when He warned them – because no sin had entered into the world as of that point.
God is "Holy, holy, holy" and "the wages of sin is death" – "death" in Scripture means separation from Him (Isaiah 6:3; Romans 6:23; Revelation 4:8).
YOU can plainly see when someone is refusing to be honest about their sin when they migrate to the grace, grace, grace, "sovereign grace" delusionment. Simultaneously they evade truth, holiness, judgment to come, hell, the daily cross, etc. BEWARE of devils like this (Jude 3-4).
What the Early Church Fathers Said about Eternal Security [podcast]
Do We Have God's Word or Do You Need to Know the Original Languages? [podcast]