Keep Thy Heart with all Diligence [podcast]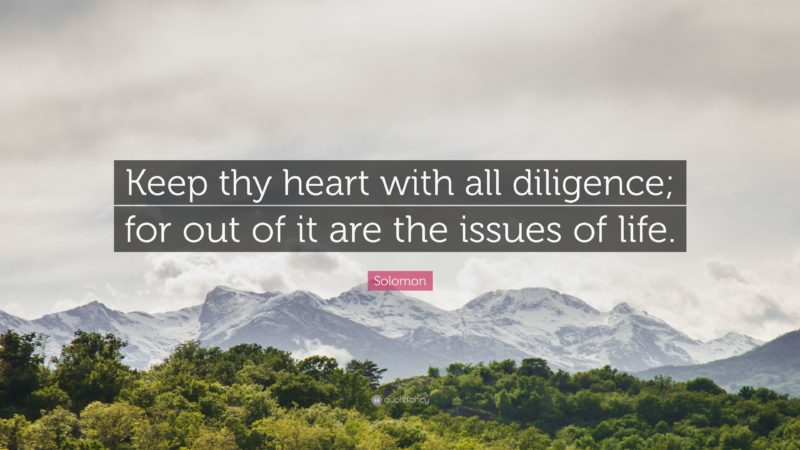 That which we choose to allow in our hearts determines who we are and the outcome of our lives…
"… out of the abundance of the heart the mouth speaketh." Matthew 12:34 
What's in our hearts, our source, proceeds from our lives, our mouths, our words, That which comes out of our mouths, our lives, the output, comes from within, from our hearts. Not only do we discern, know others by their fruit, we can know ourselves, the present state of our hearts by our words, the output of our lives.
Jesus speaks of "That which cometh OUT of a man" and tells us that it comes "from WITHIN, out of the heart." He says:
"And he said, That which cometh out of the man, that defileth the man. 21 For from within, out of the heart of men, proceed evil thoughts, adulteries, fornications, murders, 22 Thefts, covetousness, wickedness, deceit, lasciviousness, an evil eye, blasphemy, pride, foolishness: 23 All these evil things come from within, and defile the man." Mark 7:20-23
Here's Jesus' list of 13 "evil things" that come from the hearts of men:
evil thoughts,
adulteries,
fornications,
murders,
Thefts,
covetousness,
wickedness,
deceit,
lasciviousness,
an evil eye,
blasphemy,
pride,
foolishness
Man can only see from the outside. God sees all – from the inside out. The LORD sees the hearts of men and where there is sin, there is defilement which means they are unholy, not His, separated from Him by sin (Ezekiel 18:4; Romans 6:23).
"But I say unto you, That whosoever looketh on a woman to lust after her hath committed adultery with her already in his heart." Matthew 5:28
Many who we view as God's children have dirty hearts. Read Matthew 23 and behold the outward and inward Jesus exposes concerning the self-righteous religionists He lambasts. See Matthew 23:23-25.
"For the LORD seeth not as man seeth; for man looketh on the outward appearance, but the LORD looketh on the heart." 1 Samuel 16:7
"God renovates us from the inside out, he isn't an exterior decorator..that would be like putting pearls on swine. God looks on the heart: therefore that is where the sinner must start to cry out from for mercy and salvation from their own wickedness. Praise and worship come after that he creates in us a pure heart. (Matt. 7:6; Ps. 51:1-10; Ezek. 36:26)" Jon Crane
"He that Loveth Pureness of Heart" [podcast]
WE must surround ourselves with the Word, the people, the praises of our God! FLOOD your ear and eye gates beloved (Proverbs 4:23). Jesus is coming.
ANY person not crying out to Jesus for a pure heart is not presently right with God… the good news is that you CAN be, right now. Psalms 51.
"Therefore also now, saith the LORD, turn ye even to me with all your heart, and with fasting, and with weeping, and with mourning: 13 And rend your heart, and not your garments, and turn unto the LORD your God: for he is gracious and merciful, slow to anger, and of great kindness, and repenteth him of the evil. 14 Who knoweth if he will return and repent, and leave a blessing behind him; even a meat offering and a drink offering unto the LORD your God?" Joel 2:12-14
Turn your heart to Jesus, ask Him to do a fresh work, a deeper work in your heart, your life.
The Heart is the source of your life out of which flows all other things (Proverbs 4:23).
"My son, attend to my words; incline thine ear unto my sayings. 21 Let them not depart from thine eyes; keep them in the midst of thine heart. 22 For they are life unto those that find them, and health to all their flesh. 23 Keep thy heart with all diligence; for out of it are the issues of life." Proverbs 4:20-23
YOU keep it, guard it, till it, fill it with the Word, etc.
It's your personally responsibility to keep your heart perfect before the LORD (Psalms 34:18; 51:17; Matthew 5:6, etc.). Praying Psalm 51 one is a great place to camp. Oh yes JESUS! Do Your purifying work in us, Your people. We, I love You dear LORD Jesus!
Memory verse to learn and declare!
"Seek the LORD and his strength, seek his face continually." 1 Chronicles 16:11 
https://safeguardyoursoul.com//the-meditation-of-my-heart-podcast/