"I Will Pour out of My Spirit upon all Flesh" – Real Revival [podcast]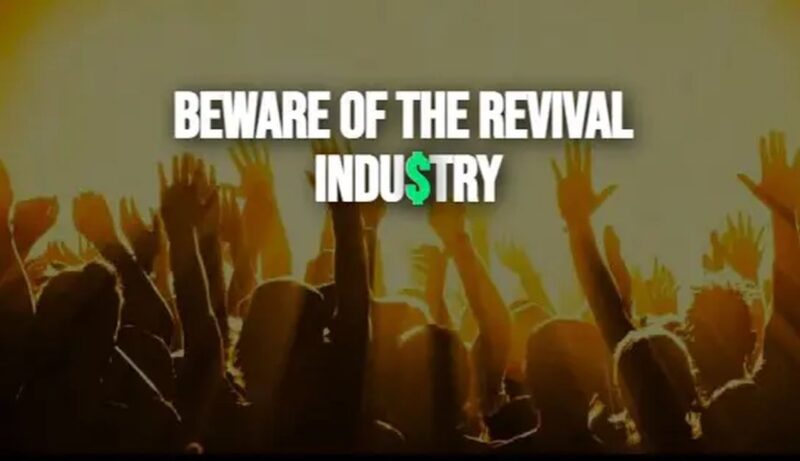 Two Absolute Necessities for Real Change, Reform, Revival, for God to Move!

There is a cry by many for revival – as if we are waiting on God. Not. God is waiting on those who call themselves His to repent, to lay down their life in this fleeting world, to deny self, take up the cross and follow Jesus authentically.
People seeking God, hungering for what is missing in their lives – JESUS – is a blessing. We know He is the One doing this because our LORD Jesus Christ told us that He'd "draw all men" to Himself after accomplishing the cross, perfect redemption! (John 12:32; 1 John 4:19) Yet wolves who capitalize upon, who exploit, and make merchandise of these people are diabolical~! (Matthew 21:15-17; 2 Peter 2:1-3, etc.).
The cry of the many for revival is a set up in most cases – where those wolves in sheep's clothing call for revival while they set up the prey to receive a false "revival" which does not align with what we see in Holy Scripture (2 Timothy 3:16-17). 
"When you've been to as many 'revivals' as I have been (in years past) yet never see anything of the Spirit revived in the attendees over several years, you come to realize (discern) that so-called revival meetings are just futile works of the flesh. Romans 8:8 et al." Disciple of Christ
"Beloved, believe not every spirit, but try the spirits whether they are of God: because many false prophets are gone out into the world." 1 John 4:1
When a man doesn't open the Bible, the King James Bible, and preach, teach, communicate straight from the Scriptures, you know he's false (2 Kings 22-23; Nehemiah 8:1-10; Matthew 28:18-20; Luke 4:16-17; Acts 17:2; 2 Timothy 4:2, etc.). Oh and this must be constant and perpetual, front and center – not casual or as a trite token gesture or afterthought.
"What we see in 2 Kings 22-23 is totally different than what we see today. Today in what's falsely called 'revival', there is no repentance, no Gospel, no 'clearing out the sanctuary', of the idols, and embracing and promoting false teachings that go as far as mysticism and witch craft!!" Khrista
"Bible study on Biblical Revival 2 Kings 22:14-23:27:
Here is the order of events: The prophet(ess) shares a prophecy of judgment. The King repents and intercedes for his people. The Lord hears and delays the judgment for the king's lifetime. The king gathers all of his people to the Lord's temple to hear Scripture read out loud. Then the King and his people make (or renew) a covenant with the Lord to follow His decrees and statutes with all of their hearts and minds. Then action is immediately taken (this is faith: belief in action) by clearing out all of the artifacts of pagan gods from the temple. The King defiled all of the high places and tore down the alters of pagan gods where God's people had previously worshiped Baal, Ashtoreth, and Molech (the god of child sacrifice/abortion)." Renee Courtland
The word "revival" appears nowhere in God's Word. "Repent"/ "Repentance" appear 72 times. Let's get a clue. This is a message in and of itself. We don't need man's staged "revivals," we need to repent before a Holy God!
God has not changed (Malachi 3:6; Mark 13:31). Man's sin has greatly prevented His will and desire to bless, to pour out of His Holy Spirit. His arm is not shortened. When we draw nigh to the LORD, He will draw nigh to us! (READ Isaiah 59:1-2; James 4:8; Jeremiah 5:25; 29:11-14.) We must of absolute necessity come to the lord on His stated terms which begins with true repentance (lUKE 13:3; Acts 2:38; 3:19, etc.).
Wicked men have made a multi-million dollar indu$try of "revival" and yet the word nor concept ever appears in Holy Scripture. This is only possible due to the biblical illiteracy of the counterfeits who claim to be saved (Hosea 4:6; Matthew 22:29; 2 Timothy 4:2-4).
"A worldwide revival in the last days is not prophesied in scripture. This is a Vatican, NAR (New Apostolic Reformation), WOF (Word of Faith) false teaching. The Bible teaches there will be great apostasy–a great falling away. Believe the Bible!" Unknown
God Blesses only Where His Written Word is Honored

When God's Word is honored, thereby, where and when He pours out of His Holy Spirit on His people, it comes in conjunction with His people honoring His Word. Here are but few examples of such:
Nehemiah, Ezra and the elders: When the LORD's people assembled, they read God's Word directly to the people (Nehemiah 8).
Josiah: Reform, repentance, crushing idols, and change came as the Word of God was restored to the people (2 Kings 23).
Peter: The apostle preached God's Word and 8,000 souls were saved (Acts 2, 4).
Jesus: When he went into the gathering of the people, He read from the Bible, the book of Isaiah (Luke 4:17).
Change, Reform Comes Only When God is Honored, Where His Word is Front and Center.
"Write the vision, and make it plain upon tables, that he may run that readeth it." Habakkuk 2:2
God uses Consecrated Men
Those He uses are holy. They readily admit their sin and fall on the mercy of the LORD and are then forgiven, refreshed, filled, and mightily used of God! See 2 Timothy 2:21; Isaiah 6; Matthew 21:15-17; Matthew 6:6, etc.
"If my people, which are called by my name, shall humble themselves, and pray, and seek my face, and turn from their wicked ways; then will I hear from heaven, and will forgive their sin, and will heal their land. 15 Now mine eyes shall be open, and mine ears attent unto the prayer that is made in this place. 16 For now have I chosen and sanctified this house, that my name may be there for ever: and mine eyes and mine heart shall be there perpetually." 2 Chronicles 7:14-16
Only crucified men are raised up and used of God (2 Corinthians 4:10-12).
The church of Philadelphia were commended by Christ. He said they "hast kept my word, and hast not denied my name" (Revelation 3:8). They kept, stayed strictly with and in His Word and continued to proclaim the name above all names – the name of Jesus!
Real vs Fake "Revival"
If we do see a great outpouring, it won't be with unholy men such as the recent fake, planned, staged deception some called a "revival" promoted by the Vatican, where sodomites and occult labyrinths are celebrated (Asbury). The LORD judges sin like that. He doesn't bless it. Where the LORD is truly working, God's Word will be honored, esteemed, read, preached, communicated (Psalms 138:2). That's how you will know if it's "of God" or "NOT of God" (John 8:47). Peter PREACHED the Word on Pentecost and 8k souls were saved (Acts 2, 4). Any questions? The cross of Jesus Christ, His blood, and the cross He mandates that we take up will be preached if it's a move of God. Phony "praise and worship" and "revival" idols will be slain.
Men, women, and children will seek the LORD in repentance. Souls will repent and be saved. Believers will seek and be baptized in the Holy Ghost as it was on the Day of Pentecost (Acts 2, 4).
The following prophetic word from our LORD doesn't indicate large crowds gathered in one specific place. And that makes sense – as God spreads His wealth (Matthew 9:35-38; Mark 16:15; Acts 8:4, etc.).
Acts 2
"And it shall come to pass in the last days, saith God, I will pour out of my Spirit upon all flesh: and your sons and your daughters shall prophesy, and your young men shall see visions, and your old men shall dream dreams:
Act 2:18 And on my servants and on my handmaidens I will pour out in those days of my Spirit; and they shall prophesy:
Act 2:19 And I will shew wonders in heaven above, and signs in the earth beneath; blood, and fire, and vapour of smoke:
Act 2:20 The sun shall be turned into darkness, and the moon into blood, before that great and notable day of the Lord come:
Act 2:21 And it shall come to pass, that whosoever shall call on the name of the Lord shall be saved.
MESSAGE RECEIVED:
"The word revival, a synonym for it is rebirth. Now to be reborn is in the Bible is it not? Our country needs a serious case of rejuvenation. The Holy Spirit needs to set some folks on fire for Jesus."
REPLY:
Yes God has not changed, and His arm, His power is not shortened or diminished whatsoever (Malachi 3:6;). Repentance is where revival begins. Read Isaiah 59:1-2…. we are NOT waiting on God – He's waiting on individuals to repent and obey Him. James 4:8
Those not willing to die are unrepentant, loving their darkness, rather than light, rather than the light of truth given us of God in His Word (Psalms 119:105, 130; John 17:17, etc.). They are unrepentant. You can either die to self now in this temporal world, lay down your life and follow Jesus authentically, OR you will die the "second death" as you are cast into the lake of fire (Revelation 20:11-15).
"He that believeth on him is not condemned: but he that believeth not is condemned already, because he hath not believed in the name of the only begotten Son of God. 19 And this is the condemnation, that light is come into the world, and men loved darkness rather than light, because their deeds were evil. 20 For every one that doeth evil hateth the light, neither cometh to the light, lest his deeds should be reproved. 21 But he that doeth truth cometh to the light, that his deeds may be made manifest, that they are wrought in God." John 3:19-21
Alan Ray writes:
"War makes many rich also. Yet the biblically illiterate support it and offer their children to Molech, believing they do God a service thereby. Just like the unsaved, they honor veterans as much as their apostate pastors.
Revivals are un-scriptural yet are so honored by the masses that few if any test (try) the spirits underlying them to know if they are of God or not. Most are content to look on outward appearance to judge, directly contradicting the command of Jesus Christ, who instructed us to 'Judge righteous judgment' (John 7:24)."
Jon Crane writes:
"I hear it all the time and I get chided, as if something is wrong with me for not praying for revival in America. Problem is: what is called the church today is under the impression that Americans as a whole are saved and just need reviving. Probably due to hirelings and wolves subtly preaching replacement theology for a long, long time. The remedy will always be the gospel of the kingdom of God, preached, adhered too, and followed daily. For nothing else saves but the blood of Jesus Christ, nothing else redeems or heals us of the disease of sin."
The Baptism with the Holy Spirit | Are Tongues of God? | Revivals | The Return of Christ | Support | Podcasts
100% Proof the Asbury Revival is a False Sodomite Delusion [podcast]