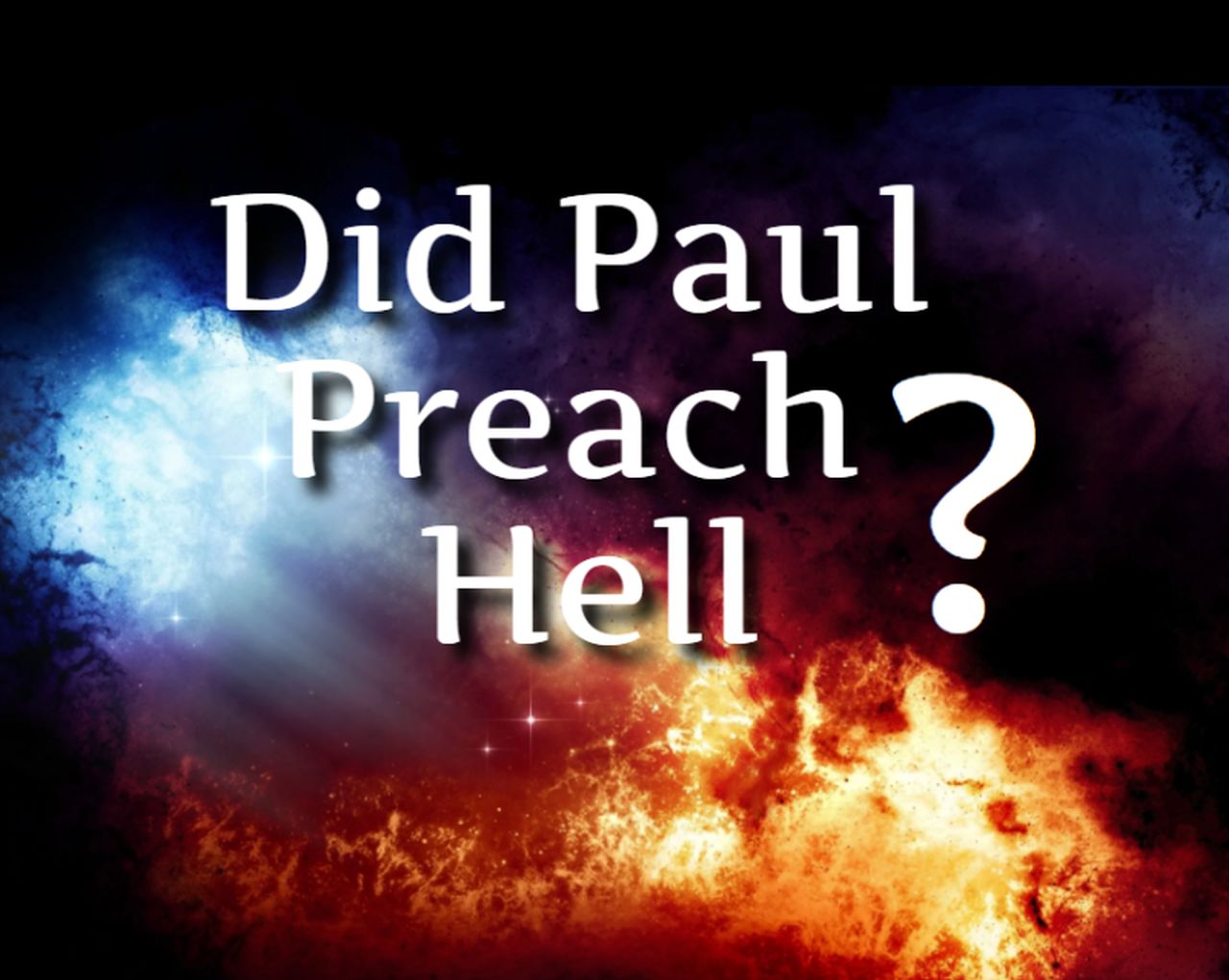 Yes, Paul Certainly did Preach Hell
To say or insinuate that Paul didn't preach on hell would be to say that he preached "another gospel" (2 Corinthians 11:4; Galatians 1:6-9). "The apostles' doctrine" is the doctrine, the doctrines of Christ, what the Savior taught, given to the apostles and spread to the world via them (Acts 2:42). Remember how Jesus blessed and broke the bread then gave it to His twelve and then those apostles gave it to the people? (See John 6:11.) Is this not a biblical, a divine model to consider, to behold?
"And Jesus took the loaves; and when he had given thanks, he distributed to the disciples, and the disciples to them that were set down; and likewise of the fishes as much as they would." John 6:11 
Dispensationalists are canceling Jesus' Doctrine of Hell spoken through His apostles.
"Knowing therefore the terror of the Lord, we persuade men; but we are made manifest unto God; and I trust also are made manifest in your consciences." 2 Corinthians 5:11
What could "the terror of the Lord" possibly mean other than hell?
Just because the Holy Spirit revealed grace through His servant Paul in no way negates, in no way cancels the eternal judgment of God coming on all who die in sin. And Paul preached that "everlasting destruction" is that punishment to come upon the wicked (2 Thessalonians 1:9).
Paul, Christ's apostle, taught Hell, Eternal Destruction
Paul on hell: The LORD's apostle Paul used words such as perdition, destruction, perish, etc.
Eight times the word "perdition" appears in God's Word, four of those times were from Paul's pen:
"While I was with them in the world, I kept them in thy name: those that thou gavest me I have kept, and none of them is lost, but the son of PERDITION; that the scripture might be fulfilled." John 17:12
"And in nothing terrified by your adversaries: which is to them an evident token of PERDITION, but to you of salvation, and that of God." Philippians 1:28
"Let no man deceive you by any means: for that day shall not come, except there come a falling away first, and that man of sin be revealed, the son of PERDITION;" 2 Thessalonians 2:3
"But they that will be rich fall into temptation and a snare, and into many foolish and hurtful lusts, which drown men in destruction and PERDITION." 1 Timothy 6:9
"But we are not of them who draw back unto PERDITION; but of them that believe to the saving of the soul." Hebrews 10:39
"But the heavens and the earth, which are now, by the same word are kept in store, reserved unto fire against the day of judgment and PERDITION of ungodly men." 2 Peter 3:7
"The beast that thou sawest was, and is not; and shall ascend out of the bottomless pit, and go into PERDITION: and they that dwell on the earth shall wonder, whose names were not written in the book of life from the foundation of the world, when they behold the beast that was, and is not, and yet is." Revelation 17:8
"And the beast that was, and is not, even he is the eighth, and is of the seven, and goeth into PERDITION." Revelation 17:11
The Greek word for "perdition"
apōleia
ap-o'-li-a
From a presumed derivative of G622; ruin or loss (physical, spiritual or eternal): – damnable (-nation), destruction, die, perdition, X perish, pernicious ways, waste.
apollumi
ap-ol'-loo-mee
From G575 and the base of G3639; to destroy fully (reflexively to perish, or lose), literally or figuratively: – destroy, die, lose, mar, perish.
"Of how much sorer punishment, suppose ye, shall he be thought worthy, who hath trodden under foot the Son of God, and hath counted the blood of the covenant, wherewith he was sanctified, an unholy thing, and hath done despite unto the Spirit of grace? 30 For we know him that hath said, Vengeance belongeth unto me, I will recompense, saith the Lord. And again, The Lord shall judge his people. 31 It is a fearful thing to fall into the hands of the living God." Hebrews 10:29-31 
"Who shall be punished with everlasting destruction from the presence of the Lord, and from the glory of his power;" 2 Thessalonians 1:9
Contrasting the Life Below with the Life Above
"Brethren, be followers together of me, and mark them which walk so as ye have us for an ensample. 18 (For many walk, of whom I have told you often, and now tell you even weeping, that they are the enemies of the cross of Christ: 19 Whose end is destruction [eternal ruin in hell], whose God is their belly, and whose glory is in their shame, who mind earthly things.) 20  For our conversation is in heaven; from whence also we look for the Saviour, the Lord Jesus Christ: 21 Who shall change our vile body, that it may be fashioned like unto his glorious body, according to the working whereby he is able even to subdue all things unto himself." Philippians 3:17-21
If there was no hell to escape, why would Paul have given such a tear-filled warning to the Ephesians, warning them of ravenous wolves who would come in and lead astray members of Christ's flock? If there were no danger of being derailed and suffering eternal damnation? Again, why did Paul so fervently warn the Ephesians if there were danger of hell? See Acts 20:27-32.
To say that Paul didn't preach hell would be to accuse him of betraying and not being sent by our LORD Jesus who often preached on hell (Matthew 8:12; Mark 3:29; 9:43-49, etc.). Those who do not preach hell, the eternal judgment of God on all who die in sin, are preaching "another gospel" and are "accursed" (Galatians 1:6-9).
Dispensationalism Exposed | Hell | Making Peace with God
There's Only One Gospel of Christ! The Heresy of Pauline Gospel Exclusivity Exploded! [podcast]