"That the communication of thy faith may become effectual by the acknowledging of every good thing which is in you in Christ Jesus." Philemon 6
Saints,
I was overjoyed to share the Gospel in Spanish with a young man recently who was from Mexico. Upon speaking the Word to Him about Jesus Christ being the only way to God, his countenance lit up immediately and he began to smile and rejoice. To make double and triple sure he was truly a believer, I verbally qualified with him that he was a born again believer and not Catholic as so many precious Hispanics are. The life of God was so very evident in this man's life. What a blessing he is!
In speaking to thousands of Spanish speaking people one may observe that the vast majority are Catholic and truly need to hear the grace of the Gospel of Jesus Christ and how He paid for ALL sins "ONE TIME" on the cross 2,000 years ago and that He completely forgives and saves immediately upon their repentance and faith! YAY Jesus o/
Beloved, the Hispanic people you come into contact with are a people who need the love of God. We learn so many non-eternal things in this world including our favorite sports players, Hollywood icons, etc….for sure we can exercise intellect to learn something new that will bring glory to the Savior! You agree?
A few years ago before I had learned any Spanish, there were some friends who were from Puerto Rico, so I asked them how to say certain Gospel phrases. We wrote those things down on a shabby piece of paper which I carried around for months or over a year and learned those phrases in order to be ready to communicate the Gospel o Spanish speaking people.
Below are some of those phrases those friends taught me. These are a few little biblical sayings to learn in Spanish to help you communicate the Gospel to Spanish speaking people you meet. This will open a whole new world of opportunity for the LORD to shine through your life. Have fun and oh please add to this list if you are fluent in Spanish ok….thank you kindly. I just thought we could start somewhere and maybe this is a good little start….once you learn these important sayings from the Word you will know 4 sentences that you didn't previously know and be able to see the seed of the Gospel planted in the hearts of more precious souls for Jesus' glory…okay here goes……see below
While I was typing these out this same Spanish speaking brother came over and checked my Spanish grammar on these and added the last one of these on the list below! Praise God saints! I gave him bout 300 JESUS tracts in Spanish…glory! Friend, please learn these and equip yourself to serve Jesus in a greater capacity! You will be SO glad you did now and forever as our LORD will use you to plant the seeds that lead to the salvation of souls!
Jesucristo es el único camino a Dios
Jesus Christ is the only way to God!
Cristo reina para siempre
Jesus Christ reigns forever!

Cristo te ama
Jesus Christ loves you!

Tienes que renacer otra vez
Ye Must Be Born Again!

Cristo viene
Jesus is Coming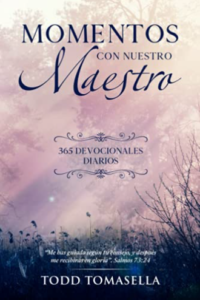 You may wish to cut and paste these and to print these out and carry them around with you. Ask a Spanish speaking friend how to pronunciate and have fun.
Sign up here to begin receiving the Moments with My Master email sent out to edify the saints of the LORD in this late hour.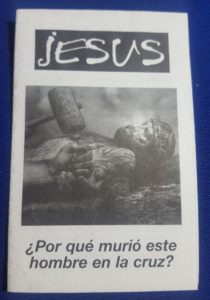 Request pdf for the JESUS tract in Spanish for free. Print at local printer. info@safeguardyoursoul.com
Hacer la paz con Dios – Making Peace with God [Spanish version]