WHY Christians Sin and the Only Solution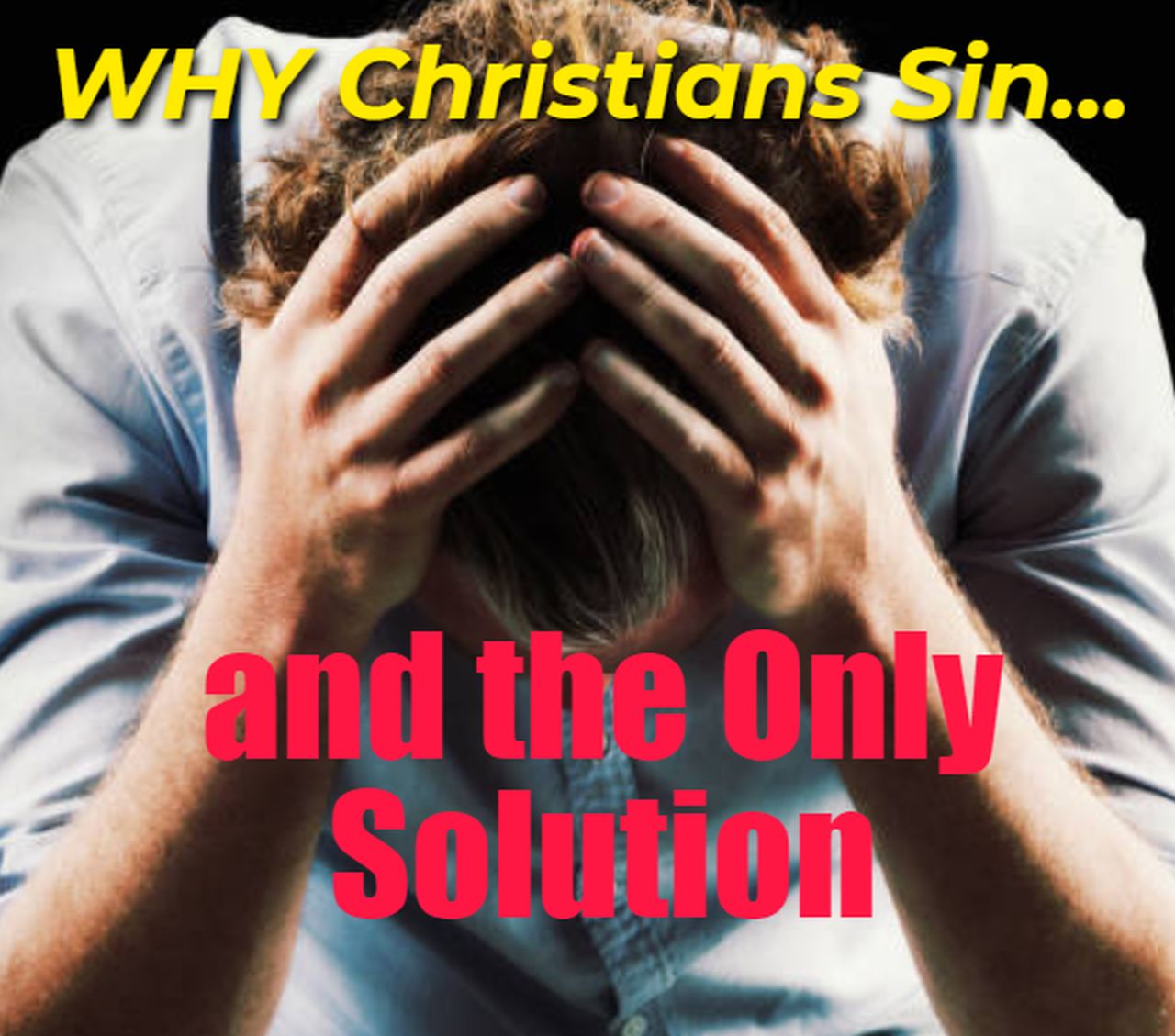 "What shall we say then? Shall we continue in sin, that grace may abound? 2 God forbid. How shall we, that are dead to sin, live any longer therein? … For sin shall not have dominion over you: for ye are not under the law, but under grace." Romans 6:1-2, 14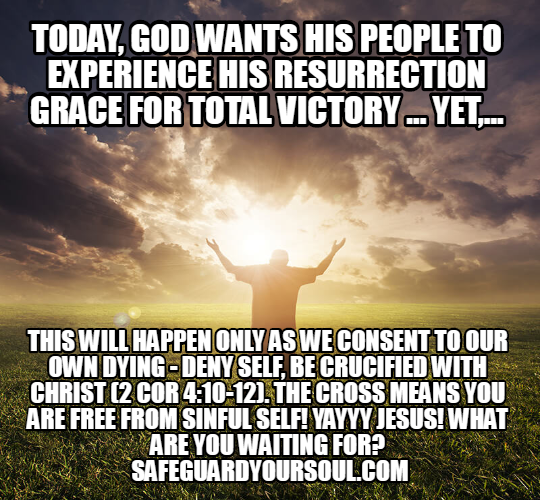 Are you familiar with Romans 6 as every disciple should be? If so, you know that between verse 2 and 14 is what? The cross!
A priesthood of wolves, false preachers, have pawned off to us the heretical notion that we are woefully relegated to a life of sin after Jesus saves us. Paul warns us of these "enemies of the cross of Christ." (Philippians 3:18-19)
Is this defeatist perspective what we read on the pages of New Testament Scripture? Is God that powerless? Was Christ's coming in vain? Read Romans 6:1-2.
"And ye know that he was manifested to take away our sins; and in him is no sin. 6 Whosoever abideth in him sinneth not: whosoever sinneth hath not seen him, neither known him." 1 John 3:5-6 
Abiding in Jesus (John 15), integrally involves the daily cross, and those abiding in Him truly, are not living in sin.
The cross means that because we love God supremely as the "first love" of our lives, we are willing to lay down our lives and die that He might live, move, and reign in our lives (Revelation 2:4-5; 2 Corinthians 4:10-12). Isn't this exactly what Jesus did for us? Did He not lay down His very life so we could have life? Did He not also command that we deny ourselves, die to self, that He might reign in us and that we might reign with Him forever?
It all boils down to WHO we love the most today saints – self or the Savior.
"Jesus said unto him, Thou shalt love the Lord thy God with all thy heart, and with all thy soul, and with all thy mind. 38 This is the first and great commandment. 39 And the second is like unto it, Thou shalt love thy neighbour as thyself. 40 On these two commandments hang all the law and the prophets." Matthew 22:37-40
IF the sins of the flesh (Galatians 5:19-21) are having victory in our lives, what does that mean? That simply means that there is the lack of the cross in our lives and that God is calling us back to Himself as "first love," to repent (turn back to Him), deny self, take up the cross, and follow Jesus (Revelation 2:4-5). The sins of the flesh are resident in every one of us and can only be crucified out of our lives by the daily cross! Jesus is so good and more than able saints! Oh, and He told as that we are not alone is such a battle. He promised that "through the Spirit" we can have the whole victory over the flesh! Read Romans 8:13-14.
"For if ye live after the flesh, ye shall die: but if ye through the Spirit do mortify the deeds of the body, ye shall live. 14 For as many as are led by the Spirit of God, they are the sons of God." Romans 8:13-14
YOU are not a slave to sin but rather a friend and servant of Christ! Read Romans 6.
"Therefore, brethren, we are debtors, not to the flesh, to live after the flesh." Romans 6:12 
"I was personally not able to get out of my own way. I finally began to accept it when people and adverse circumstances pushed me out of my own way. I learned not to fight to regain my own way."
Paul's flesh was and our flesh is a constant reminder of the ever momentary need for the grace of Jesus. Romans chapters 6-7.
Until you realize the depth of your own iniquity, depravity, you're not going to realize or understand the purpose of the cross Jesus mandated you to take up. The Son of God ordained Himself to be at the center of your daily life and that requires you getting out of the way (Genesis 6:5; 12; Jeremiah 17:9; Romans 7:18, 24, etc.).
Every believer grapples with the downward gravitational pull of the flesh (Galatians 5:17; Hebrews 12:4). Obeying God is the only way victory will erupt, manifest in our personal lives (2 Corinthians 4:10-12). Death and burial will be followed by resurrection! And, when Christ is truly reigning is us, victory will be sure! Time to get down low and watch the devil and sin go! See James 4:6-10.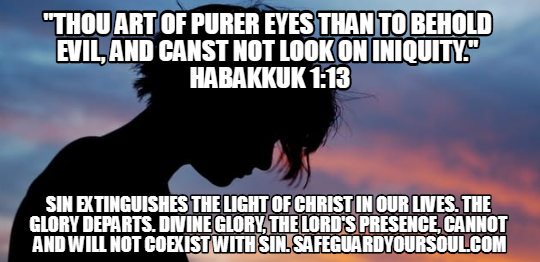 "GOD is able" saith the LORD! (Ephesians 3:20)
"Now unto him that is able to do exceeding abundantly above all that we ask or think, according to the power that worketh in us." Ephesians 3:20
The law of God is "holy, and just, and good" (Romans 7:12).
The holy law of God and the depraved nature of fallen mankind could not be further apart – the righteousness of God inherent in His law vs the "old man," the iniquitous fallen nature of mankind (Ephesians 4:22; Colossians 3:9).
Nothing but a caustic reaction, explosion could be the result of the two colliding (Romans 7). One or the other must reign.
"For the flesh lusteth against the Spirit, and the Spirit against the flesh: and these are contrary the one to the other: so that ye cannot do the things that ye would." Galatians 5:17
For your own edification, you may wish to peruse this category linked here.
The Christian life will not work without the power generator of the cross. Let the addiction begin – as the resurrection life of Christ fills, teems in, and works through His crucified saints! Read 2 Corinthians 4:10-12. Are you ready to exchange your sin, guilt, misery, and shame for Christ's resurrection life? Cross – Resurrection Gospel Life
Those who claim to know Jesus and have no victory over sin in their daily lives, are not abiding in Christ according to HIS definition! That would mean that Jesus isn't powerful enough to conquer the sin He died to free His people from! No, such a person is not in obedience to the cross message Christ and his apostles gave us – which means they are not following Jesus on His terms (Galatians 2:20, etc.).
Lately I've been pointing Christians I meet back to their water baptism after Jesus saved them and how that was the symbolism of how their life in Christ was to go from that point onward – they are dead, buried, and Christ is raising them upward. This is the only way the Christian life works. The cross life is the power generator for our whole life in Christ saints (2 Corinthians 4:10-12). Nothing else works without it.
IT would be impossible for a preacher to be taking up the cross himself and not be preaching the cross, the crucified life. What's that say for America's preachers? (Philippians 3:18-19)
The dictates of the flesh, the motions of sins, will reign and wreak havoc in our lives until the cross takes its proper place to bring a crucified vessel to naught. Romans 6 and 7 summated.
Sin is avoidable, right? Yes. Jesus Christ died to take away our sins and not to enable us to live in them (Matthew 1:21; John 1:29; Titus 2:11-14, etc.). Note the word "IF" in this following verse. It does not say WHEN but rather "IFFFF any man sin." Big difference. Watch this…
"My little children, these things write I unto you, that ye sin not. And IF (not when) any man sin, we have an advocate with the Father, Jesus Christ the righteous: 2 And he is the propitiation for our sins: and not for ours only, but also for the sins of the whole world." 1 John 2:1-2
There really is victory in Jesus – meaning that when we do things the simple way He prescribed, not following a cross-less false message, victory will manifest in our personal lives as God has ordained that it be!
"But thanks be to God, which giveth us the victory through our Lord Jesus Christ." 1 Corinthians 15:57
You see, just previous to this resurrection "victory through our Lord Jesus Christ" Paul is speaking of in 1 Corinthians 15, he says "I die daily" (1 Corinthians 15:31). Life can only spring out of death (John 12:23-25). Daily dying and the consequent raising up of the LORD causes a foretaste of what lies ahead in eternal glory with our LORD.
The Cross – death, burial, and resurrection – grants God's people a "daily" foretaste of glory divine!

The whole of New Testament doctrine testifies to the necessity of experiencing our own death in order to be raised up by Christ eternally (2 Timothy 2:11-12, etc.).
When we truly "follow" Jesus, who went to His own death in order to be raised, we see the same in our own lives as the Gospel takes its place daily in us. We are dead, buried, and raised again to new life in Christ daily.
"Always bearing about in the body the dying of the Lord Jesus, that the life also of Jesus might be made manifest in our body. 11 For we which live are alway delivered unto death for Jesus' sake, that the life also of Jesus might be made manifest in our mortal flesh. 12 So then death worketh in us, but life in you." 2 Corinthians 4:10-12
In the professing church world, the Gospel, the work of Christ is seen only as that which the Son of God accomplished on the cross 2,000 years ago. Yet, that's not what Jesus and His holy apostles taught. The Gospel is "daily" according to the original Gospel.
Jesus Christ Died to Grant His People the Whole Victory
"Teaching us that, denying ungodliness and worldly lusts, we should live soberly, righteously, and godly, in this present world; 13 Looking for that blessed hope, and the glorious appearing of the great God and our Saviour Jesus Christ; 14 Who gave himself for us, that he might redeem us from ALL iniquity, and purify unto himself a peculiar people, zealous of good works. 15 These things speak, and exhort, and rebuke with all authority. Let no man despise thee." Titus 2:11-14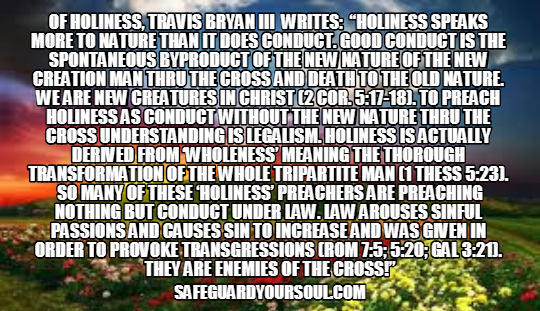 In light of the biblical revelation of the fallen nature and the cross, there's no need to wonder WHY we sin if we sin. If the "old man" is not "put off" by the daily cross life, there will be sin in our daily lives and we know that brings dismal results  (Romans 6-7; Colossians 3:9, etc.) right? SO, we must see that our weakness reveals that Christ was not reigning in us when we sinned, right? Right (Romans 6-7).
God is able! (Ephesians 3:20)
In Colossians 3:9 we read this:
"Lie not one to another, seeing that ye have put off the old man with his deeds;" Colossians 3:9
Yet, what precedes this? Watch this, just a few verses before the one above:
"For ye are dead, and your life is hid with Christ in God." Colossians 3:3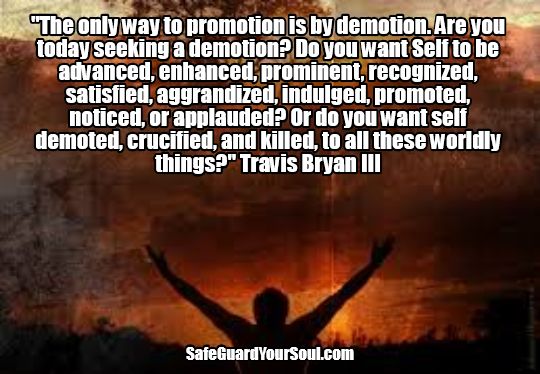 This crucified life Jesus prescribes must not only be recognized positionally but also practically, daily in our personal lives. That is what brings the victory Jesus died to procure for each and every one of His saints in whom He has all His delight (Psalms 16:3).
The same Savior who said "It is finished (HIS work, not yours)" also said that to follow Him, one must daily deny himself and take up his cross (Luke 9:23-24).
Putting off the old sinful man is only divinely possible when we "reckon (count) ye also yourselves to be dead indeed unto sin, but alive unto God through Jesus Christ our Lord" (Romans 6:11).
In short, the answer to the question posed… If we sin, we are to:
Admit it, repent, confess the sin transparently, and get back to the cross – lay down your life afresh and march forth – "Looking unto Jesus the author and finisher of our faith" (Hebrews 12:2).
Yet, we all wonder…. How do we continue to live in God's overcoming grace? How do we live consistently in Christ, glorying Him daily?
The Solution – What it is and What it's Not
"I beseech you therefore, brethren, by the mercies of God, that ye present your bodies a living sacrifice, holy, acceptable unto God, which is your reasonable service. 2 And be not conformed to this world: but be ye transformed by the renewing of your mind, that ye may prove what is that good, and acceptable, and perfect, will of God." Romans 12:1-2
Read together, as this is written, it begins to come clear that the cross necessarily precedes the transforming of our minds, right? Read this again please. Notice that as the born again saint presents himself a living sacrifice (the cross), he is then divinely enabled to be transformed by a renewed mindset – attitude, cross perspective – where Christ reigns, not us!
Transform your thinking? Yes and yet that's only generated by the cross. Read Romans 12:1-2 together. The answer to glorifying God is not better mastery of our thoughts. No it's not trying harder – but rather dying deeper. No, it's not having a positive mental attitude (PMA). Instead, it's worshipful faith-obedience to God – a consenting to the cross where you say "Jesus, I want YOU to reign in my life!"
Sure those things like thinking on the things of Christ play a part and yet, without the cross nothing works (Philippians 4:8).
Lots of people today preach peripherals and not the primary – the cross. Regrettably, there is no cross in the modern false gospel, which makes it "another gospel" and false (Galatians 1:6-9).
Jesus is Coming but for Who?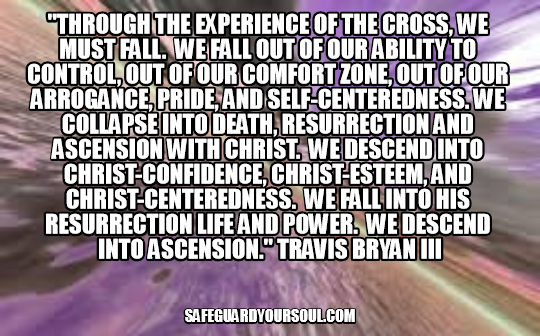 "Christ also loved the church, and gave himself for it; 26 That he might sanctify and cleanse it with the washing of water by the word, 27 That he might present it to himself a glorious church, not having spot, or wrinkle, or any such thing; but that it should be holy and without blemish." Ephesians 5:25-27
So we know from Scripture that Jesus will return for "a glorious church, not having spot, or wrinkle, or any such thing; but that it should be holy and without blemis." (Ephesians 5:25-27). So it is clear to see that Jesus is going to return for a people, His people. His people are defined in Scripture as those who are simply obeying His instruction to deny self, take up the cross, and follow Him (Luke 9:23-24). Here is the message of Savior – the only prescription for following Him:
"And he said to them all, If any man will come after me, let him deny himself, and take up his cross daily, and follow me. 24 For whosoever will save his life shall lose it: but whosoever will lose his life for my sake, the same shall save it." Luke 9:23-24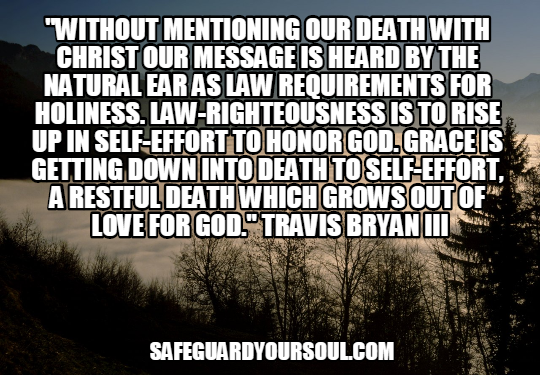 Becoming saturated in the central Gospel message of the cross, is essential to being rooted and grounded in Christ and thereby receiving His divine grace to overcome. This is exactly why the ministry site features the cross category – for your edification in your walk with Jesus. Peruse….
Becoming Saturated in the Message of the Cross
Support | STORE | Podcasts | Top 12 Missing Essential Doctrines in the Modern Church World! [podcast] | Repentance and Fruit | Loving not our Lives unto the Death [podcast]