"And it came to pass, when Jesus had ended these sayings, the people were astonished at his doctrine: 29 For he taught them as one having authority, and not as the scribes." Matthew 7:28-29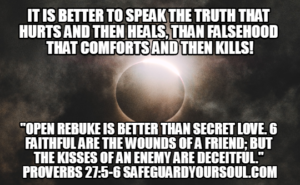 The scribes, the false leaders of Jesus' day and our day, had/have no power. This was in contrast to the power Jesus walked in to declare His Gospel, the original Gospel!
If you aren't flipping apple carts, you are not a man of truth who is walking in the power of the Holy Spirit and truth of God (Matthew 21; John 2).
In the Gospels with Jesus and in Acts with the apostles we see that when God is moving through the preaching of His Word, devils are stirred up, angered, and cast out. When Jesus preached, it was with divine authority and power and not like the lame false leaders of His day (Matthew 7:29). The same is true today.
HAVE YOU NOTICED THAT EACH GENERATION OF "PREACHERS" BECOMES INCREASINGLY LAME, FEMINIZED, BIBLICALLY-ILLITERATE? THEY SEEM TO BE INTENT UPON OUT-DOING THEIR PREDECESSORS in their apostate denigration of the Word of God.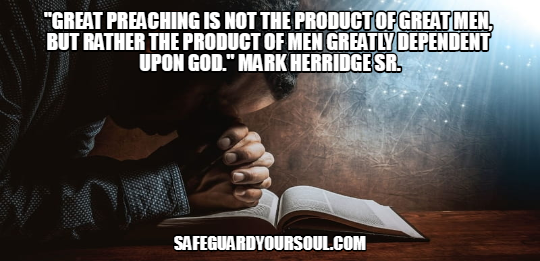 "But evil men and seducers shall wax worse and worse, deceiving, and being deceived." 2 Timothy 3:13
Watch this…. Watch what happens when the Word of God is preached with the power of Jesus….
"And Jesus went about all Galilee, teaching in their synagogues, and preaching the gospel of the kingdom, and healing all manner of sickness and all manner of disease among the people. 24 And his fame went throughout all Syria: and they brought unto him all sick people that were taken with divers diseases and torments, and those which were possessed with devils, and those which were lunatick, and those that had the palsy; and he healed them." Matthew 4:23-24
As is evidenced by the lives and ministries of Jesus and His holy apostles on the pages of Holy Scripture, true disciples will boldly "PREACH (declare) the word" and not put it out there as if it's a suggestion or apologize for it with no fear of God (2 Timothy 4:1-4, etc.). The LORD uses crucified vessels, therefore they are not self-serving nor do they fear mere men (1 Corinthians 2:2; Galatians 2:20; 6:14, etc.).
Most preachers today are full of themselves, cross-less, and Christ-denying and therefore lame.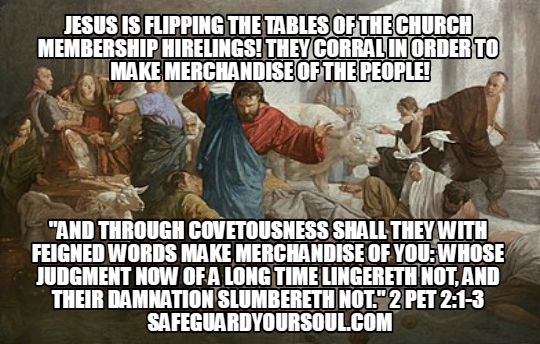 Most in ministry positions are what can rightly be called "soft peddle pansies." They are never heard preaching in the Spirit and holy fear of the LORD. They refuse to preach cardinal biblical doctrines such as hell, sin, repentance, holiness, the cross, and the return of Christ, etc. They are certainly never heard exposing, warning of the many false doctrines such as once saved always saved, eternal security, dispensationalism, calvinism, hebrew roots heresy, etc.
If what we're preaching isn't sending pharisees, jezebels, calvinists, eternal securists, and other tares scattering, we aren't preaching the original Gospel, the Gospel Jesus and His apostles preached…. (Galatians 1:6-9).
The original Gospel was delivered by Christ and His holy apostles who were bold as a lion, baptized with the Holy Ghost, and full of the Word of God! They earnestly contended "for the faith once delivered to the saints" under the directly, anointing, and power of the Holy Ghost (Acts 10:38; Jude 3, etc.).
It's past time for un-apologetic, in-your-face preaching! There are FAR too many patty cake pansies posing as pastors today. It takes Holy Ghost anointed, bone breaking preaching to cut through the darkness and depravity of men's iniquitous hearts.
"Preach the Word." 2 Timothy 4:2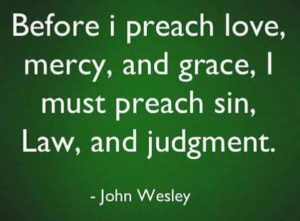 WE must preach law, judgment, the cross, sin, repentance, and hell and STOP apologizing for it. Repent and God will grant you a spine and cause you to cease being a pansy – a self-serving moral coward.
For the authentic follower of Jesus, who is the truth, it's never "unity at the expense of truth" which is antichrist. The spirit of antichrist is behind the weak, Christ-denying, lame attempt to shut down truth because people are going to be offended. Repent now and follow Jesus before it's too late.
IF you aren't quoting and reading Holy Scripture (King James Bible) to your audience you have NO BUSINESS – NONE, ZERO – play acting like you're ministering! Period! Cease now and step down now until you have genuinely repented and are so full of God and His Word that's ALL that flows from your life and lips! (2 Timothy 2:15; 1 Peter 4:11)
Under the bless-ed weight of the true original Gospel, men are convicted, broken, and crushed to repentance! (Matthew 21:44; 1 Corinthians 1:18; 2:4; 2 Corinthians 4:20; James 4:8-10, etc.)
"No one ever went to hell for hearing the truth. For rejecting the truth, yes. For hearing the truth, never!" Phil Butler
Speaking of preaching God's Word …..
Is your favorite preacher communicating Scripture like this (below) to warn you? OR, is the wolf tickling your ears? (2 Timothy 4:2-4)
"Fear none of those things which thou shalt suffer: behold, the devil shall cast some of you into prison, that ye may be tried; and ye shall have tribulation ten days: be thou faithful unto death, and I will give thee a crown of life." Revelation 2:10 
Weak men can never preach sinners and backsliders into the kingdom of Christ (Acts 1:8).
Evading truth, glossing over, whitewashing our sin is sure damnation (Proverbs 28:13).
SIN, we ALL have it to deal with. WHO will we love most-self or Jesus (Romans 6:16).
THE WHOLE OF SCRIPTURE reveals to us that ….IF you are not flipping hell bound religious hypocrites upside down – You are not preaching the pure Word of God empowered by the Holy Ghost of God!
Anointed preaching from true men of God always flips the gospel merchandising apple carts of the fraud-hireling wolves in our midst – just as it did in Jesus' day! (Matthew 21; John 2, etc.)
GOD is calling for fearless, ax-to-the-root preaching (Matthew 3:7-10).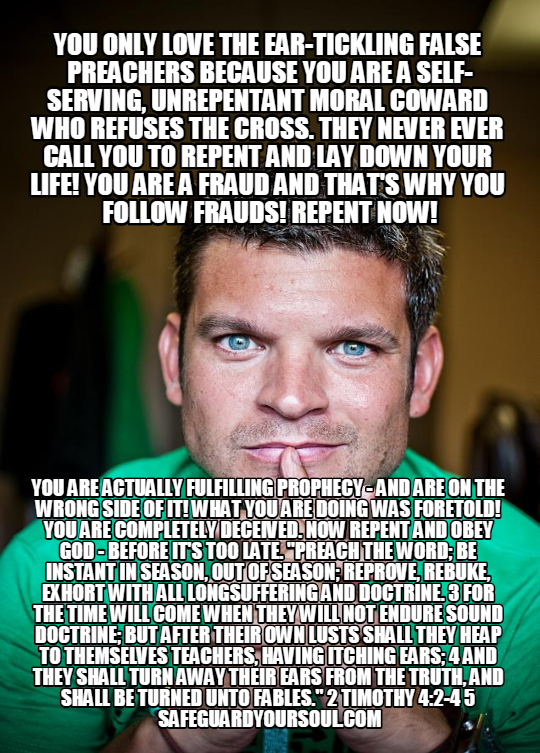 Fake Ministries are Everywhere: WHEN you hear people in "ministry" continue to hem haw and use words such as "I think," etc., you should lose interest real quick. You know they are not in the Word and so you know it's a fake ministry and they have no business pretending to do "ministry" for Jesus. "Preach the WORD." (2 Timothy 4:2) We all have a Bible and so there's no excuse and real kingdom ministry is simply putting forth God's Word. Peter wrote: "If any man speak, let him speak as the oracles (written Word) of God;…Amen." (1 Peter 4:11). God's Word is the recording of the very "thoughts of HIS heart" and He's not confused, amen? (Psalms 33:11; 1 Corinthians 14:33) Yet, the vast majority of "ministry" that goes on today is a lame, laughable excuse for kingdom ministry!
Many a false preacher is breathing hope into un-repentant sinners who are still dead in trespasses and sin! They are in a state of hell bound lukewarmness and the false preachers will come to the aid of them, "protecting" them from the truth spoken straight (Revelation 3:15-16). Beware saints. People don't even know they need hope till they've been preached 6 foot under and have only one direction to look -UPWARD! The preaching of the Law and cross is to drive sinful men to repentance before a holy God! (Galatians 3:24; 1 Timothy 1:9-11, etc.). How shall they fall upon the mercy of God invested in Christ's cross if they've never had the sharp sword of the Law preached to them – finding them undone in sin before a holy God who will soon judge and cast their eternal soul into the lake of fire?
HERE is exactly why you see people whining like moral cowards instead of repenting in this late hour…. when someone puts the truth out with directness. They are not enduring sound doctrine (2 Timothy 4:2-4)… and most of those complaining falsely claim to be ministers of Christ. Lame. Un-repentant.
Recently, I visited Alabama. While driving down the road I saw a billboard from a local fellowship that said "You can be free from your sin." Amazing. Regrettably rare. It just goes to show you just how apostate the false modern church world is today where we rarely ever hear the paramount biblical truth that God is holy nor anything about sin which is why Jesus came (Matthew 1:21; John 1:29; 1 Timothy 1:15; Titus 2:11-14, etc.).
False preachers speak and operate as to please mere sinful men in order to get them to continue to patronize their church busine$$.
"And through covetousness shall they with feigned (fictitious) words make merchandise of you: whose judgment now of a long time lingereth not, and their damnation slumbereth not." 2 Peter 2:3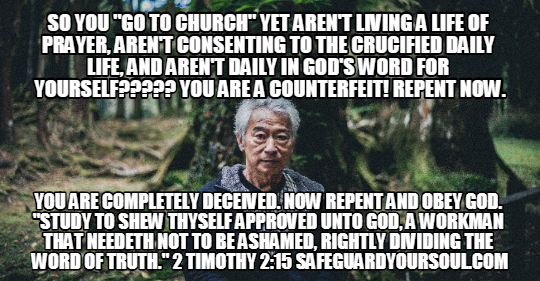 "Now I beseech you, brethren, mark them which cause divisions and offences contrary to the doctrine which ye have learned; and avoid them. 18 For they that are such serve not our Lord Jesus Christ, but their own belly; and by good words and fair speeches deceive the hearts of the simple." Romans 16:17-18
This world needs more table-flipping preachers like Jesus!
True men of God fearlessly endeavor to preach Christ and the whole counsel of His Word with no fear of mere sinful men (Galatians 1:10).
True men of God are known in that they preach in the fear of the LORD to please the LORD, not men (Galatians 1:10). The true remnant people of God fear, obey, and say what GOD says. They cater to the LORD, not sinful men (Galatians 1:10). Those who are run off by the pure truth of God's Word were unrepentant counterfeits.
"For do I now persuade men, or God? or do I seek to please men? for if I yet pleased men, I should not be the servant of Christ." Galatians 1:10
Wolves entertain goats while true disciples feed sheep!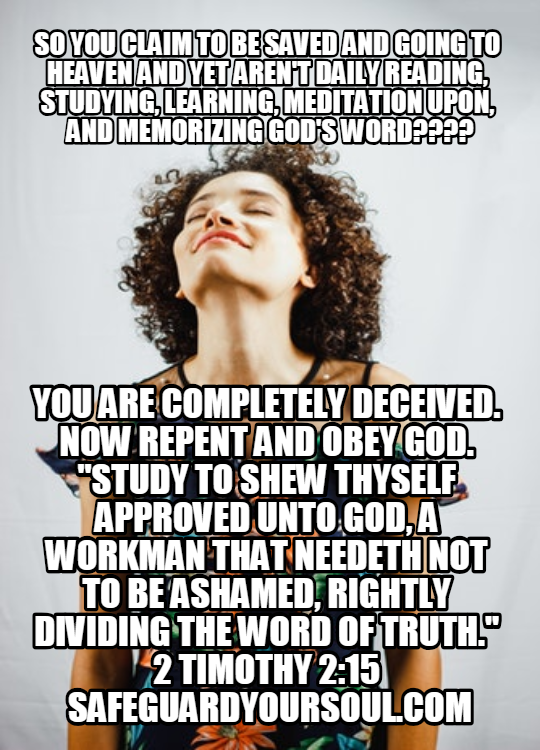 How many times did Jesus cleansed the temple during His 3.5 year ministry? What was the significance of His violent overthrow of false leaders and their iniquitous ways?
GOD will punish you with the wolves you endorse and support (2 John 10-11). Hint: If he's afraid to hurt your feelings, he's a wolf! Now repent and run! (2 Timothy 4:2-4; Galatians 1:10)
ARE you propping up a church busine$$ or are you supporting the fearless, unashamed preaching of the whole counsel of the kingdom of Christ? (Acts 20:20, 27; 28:31, etc.)
"The righteous are BOLD as a lion." Proverbs 28:1
You know a man is from God when he fearlessly – with no tiptoeing – crushes and openly exposes lies, half-truths, heresies and Satan with bold, un-apologetic divinely-empowered Holy Ghost preaching! Far too many propped up compromised pansies posing as pastors! (Matthew 11:12) The first clue should be that they are using Satan's gay rainbow light-in-the-loafers "bibles" instead of the King James Bible.
Jesus cleansed the temple twice and these are book ends with great significance …
Jesus Cleanses the Temple ….
Jesus cleansed the temple twice and these are book ends with great significance …
Jesus Cleanses the Temple ….
As an eternal memorial of His righteous and holy judgment against thieving and deceitful monetary practices perpetrated by greedy, self-serving wolves, the Son of God cleansed the temple at the very opening and closing of His ministry on earth (Matt. 21:12-17; Jn. 2:12-17). He violently overthrew the deceitful practices of those in leadership who were making merchandise of those who came to seek the LORD. Such deceit is a sure way of coming under His condemnation.
"And said unto them that sold doves, Take these things hence (get them out of here); make not my Father's house an house of merchandise. And his disciples remembered that it was written, The zeal of thine house hath eaten me up (ignited His holy wrath)." John 2:16-17
As soon as these things were removed, His power, praise, prosperity and healing blessings were reinstated among His people (Matt. 21:12-17). Jesus stated:
"It is written, My house shall be called the house of prayer; but ye have made it a den of thieves." Matthew 21:13
The unchanging God feels no different today than He did then concerning greed mongers and their deceitful practices in His name and among His people. Such deceivers are in the cross-hairs of His scope of holy judgment. As Christ cleansed the temple in His hour in the flesh, He desires to cleanse our hearts of all greed for fleeting gain, which has prevented in us the holy hunger for the true and eternal riches that only He can grant.
Soul Stealing
"For the leaders of this people cause them to err; and they that are led of them are destroyed." Isaiah 9:16
The vast majority of "churches" that meet in "church buildings" are simply and merely conducting "church services" where they entertain their prey. They are not equipping the saints for the work of the ministry and therefore discerned as being counterfeit (Ephesians 4:11-13). If they were, there would be salty disciples in their midst who go forth to minister Christ's kingdom blessings where ever they went. Not even a trace of this transpiring in the apostate modern church world. Run. Run. Run.
"And he gave some, apostles; and some, prophets; and some, evangelists; and some, pastors and teachers; 12 For the perfecting (equipping, maturing) of the saints, for the work of the ministry, for the edifying of the body of Christ:" Ephesians 4:11-12
BIBLICAL QUESTION: Please post the reference to even 1 time where Jesus, John the Baptist, or any of the apostles of Christ ever entertained anyone. ….. BEWARE of the Goat Entertainers which is most pastors today – because they have a mortgage and salaries to pay!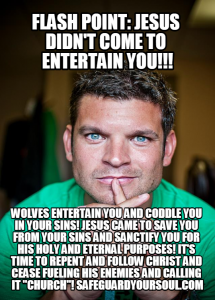 WHEN Jesus, John the Baptist, and the apostles preached, they FULLY EXPECTED their audience to obey the Word. They were crucified men, given over to the will of the Father, and full of Heaven's power and authority. Unlike those posing as Christ's representatives today, they were absolutely fearless.
"The righteous are bold as a lion." Proverbs 28:1
THAT is because they were imbued with Heaven's authority and not just some wimpy preacher like we have today that have zero anointing. The Scripture specifically draws our attention to this fact at the end of the longest recorded message of our LORD Jesus (Matthew 5-7).
ANY man who is afraid to offend you is a compromised moral coward (Galatians 1:10; 4:16).
LOTS of people attempting in vain to do God's work without God's power (Acts 1:8).
Your life and preaching have little or no anointing from God if you are not baptized with the Holy Ghost (Acts 1:8; 2:38). Those believers who are not baptized in the Holy Ghost are greatly limited. | Full of the Holy Ghost
Are you baptized with the Holy Ghost? Jesus and His apostles and the earliest followers of Jesus were and God wants you to be (Acts 1:8). This is why they were full of God's power!
"And, behold, I send the promise of my Father upon you: but tarry ye in the city of Jerusalem, until ye be endued (clothed upon) with power from on high." Luke 24:49
God is calling all His men to repent of not allowing HIM, HIS Word to teach us and for selling our souls out to the world – by submitting our lives to the tutelage of mere sinful men in seminaries or Bible colleges. Paul denounced all his higher learning for Christ and to be used of Him! (Philippians 3) Satan's Seminaries Busted and Exposed!
Anointed men are crucified men and they move men!
"Satan doesn't give up his ground easy. He must be hit straight on. The word, backed up by a Holy Spirit filled vessel is the power against his lies and deception." Jeni
The vatican-trained seminarians use Satan's "bibles" which are not God's Word and have removed and changed the pillar doctrines of the original Gospel. This alone underscores the prophesied great apostasy. Real New Testament fellowship by pouring over Acts 2:42-47. False "Bibles" Busted and Exposed
Most men in ministry today try to make a "fair show in the flesh"…. they are basically paid actors, cross-less, full of sinful self….  Yet the good news is that YOU don't have to try to be someone special because Jesus is Almighty, He's our all in all, everything! It's all about Christ! The Daily Cross
Wolves patty cake with you because they want your money and could care less about your eternal soul (Isaiah 30:9-10; 2 Timothy:2-4; 2 Peter 2:1-3).
"AFTER" and not Before!
"But ye shall receive power, AFTER that the Holy Ghost is come upon you: and ye shall be witnesses unto me both in Jerusalem, and in all Judaea, and in Samaria, and unto the uttermost part of the earth." Acts 1:8
If you are not baptized with the Holy Ghost, you are not qualified by God to be His minister, elder. Sadly, many choose the laughable cheap substitute of seminary. The unchanging Savior never once sent His disciples to seminary for higher learning but rather to the cross-life and Pentecost. told His own twelve who had walked with Him over 3 years in the flesh that they were not ready or qualified to do His work until they received "power from on high." (Luke 24:49) No Pentecost, No Power!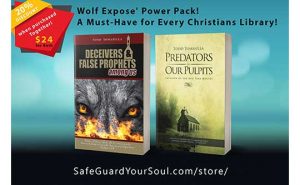 The ministry of Jesus was a sin-exposing and forgiving, chain-breaking, devil-crushing ministry of great divine power.
"How God anointed Jesus of Nazareth with the Holy Ghost and with power: who went about doing good, and healing all that were oppressed of the devil; for God was with him." Acts 10:38
Christ has not changed and desires to use His people to do what He did.
"Jesus Christ the same yesterday, and to day, and for ever." Hebrews 13:8
Would you correct Christ's apostle Paul for being too harsh (according to you)? Here's what Paul said to a deceiver in his day: "Then Saul, (who also is called Paul,) filled with the Holy Ghost, set his eyes on him, 10 And said, O full of all subtilty and all mischief, thou child of the devil, thou enemy of all righteousness, wilt thou not cease to pervert the right ways of the Lord?" (Acts 13:9-10)
Soft men get nothing done. No, they only perpetual people in their sins, leading them to damnation. God's Word commands:
"Preach the word; be instant in season, out of season; reprove, rebuke, exhort with all longsuffering and doctrine. 3 For the time will come when they will not endure sound doctrine; but after their own lusts shall they heap to themselves teachers, having itching ears; 4 And they shall turn away their ears from the truth, and shall be turned unto fables. 5 But watch thou in all things, endure afflictions, do the work of an evangelist, make full proof of thy ministry." 2 Timothy 4:2-5
So many have sinned by sitting under grace-perverting wolves who do nothing but coddle and comfort them in their sins instead of calling them to truly repent, deny self, die the death, take up the cross, lay down their lives, and follow Christ for real! The Holy Ghost specifically warned us of this! (2 Tim 4:2-4; Jude 3-4, etc.)
Busting Hell Wide Open while Believing You are "Blessed" [podcast]