Looking For Direction in God's Word?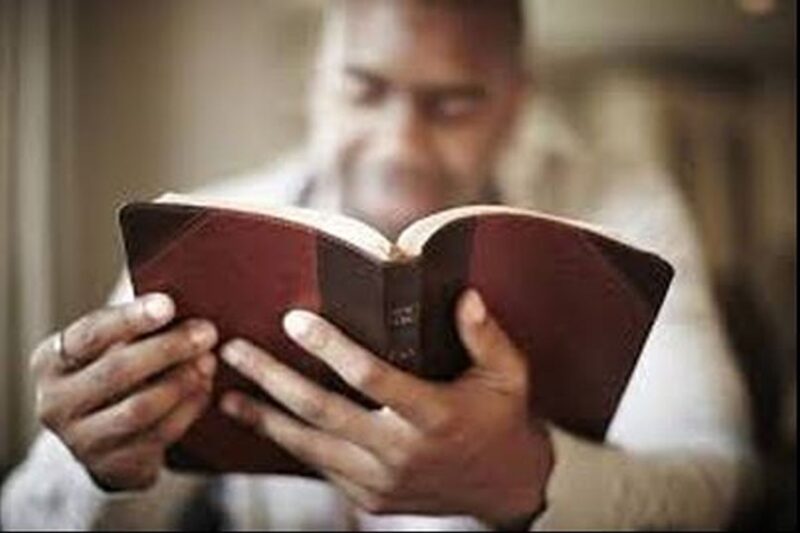 Biblical Topics Sampling:
Love/Charity: 1 Corinthians 13 "The love chapter"
Origin of all Life/Civilization: Genesis 1-11
10 Commandments: Exodus 20:1-17
Revelation 2-3: Christ addresses the 7 churches of Asia. There are many all-important truths and rebukes completely applicable to us now in being ready for Christ's return.
Fearing the LORD: Josh. 24:14; Ps. 2:11-12; 86:11; Prov. 1:7, 29; 8:13; 14:26-27; 22:4: Eccl. 12:13; Matt. 10:28; Lk. 12:4-5
Sin: man's core problem and dilemma: Gen. 3; 6:5; Jer. 17:5, 9; Rom. 3; 1 Jn. 1:7-2:2
Proverbs: There are 31 chapters in Proverbs. 1 per day for a month complete the book.
Prayer: Matt. 6:6, 26:41; Mk. 1:35; Phil. 4:6; Col. 4:2,12
Overcoming Sin: Romans 6; 13:14
The 7 Abominations: Prov. 6:16-19
Forgiveness: Matt. 18:21-35; Mk 11:25-26
The Crucified life: Lk. 9:23-24; 2 Cor. 4:10-12; Gal. 2:20; Col. 3:3
Humility: Prov. 22:4; Matt. 20:20-28; James 4:6-10
Spiritual Maturity: Heb. 5:11-14, 6:1-3
Marriage/Dating/Divorce/ReMarriage: Deut. 24; 1 Corinthians 7
The Written Word: Psalms 119; 2 Timothy 3:15-17; 2 Peter 1:19-21
Sermon on the Mount: Matthew 5-7
6 Principle (foundational) Doctrines of Christ: Heb. 6:1-3
Correction/Rebuke: Gal. 6:1-2; Prov. 25:9; Matt. 18:15-17; 2 Tim. 3:16
Sin/Grace Righteousness: Romans 1-5
Abstaining From Fornication: 1 Thess. 4:1-8; 1 Cor. 6:13-19
False Prophets/Teachers: Jer. 23; Ezek. 34; Matt. 23; Jude 1; 2 Pet. 2
Spiritual Gifts: 1 Corinthians 12, 14
Love/Truth/Light: 1 John 1-5 First John Is Called 'The Book of Certainties'
Return of Christ: Luke 21:34-36; 1 Thess. 4:16-18, etc.
God of Restoration: Luke 15, 19:10
Disciple's Prayer Model: Matt. 6:9-12
Riches: Matt. 6:19-21; Luke 12, 16; 1 Timothy 6:5-19
The Divinity of Jesus Christ: Gospel of John (Hi-Lite & cross-reference every reference to Christ's divinity); Jn. 1:1-2, 14; 8:58; 20:28; Eph. 3:9; Col. 1:16-17; 1 Tim. 3:16; 6:15-16; Rev. 1:8
Wisdom: Prov. 8; James 1:5; 1:13-17
Putting God first in your day is a deliberate decision and act. Such will never happen by accident. Take control of your time for Jesus or your time will continue to take control of you. Memorize 2 Timothy 2:15 and obey the LORD.
"But seek ye first the kingdom of God, and his righteousness; and all these things shall be added unto you." Matthew 6:33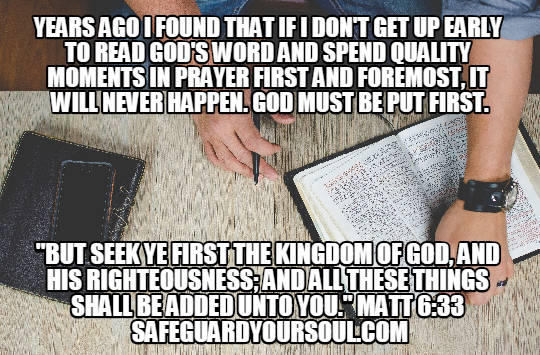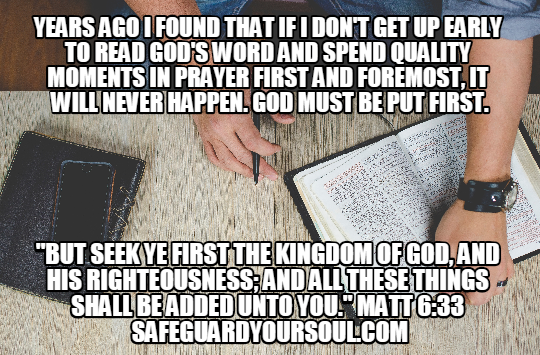 Becoming familiar with these texts will help you in your own walk with the LORD and in helping others (being able to teach and refer to these passages). You will be well on your way to a rich and full life of Bible literacy & usefulness in God's kingdom as you begin to learn the above listed topics of truth. Hi-Lite, underline, cross-reference.
"Study to shew thyself approved unto God, a workman that needeth not to be ashamed, rightly dividing the word of truth." 2 Timothy 2:15
The KEY to understanding the mind of Christ being communicated in any book of the Bible: First, read that book 10-20 straight through to gain a knowledge of it, to begin to grasp the divine transmission. Then, go back and study it verse by verse in a more in-depth break down of the text.
"But sanctify the Lord God in your hearts: and be ready always to give an answer to every man that asketh you a reason of the hope that is in you with meekness and fear:" 1 Peter 3:15
Let's not come up empty handed any longer! Make the quality decision to learn God's Word for yourself and stop depending on others. Embarking upon diligent topical and systematic Bible study is the answer.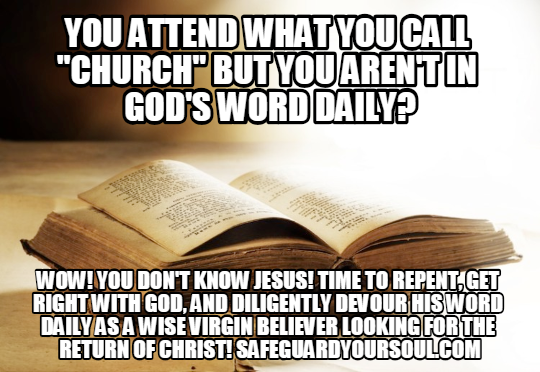 "Have not I written to thee excellent things in counsels and knowledge, That I might make thee know the certainty of the words of truth; that thou mightest answer the words of truth to them that send unto thee?" Proverbs 22:20-21
The Word of God is learned, one truth at a time, "But the word of the LORD was unto them precept upon precept, precept upon precept; line upon line, line upon line; here a little, and there a little." Isaiah 28:13
YOU cannot possibly be flourishing in Christ if you are not dwelling "richly" (abundantly) in His Word – both in your own personal, daily life and concerning Christ's true body! (Colossians 3:16) If you are not surrounded with people you can have BIBLICAL conversations with, you have surrounded yourself with counterfeits!
"Presently, I am in 1 Kings, reading all the way through the Bible again, and also reading through Revelation backwards. Personally I like to read several chapters every morning to begin the day and like to include Old Testament, Poetic books, and New Testament chapter readings….. along with pouring over passages like 1 Cor 13; Phil 2:3-5; Col. 3:1-4, 12-14;" Todd
"In 1 Thessalonians reading through the Bible." Jason
"I am reading mark." Michele
"Philippians—Paul's letter in prison—and joy." Joe
"I Been Reading James And 1st and 2nd Peter This Week." Connie
"Working my way through 1 Sam (ch 14 finished now) Psalms 77 and John chapter 4 finished. Trying to read through in 6 months. I enjoy listening (KJB on YouTube) while I read also." Nathan
LET'S LEARN GOD'S WORD TOGETHER – ONE TRUTH AT A TIME: This message was sent out to each person who is on our Moments For My Master email devotional list. We would love to add you and have the privilege of nourishing your heart with God's Word (1 Tim. 4:6). Sign up here.
MORE TOPICS
Adultery Matthew 5:27-28, 32
Adversity Romans 8:28
Afraid Psalms 34:4, 56:3
Alcohol Ephesians 5:18
Anger Ephesians 4:26-27, 31-32
Anxiety Philippians 4:4-7
Apprehension Matthew 6:31-33
Astrology Deuteronomy 18:9-14
Backbiting Hebrews 12:14-15
Backsliding Psalms 51
Bereaved 2 Corinthians 1:3-4
Burdens 1 Peter 5:6-11
Conceit Luke 18:9-14
Contention Proverbs 13:10. 22:10
Confusion 2 Corinthians 10:3-6
Covetousness Exodus 20:17, Romans 7:7
Crisis Psalms 121
Criticism Romans 12
Cursing James 3:10
Daydreaming 2 Corinthians 10:3-6
Deceit Colossians 2:8
Defeated Romans 8:31-39
Depression Isaiah 61:1-3. Psalms 34
Despair 2 Corinthians 4:8
Destruction Psalms 103; Proverbs 18:12
Disaster Threatens Psalms 91
Discouragement Isaiah 42; Psalms 23
Disobedience John 15:14
Divorce Mark 10:2-12
Doubt Proverbs 3:5-6; Hebrews 11
Drugs 2 Corinthians 7:1
Drunkenness Luke 21:34-36
Envy Proverbs 14:30
Excuses Luke 14:15-24
Faith Falls Psalms 42:5
Fantasy 2 Corinthians 10:3-6
Fatigue Isaiah 40:31
Fault finding Matthew 7:1-5
Fear 2 Timothy 1:7; Luke 12:5
Fear of Rejection Ephesians 1
Fornication 1 Corinthians 6:18-20
Friends Fail 2 Timothy 4:16-18
Gluttony Proverbs 23:2
Gossip Proverbs 13:3
Greed Matthew 19:24
Grief Isaiah 53:3-4
Guilt Romans 8:1
Hatred 1 John 2:11
Heartbreak Psalms 147:3
Heaviness Isaiah 61:1-3
Hurting John 14
Idleness Proverbs 19:15
Idolatry 1 John 5:21
Inadequacy Philippians 4:13
Incest Leviticus 20:11,12,14
Inferiority Philippians 4:13
Impure Thought 2 Peter 2:10
Insomnia Proverbs 3:24
Intolerance 1 Corinthians 13
Irritability 1 Corinthians 13
Jealousy Proverbs 6:34
Judging Romans 14:10-13
Laziness Hebrews 6:12, Proverbs 19:15
Legalism Galatians 3
Lethargy Proverbs 21:24-26
Loneliness John 14; Psalms 23
Lying Revelation 21:8
Lust Matthew 5:28
Manipulation 2 Peter 2
Masturbation Romans 1:24-28
Materialistic 1 John 2:15-17
Mocking Proverbs 17:5
Murder Exodus 20:13
Negativism 2 Corinthians 1:20
Nervousness Philippians 4:6
Obsessive Behavior Galatians 5:16-25
Occult Deuteronomy 18
Overly Sensitive 1 Corinthians 13
Passivity Matthew 10:33
Pouting Matthew 6: 14-15
Prejudice James 2: 1-13
Pressure Proverbs 3:25-26
Pride Proverbs 16:18
Profane 1 Timothy 1:9
Protection Psalms 27
Quarreling Ephesians 4:25-32
Rape 2 Corinthians 7:1
Rebellion 1 Samuel 15:23
Rejection John 14
Resentment Hebrews 12
Restlessness Psalms 46:10
Retaliation Romans 12
Revenge Matthew 5:43-48
Sadness Nehemiah 8:10
Scorning Proverbs 22:10
Selfishness 2 Corinthians 9:1-14
Self-pity Philippians 4:8-9
Self-righteousness Luke 18:9-14
Self-rejection Psalms 139:14
Self-will Isaiah 53:6
Sensuality Galatians 5:16-26
Sexual Impurity Proverbs 6:24-35
Sin Psalms 66:18; 1 John 1:9; John 8:34-36
Slow to Forgive Matthew 18:21-35
Sorrow Isaiah 53
Spite Isaiah 50:6
Stealing Exodus 20:15
Strife James 3
Stubbornness 1 Samuel 15:23
Submission 1 Peter 2:13-17
Suicide Exodus 20:13
Suspicion Exodus 20:16
Swearing Colossians 3:8
Temper 2 Peter 1:5-8
Tempted Matthew 26:41
Too Quick to Speak James 3:1-13
Unbelief Hebrews 3:12-13
Unforgiveness Matthew 18:21-35
Vanity Galatians 5:26
Violence Ezekiel 45:9
Weariness Hebrews 12:3; 2 Thessalonians 3:13
Witchcraft Galatians 5:20
Workaholic Romans 10:3; Ephesians 2:8-9
Worldliness 1 John 2: 15-17
Worry Isaiah 35:3-5; 26:3-4
Study Guides | Bible School | Bible/Word of God Category
How We Know the Bible is the only Holy Book on Planet Earth [podcast]
Esteeming the Words of His Mouth More than my Necessary Food [podcast]