Do You Hate "EVERY False Way"?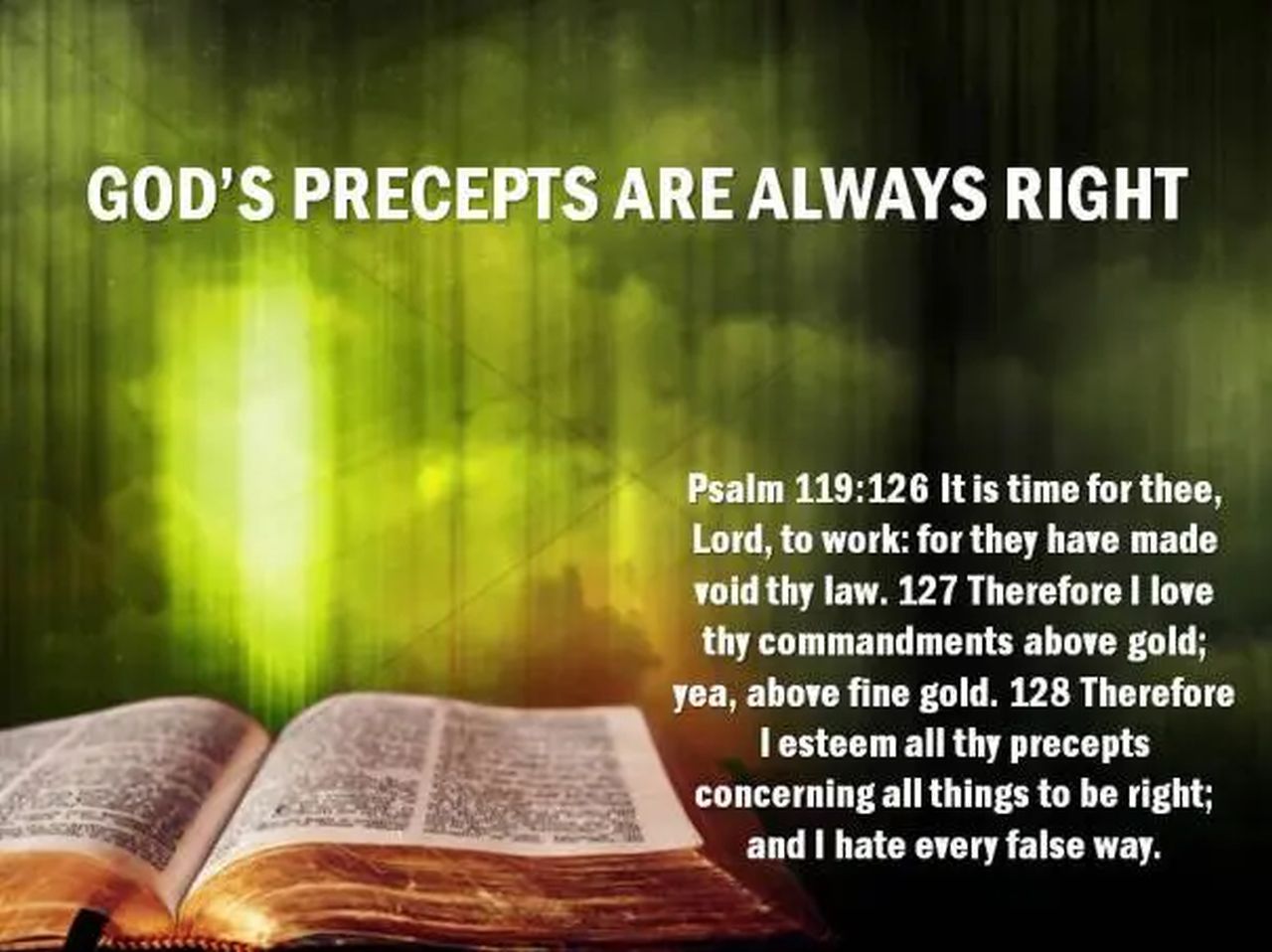 What does God want His people to hate?
Limiting God to anything but the whole counsel of His written Word is a sin:
"Yea, they turned back and tempted God, and limited the Holy One of Israel." Psalms 78:41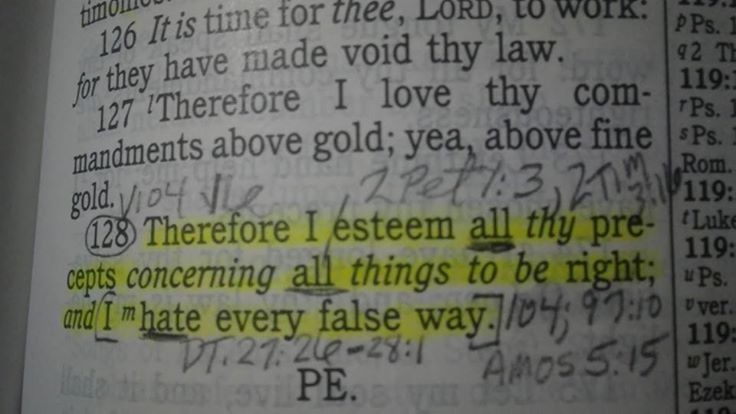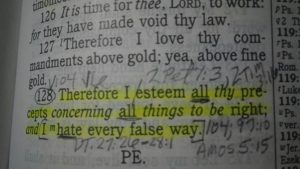 The true disciple is a student of Christ. He lives by the faith of Christ breathed into His spirit by the Word and the Holy Spirit (John 4:23-24; Romans 10:17; 2 Corinthians 3:6, etc.). The follower of Christ proves such by his seeking out and acknowledging and obedience to the whole will, the WORD of God (Psalms 119; John 8:47). He has truly repented and therefore lives to please the Savior by adhering to the WHOLE counsel of God's Word – letting God's Word be true and EVERY mere man a liar (Acts 20:20, 27, 32; Romans 3:4; 2 Timothy 3:16-17). In contrast, we see how so many have landed themselves on the spiritual trash heap by allowing themselves to get derailed along the way – many times by false teachers who insist on preaching things that do not align with the WHOLE counsel of God's Word (2 Thessalonians 2:10-12). Many of their prey pigeon hole themselves into some doctrinal slant or religious framework, thereby living the remainder of their days deceived and ditched. They are then
"Ever learning, and never able to come to the knowledge of the truth."
(2 Timothy 3:7) They thereby limit God or seek Him on some basis other than His Word. This is one reason the psalmist stated that he HATED
"EVERY false way."
Are you walking in a
"false way"
? (Psalms 119:104, 128)
Do you truly "HATE" that which is a twist, that which is a corruption, that which is not according to the FULL counsel of God's Word? Listen to the man after God's own heart declare his hatred!
"Through thy precepts I get understanding: therefore I hate every false way." Psalms 119:104
David received "understanding" because he sought the LORD by studying His Word. God's Word was the final authority of his life. Is God's Word truly the final divine authority of your life?
"Therefore I love thy commandments above gold; yea, above fine gold. 12  Therefore I esteem all thy precepts concerning all things to be right; and I hate every false way.   Psalms 119:127-128
In many cases the deceived ones are those who simply "go to church" and are basically the pawn, the slave of the pastor, never bearing fruit in their daily life (John 15:1-16). They lead no one to Jesus and are powerless. They wonder why there's no good fruit in their lives. Years and even decades are wasted. Yet, to be delivered, they must pull up the roots of their derailment – rebellion, following mere men instead of God – by not truly studying for themselves, learning, knowing, and adhering to the FULL counsel of His Word.
"STUDY (divine command) to shew thyself approved unto God, a workman that needeth not to be ashamed, rightly dividing the word of truth." 2 Timothy 2:15
Those who refuse to personally "study" God's Word will not be able to rightly divide it and will ultimately be "ashamed."
Jesus gave a scathing rebuke to the false religionists of His day who put their tradition before God's Word – who followed mere sinful religious men instead of the LORD.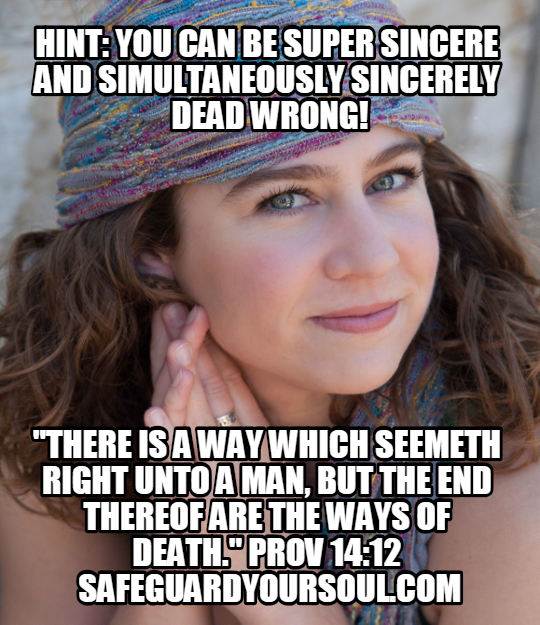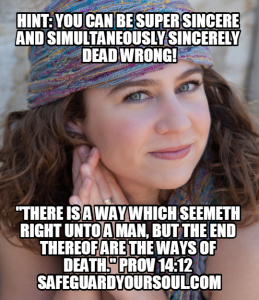 "He answered and said unto them, Well hath Esaias prophesied of you hypocrites, as it is written, This people honoureth me with their lips, but their heart is far from me. 7 Howbeit in vain do they worship me, teaching for doctrines the commandments of men. 8 For laying aside the commandment of God, ye hold the tradition of men, as the washing of pots and cups: and many other such like things ye do. 9 And he said unto them, Full well ye reject the commandment (Word, instruction) of God, that ye may keep your own tradition." Mark 7:6-10
We often hear people using the term "my truth" which is completely self-serving, subjective, and laughable. Hell awaits all who live by their own "truth" instead of God's truth – from Genesis to Revelation.
SCRIPTURE TESTIFIES TO THE TRUTH THAT GOD IS LOVE AND GOD IS JUST AND TO BE FEARED, WORSHIPED, AND OBEYED. SYNTHESIZE ALL OF SCRIPTURE SAINTS. "ALL SCRIPTURE IS GIVEN BY INSPIRATION OF GOD" AND NOT JUST SOME SCRIPTURE (2 Timothy 3:16-17).
"Acts 20:20   I KEPT BACK NOTHING. Paul preached whatever he believed was useful or needful for the salvation of his hearers. A minister of the gospel must be faithful to declare the whole truth of God to his people. He must not seek to please their desires or gratify their tastes, nor to promote his own popularity. Even if he must speak words of reproof and rebuke, teach doctrines that run counter to natural prejudices, or preach Biblical standards that oppose the desires of the flesh, the faithful preacher will deliver the whole truth for the sake of the flock (e.g., Gal. 1:6-10; 2 Tim. 4:1-5)." Life in the Spirit Study Bible, Donald Stamps, p. 1705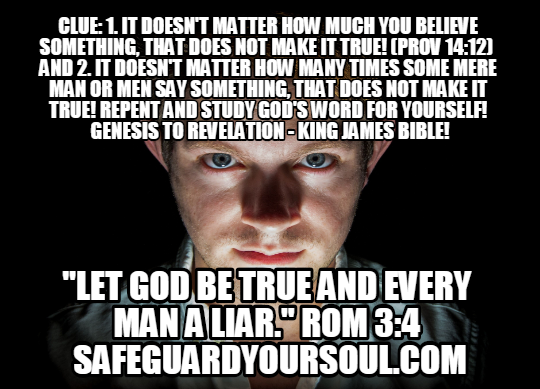 WHY DO SOME HEAR AND BELIEVE SLANDER?
WHY DO SOME MIGRATE TO HERESIES?
What God's Word says of those who have an ear for lies – "A wicked doer giveth heed to false lips; and a liar giveth ear to a naughty tongue." Proverbs 17:4
WHO gives ear, who listens to "false lips"? – "A wicked doer … a liar."
PRAYER: Heavenly Father, I come to You in the name of Jesus Christ, my only and whole access to You. LORD, please break me, change me, beginning now. Please forgive me for not seeking Your holy face, for not studying, learning, knowing, and meditating upon Your Word diligently, thoroughly. Heavenly Father, teach my Thy ways, I ask. Grant my heart to discern, to see, to know You and to rightly divide Your Word. Here this very moment, I declare that my conscience is captive to Your Word. Let me never be deceived or misled from You holy Father. I ask these things in the name of Jesus Christ my LORD and Savior, amen!