"Who is like unto thee, O LORD, among the gods? who is like thee, glorious in holiness, fearful in praises, doing wonders?" Exodus 15:11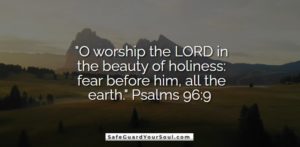 As we just read, divine "holiness" is "glorious." Holiness is not what most of us think it is. Holiness in the divine economy is something of great "beauty" and utterly refreshing (Psalms 96:9). It seems that holiness is not merely a divine attribute but rather the divine nature of the Almighty.
Are we ready to allow our LORD, who alone is "Holy, holy, holy," to define what holiness truly is and how He brings it about in our lives? See Isaiah 6:3; Revelation 4:8.
Remember the song that said "Shake off those heavy bands, lift up those holy hands"? Well, perhaps it's time to shake off some of those religious, un-scriptural notions we've heard about holiness. The Biblical truth about holiness is a blessing, not a burden, and is surprising and refreshing! It is a joy learning and living what the LORD defines as "true holiness" (Ephesians 4:24). OVERCOMING SIN can only happen by surrender, and not self, self-effort … self is the whole problem and so self must be crucified.
"HOLINESS IS NOT THE WAY TO JESUS. JESUS IS THE WAY TO HOLINESS." ANONYMOUS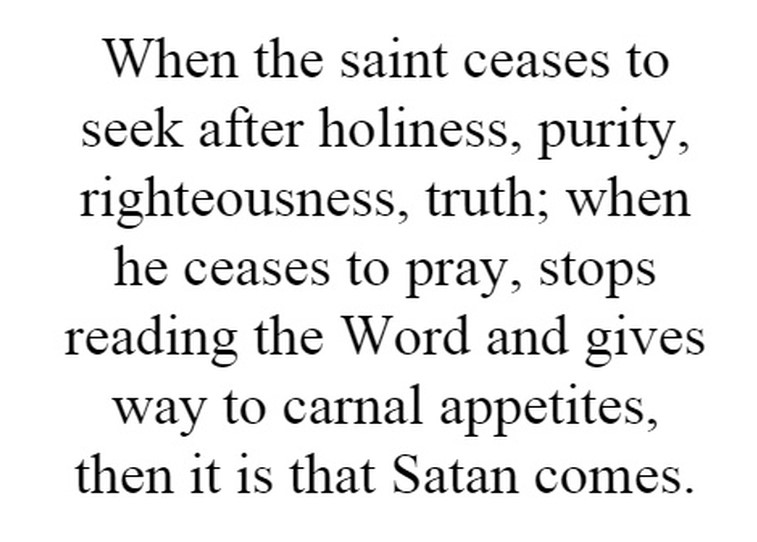 Although the end product is holiness of the flesh and spirit (2 Corinthians 7:1) … holiness is not a work of the flesh but rather a work of God in the yielded saint, the disciple who is truly counting himself dead to sin, crucified with Christ, nevertheless Christ is reigning in him, raising him up out of sin, setting him apart to God! See Zechariah 4:6; Romans 6; Galatians 2:20; 3:3, etc..
"Not by might, nor by power, but by my spirit, saith the LORD of hosts." Zechariah 4:6
True holiness is the work of God in the yielded, crucified saint!
"I have ever believed that Jesus Christ releases the Grace to lead the Holy Life, and not the other way round. This Grace is very ready for us as we walk in obedience with Him. Our Salvation came through this Grace and is sustained by same. If we teach holiness without God's Grace, it could mislead some as they try by their power to lead the life, in practice!" Basil Afam Nsofor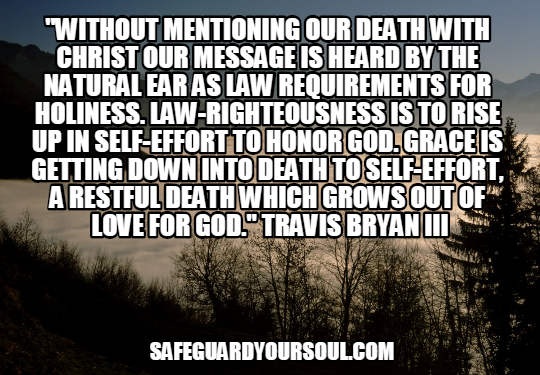 If sin doesn't matter to you it's only because God doesn't matter to you. He sent His only begotten Son to die to take it away (Matthew 1:21; John 1:29; Romans 6:1-2, etc.). Remember, the LORD is "Holy, holy, holy" and "commandeth ALL men everywhere to repent" and to "Be ye holy; for I am holy." (Acts 17:30; 1 Peter 1:15-16)
Holiness and the cross are inseparable essentials of the original Gospel. It's the crucified life, being raised up by the grace of Christ, that brings forth a life God calls holy (Romans 8:13-14; 2 Corinthians 4:10-12). | The Daily Cross
"Are ye so foolish? having begun in the Spirit, are ye now made perfect by the flesh?" Galatians 3:3
HOLINESS is NOT a work of the flesh saints, any more than salvation is of mere men or a work of men (Galatians 3:3).
"For if ye live after the flesh, ye shall die: but if ye through the Spirit do mortify the deeds of the body, ye shall live. 14 For as many as are led by the Spirit of God, they are the sons of God." Romans 8:13-14
"Holiness, according to Jesus, has to be first and foremost UNCONDITIONAL love (Matthew 5:48)—especially love for our enemies. If someone does not have agape love, especially for their enemies, then their brand of holiness is not the real thing. If agape love is not present then all the other holiness virtues are relatively worthless (1 Corinthians 13:1-3). The cross and death to self are the exact components of self-sacrificial agape love!" T.
"But the salvation of the righteous is of the LORD: he is their strength in the time of trouble." Psalms 37:39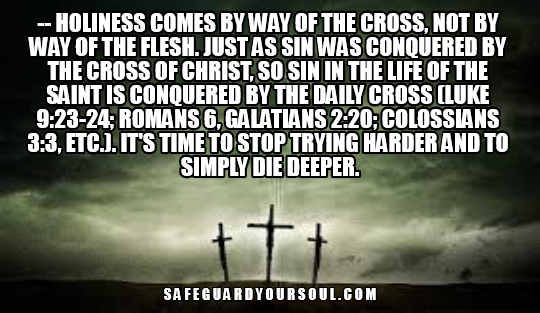 He who saves, sanctifies – as we abide in Him (John 15:1-6; Philippians 2:12-13, etc.). Holiness is a work of the Holy Ghost in the life of the abiding saint (John 15:1-16). Any holiness that is outside of this biblical truth/model is a work of the flesh and God-less (Matthew 23:23-25; Galatians 3:3). CHRIST alone can save and sanctify! Only Jesus is the Savior and Sanctifier! 1 Corinthians 1:30 says "But of him are ye in Christ Jesus, who of God is made unto us wisdom, and righteousness, and SANCTIFICATION, and redemption:" As the appropriation of all things in Christ's kingdom, it's by faith saints! See Romans 4:4-5; Hebrews 11:6. Please share this post.
THE proof OF AN ABIDING RELATIONSHIP WITH CHRIST is that it ALWAYS PRODUCES THE FRUIT OF HIS HOLINESS (JOHN 15:1-16).
Holy Scripture reveals that there is a "True holiness" as opposed to a false or feigned holiness (Matthew 23:23-25; Ephesians 4:24). Which one are you walking in?
PERSONAL HOLINESS IS ESSENTIAL AND YET, IT'S NOT A WORK OF THE FLESH BUT RATHER A WORK OF GOD IN THE LIFE OF THE TRULY BORN AGAIN, CURRENTLY ABIDING BELIEVER WHOSE "FIRST LOVE" IS JESUS CHRIST (REVELATION 2:4-5).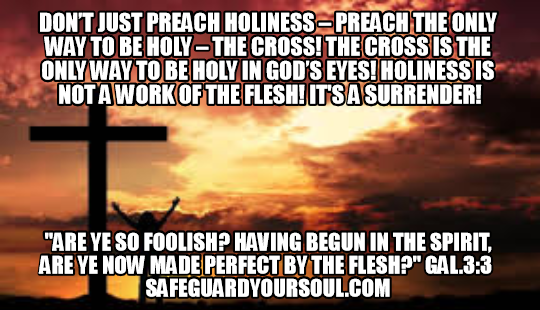 "The LORD will perfect that which concerneth me: thy mercy, O LORD, endureth for ever: forsake not the works of thine own hands." Psalms 138:8
"Wherefore, my beloved, as ye have always obeyed, not as in my presence only, but now much more in my absence, work out your own salvation with fear and trembling. 13 For it is God which worketh in you both to will and to do of his good pleasure." Philippians 2:12-13
One believer writes:
"If you have repented and believed, Christ's life is alive within you, and His grace is sufficient to meet and remove every hint of sin's stain…and you can have victory over sin. Jesus' life, death and resurrection was God's supreme brush stroke of grace across the canvas of creation. He is the embodiment of all hope and grace. Praise the Lord Jesus! 'For Christ is the end of the law for righteousness to everyone that believeth' (Romans 10:4). God's grace is given so we may know what Jesus Christ did for us at Calvary. Experiencing God's gracious forgiveness motivates us to live a holy and obedient life for His glory. Forgiven and blessed by His matchless grace are those who call Him Savior."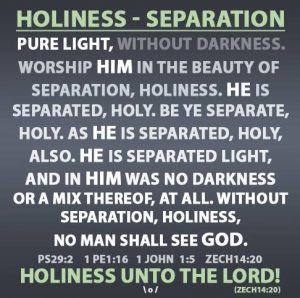 Of Wholeness, Holiness, one writer notes:
"The word "holiness" is derived from the same root as the word "wholeness."
And the very God of peace sanctify you WHOLLY; and I pray God your WHOLE spirit, soul and body be preserved blameless unto the coming of our Lord Jesus Christ.  Faithful is he that calleth you, WHO WILL ALSO DO IT.  1 Thes 5:23-24
Other translations actually use the word "holy" instead of the KJV word "wholly." These two words are really the same.
Holiness does not mean a striving for moral conduct. It means an actual change in the inward nature of tripartite man. And the nature change starts with the human spirit then moves into the soul then finally into the glorification of the body. The making whole of the spirit and body are each accomplished in one second of time. After initial spirit salvation, the selfish sin nature of the soul must be saved, changed and  transformed into the "divine nature." We must be "partakes of the divine nature" for this to occur (2 Pet 1:1-4).  The divine nature then spontaneously produces conduct: self-sacrificial agape love.
When the nature is changed then moral conduct will follow as a spontaneous byproduct of that change.
The "holiness movement" as a whole thinks "holiness" means striving for moral conduct. Wrong. Moral conduct will follow a change in nature. Holiness is transformation of nature. Moral conduct is the result. Holiness comes through death to self, a presentation of our bodies as a living sacrifice, the cross.  Rom 12:1-2.  "Be ye transformed by the renewing of (resurrection of) your minds. . . "
Holiness God's Way | Abide in Christ by Andrew Murray | The Daily Cross