Todd White is a warlock operating under the guise of a Christian evangelist.
When Todd White speaks, if you will observe, it's always all about HIM and what he is claiming God is supposedly showing him and never about Christ. It's Todd White's version of "lifestyle christianity" that he's portraying, not the biblical model.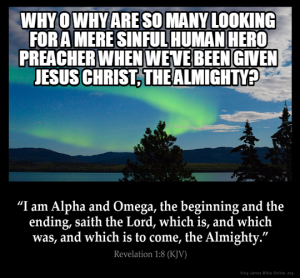 Here's the unfortunate testimony of someone who went to High School with Todd White:
"Todd White was the same way in high school. He always had a scam going and could talk a person into believing anything he said. He preyed on the weak and vulnerable. I'm glad you sent this post just so I could see the deceit."

COMMON OBJECTION:
"But wait, Todd White is doing miracles, so he must be of God!"
RESPONSE:
Let's face it: Healings or supposed healings/miracles get a lot of attention because there are so many sign seekers – not Savior seekers.
"An evil and adulterous generation seeketh after a sign; and there shall no sign be given to it, but the sign of the prophet Jonas:" Matthew 12:39
The greatest sign of God is "the sign of Jonah" which is the salvation of God wrought by the death, burial, and resurrection of Christ (2 Corinthians 5:19, 21). The greatest benefit of Christ's salvation is men coming to repentance, receiving salvation from the Savior, the ultimate healing!
Satan himself can do signs and wonders (2 Thessalonians 2:9-12). Yet men are insistent to "bid Godspeed" to a false prophet they have created a soul tie with (2 John 10-11).
Todd White is clearly lying against the LORD. He is plainly one of the "MANY false prophets" Jesus and His holy apostles repeatedly warned us about (Matthew 7:15; 24:11, 24; 1 John 4:1-3, etc.). Todd White is completely false, a false prophet who is being used of Satan to bring together the prophesied one world religion/ecumenism of which the antichrist Catholic church is the center. Todd White and other supposed Christian leaders who are involved are not and have no intention of calling Catholics to be saved. THAT is the whole issue and sin. These people, claiming to be representing Christ, are mixing with, approving, and condoning unsaved religious pagans without communicating the saving Gospel to them. Hatred! They are bidding Godspeed to antichrists which Scripture forbids and informs us that we ourselves are under divine judgment for doing this (2 John 7-11). As you will see coming out of his own mouth in a video posted below, Todd White denies the cardinal biblical revelation of the divinity of Jesus Christ who is Emmanuel – GOD with us! (Isaiah 9:6-7; Matthew 1:23; 1 Timothy 3:16) Check out and share this page and watch the videos at bottom and you will see and hear him for yourself. Devil agent exposed!
"But what I do, that I will do, that I may cut off occasion from them which desire occasion; that wherein they glory, they may be found even as we. 13 For such are false apostles, deceitful workers, transforming themselves into the apostles of Christ. 14 And no marvel; for Satan himself is transformed into an angel of light. 15 Therefore it is no great thing if his ministers also be transformed as the ministers of righteousness; whose end shall be according to their works." 2 Corinthians 11:12-15
A DIVINE COMMAND: "Now I beseech you, brethren, MARK THEM which cause divisions and offences contrary to the doctrine which ye have learned; and avoid them. 18 For they that are such serve not our Lord Jesus Christ, but their own belly; and by good words and fair speeches deceive the hearts of the simple." Romans 16:17-18
WOLF WORSHIPPERS ARE FIRST AND FOREMOST SELF-WORSHIPPING COUNTERFEITS WHO COULD CARE LESS HOW MANY SOULS THEIR CELEBRITY WOLF IS LEADING TO HELL. ALL THEY CARE ABOUT IS THE SENSUAL THRILL THEY FEEL IN WORSHIPPING THEIR DEMON-POSSESSED FALSE PROPHET WHO TELLS THEM WHAT THEY LIKE TO HEAR!
The question is not whether Todd White makes YOU feel good – Because Christ's kingdom is about JESUS and not about YOU! Jesus didn't come to make you feel good but to save you from your sins (Matthew 1:21; John 1:29, etc.).
That's the problem: Your life is about YOU instead of Jesus (Philippians 3:17-21). Repent!
ATTN: WHO DO YOU LOVE MORE – JESUS OR TODD WHITE?
"Thou shalt have no other gods before me." Exodus 20:3
This is NOT a personal attack on anyone but rather a deep concern for the protection of Christ's body against wolves who have entered in among us and are carrying away disciples after them – stealing the affections of their hearts away from Christ who alone is worthy of those affections. Read Colossians 1 and 2.
There is no intention to hurt anyone. If the truth hurts and someone refuses to repent – they have hurt themselves. Speaking biblical truth is not a sin. In fact, to speak truth is a divine command for which we shall all give personal account. See 2 Timothy 4:1-4
A firestorm of attack has come as a direct result of examining the doctrine of Todd White which only confirms that the LORD led me to post this. Here's one of the typical responses from those who have sold their souls out to this man and his ministry:
"But wait, Todd White goes out on the streets and he's producing good fruit! How dare you question him!"
First off, WHY is Todd White making a side show out of these supposed healings? Oh and why not pray for other types of healings instead of the old standby gimmick of legs supposedly growing out? (more on that in a moment)
If his ministry is all about Jesus, why not preach the Gospel primarily to see heart healings? (Luke 4:18) Why draw attention to self by the sideshow? Seems to me that the ministries which emphasize healing are about bringing attention to self instead of the nail scarred risen Savior.
A human CAN go to Heaven with a broken, un-healed body, but not with an un-healed soul. The primary healing the LORD wants to do is in the hearts of men. Paul informed us that Jesus came to "save sinners" (1 Timothy 1:15). My doubt and concern is not in healing or miracles but rather how some use these things to bring attention to themselves and to avoid persecution for preaching the cross (1 Corinthians 1:18).
Also, the Jehovah Witnesses, the Mormons, Catholics, and most other Antichrist cults do good works too and are as sure for hell as if they were already there. But what is their doctrine?
"For many deceivers are entered into the world, who confess not that Jesus Christ is come in the flesh. This is a deceiver and an antichrist. 8 Look to yourselves, that we lose not those things which we have wrought, but that we receive a full reward. 9 Whosoever transgresseth, and abideth (remains) not in the doctrine of Christ, hath not God. He that abideth (remains) in the doctrine of Christ, he hath both the Father and the Son. 10 If there come any unto you, and bring not this doctrine, receive him not into your house, neither bid him God speed: 11 For he that biddeth him God speed is partaker of his evil deeds." 2 John 7-11 
JESUS CALLED US TO GO PREACH HIS GOSPEL PRIMARILY SO HE CAN HEAL HEARTS BY SAVING SOULS, SECURING THEM FOR ETERNITY  … NOT SO WE CAN BRING THE CAMERAS AND CREATE A SIDE SHOW THAT PROMOTES US!!!!
The intention of these type of gimmick ministries seems to be to convince a gullible prey (audience) that the "man of the hour" surely must be an anointed vessel above others, after all, people are getting healed. Right? More on that in a moment.
WHO died for your sins friend?
MANY WHO CLAIM TO BE SAVED ARE VERY QUICK TO THROW CHRIST TO THE WIND ANY TIME SOME NEW PIED PIPER COMES ALONG. THESE ARE NOT TRULY ROOTED AND GROUNDED IN CHRIST AND THEREFORE HIS WRITTEN WORD MEANS LITTLE TO NOTHING TO THEM. IT'S NOT THEIR FINAL AUTHORITY WHICH IS CLEAR PROOF THAT THEY DO NOT KNOW HIM (JOHN 5:39-40, 44; 8:47; 2 TIMOTHY 2:15; 3:16-17; 2 PETER 1:16-21, ETC.).
WHEN deceivers use the term "don't put God in a box" what they are really saying is "Don't listen to how God described Himself, His will, and His attributes, etc. Don't listen to HIS own Word, let me show you an alternative, something that contradicts His Word!" Apostasy! Run! See Acts 17:10-11; Psalms 33:11; 119:89, 105; John 8:47; Romans 3:4; 2 Timothy 3:16-17; 2 Peter 1:19-21.
Who does the Bible say is leading God's people astray?
"For the leaders of this people cause them to err; and they that are led of them are destroyed." Isaiah 9:16 
Didn't Jesus warn of the same thing?
"And many false prophets shall rise, and shall deceive many. … For there shall arise false Christs, and false prophets, and shall shew great signs and wonders; insomuch that, if it were possible, they shall deceive the very elect." Matthew 24:11, 24
Concerning every leader, we must ask and examine whether or not they are teaching the original Gospel (Acts 17:11; 1 john 4:1, etc.). The LORD's apostle Paul told us that any man on earth who is teaching ANYTHING except the original Gospel, is "accursed." Listen closely:
"I marvel that ye are so soon removed from him that called you into the grace of Christ unto another gospel: 7 Which is not another; but there be some that trouble you, and would pervert the gospel of Christ. 8 But though we, or an angel from heaven, preach any other gospel unto you than that which we have preached unto you, let him be accursed. 9 As we said before, so say I now again, If any man preach any other gospel unto you than that ye have received, let him be accursed. 10 For do I now persuade men, or God? or do I seek to please men? for if I yet pleased men, I should not be the servant of Christ." Galatians 1:6-10
Jesus Came and Died Because You are Wicked, NOT Because You are so Wonderful! ANY PERSON WHO BELIEVES THAT THE WHOLE REASON THE SON OF GOD CAME AND DIED ON THE CROSS WAS BECAUSE THEY ARE SO VALUABLE AND WONDERFUL, IS COMPLETELY DECEIVED. JESUS CAME AND DIED BECAUSE YOU ARE WICKED, AND HE IS SO MERCIFUL AND NOT BECAUSE YOU ARE SO WONDERFUL!
"Christ Jesus came into the world to save SINNERS." 1 Timothy 1:15 
GOD DOES NOT NEED US – WE NEED HIM.
According to the Gospel record, God's "great love" and mercy sure are unfathomable in light of His utter holiness and our utterly sinful depravity. Therefore, to over emphasize the value of fallen man while refusing to preach the biblical doctrine of fallen mankind – corrupt and utterly wicked and undeserving of anything except divine judgment, is to elevate sinful man and demote the Father and the only begotten Son of God. Read Ephesians 2:1-9.
The Bible magnifies the exceeding sinfulness of fallen men and contrasts it with the great mercy of God (Romans 3, 7; Ephesians 2:1-9, etc.). To present the message of the gospel in any other fashion is to be guilty of conveying a distorted picture of the blessed and saving Gospel of Jesus Christ.
The LORD was merciful enough to save His fallen human race and now we have some among us perverting the Gospel to make it look like man is the hero and so wonderful. This is a subtle deception saints. Beware. Nothing could be further from the truth and this is the direct influence of "the spirit of antichrist" which seeks to rob the glory of the LORD Jesus (Colossians 2:4, 8-10, 18-19; 1 John 4:1-6).
People are turning it around on God and making it look like He's blessed to have us. Wow. Blasphemous, antichrist assertion.
"And you hath he quickened, who were dead in trespasses and sins; 2 Wherein in time past ye walked according to the course of this world, according to the prince of the power of the air, the spirit that now worketh in the children of disobedience: 3 Among whom also we all had our conversation in times past in the lusts of our flesh, fulfilling the desires of the flesh and of the mind; and were by nature the children of wrath, even as others. 4 But God, who is rich in mercy, for his great love wherewith he loved us, 5 Even when we were dead in sins, hath quickened us together with Christ, (by grace ye are saved;)." Ephesians 2:1-5
THE FACT THAT THOSE WHO ARE TRULY CHRIST 'S OR HIS RIGHTEOUSNESS DOES NOTHING TO NEGATE THE GREAT LOVE HE HAD FOR US WHILE WE WERE YET SINNERS ….. THE EMPHASIS OF THE GOSPEL IS THAT WE ARE WICKED AND GOD IS EXTREMELY MERCIFUL, CHRIST ALONE BEING MAGNIFIED AGAINST THE BACKDROP OF OUR OWN DEPRAVITY.

THE GOSPEL IS ABOUT CHRIST, NOT US! IF YOU DON'T UNDERSTAND THIS PARAMOUNT BIBLICAL TRUTH, GOD IS CALLING YOU TO REPENT AND BE SAVED (COLOSSIANS 1-2).

TODD WHITE IS NOT TEACHING THE BIBLICAL DOCTRINE OF THE DEPRAVITY OF MANKIND, AND IN LIGHT OF THE FACT THAT HE'S TEACHING AS IF IT'S A CARDINAL DOCTRINE THAT MAN IS WONDERFUL, HE'S PAINTING A FALSE PICTURE WHICH IS FALSE TEACHING.
The Bible never says you or I are wonderful but it does say JESUS is "Wonderful" …. "For unto us a child is born, unto us a son is given: and the government shall be upon his shoulder: and his name shall be called Wonderful, Counsellor, The mighty God, The everlasting Father, The Prince of Peace. 7 Of the increase of his government and peace there shall be no end, upon the throne of David, and upon his kingdom, to order it, and to establish it with judgment and with justice from henceforth even for ever. The zeal of the LORD of hosts will perform this." Isaiah 9:6-7
The whole message of the Gospel is all about how "wonderful" Jesus is and how "wretched" we were and are without Him (John 15:5; Romans 7:28, 24).
Christ is the supreme goal and subject of all of Holy Scripture and not mere sinful man. Man is never enthroned in Scripture. It's always God's mercy reaching down to fallen mankind and so to emphasize man's value while never mentioning his utter depravity is false.
To those who would still defend Todd White
You are misapplying Scripture and as a novice should be learning and not speaking. "Desiring to be teachers of the law; understanding neither what they say, nor whereof they affirm." (1 Timothy 1:7)
Todd White is teaching a falsehood. If you don't see that, it's further proof you do not have a good foundation of the Gospel of Jesus Christ which is about JESUS and not us. The testimony of the Gospel from Scripture is that fallen men are paupers who are hopeless and helpless and in utter need of the mercy of God given us in Christ alone. White is teaching that Jesus came simply because WE are so valuable. Ridiculous and heretical. He never mentions the doctrine of fallen mankind revealed in Holy Scripture and how merciful God was to show us compassion and send His only begotten Son to save us. Therefore he's preaching a falsehood.
Titus 3
"For we ourselves also were sometimes foolish, disobedient, deceived, serving divers lusts and pleasures, living in malice and envy, hateful, and hating one another.
4 But after that the kindness and love of God our Saviour toward man appeared,
5 Not by works of righteousness which we have done, but according to his mercy he saved us, by the washing of regeneration, and renewing of the Holy Ghost;
6 Which he shed on us abundantly through Jesus Christ our Saviour;
7 That being justified by his grace, we should be made heirs according to the hope of eternal life.
8 This is a faithful saying, and these things I will that thou affirm constantly, that they which have believed in God might be careful to maintain good works. These things are good and profitable unto men." Titus 3
Romans 3
But now the righteousness of God without the law is manifested, being witnessed by the law and the prophets;
22 Even the righteousness of God which is by faith of Jesus Christ unto all and upon all them that believe: for there is no difference:
23 For all have sinned, and come short of the glory of God;
24 Being justified freely by his grace through the redemption that is in Christ Jesus:
25 Whom God hath set forth to be a propitiation through faith in his blood, to declare his righteousness for the remission of sins that are past, through the forbearance of God;
26 To declare, I say, at this time his righteousness: that he might be just, and the justifier of him which believeth in Jesus.
27 Where is boasting then? It is excluded. By what law? of works? Nay: but by the law of faith.
28 Therefore we conclude that a man is justified by faith without the deeds of the law."
"Beware lest any man spoil you through philosophy and vain deceit, after the tradition of men, after the rudiments of the world, and not after Christ. 9 For in him dwelleth all the fulness of the Godhead bodily. 10 And ye are complete in him, which is the head of all principality and power:" Colossians 2:8-10 
We are complete in Christ, not in our own supposed value.
There are concerns with Todd White's teachings, practices, and connections, etc. Todd White is a heretic who denies the divinity of Jesus Christ and many other errors. First off, Todd White seems to be a novice (1 Timothy 3:6). He's experienced but what is that experience? Is it biblical? If not, it's erroneous. Though there are kingdom truths he's preaching and perhaps to a degree walking in, there's something off due to his connection and submission to men who are under the control of Satan (the NAR movement wolves). White is not grounded in the doctrines of Holy Scripture. If he were, these heresies would not be coming from his mouth. Please pray for White's heart to turn to the LORD fully and for deliverance. He is misleading others and so this warning must without apology be rendered to protect Christ's sheep.



"These were more noble than those in Thessalonica, in that they received the word with all readiness of mind, and searched the scriptures daily, whether those things were so." Acts 17:11
"Beloved, believe not every spirit, but try (test) the spirits whether they are of God: because many false prophets are gone out into the world." 1 John 4:1
Todd White and other false prophets are under the control of "the spirit of antichrist" and we know that because they are turning it all around to put us (mere sinful man) on the throne and by doing so dethrone Christ! They are not upholding the HEAD who is Christ!
"Let no man beguile you of your reward in a voluntary humility and worshipping of angels, intruding into those things which he hath not seen, vainly puffed up by his fleshly mind, 19 And not holding the Head, from which all the body by joints and bands having nourishment ministered, and knit together, increaseth with the increase of God." Colossians 2:18-19
Reader: WHO died for your sins?
Many have given their souls to false prophets who are possessed by devils which draw them to that very altar. "Idol shepherds" is what they are called in Zechariah 11:17. Where there's a soul tie ….. that is the work of an evil spirit. The Holy Spirit always bonds us to Christ. John 16:13-14 and Colossians 2:18-19
It is a rejection of Christ to support His enemies instead of obeying Him by exposing them (Matthew 12:30; 2 Corinthians 11:12-15; Philippians 3:18-19; 2 John 10-11; Jude 3-4, etc.). Hell awaits. Repent now.
Some people don't realize that their love for their favorite wolf in sheep's clothing far outweighs their love for God. Defend His enemy and you become Christ's enemy (2 John 10-11).
THERE are some serious concerns about the doctrinal stance of Todd White who is teaching the classic deception that man is valuable and that's why Jesus came. This falsity subtly elevates and enthrones man and consequently dethrones Christ, the glorious and only Savior …. Especially in the absence of Todd White even mentioning the many Scriptures – Bible truth – concerning the corruption, depravity, and utter sinfulness of fallen mankind and how God is so merciful that He sent His only begotten Son "while we were yet sinners." (Romans 5:6-8) In the true and original Gospel, the LORD is seen as the One reaching down to undeserving sinful men. The narrative is not that man is so valuable that God came to save him. This is a serious delusionment.
"How true! God saved us not because we are valuable and wonderful but because He is merciful and full of compassion and we need a Savior who can save us and deliver us from our sin. Personally, I need God every minute of my life. Those who perverted His Word are antichrist." E.
We deserve nothing at all except condemnation and punishment from God. Anyone who doesn't understand this foundational and cardinal Bible truth is bound to be misled. There is "NO good thing" in us except Christ!
"For I know that in me (that is, in my flesh,) dwelleth no good thing: for to will is present with me; but how to perform that which is good I find not." Romans 7:18
"Or despisest thou the riches of his goodness and forbearance and longsuffering; not knowing that the goodness of God leadeth thee to repentance? 5 But after thy hardness and impenitent heart treasurest up unto thyself wrath against the day of wrath and revelation of the righteous judgment of God; 6 Who will render to every man according to his deeds: 7 To them who by patient continuance in well doing seek for glory and honour and immortality, eternal life: 8 But unto them that are contentious, and do not obey the truth, but obey unrighteousness, indignation and wrath …" Romans 2:4-8 
"Todd White is popular because he teaches the FALSE "feel good" doctrine. People no longer want to hear about repentance, sin and carrying a cross. There is really nothing about this man that appeals to me, not judging him by appearance, but what I've heard him preach." Maria Valdez
"Preach the word; be instant in season, out of season; reprove, rebuke, exhort with all longsuffering and doctrine. 3 For the time will come when they will not endure sound doctrine; but after their own lusts shall they heap to themselves teachers, having itching ears; 4 And they shall turn away their ears from the truth, and shall be turned unto fables." 2 Timothy 4:2-4
Birds of a Feather DO Flock Together
Todd White is associated with Bill Johnson, pastor of Bethel Church, who is a known wolf and false teacher. Bill Johnson – False Teacher
Bill Johnson, Chuck Pierce, Jezebel false prophetess Heidi Baker and false apostle C. Peter Wagner and bazaar lunatic Todd Bentley and  Bob Jones and Patricia King and many other wolves are a part of the NAR Movement (NAR = New Apostolic Reformation).
The Holy Spirit, through the prophet Ezekiel, shows us that there is "a conspiracy" among the false prophets of every day. Listen close:
"There is a conspiracy of her prophets in the midst thereof, like a roaring lion ravening the prey; they have devoured souls; they have taken the treasure and precious things; they have made her many widows in the midst thereof. 26 Her priests have violated my law, and have profaned mine holy things: they have put no difference between the holy and profane, neither have they shewed difference between the unclean and the clean, and have hid their eyes from my sabbaths, and I am profaned among them. 27 Her princes in the midst thereof are like wolves ravening the prey, to shed blood, and to destroy souls, to get dishonest gain." Ezekiel 22:25-27
Ever heard the saying "Birds of a feather flock together"? Well it's truth actually and the very important passage above and other show just such.
You will know when Todd White repents–when he comes out from among the wolves he's aligned with in open repentance and openly denounces his error (2 Corinthians 6:17; Romans 16:17-18; 2 John 7-11, etc.).
"MANY false prophets" are obvious today in that their ministry enterprises seem to feature THEM and not Christ (Matthew 7:15; 1 John 4:1). Is this not obvious in that many of them have numerous modeling pictures to sell their brand, their wares with? No, pictures, in and of themselves, are not a sin and yet, it seems odd when you see someone who is feigning to be representing Christ who has expensive, elaborate, modeling pictures and a glamorous, unduly expensive wardrobe. That indicates that the star of the show is them and that Jesus is not being upheld or lifted up but rather they are (Colossians 2:18-19).
Clown outfits are always a red flag. sorry saints, god forgive and correct me here if i am wrong – yet Todd White's garb is a concern. Anyone who needs to dress up – no matter the style of their garb – should be a concern.
Jesus warned:
"Beware of the scribes, which desire to walk in long robes, and love greetings in the markets, and the highest seats in the synagogues, and the chief rooms at feasts;" Luke 20:46
Was Jesus saying that someone who wears a long robe is automatically determined to be false, OR was He giving us a deeper principle? Was the Son of God not warning us here to watch out for (be discerning concerning) those pretending to represent Him who wear ANY sort/style of costume? I believe so …. watch this:
"Beware of false prophets, which come to you in sheep's clothing, but inwardly they are ravening wolves." Matthew 7:15 
Marc Roy writes: "I've been exposing Todd White for a long time. I've been hated a lot for it, but I don;'t care, for his "gospel" doesn't match the word of God. Thanks for exposing the truth. People tend to worship these fake 'love preachers.' Its very sad to see. We're always accused of being hateful when we expose a deceiver. Like I often say concerning them who worship men like Todd White. 'If you don't know the AUTHENTIC, you won't spot the counterfeit."
Marc Roy is correct:
He is exactly right and that love for these mere sinful men trumps their love for Jesus and so they lash out against anyone who dares question their idol.
NAR Video Expose' – SHOCKING DOCUMENTARY – False spirits invade the church – KUNDALINI WARNING – Andrew Strom
"Strange Fire" in the Church World Today
NAR = New Apostolic Reformation
Do you want to get deeper into God's Word? If so, send a reply requesting the "Moments with My Master" email that is sent out to edify Christ's body.
Observations:
FIRESTORM: That's what just happened by merely examining and pointing out heresy with a mere man's ministry. It's obvious that some have more heart affection for a mere sinful man than they have for Christ. It's utterly alarming how some who are right in our midst, seeming to love Jesus, will go after you if you dare question a mere man they've set their affection on ….. They attack the messenger then turn it around on the messenger for daring to answer their accusations. Christology
"Very dangerous is right this is what Jesus saved delivered me from among other serious sins that started with this false Gospel! Thank you so very much for getting this abomination exposed! Jesus is just & faithful to cleanse from all unrighteousness." Cassandra Bond Shelton