The Sensual Seduction and Solicitation of the Modern Church!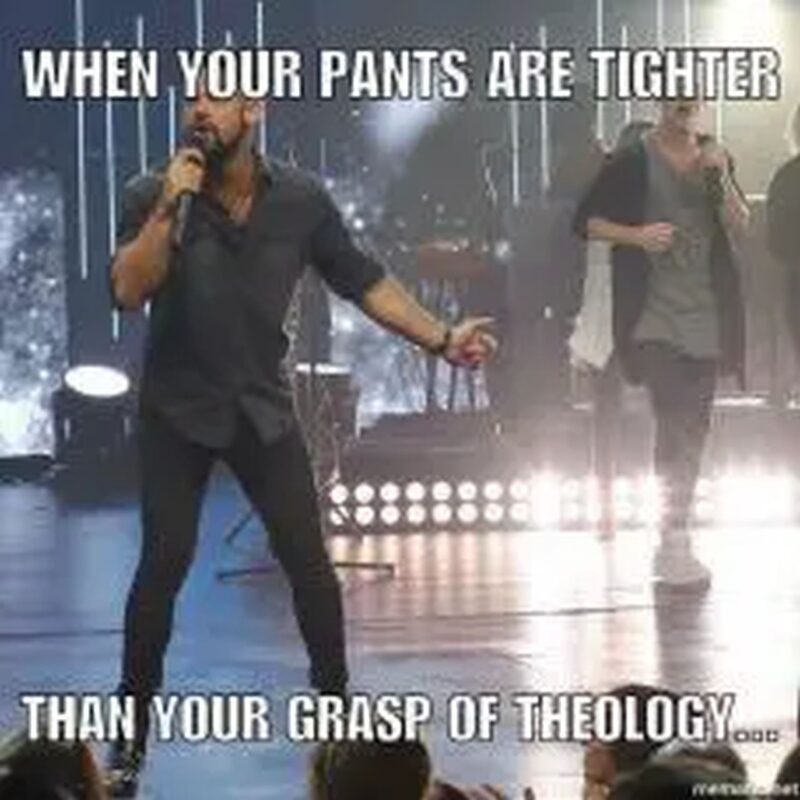 Spiritual Seduction is a Reality!
"How that they told you there should be mockers in the last time, who should walk after their own ungodly LUSTS. 19 These be they who separate themselves, SENSUAL, having not the Spirit." Jude 18-19
Of this passage, one disciple notes:
"The dictionary defines sensuality this way: sen•su•al (sen shu – al) adj.
1. Relating to or affecting any of the senses or a sense organ; sensory.
2. a. Of, relating to, given to, or providing gratification of the physical and especially the sexual appetites.
b. Suggesting sexuality; voluptuous.
c. Physical rather than spiritual or intellectual.
d. Lacking in moral or spiritual interests; worldly.
"The Holy Spirit here warns us concerning the Last Times when people would be Sensual not having the Spirit. These are people who would enter the churches not simply people outside the churches; else we would not need to be warned against them. It is commonly felt that "Sensual" always is synonymous with sexuality; however the context here is with regards to the physical 'senses'—'Feelings' and 'sensations'. We have five senses; Sight, Sound, Touch, Taste and Scent. We are told that we 'walk by faith', as opposed to walking 'by sight'. -2 Corinthians 5:7 'For we walk by faith, not by sight'. This is simply a reminder that our lives must not be governed by our feelings, our senses. Back in the sixties one of the philosophies of the world was always, 'If it feels good, it IS good'. Another question that is often asked is, 'Is this so wrong if it feels so right?'"
"There is a way which seemeth right unto a man, but the end thereof are the ways of death." Proverbs 14:12
Most of the social media messages tell us, continually remind us that God loves us but nearly none of them inform us that the God who loves us, sent His Son to die on a cross for us, and requires and commands us to be "crucified with Christ." (Galatians 2:20; Romans 8:29; Colossians 3:3) Beware of the half-truth false gospel of today! We must walk in the original Gospel – all of it – if we are to escape and not be "Led away with the error of the wicked." (2 Peter 3:17) 
The only way we can prevent being deceived is by astute study and belief of God's Word whereby we are able to rightly divide His Word of truth (2 Timothy 2:15).
One saint writes: "Throughout the whole world error and truth travel the same highways, work in the same fields and factories, attend the same churches, fly in the same planes and shop in the same stores. So skilled is error at imitating truth that the two are constantly being mistaken for each other. It takes a sharp eye these days to know which brother is Cain and which is Abel!"
Those who do not submit to God in their daily personal life, calling upon the LORD to circumcise and purify their hearts, will be caught up in and snared by sensuality. They will live by the senses, the flesh, and not the Spirit and be sent by God Himself a "strong delusion" so that they "believe a lie" and are ultimately "damned." (2 Thessalonians 2:9-12)
Some seek the rush of a sensual feeling instead of the reality of the risen Savior – through the cross life!
Jumping around to the music in a so-called "church building" doesn't mean you have real relationship and spiritual life with Christ!
"I know thy works, that thou hast a name that thou livest, and art dead." Revelation 3:1
HAVE you noticed how these new lightweight "churches" brag about their "Top 10 Core Values"? What a joke! In other words they pick out 10 socially acceptable things most people will like and that's their top 10. And they do this instead of simply announcing that they endeavor to adhere to the whole of the Bible. KJB. Lame.
The primary way God leads His NEW Testament church is by the Holy Scriptures and not self-appointed false prophets and false apostles (2 Timothy 3:16-17; Psalms 119:105; 2 Peter 1:19-21, etc.).
Those who pretend to be today's prophets aren't grounded in the written Word! RUN!
Scripture often warns us of those who would seduce us away from Christ – just as an adulterous woman seeks to seduce a husband away from his wife!
"For false Christs and false prophets shall rise, and shall shew signs and wonders, to seduce, if it were possible, even the elect." Mark 13:22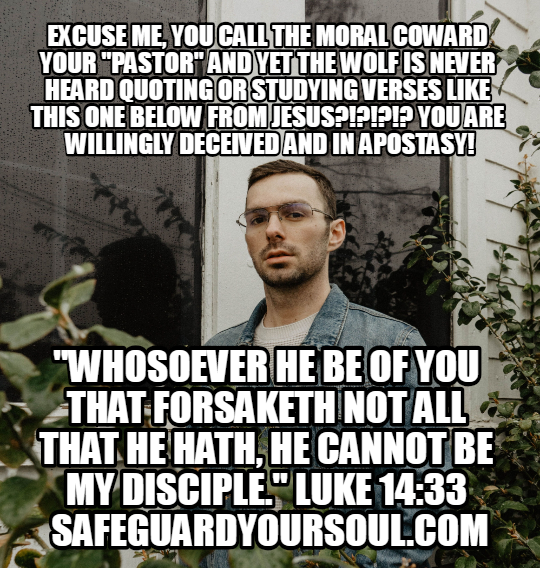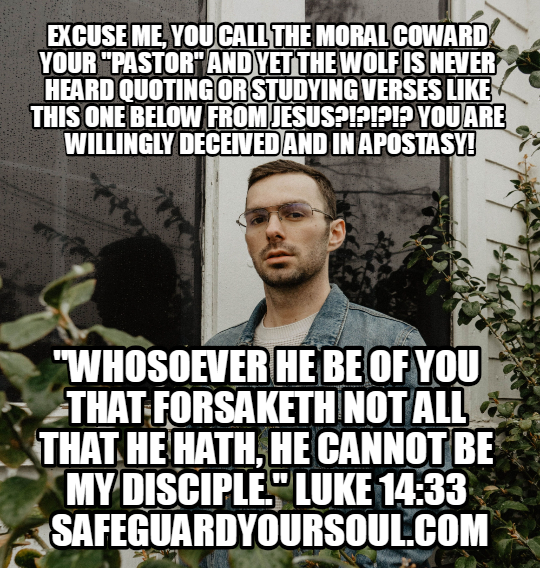 "These things have I written unto you concerning them that seduce you." 1 John 2:26
"Not Withstanding I have a few things against thee, because thou sufferest that woman Jezebel, which calleth herself a prophetess, to teach and to seduce my servants to commit fornication, and to eat things sacrificed unto idols." Revelation 2:20
"And this I say (here's the reason I write you!), lest any man should beguile you with enticing words … As ye have therefore received Christ Jesus the Lord, so walk ye in him: 7 Rooted and built up in him, and stablished in the faith, as ye have been taught, abounding therein with thanksgiving. 8 Beware lest any man spoil you through philosophy and vain deceit, after the tradition of men, after the rudiments of the world, and not after Christ. 9 For in him dwelleth all the fulness of the Godhead bodily. 10 And ye are complete in him, which is the head of all principality and power." Colossians 2:4, 8-10
"Church" attendance was never ordained by God to displace, to replace the personal study of His Word. Church membership endears the people, the prey, to the organization and it's leaders and members and not to the LORD Himself. This has displaced the individual priesthood and fellowship God ordained for each and every individual believer. Lots of people replace personally diligently seeking the LORD with going to "church." They either merely dabble with or don't even personally study God's Word for themselves and yet are members in good standing at these local entertainment centers many call "church." The pastors have sold them on this lifestyle by promoting and emphasizing church membership and not discipleship.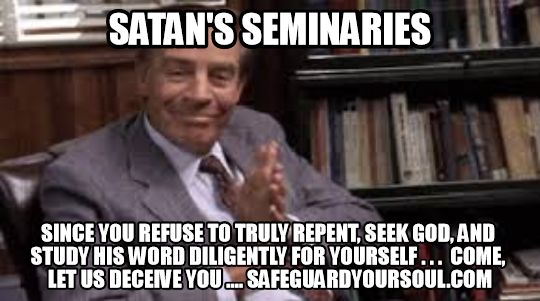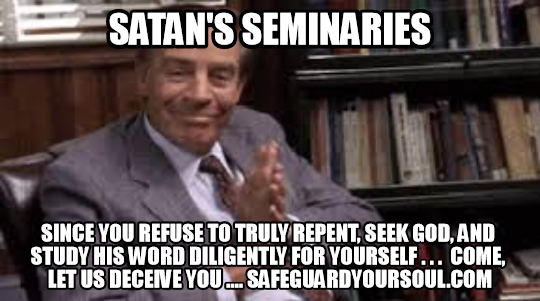 Seminaries are wolf factories. The protestant seminaries were infiltrated by the vatican jesuits decades ago and are now marketing schools producing greedy wolves who set up church busine$$ to market the gospel – which is the meaning of taking the name of the LORD in vain! (Exodus 20:7). Satan's Seminaries Exposed!
"Thou shalt not take the name of the LORD thy God in vain; for the LORD will not hold him guiltless that taketh his name in vain." Exodus 20:7 
To take the name of the LORD in vain is to use His name for any other purpose except true, honest worship of Him! Those who use the name of Jesus to make dishonest gain by exploiting people for their own self-serving purposes, are not guiltless before a holy God!
Many Seek the Presence and not the Person, the Face of Jesus Christ!
If you name the name of Christ, this writer, this disciple would encourage you to honestly search out this whole "seeking the presence" cult. Contemplative prayer and spiritual formation are a cheap counterfeit for a real walk with God. They substitute a real walk with Jesus wherein He commands us to seek and obey HIM, not merely His presence. When we do seek HIM and obey Him, He promises to manifest Himself to those who obey His Word (John 14:21-23).
Perhaps those who seek the presence of God and not the face of God, are simply looking for some kind of feeling. They have not truly repented and are self-willed and living out of a self-serving agenda.
God plainly told us that he will only give His presence to those who know, seek, and obey Him – and not those who merely seek His presence (John 14:21- 23).
Those who seek His HAND instead of His FACE are completely self-serving, cross-less idolaters!
"Seek the LORD and his strength, seek his FACE continually." 1 Chronicles 16:11
WE seek the PERSON of Christ and not merely the PRESENCE of Him. Beware of this deception saints. When we seek the FACE of the LORD, He will fill us with His Spirit and make His abode in and with us. Our part is to worship and obey Him and not to merely seek His presence. Many who are not seeking to know the LORD seek a feeling instead of seeking the face of the LORD! Beware of this idolatrous spiritual adultery. These same people are not studying and grounded in the Word or the cross of Christ.
Let's look at who Jesus says truly loves Him:
"He that hath my commandments, and keepeth them, he it is that loveth me: and he that loveth me shall be loved of my Father, and I will love him, and will manifest myself to him. … 23 Jesus answered and said unto him, If a man love me, he will keep my words: and my Father will love him, and we will come unto him, and make our abode with him." John 14:21, 23
Those who love Jesus seek His Word and obey Him. These true disciples, God manifests Himself to. These are those He chooses to make His abode with and not those who simply seek to exploit the LORD for a feeling they call His presence. Beware!
Many today seek a feeling, a sensation and not the Savior! They've allowed the false leaders of today to mislead them.
"Having a form of godliness, but denying the power thereof: from such turn away … Ever learning, and never able to come to the knowledge of the truth." 2 Timothy 3:5,7
Those not submitted to the authority, the power of God which is Christ, have only a mere "form of godliness." As was specifically foretold, today we see the fulfillment of Paul's warning where we have so many with a mere "form of godliness." In their daily lives they deny, reject "the power" or the authority of Jesus to reign. When Jesus reigns in a life, His cross is central to that person's life. They are grounded in the cross – the crucified life – without exception.
Yet today we see some who never grow after being saved because false ministries have intercepted them from the LORD. Those false prophet ministries emphasize any and everything except Jesus Christ!
The vast majority of today's pastors are sensually soliciting their prey to worship at the altar of self and not soundly grounding their audience in the cross and sound doctrine which is God's written Word!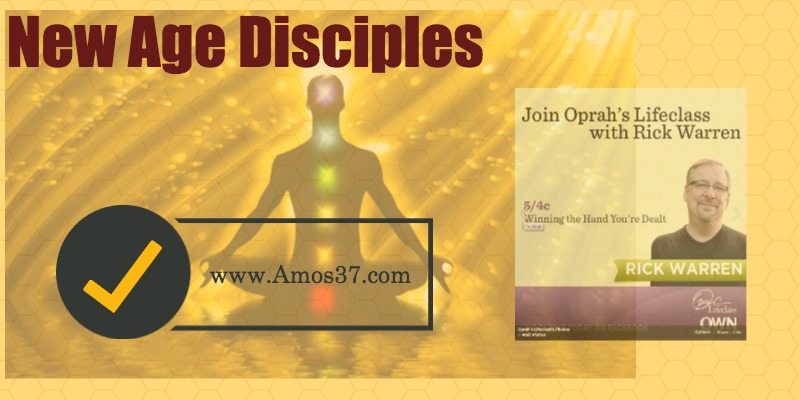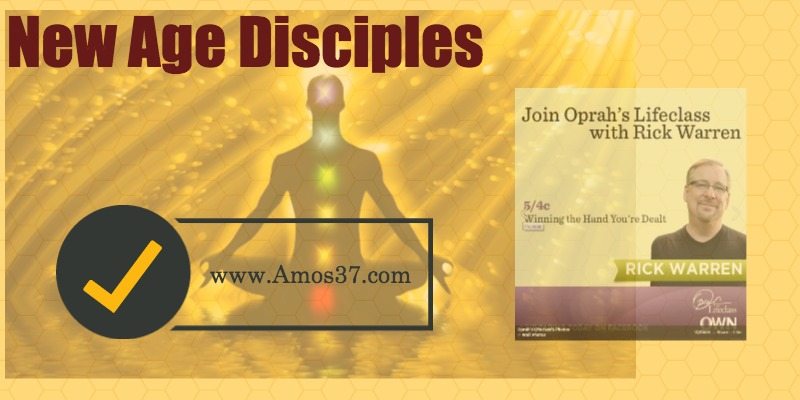 So many run to pack themselves in with the herd, to get turned on in what is supposed to be praise and worship. Some of it is a hollow sound and mere lip service.
"This people draweth nigh unto me with their mouth, and honoureth me with their lips; but their heart is far from me." Matthew 15:8  
The hoards consist of the same souls who do not daily, diligently seek the LORD in His Word and a set apart life of prayer (Matthew 6:6; 2 Timothy 2:15). They do not live a crucified life! (Luke 9:23-24; Galatians 2:20, 24, etc.) They are "Ever learning, and never able to come to the knowledge of the truth" because they are not being grounded in the Word of God.
The powder puff pansies use fake news "bibles" instead of the KING JAMES BIBLE.
Any leader not getting you into God's Word for yourself, is absolutely a wolf! Run!
"Study to shew thyself approved unto God, a workman that needeth not to be ashamed, rightly dividing the word of truth." 2 Timothy 2:15
The Witchcraft of the Modern Church!
There is no instance in the 27 books of the New Testament canon where God's people gathered to be entertained and enamored in what the modern church falsely claims to be praise and worship.
Those false ministries who stage these events are appealing to your natural senses, your emotions. They are on a marketing journey – to sell their prey into a community and not to root them in Christ!
Proof? Name 5 people you know who attend such false churches who can quote just 5 Bible verses they've memorized. Case closed!
Seeking and Knowing the LORD Himself!
"That I may know him, and the power of his resurrection, and the fellowship of his sufferings, being made conformable unto his death;" Philippians 3:10
Jesus told us that the chief purpose that He came is that we might know Him and the Father. Such a cardinal, central Gospel truth is never heard in modern apostate churches today!
"And this is life eternal (the whole divine reason for it), that they might know thee the only true God, and Jesus Christ, whom thou hast sent." John 17:3
The cross reveals your sin, and God's love, not how wonderful you are! Repent!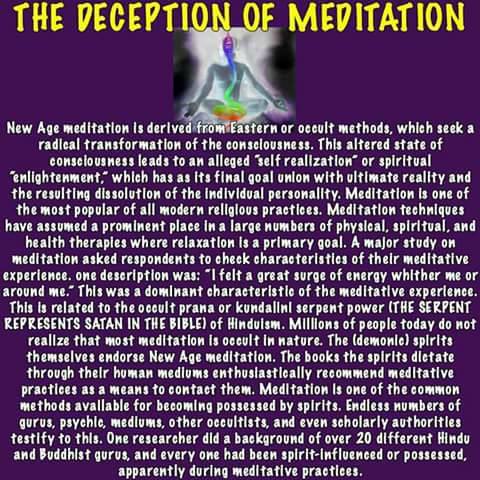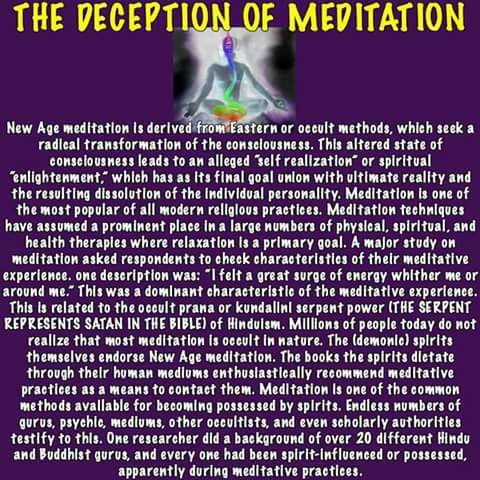 Beware of this "knowing the Tangible Presence" idea. Spiritual formation and contemplative prayer is heresy! These heretical systems are rooted in the occult and perpetrated by "many false prophets" which Jesus specifically warns us "shall deceive many" (Matthew 24:11). Christ's true disciples today live BY FAITH not feelings (2 Corinthians 5:7). True followers of Jesus live by the Word of God and not by their senses, their feelings (Psalms 119:105; 2 Timothy 3:16-17). Yet, many today are being led to conjure up a feeling, not realizing they are summoning up evil spirits that pose as the Holy Spirit of God – another Jesus, another gospel, another spirit (2 Corinthians 11:2-4, 11-15). Those who seek an experience instead of seeking the face of the LORD, will be misled by evil spirits and false prophets (1 Chronicles 16:11). Many today are sensual and not truly spiritual in the biblical sense. There is no cross at the center of their lives (Colossians 3:3). Their daily life is not rooted in Christ – the cross! They have been led by the self-serving wolves of today's modern church to get addicted to a feeling instead of growing in grace and obeying the LORD and Savior Himself. Self-idolatry. They love to go do what some falsely call "praise and worship" to get that feeling. Praise and worship are biblical and yet, not what many have made it out to be. There are many houses of worship if you will, which do not have Christ, the cross, at the center and therefore are not worshiping the LORD by teaching the pure, sound doctrine of the Word of God – the King James Bible. These ravenous wolves know how the church busine$$ works and so they front with a good band, good music, using young, gifted people as their pawns as they stage their deceptive exploitation, hiding behind that good music! Beware saints.
Wolves entertain goats and market their church busine$$ to grow, to gain nickles, noses, and numbers. True under-shepherds ground God's people in the daily cross, in the fear of God, and in the sound doctrine which is the written Word of God (2 Timothy 2:15; 3:16-17; 4:2-4; 2 Peter 1:19-21, etc.).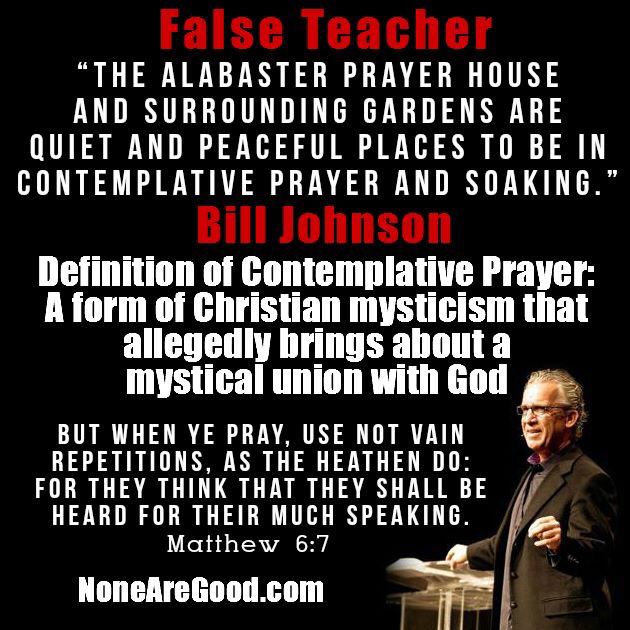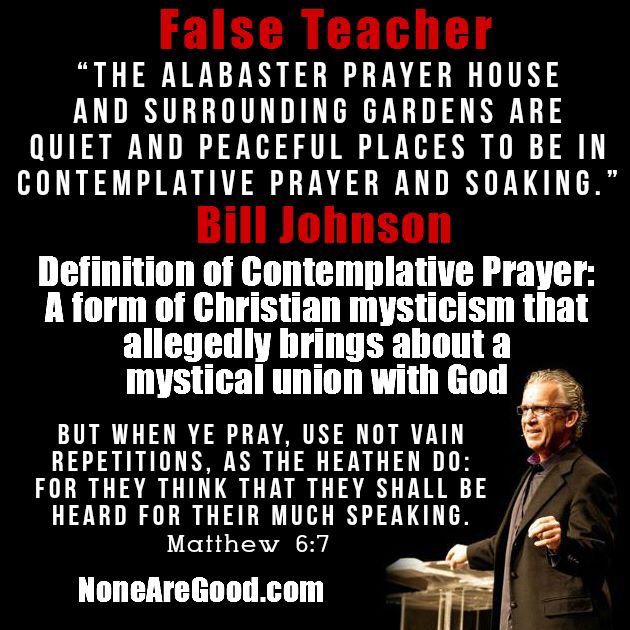 This is a big part of the end time deception we were often warned of….
"Now the Spirit speaketh expressly, that in the latter times some shall depart from the faith, giving heed to seducing spirits, and doctrines of devils; 2 Speaking lies in hypocrisy; having their conscience seared with a hot iron;" 1 Timothy 4:1-2
Have you ever been part of this type "church"? I sure have. Think about it. If you're like myself, you enjoyed the praise and worship (to some degree) and yet, were left empty due to the lame "word" and lack of biblical teaching. Can anyone relate?
In any given town in America, one can search high and low, near and far, and never find even one pastor who is true to God. Is this not a fulfillment of prophecy?
"Behold, the days come, saith the Lord GOD, that I will send a famine in the land, not a famine of bread, nor a thirst for water, but of hearing the words of the LORD:" Amos 8:11
"Preach the word; be instant in season, out of season; reprove, rebuke, exhort with all longsuffering and doctrine. 3 For the time will come when they will not endure sound doctrine; but after their own lusts shall they heap to themselves teachers, having itching ears; 4 And they shall turn away their ears from the truth, and shall be turned unto fables." 2 Timothy 4:2-4
If you still believe that most pastors today are true, stay deeply in God's Word daily and your discernment will change. You will begin to realize that over 90% of today's pastors are "accursed" wolves and we know this because they do not preach the original Gospel that Christ and His holy apostles preached and gave us (Jude 3).
Modern church false gospel …. No repentance, no sin, No judgment, no holiness, no cross, No warnings to beware of false prophets and heresies, no return of Christ for a spotless – sinless – bride, no Christology (study of Christ!) …
Those who preach any other gospel other than the original and complete Gospel of Jesus Christ, are "accursed."
"I marvel that ye are so soon removed from him that called you into the grace of Christ unto another gospel: 7 Which is not another; but there be some that trouble you, and would pervert the gospel of Christ. 8 But though we, or an angel from heaven, preach any other gospel unto you than that which we have preached unto you, let him be accursed. 9 As we said before, so say I now again, If any man preach any other gospel unto you than that ye have received, let him be accursed." Galatians 1:6-9
Then Paul reveals why false leaders do not preach the original, the real and whole Gospel of Christ – because they love self and therefore fear and cater to mere men and not Jesus Christ!
"For do I now persuade men, or God? or do I seek to please men? for if I yet pleased men, I should not be the servant of Christ." Galatians 1:10
Contemplative Prayer – Spiritual Formation Busted and Exposed!
Celebrate Recovery Exposed | Rick Warren is a Devil from Hell
Seeking the Presence of the LORD? Beware.
TD Jakes, Steven Furtick, Levi Lusko Exposed
SATAN'S SEMINARIANS ARE HIS INVENTION TO PUT THE CHURCH ON ICE!
Biblical Deliverance Prescription-Wholeness in Christ [podcast]