TITLE: THE BIBLE AND DRUGS IN REALITY
BOOK: BIBLE
TEXT: Revelation 21:8; 9:21; 18:23; 22:15
WORDS: SORCERER–SORCERERS–SORCERIES-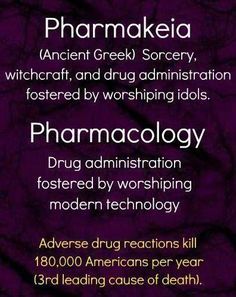 I am setting two guidelines in presenting my message/lesson on the Bible & Drugs.
First, I am using the KJV Bible only.
Second I am using Abingdon's Strong's Exhaustive Concordance of the Bible (1986) edition.
You might say I am being narrow-minded and I would say you are correct. Over the years of studying God's Word (33yrs), I found out that a stand has to be made with what Bible to honor and what material to use. With the topic of drugs, I found the word SORCER, SORCERIES, SORCERERS in the Book of REVELATION to mean something different then what is found in some of the other books of the Bible. So, let's see what God has informed us over 2,000 years ago, for our understanding and benefit.
After reading many lessons, sermons, and other documents concerning drugs,(And all of them were so detailed and concise in their approach) I just wanted to say a few words in this lesson that says; be sober, be vigilant, be wise, and be not ignorant concerning drugs, alcohol, and any mind adjusting substance.
THE WORDS: SORCERER, SORCERERS, SORCERIES, and SORCERY.
In the Bible you will find these words fifteen (15) times, 7 times in the Old Testament and 8 times in the New Testament.  Of these fifteen times, four times they are found in the book of Revelation.
THE MEANINGS: SORCERER, SORCERERS, SORCERIES, and SORCERY.
1) SORCERER: Acts 13:6 & Acts 13:8 Greek word (Mag-os) meaning Magician, wise man, or sorcerer
2) SORCERIES:
Isaiah 47:9 & 12 Hebrew word (Kesheph) meaning practice magic, sorcery, witchcraft (Old Testament)
Acts 8:11Greek word (Mageia) meaning to practice magic, use sorcery (New Testament)
Acts 8:9 Greek word (Mageia) meaning to practice magic, use sorcery (New Testament)
Revelation 9:21 Greek word (Pharmakeia) meaning PHARMACY, medication, drugs, sorcery, witchcraft, magic) (N. T.)
Revelation 18:23 Greek word (Pharmakeia) meaning PHARMACY, medication, drugs, sorcery, witchcraft, magic) (N. T.)
Attempting to exercise control over another person is witchcraft and it's always perpetrated by those who don't even have their own life in order. Jesus calls them hypocrites and if they don't repent, they are 100% guaranteed to be in hell (Matthew 7:2-5). "Witchcraft" is a soul damning sin (Galatians 5:19-21). All "sorcerers" are as sure for hell and the lake of fire as if they were already there! A sorcerer is anyone who uses drugs or anything else in order to control another person – to kill them, to manipulate them, etc.
"But the fearful, and unbelieving, and the abominable, and murderers, and whoremongers, and SORCERERS, and idolaters, and all liars, shall have their part in the lake which burneth with fire and brimstone: which is the second death." Revelation 21:8
Witchcraft Exposed | Nicolaitan Wolves Exposed (Shocking Expose' of False Ministers)
SORCERERS:
The following 4 places of Scripture (In the O.T.) carry the same meaning.
Exodus 7:1, Daniel 2:2, Malachi 3:5, Jeremiah 27:9.
Hebrew word (Kashaph) meaning to whisper a spell, practice magic, sorcery, witchcraft.
Revelation 21:8 Greek word (pharmakeus) meaning PHARMACY, pharmacist, druggist, poisoner, magician, sorcerer (N.T.)
Revelation 22:15 Greek word (pharmakeus) meaning PHARMACY, pharmacist, druggist, poisoner, magician, sorcerer (N. T.)
THE PHARMACIST OF REVELATION: DRUGS
The most blatant form of sorcery in the book of Revelation is the multi-BILLION dollar pharmaceutical-medical industry, which just happens to be where it got its name pharmakeia. And just happens to be one of the biggest frauds being perpetrated on Americans today. Americans are deceived as more than half of all Americans today take their poison and put their faith and trust in magic pills.
THE PERFORMER OF DRUGS: SATAN
Maybe you never thought of this, but you should know that drug use opens you up to spiritual attack. Satan will use drugs and alcohol to get a stronghold in your life. He loves it when you drug yourself with alcohol and medication that gets you high.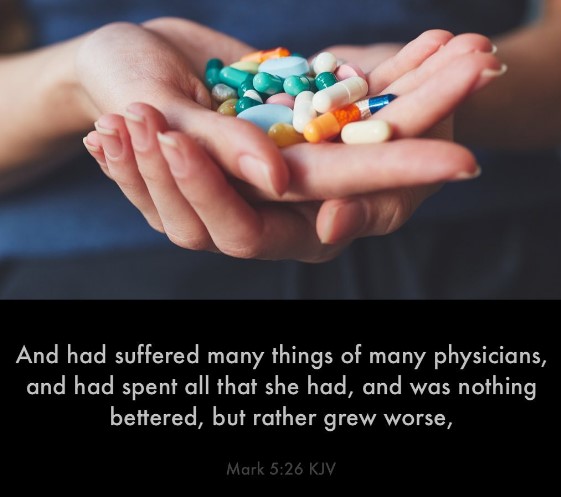 Satan wants you to be off guard and hallucinating. There are specific demonic spirits associated with liquor and marijuana and cocaine and heroin, and opium, prescription drugs, illegal drugs, and any mixture of drugs, etc., and every time you use these substances, you could unknowingly be opening the doorway for these demonic spirits to come into your life. Satan loves it when you drink alcohol and use drugs because you are then in no shape to fight against his attacks. You are leaving yourself wide open to demonic possession.
Ephesians 6:12 warns us of such things: "For we wrestle not against flesh and blood, but against principalities, against powers, against the rulers of the darkness of this world, against spiritual wickedness in high places."
THE PROBLEM OF MISUSING DRINK & DRUGS:
A) DRUGS AND ALCOHOL DISQUALIFY YOU FROM BEING USED BY GOD
Don't you want to be used by God? How can God use you as a witness to others if you have no self-control, are setting a bad example to others, and are behaving just like the world by drinking and getting high? God's Word tells us that for us to be used by God; we must be sober and avoid intoxicating substances.
Titus 1:7-8, "For a bishop must be blameless, as the steward of God; not self-willed, not soon angry, not given to wine…But a lover of hospitality, a lover of good men, sober, just holy temperate.
Titus 2:2-6, "That the aged men be sober, grave, temperate, sound in faith, in charity, in patience. The aged women likewise, that they be in behavior as becometh holiness, not false accusers, not given to much wine, teachers of good things; that they may teach the young women to be sober, to love their husbands, to love their children… Young men likewise exhort to be soberminded.
B) DRUGS & ALCOHOL DEMAND A MASTER
God's Word says, Matthew 6:24 (KJV) No man can serve two masters: for either he will hate the one, and love the other; or else he will hold to the one, and despise the other. Ye cannot serve God and mammon.  (Pharmakeia or the Physician?)
The law of human nature requires that supreme affections can be fixed on only one object. Jesus, the Son of the living God and God the Son says in Matthew 6:33 (KJV) But seek ye first the kingdom of God, and his righteousness;…"
This corrupt world that we live in will tell you that to have fun and to be social and to look cool, you have to drink or get high. And then later if you become an alcoholic or a crack head, this twisted world says, "Well, that is okay. You just have a "disease." But God's Word tells you that your body is a holy temple, and that you are not to defile yourself with these substances. And if you insist on rebelling against God and indulging in alcohol and drugs, God's Word calls you a drunkard and a fool. It is that simple.
You need to choose this day whom you will serve. You can serve God and ask Him to clean up your life, or you can continue serving your own fleshly lusts and drinking and getting high. And if you choose to serve God, you need to follow God's command as found in this verse:
Ephesians 5:8-11 (KJV) For ye were sometimes darkness, but now are ye light in the Lord: walk as children of light: 9 (For the fruit of the Spirit is in all goodness and righteousness and truth;) 10 Proving what is acceptable unto the Lord. 11 And have no fellowship with the unfruitful works of darkness, but rather reprove them.
CHURCH: Start worshipping God and stop being entertained by wickedness of the world. Start calling good, good, and evil, evil, prepare for the battle that is at hand by following Ephesians 6:10-18.
WORLD: Stop being entertained by the wickedness of the world, surrender to God, be born-again, and start worshipping God, Do not call evil good and good evil. Prepare for the battle by following Matthew 6:33
THE PHYSICAN OF REVELATION: JESUS CHRIST
If You Have a Drug or Alcohol Problem
Remember, regardless of where you have been or where you are now, God can turn around everything and give you a fresh, new beginning. Scripture tells us that in Christ, all things are made new (2 Corinthians 5:17) and you can become a new creature, blessed, healthy and whole! Get in a good Bible believing, Bible preaching, Christ centered church, find a good alcohol or drug treatment program (if needed) and don't be afraid to ask for help!
Whereas the lust of your flesh for drugs and alcohol is strong, I know your partnership with Christ will make you stronger to withstand the temptation and see you through to a full recovery.
1 Cor 10:13 (KJV) There hath no temptation taken you but such as is common to man: but God is faithful, who will not suffer you to be tempted above that ye are able; but will with the temptation also make a way to escape, that ye may be able to bear it.
What is God saying about the end times concerning Drugs?
You cannot be my Disciples and be involved in Drugs
You cannot be my prayer warriors while using Drugs
What lesson do I hope that all of us will learn today, if we have not already learned it?
That substance abuse is dangerous and detrimental – physically, emotionally, socially and spiritually. It lowers morals.
a. Ordinarily our conscience innately raises barriers which stop us from venturing into areas that are dangerous, immoral, or inappropriate.
b. But drugs short-circuit that safeguard. Drugs blow our moral fuses, confuse our judgment, and removes our self-control.
CONCLUSION
Satan has conquered over many with drugs and alcohol. Let's be wise and keep our thoughts and bodies under control so he will not cause us to lose our souls. Remember these verses;
Rev. 9:21: The Great tribulation will be a period when the use of drugs will not be controlled. I believe drugs will play a large part in the lives of the unsaved and the saved.  We all seem to partake in drugs to relieve our problems, hurts, pains, etc. Our culture today is drug infested. What we see today is only a beginning as to what it will be like in the Great Tribulation.  I believe we will do anything to deaden the pain or increase the high we can get from drugs. Drugs help us in the area of sensuality, spirit-word, reckless transgressions, crimes, stimulating our vilest passions, etc
Rev. 18:23: This world is being deceived by sorceries (drugs) in music world, Hollywood, gambling, and all antichrist activities. All nations will be deceived and drugs will have a big part in it.  I see it in my prison ministry on a daily basis.
Rev. 21:8 Read this verse and see all that is going to be cast into the lake of fire, right in the midst is the drug culture.
Rev. 22:15 OUTSIDE the CITY are whoremongers, dogs, murderers, idolaters, liars, and sorcerers (Drug culture)
Nowhere else is Pharmacy/druggist, found in the Bible as being a tool of Satan against the world (Lost & Saved) then in the book of revelation.
Some of the material in this document has been copied. I also do not believe that all physicians are sorcerers or all sorcerers are physicians. I do believe that Satan has used his powers of darkness to guide mankind towards a direction opposite of God's way.  I also believe God will bring a delusion in the last days upon all who reject Him.
The one PILL we do need is the GOSPEL – Gos-PILL.
Off The Chain! Mood Drugs Exposed | Vaccine Tyranny | Psycho-Heresy | Fresh Start with God | Don't Miss the Divine Prescription for Blessing