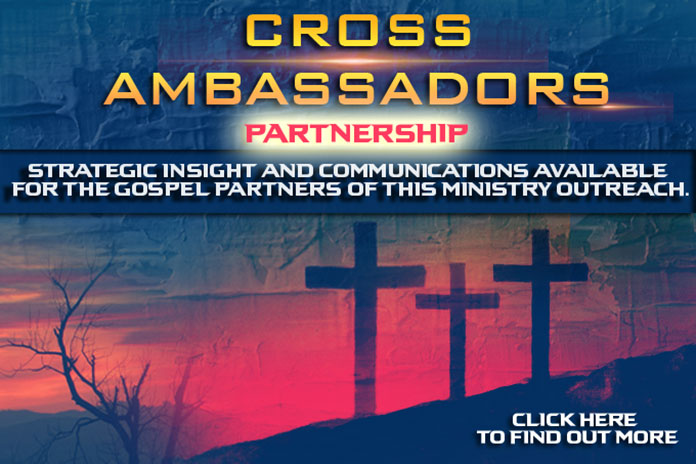 Cross Revolution
"WE are labourers (takes participation) TOGETHER with God." 1 Corinthians 3:9
Are you participating? Takes seconds to give 
Charles Pray writes: "The Bible tells us if we are fed, then we should fund. Do you see the comparison? Well, if you do, then why aren't you doing it? It's just that simple—it's called obedience. Now that you have heard, you are accountable. What will you do about it? Join the Cross Ambassadors Partnership by giving to God's work. Amen! Read Malachi 3:8-12."
RECENTLY, a dear sister in Christ has testified that God is now opening doors that were not previously opening due to her obediently and cheerfully giving to His Gospel work (2 Corinthians 1:20). We give out of worshipful obedience and love to our LORD and yet, there's no denying HIS promises!
REMNANT PRAYER: Father, I am obeying Jesus by praying that You send forth Your called-out labourers. I ask You to make sure they are supplied so they can do Your work which is the infinitely most important and only eternal work in the whole earth! In Jesus' name!
The LORD commanded us to preach and woe unto us if we do not preach Christ's original Gospel (1 Corinthians 9:16). Feeding His sheep was never meant to be weekly but rather "daily." By God's grace and through the daily feeding of Christ's flock, giving out His Word as He commanded us to do, there are yet more and more and more recipients of that Word of God who are now themselves doing ministry boldly – preaching His Word!!!!
That's what it's all about – God's people becoming whole, fed, and nourished and then feeding others (Ephesians 4:11-15; 1 Timothy 4:6, 16). "Feed my sheep" is a divine mandate (John 21:15-17).
When Christ and therefore His work ceases to be important, His "labourers" will cease to invite you to participate (Matthew 9:35-38). Please do not hold your breath!
Paul taught that WE – TOGETHER – are partners with Christ in doing His work! What a privilege!!! The hour is late!
DO WE realize that if just 1% of those fed by good Gospel ministries would support those vital outreaches, that would be an increase and further Christ's Gospel in this late hour? Are you considering jumping in and participating?
The BECAUSE YOU CARE page offers more pics and stories of changed lives, etc.
Encouraging 7 minute audio
Cross Ambassadors is a partnership of those who wish to participate in engaging this generation with the original Gospel message of our LORD Jesus Christ.
For those who Partner in supporting the ministry work.
As we work together in our LORD's Gospel, thousands are being reached through this outreach every single day with the Word of God – the very Gospel of Jesus Christ. It takes fuel to pay the video engineer and artists and internet experts to see this sustained and increased – to reach more and more people! There are now many who read everything put out by this outreach, listen to every radio and audio broadcast and watch every video. ALL of them, without exception, are full of God's Word and have the full intent and goal of encouraging the listener to open and dive into the treasure chest of God's Blessed Word! Amen Jesus!
Those who support will be added and receive the weekly updates and correspondence.
Let's stand together in and with Christ!
Your support is vital. For your support of any amount monthly, here's some of what you will be privy to …
Included will be …
Weekly correspondence email.
Copy of each new book when it publishes.
more to come ……
Because You Care, your support will go towards the following activities being accomplished daily …. (not limited to these efforts) … Together, we are His servants!!!! (1 Corinthians 3:6-9)
Quickest, easiest way to send money to support:  HERE
One by one, the fellowship of the saints is taking place by the hand of our LORD ….. encamped with humble, honest hearts to receive from the Great Shepherd of the sheep the full truth and testimony of our LORD revealed to us in Holy Scripture (Luke 8:15; 2 Timothy 3:15-17; Hebrews 13:20, etc.).
The message of Christ's cross and the premium, ultimate divine authority of Scripture is taking root in the hearts of His people in this late hour ….. YOU are one who makes that possible!!!! There is no work so important as the eternal, divine work of the LORD in the work of His glorious Gospel. He commanded us to go preach and this does not happen by accident! Neither does it come without reward both now and for all eternity for all those who choose willingly and obediently to participate! (Matthew 6:19-21, etc.). Oh and those who are being fed are sharing the message on an increasing basis as it's taking root in their own hearts by the Holy Spirit!
The following testimony by a dear brother in Christ is happening nearly daily now ….
"Good morning brother. This is just a quick note to tell you how much I appreciate your posts. They bless me Todd. Have a blessed day brother and stay dangerous for the advancement of the Kingdom. Dangerous to the enemy that is! Blessings!" Jesse DeGrazio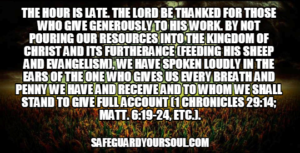 Takes seconds to give and your love offering ensures that there is fuel in the tank! We are in this together saints! Jesus is coming soon and many are being reached with His blessed Gospel daily! One such precious soul is Melody, one of the people reached out to this week in Boulder, Colorado. God is good.
When we choose to give, we cheerfully say to our LORD, "YES JESUS, thank You for allowing me to participate in the spread of Your bless-ed Gospel truth into the hearts of men! Hallelujah!" (2 Corinthians 9:7)
I don't mind opening up this opportunity, because:
Jesus is worthy!
Jesus is coming soon and He wants to reach every soul with His soul-saving love!
This is the grandest opportunity on the earth!
You are laying up treasure in Heaven! (Philippians 4:17; Matthew 6:19-21; 2 Corinthians 9:6-11)
Some of the things our partnership is accomplishing:
Preach the Word daily (2 Tim. 4:1-4).
Evangelize the lost (Mk. 16:15-20).
Feed and clothe the poor (Prov. 19:17; James 1:27, etc.).
Supply Gospel materials (King James Bibles, Gospel tracts, and Scripture Rich books) to captive incarcerated audiences across the nation (2 Tim. 4:13).
The sometimes teeth-pulling ministry of ministering to elders/pastors/evangelists, etc.
One-Time Gift: Here. Takes seconds.
DONATE – For recurring gift.
We are partnering together to reach those who are downcast and in need, right where they are most vulnerable to Christ and His saving love.
The needs of another is our opportunity. When Jesus saw our need, He came to the rescue and gave all, right?
Please consider a recurring gift. This work needs to be sustained. Don't worry, I have no vehicle or rental of my own. The money goes to the GOSPEL.
One-Time Gift: Here. Takes seconds.
DONATE – For recurring gift.
See links below for more Gospel action: