Charles Finney: False Teacher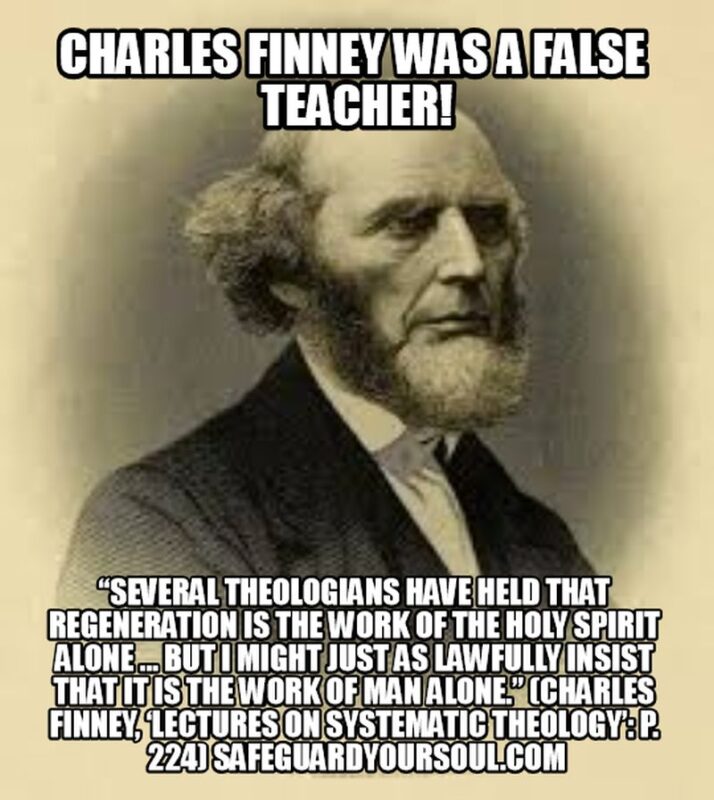 Finney's Falsehoods
"But there were false prophets also among the people, even as there shall be false teachers among you, who privily shall bring in damnable heresies, even denying the Lord that bought them, and bring upon themselves swift destruction." 2 Peter 2:1
THERE'S A REASON WE HAVE THE BIBLE … SO WE WON'T BE MISLED BY THE TEACHINGS OF MERE MEN (Proverbs 30:5; 2 Timothy 2:15; 3:16, etc.). WHY DO SOME INSIST UPON READING THE DOCTRINES OF MERE MEN WHO WERE NEVER AUTHENTICATED BY GOD TO WRITE DOCTRINE? ISN'T THIS A WASTE OF TIME? YES IT IS. I'M SPEAKING ABOUT MEN LIKE CALVIN AND FINNEY (AND THERE ARE MANY OTHERS) WHO WROTE EXCESSIVE DOCTRINAL VOLUMES. ISN'T THE BIBLE WHERE WE GET GOD'S DOCTRINE? (2 TIMOTHY 3:16-17)  MINISTRY IS SERVING – SERVING UP HEAVEN'S BREAD FROM GENESIS TO REVELATION. NEHEMIAH 8:8 GIVES THE PATTERN FOR BIBLICAL MINISTRY THAT GLORIFIES GOD – READ FROM HIS WORD DIRECTLY AND GIVE THE SENSE OF HIS WORD.
THE MINISTRY IS BEING REGULARLY CONTACTED BY THOSE WHO ARE OFF ON THIS "NO-SINFUL-NATURE" KICK THAT THEY LEARNED FROM THE FALSE TEACHINGS OF CHARLES FINNEY OR ONE OF HIS MODERN FOLLOWERS. THEY ARE READING OUR MATERIALS ON THIS SITE AND BECOMING HIGHLY INFURIATED DUE TO STEALING THEIR THUNDER. PERHAPS SOME WANT THE CREDIT FOR THEIR OWN SANCTIFICATION. IN THIS POST WE WILL CONSIDER HOW CHARLES FINNEY TAUGHT SALVATION BY FAITH AND THEN SANCTIFICATION BY OUR OWN PERSONAL WORKS (GALATIANS 3:3). THIS IS "ANOTHER GOSPEL." (GAL. 1:6-9) FINNEY WAS A FALSE TEACHER. BEWARE OF THOSE WHO HAVE BEEN READING HIM OR LISTENING TO OTHER DUPES WHO READ HIS GARBAGE INSTEAD OF GOD'S WORD.
SPEAKING OF THOSE WHO ARE TEACHING THESE POISONS IN OUR DAY, ONE DISCIPLE OF JESUS NOTES:
"THE FALSE TEACHERS WHO ARE SPREADING FINNEY'S LIES AND THIS INCLUDES THE PELAGIAN AND OPEN THEISTIC HERESIES ARE JESSE MORRELL, JED SMOCK AND OTHER LUNATIC STREET PREACHERS. KERRIGAN SKELLY AND MIKE DESARIO AND RUBEN ISRAEL ARE ALSO PERPETRATING THESE FALSE DOCTRINES."
Is Jesus Both Savior and Sanctifier?
Those who read and study Finney and/or those duped by his false teachings are becoming widespread. Beware. This extra-biblical system of theology is producing some harsh, self-righteous followers due to basing it all on us (sanctification). But Romans 8:13; Philippians 1:6; 2:12-13 says differently. Oh and Psalms 138:8.
"The LORD will perfect (sanctify; mature) that which concerneth me: thy mercy, O LORD, endureth for ever: forsake not the works of thine own hands." Psalms 138:8
There are those who have invested much time in studying Finney's works and so take great offense to this examination of his teachings. But that's their own sin – that they would waste their time reading the volumes of doctrinal writings of any mere man, past, present, or future. That's where they went astray in the first place. Had they simply studied God's precious precepts, their belief about the LORD and His righteousness would be perfectly intact.
True Christians have their final authority in the Holy Scriptures, period. They do not follow mere sinful men. The earliest believers, just after the church was born at Pentecost, are our example and they "continued steadfastly in the apostles' doctrine," not the doctrines of other mere men (Acts 2:42). Hence, the concern for those who bother reading volumes of "theology" from mere men. We don't even know God's Word that well! Think about the idolatry of this. We refuse to read the words of the God we claim has saved us and yet have ample time to study the works of mere men? If we are going to follow the words of mere men, let's listen to the words that the LORD inspired Paul, Peter, John, and the other New Testament writers to pen.
"We have also a more sure word of prophecy (the written Word); whereunto ye do well that ye take heed, as unto a light that shineth in a dark place, until the day dawn, and the day star arise in your hearts: 20 Knowing this first, that no prophecy of the scripture is of any private interpretation. 21 For the prophecy came not in old time by the will of man: but holy men of God spake as they were moved by the Holy Ghost." 2 Peter 1:19-21
You would think one defied Jesus Christ Himself by the way some attack over the questioning and examination of Finney's teachings.  People who have unwittingly made an idol in their hearts of this mere man, Charles Finney, get highly upset at the suggestion that he taught falsely. Well, I certainly am far from being the first one who has pointed Finney's falsehoods out. Why such a commotion over comparing a mere man's teachings to Scripture and believing they are contradictory? If there were not the lifting up of a mere man and his teachings, it perhaps would not be a problem.
Please spread this article far and wide as there are many who teach Finney's lies today. In fact, their whole theology is undergirded by Finney's false teachings though they may not openly divulge such a fact.
In the face of many Bible passages which reveal fallen mankind's "desperately wicked" disposition, Charles Finney refused to believe that man has an inherent sinful nature after the fall (Jeremiah 17:9). It is my observation that those who adapt teachings like Finney's, have an inner propensity to want to feel as though THEY, out of THEIR own goodness and their own good works are earning themselves their salvation. In other words they are in open denial of Christ (antichrist).  This is damnable unbelief and rebellion – a refusal to acknowledge their own sinful state and therefore desperate need for Christ's sacrifice (Hebrews 3-4). Reading Romans 3:21-26 daily for a week can jerk the deceit from that type evil disposition and establish in our heart "the righteousness of God which is by faith of Jesus Christ."
"But now the righteousness of God (as opposed to man's) without the law is manifested, being witnessed by the law and the prophets; 22 Even the righteousness of God which is by faith of Jesus Christ unto all and upon all them that believe: for there is no difference: 23  For all have sinned, and come short of the glory of God; 24  Being justified freely by his grace through the redemption that is in Christ Jesus: 25 Whom God hath set forth to be a propitiation through faith in his blood, to declare his righteousness for the remission of sins that are past, through the forbearance of God; 26 To declare, I say, at this time his righteousness: that he might be just, and the justifier of him which believeth in Jesus. " Romans 3:21-26
Have we denied Christ without realizing it? There seems to be something in unsanctified human beings that makes them want to identify with someone no differently than people adopt a certain football, basketball, or baseball team of city, state, or liking. The same seems true among those claiming salvation in Christ and perhaps especially many who actually preach. They hear a quote from an evangelist of old such as Charles Finney and then begin to read more of his stuff and adopt him (a mere sinner) as their hero, all the while rejecting the LORDship of Christ, the only "Head" of His true body (Colossians 2:18-19). Essentially, this is idolatry (Ezekiel 14:3; 1 John 5:20-21; Revelation 21:8). A lot of these preacher guys are strong personalities and so they like men like Finney who made many bold statements, yet there's a hook beneath the surface of the bait and many have bought his whole package (lure) and are now hooked or have created an idolatrous soul tie (heart idol) with this man of old. There is an evil spirit that comes with the sin of spiritual adultery (idolatry) and that devil has blinded their eyes and causes them to get irate when someone tampers with their mere human, sinful idol – in this case Charles Finney.
Exposing the idol in the hearts of those who have invested (wasted) their time reading Finney, will often strike a chord. Evil spirits that have free access to those who live in the sin of idolatry, will violently manifest at this exposé of the idol of their hearts (Ezekiel 14:3). In this case, that's Charles Finney. Carol Burke puts it this way:
"When people begin to defend idols, there will be accusations against you (the mere messenger) because of your stand in the truth."
At that, let's check into a bit of the teachings of Charles Finney.
Of Finney, one writer notes:
"Finney told sinners to present THEIR righteousness to God. But in the gospel God does some presenting too. He has presented Christ as a propitiation, Romans 3: 25. Finney insisted, that Christ "could not … obey as our substitute", yet he repeatedly said that Christ's death was vicarious." Charles Finney, Lecture 8, "Obedience to the Moral Law" p. 364
The only obedience God requires, in Finney's view, is the obedience of the one to be justified. Such a person cannot get it from anyone else, including the Lord Jesus Christ. This is a very different view from that of the Reformation, which sees the model as God the judge acquitting and eternally accepting the sinner. This justification is based both on the gift of righteousness from Christ, as well as the full removal of the sinner's guilt because it was atoned for on the cross. The condition laid upon the sinner is faith, which is a non-meritorious resting upon the work of Another and the receiving of the gospel promise. These are two extremely different views of salvation, the Reformation holding to Christ Alone (Solus Christus), and Finney's doctrine, a view of "sinner alone".
For now, we shall treat only the four required of sinners. But let it be clear that Finney explicitly argues against faith as the only condition of salvation. In his sole paragraph in this lecture on faith, never once does he argue for a trust in the work of Christ. Should a good lecture on justification devote only one paragraph to faith as Finney has done, and then spend half of that arguing against "faith alone"? Finney reminds us that true faith is a faith that works (quoting Galatians 5: 6 in the KJV), but there is no teaching on a faith that rests, as in Hebrews 4: 9-11.
The repentance he has in mind is total outward reformation, a "change of moral character." Repentance "cannot consist in conviction of sin," "nor sorrow for it" or merely a sense of our need of a Savior.
In order to be justified the sinner must believe and arrive at "present sanctification, in the sense of present full consecration to God", (condition #4). (By this Finney means "present" vs. "former".) This perfection in holiness must then be followed by the fifth and last of Finney's conditions, a perseverance in obedience, which is also "an unalterable condition of justification." In other words the sinner's works are as much a condition of justification as faith.
I have found no reference in Finney to a faith that does not work as in the case of Abraham, "to him who does not work but believes…" Romans 4:5. He lists the verse twice, once with no treatment of it, as is his usual custom. In the case where he does, he claims, "Here justification is represented only as consisting in forgiveness of sin…" p. 373. Amazingly, to Finney the words "his faith is credited as righteousness," teach only forgiveness and do not teach imputed righteousness. That faith works is agreed to. But when faith receives, it does not work. Once justification has been decreed and thus the Spirit given, the fruit of the Spirit comes into play. Thus faith without works moves on to be a faith that does work. The standard Roman confusion of this point is found throughout Finney.
In another chapter Finney says, "…if it be true that Christians are justified without present full obedience. That surely must be a doctrine of devils." p. 125. He is seeking to avoid antinomianism, and he is arguing for the necessity of repentance — that purpose I do not dispute, but he sees only full obedience in the Christian as a condition of justification, and that is the matter now being disputed in this paper. We do argue for full obedience as the very ground of justification, but it is the obedience of Christ.
What the atonement does not mean. This odd way to begin is customary Finney. His answer for the ground of justification begins: "It is not founded in Christ's literally suffering the exact penalty of the law for them, and in this sense literally purchasing their justification and eternal salvation." The Reformation saw the biblical truth that Christ satisfied divine justice by receiving divine wrath in His vicarious death. Finney retains the word "justice" when he says the atonement is to "satisfy public justice," but it is not "retributive justice." Retributive justice means that the guilt of sin is actually punished. Finney held that sins may be pardoned, but for those saved, they are not punished; they are merely forgiven. Furthermore, he held that sin cannot be imputed to another person. This is Finney in all his consistency. First, the sinner's needed obedience comes only from the sinner himself, and now that we look at Finney's atonement, we learn that sin can fall only on the one committing it, or if forgiven on no one at all. The result is a double denial of the Savior's work.
He elaborates that the atonement is not "a proper full payment of the debt of the justified." That to Finney is impossible in the very idea of one dying for another. What Christ suffered is "indefinitely less in amount than was deserved by the transgressors."Finney's penchant to quantify both the obedience of Christ, and now His sufferings, shows that he has rejected the representative principle of the Mediator standing in for others. One should not measure the amount of blood, total His pain, nor clock the time hanging on the cross. The New Testament has no embarrassment to report that His death came sooner than the ones beside Him, because a quantification of the physical side is irrelevant to the atonement.
One must remember Finney's distinction re the atonement as condition and not ground of justification. That leads to what might be his most sweeping statement to detach the cross from justification: "Neither is the atonement nor anything in the mediatorial work of Christ, the foundation of our justification, in the sense of the source, moving or procuring cause." (I would nominate that as the most wicked thing I have read in Charles Finney.) It means that to find the real procuring cause of justification one must not look to the cross. He will say the ground of justification lies only in the heart of infinite love. If so, justification's basis does not lie in the divine act of intervention in history in the death and resurrection of the Lord Jesus Christ. For Finney, the gospel has moved away from the redemptive action where "Christ died for our sins according to the Scriptures, and that He was buried, and that He was raised on the third day." (1 Cor. 15:3,4) But divine love did act in Christ when God's reconciliation took the path and principle of not imputing men's sins to them, because those sins were imputed to the One made sin for them and executed accordingly. But in Finney's atonement, that labor of love on the cross, procured nothing at all in regard to forgiveness. He has detached love and the cross when the apostle John did the opposite in fusing them, "… he loved us, and sent his Son to be the propitiation for our sins." (1 John 4:10)"
Finney's supporters will say this is a distortion since God's love is the cause, and God did provide the atonement as a condition — a true statement of Finney's position. But that the ground of justification is not in any sense the mediatorial ministry of the Savior, is straight Finney. The love of God is affirmed in Finney, but, for him, love causes what the atonement did not and could not. No, the gracious love of God sent the Son to reconcile in a redemptive activity that is effective. 1 Peter 3:18: "Christ died for sins [Finney differed saying it is not retributive] the righteous for the unrighteous [Finney denies Christ represented anyone], to bring you to God." [Finney disagrees again since the mediatorial work of Christ never procured anything for us.] This is a small example of the pervasiveness of his denials. If one were to correct his (Finney's) systematic theology point for point, it would be the writing of an encyclopedia. Finney could not sing, "On the cross He sealed my pardon, paid the debt and made me free," because those words, three times, affirm that the mediator procured our forgiveness.
There is certainly no propitiation of God in Finney's systematic theology. The cross has become for Finney, God's media event so He will not be misunderstood and we will not misunderstand. And that is all the death of the Son of God accomplished, no washing away of sin, just a washing away of our possible misunderstandings. Finney's god is quite insecure! He has to worry about our view of Him and prepare for our scrutiny, and so resort to the crucifixion of the Son of God to satisfy public justice. I would think that such a crime would do the opposite. If that crucifixion was not a penalty for sin, it is intrinsically unjust. Finney preserves justice by mutilating it. So when he speaks of the "vicarious nature" of the atonement, one should not think he speaks with the same meaning as evangelicals have ordinarily had for those words. His vocabulary is Christian; his content is the leaven of the Pharisees.
Where is Christ in all these conditions Finney would have us meet? Where is His obedience, which is the very heart of the gospel and the foundation of justification? In the gospel, a righteousness that comes from God and not ourselves, has been made known, Romans 1:17. When Finney rejected "justification by imputed righteousness" he was rejecting the righteousness produced in the sinless life of Christ. He says, "It was naturally impossible for Him, then, to obey in our behalf."  Charles Finney, Lecture 8, "Obedience to the Moral Law" p. 363
In effect, Finney also abandoned sola scriptura (the authority and sufficiency of Scripture), as shown by his constant appeal to rationalism in support of his new theology.
Specifically, what were Finney's most serious errors? At the top of the list stands his rejection of the doctrine of justification by faith. Finney denied that the righteousness of Christ is the sole ground of our justification, teaching instead that sinners must reform their own hearts in order to be acceptable to God. (His emphasis on self-reformation apart from divine enablement is again a strong echo of Pelagianism.)
He derided the concept of imputation as unjust: "I could not but regard and treat this whole question of imputation as a theological fiction, somewhat related to our legal fiction of John Doe and Richard Roe" [Memoirs, 60].
Having decided that the doctrine of imputation was a "theological fiction," he was forced to deny not only the imputation of Christ's righteousness to believers, but also the imputation of the sinner's guilt to Christ on the cross. Under Finney's system, Christ could not have actually borne anyone else's sin or suffered sin's full penalty in their place and in their stead (contra Isaiah 53:6; 1 Peter 2:24; 1 John 2:2). Finney therefore rejected the doctrine of substitutionary atonement.
There can be no justification in a legal or forensic sense, but upon the ground of universal, perfect, and uninterrupted obedience to law. …" [Systematic Theology, 362]."
Yet another author notes the following of Finney:
"In his Memoirs, his Lectures on Revival, and his Systematic Theology, what comes through, frankly, is not a man with a high regard for Scripture, but a man with an inflated view of himself. Where Scripture does not suit him, Finney resorts to sophistry to explain it away. Whole sections of his Systematic Theology contain paragraph after paragraph of philosophizing and moralizing—sometimes without a single reference to Scripture for many pages."
QUOTES FROM CHARLES FINNEY
"Neither is the atonement nor anything in the mediatorial work of Christ, the foundation of our justification, in the sense of the source, moving or procuring cause." Charles Finney, Lecture 8, "Obedience to the Moral Law" p. 375-76
"It is not founded in Christ's literally suffering the exact penalty of the law for them, and in this sense literally purchasing their justification and eternal salvation." Charles Finney, Lecture 8, "Obedience to the Moral Law" p. 373
"There can be no justification in a legal or forensic sense, but upon the ground of universal, perfect, and uninterrupted obedience to law. This is of course denied by those who hold that gospel justification, or the justification of penitent sinners, is of the nature of a forensic or judicial justification. They hold to the legal maxim, that what a man does by another he does by himself, and therefore the law regards Christ's obedience as ours, on the ground that He obeyed for us." [Systematic Theology, 362]. Charles Finney
"These and similar passages are relied upon, as teaching the doctrine of an imputed righteousness; and such as these: "The Lord our righteousness" (Phil. 3:9). . . . "Christ our righteousness" is Christ the author or procurer of our justification. But this does not imply that He procures our justification by imputing His obedience to us. . ."  [Charles Finney, Systematic Theology (Minneapolis: Bethany), 372-73].
"All who deny this, call it original sin or by any other title, are but heathens still in the fundamental point which differentiates heathenism from Christianity. . . . Or, to come back to the text, is 'every imagination of the thoughts of his heart evil continually'? Allow this, and you are so far a Christian. Deny it, and you are but a heathen still."— John Wesley, Works, Vol. V, p. 195.
"Moral depravity cannot consist in any attribute of nature or constitution, nor in any lapsed or fallen state of nature. . . . Moral depravity, as I use the term, does not consist in, nor imply a sinful nature, in the sense that the human soul is sinful in itself. It is not a constitutional sinfulness" [Systematic Theology, 245].
Closing Thoughts
Yes, a person can fall from saving grace after being saved but we are NOT saved except/but by the mercy and grace of God provided through the perfect redemption of Jesus Christ. – "Not by works of righteousness which we have done, but according to his mercy he saved us, by the washing of regeneration, and renewing of the Holy Ghost; 6  Which he shed on us abundantly through Jesus Christ our Saviour; 7 That being justified by his grace, we should be made heirs according to the hope of eternal life." Titus 3:5-7
Are you "poor in spirit" or prideful in spirit?Jesus says:

"Blessed are the poor in spirit (desperate for Christ): for theirs is the kingdom of heaven." Matthew 5:3
Are you righteous by faith in Christ or self-righteously trusting in yourself and YOUR own supposed "natural ability" or perfect obedience? Finney taught that men had the "natural ability" to overcome all sin, which is an open denial of Christ and the need for Him to have come to redeem fallen mankind. This heresy is also a denial that when mankind fell that he incurred in himself spiritual death (Romans 5:12, 18-19).

So, the person who is trusting in self's "natural ability" has denied the need for Christ and is an antichrist who is under the Law. And, we know that if that person morally fails in just one thing, they are guilty of breaking the whole Law and doomed to eternal damnation.
"For whosoever shall keep the whole law, and yet offend in one point, he is guilty of all." James 2:10
—-  BEWARE OF THE SELF-RIGHTEOUS DEVILS IN OUR MIDST: At the return of Christ, what are you looking for? Are you looking for God to tell you just how wonderful and obedient YOU are? OR, are you that "poor in spirit" pauper who is wisely and fully trusting in the merit of Christ alone? …obeying the LORD in taking up the daily cross, being full of His Holy Spirit, and crying, "Be merciful to me Lord, a sinner"?! (Luke 18:10-14; Matthew 5:3)
JESUS CHRIST is the One who originated the story of the two men who went up to pray and clearly said that the man who depended on divine mercy is justified and the self-righteous religionist was condemned of God.
"And he spake this parable unto certain which trusted in themselves that they were righteous, and despised others: 10 Two men went up into the temple to pray; the one a Pharisee, and the other a publican. 11 The Pharisee stood and prayed thus with himself, God, I thank thee, that I am not as other men are, extortioners, unjust, adulterers, or even as this publican. 12 I fast twice in the week, I give tithes of all that I possess. 13 And the publican, standing afar off, would not lift up so much as his eyes unto heaven, but smote upon his breast, saying, God be merciful to me a sinner. 14 I tell you, this man went down to his house justified rather than the other: for every one that exalteth himself shall be abased; and he that humbleth himself shall be exalted." Luke 18;10-14
"Keep yourselves in the love of God, looking for the mercy of our Lord Jesus Christ unto eternal life." Jude 21
Every true, honest-hearted Bible student knows that one who was genuinely saved then can fall from saving grace, and yet no one is saved outside of the grace provided exclusively through the perfect work of Jesus Christ (Romans 3:21-16). In the end, even after we have followed Him fully, we must acknowledge that we are "unprofitable servants" and have nothing good in us except Jesus Christ and His perfect righteousness (Luke 17:10; Romans 7:18).
In his corrupted efforts to expose Calvinism's obvious heresies, Charles Finney established yet an equally deadly falsehood when he denied imputed righteousness taught in Romans 4. Finney sought to correct Calvinism's false teaching of "total depravity" where they taught that man has no personal will, no ability to respond to God's requirement and call to repentance and faith. In attempting to correct this error, Finney erred by denying the biblical doctrine of imputation or transference of Christ's righteousness – accessed, received by faith, not works (Romans 5:1). The word impute simply means to reckon or to account Christ's righteousness to the account of all who repent and place their faith in Christ, the one Redeemer.
The Bible uses the word "imputed" and so to say otherwise is to contradict Holy Scripture (Romans 4). If justification is not imputed, accounted from God to man via the perfect sacrifice of Christ alone, then it must be earned or merited by sinful man, which is impossible. I suppose you are a finney-ite. Charles Finney was a fraud, a false teacher. 
Now these same street preachers are telling people that justification is NOT by the imputed righteousness of Christ which is rank heresy (Romans 4; 2 Corinthians 5:21, etc.). In other words, Jesus came in vain and man can merit his own righteousness by his own "natural ability." Beware. This is as antichrist as it gets. These guys are novices who are regurgitating the error of men like Finney from the past. They are not getting these evil, Christ-denying falsehoods from God's Word.
In Finney's Christ-denying, demonic theology, the individual's own personal morality earns his own merit from God. Christ's atoning sacrifice is brazenly denied.
In light of this, if you have read and espoused or taught others these errors, I want to encourage you to confess them in repentance before the LORD.
You, me, and Finney are all mere men. God's written Word alone is "a lamp unto our feet and a light unto our path" or else we are off His narrow path (Psalms 119:105; Matthew 7:13-29).
Charles Finney's False Gospel | The Idolatrous Underpinnings of the Stopping all Sinning Focus
No Inherent Sin Nature? | Stop Sinning? Really? | Sin: Man's Core Problem | The Idiocy of Calvinism
Sign up here to receive the Moments with My Master e-mail sent out to edify and teach the body of Christ.
One  writer expresses the following concerning Finney:
"Yet Satan's plot against the organized church  actually took shape under the ministry of a preacher called Charles Finney.
Finney was quite a wicked looking man, as you can see the devil all up in his face. The man lived a long time when you consider that in his lifetime, the average life span was from the late forties to about 65. Finney lived to be 83, from 1792-1875. A fiery New York preacher, Finney's impact on church traditions and practices has been so profound, that his influence is still spreading globally almost two centuries later.  Finney's notoriety is that he is the one who brought the entire church the "make a decision for Christ" through repeating the sinner's prayer and the altar call.  A practicing Freemason for 8 years, Finney eventually disavowed it. Yet  Freemasonry is witchcraft. And you just don't walk away from witchcraft without a struggle.
Anyway, in a nutshell, Finney believed that human beings were capable of choosing whether they would be corrupt by nature or redeemed, referring to original sin as an "anti-scriptural and nonsensical dogma."  In clear terms, Finney denied the notion that human beings possess a sinful nature. Therefore, if Adam leads us into sin,  he does so not by our inheriting his guilt and corruption, but by our following his poor example. This position leads logically to the view of Christ as not having died for sins but for some lofty, moralistic reason.
Well, this was the man who started the altar call, invitation to Christian discipleship, "I accept Jesus," practice that has led to the greatest falling away—the one that Paul himself predicted would transpire.  …."
FEEDBACK:
"I found most big name preachers were put on pedestals by THE HARLOT APOSTATE CHURCH SYSTEM. SO, I DO NOT TRUST OR FOLLOW ANY OF THEM."
MESSAGE RECEIVED:
"When taken out of context these passages are shocking … But he is making a point in each case that you yourself and many teachers and preachers argue for today. The way he has written it does seem extreme and even as you point out as "heretical" but he isn't actually saying those things literally. If you believe and I am sure you do in sanctification of the believer. Then this is the point he is making albeit in a very extreme manner. But as I said he was countering an aggressive and extreme Calvinist doctrine."
REPLY:
Yes beloved brother and
the cancer of calvinism
must be exploded, busted, exposed. Yet, for the moment, it is my opinion that Finney went too far and entered into error. …. We can observe that calvinism makes salvation "ALL of grace with no involvement required of men" and yet Finney-ism pushes the devilish, Christ-denying (antichrist) error that "salvation is of man", his "natural ability." Let us remember that we don't need anything but the Bible…. seems that some men of old, went on and on and on and on writing large volumes of information that crept away from straight Scripture and their volumes weren't packed with literal Scripture…. we don't need man's tainting on the Word, right? That's when error enters…. whether that man be myself or you or men like Finney. …. also, the fruit of Finney's doctrine is very smelly as seen in many today such as
Mike Desario
(a devil), Kerrigan Skelly, Jesse Morrell, etc… lotsss of self-righteousness and lack of dependence on God with more dependence on "natural ability." It's cultic how these men and many others have spend so many hours reading Finney's writings and not Holy Scripture. If we have all that time to read mere man's writings, that alone proves we have time to read God's Word. The error of self-dependence instead of cross-living (crucified life), and grace are replaced by Finney's falsehoods and self-dependence is fostered. …. It seems to happen often that when men seek to correct one error, they actually carry their audience from that one error into another error which is still error…..  Brother how can Finney's declaration that "Salvation is the work of man" possibly be taken out of context? peace in Christ to you brother. Glad we can be friends in Christ!
—————
The following is from Phillip R. Johnson:
"Charles Grandison Finney was a heretic. That language is not too strong. Though he excelled at cloaking his opinions in ambiguous language and biblical-sounding expressions, his views were almost pure Pelagianism. The arguments he employed to sustain those views were nearly always rationalistic and philosophical, not biblical. To canonize this man as an evangelical hero is to ignore the facts of what he stood for.
See, for example, Lecture 16, "Moral Depravity." Finney rambles on about "physical" vs. "moral" depravity for several pages (nearly 5 in the Bethany edition) before he ever cites a single verse of Scripture. All his polemic about "physical depravity" is wasted anyway, because not one of Finney's theological opponents ever argued that human depravity is a physical issue. Again, in the whole of Lecture 10 ("What Constitutes Disobedience to Moral Law?") Finney cites snippets of only two verses of Scripture—a total of eleven words quoted from the Bible in the entire lecture. Many—perhaps most—pages contain no Scripture references at all. By contrast, the typical evangelical systematic theology textbook contains dozens of references per page. The whole point of "systematic theology" is to start with Scripture and systematize a point-by-point comprehensive theology. A sound systematic theology is therefore biblical to begin with. By contrast, Finney constructed a philosophical system based on legal and logical arguments and relying more on his own instinct and speculation than he did on the Bible. Notice that Finney confused the very terms he was ostensibly keeping distinct, essentially admitting that he regarded the believer's obedience as a ground of justification."
Mike Desario Exposed | Angry Street Preacher Warning! | The Return of Christ | Support | Podcasts