The Truth about Church Attendance and the Modern Church [podcast]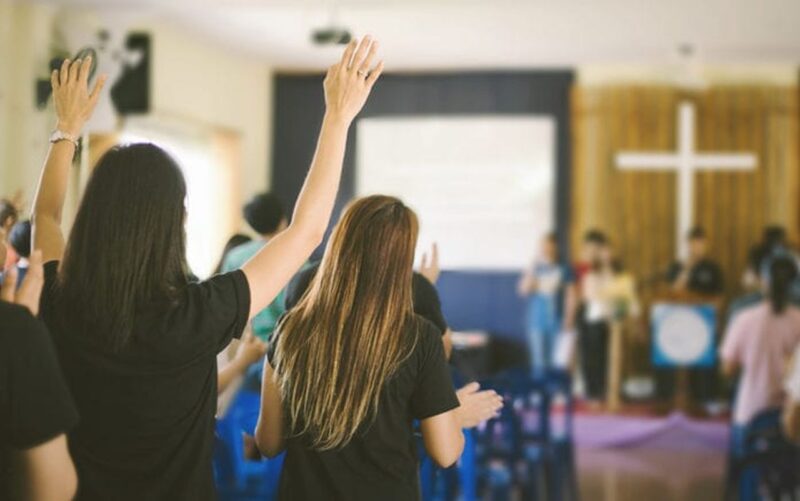 The LORD has created and then died to save you into His kingdom family. He saved you primarily and first and foremost to know Him (John 17:3). This relationship with the LORD must always be first priority and anything else is damning idolatry (Exodus 20:3-4).
Some people are so worn out by their involvement with their local "church" that they don't even deeply study God's Word for themselves. Something's got to give – and for the God-fearing, the local church involvement will give!
"Study to shew thyself approved unto God, a workman that needeth not to be ashamed, rightly dividing the word of truth." 2 Timothy 2:15
Many today are so busy going to "church" that they don't have time for God.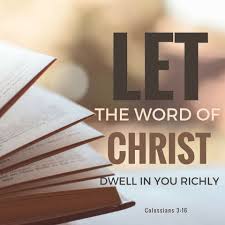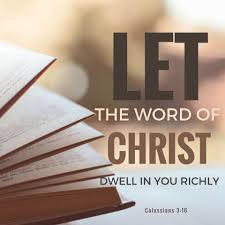 TODAY: A dear Christian young lady asked me why I am not part of a church group any longer. A gently-communicated litany of doctrines purposely not being taught in the modern churches ensued. Also the fact that that the King James Bible is no where to be found. They only use pitifully lame fake "bibles." It's a busine$$ to the modern pastors who refuse to preach cardinal biblical doctrines such as the divinity of Christ (Christology), hell, repentance, judgment to come, confessing and cleansing ourselves of all sin, the return of Christ and being ready for it at all times, the cross – crucified life, etc.
In these modern churches church (cult) members are conditioned by the pastors to fish for new church members – not to minister the Gospel, the Word, and win souls to Jesus – but rather to "church the unchurched" for the self-serving benefit of the CEO pastors who are building their own kingdom in this fleeting world.
Anyone attempting to make you their "church member" is corralling you for their own self serving purposes. You are bought by the very and precious blood of Christ and made a member of His universal body of saints (Romans 12; 1 Corinthians 12; Ephesians 4, etc.). That's your identity, not some local church and being a member of it. 38 times the Bible uses the word "body" to describe the people of God the world over, the whole body of Christ. This clearly communicates that Jesus does not desire that His people pigeon hole their perspective into one local gathering, one building on Sunday morning, but rather to love all of His children no matter where they may be geographically. Such created sectarianism which is what Christ rebuked in His then young disciples.
"And John answered and said, Master, we saw one casting out devils in thy name; and we forbad him, because he followeth not with us. 50 And Jesus said unto him, Forbid him not: for he that is not against us is for us." Luke 9:49-50
The sectarianism, the separation we see today causes born again saints to feel one with the believers at their local gathering on Sunday morning and yet distant from those blood-bought saints they work with on Monday morning.
So many today waste their time, energy, money, and allegiance on a local church – instead of Jesus! Sad.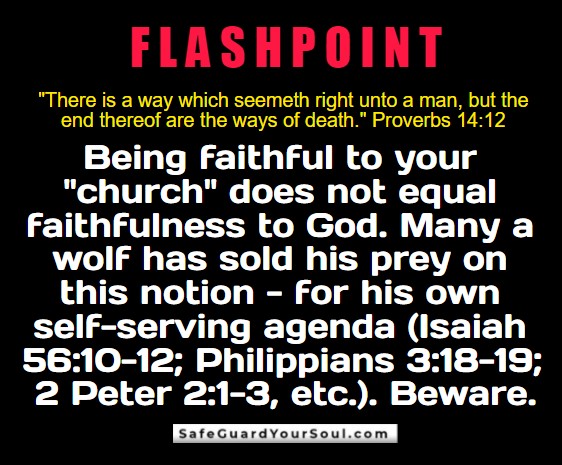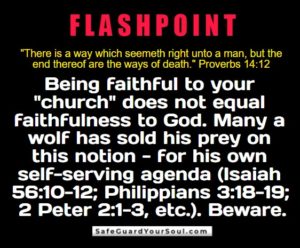 Contrary to popular belief, Jesus says "Come unto me" and "Follow me", and not "Go find a church and join it." (Matthew 11:28-30
Jesus and the apostles went to the people for the most part of their ministries. (Matthew 9:35-38; Book of Acts). A physical building called "church" doesn't make someone an official minister of Christ. In most cases, pulpits in buildings are "manned" by wolves in sheep's clothing who've set up a church busine$$ (2 Peter 2:1-3).
Jesus didn't die to make His people good church attenders or members but rather His disciples – those who "daily" deny self, take up the cross and follow HIM (Luke 9:23-24).
"And Jesus said unto them, Come ye after me, and I will make you to become fishers of men." Mark 1:17
There is no record of Jesus or His holy apostles teaching men to become good church members or attenders! Read that again please. Making men good church attenders or members is the work of wicked religious men! Beware. Follow Jesus!
Faithful to fellowship, which should be "DAILY", is God's will and not church attendance once or twice weekly at a certain location!
"Beloved, when I gave all diligence to write unto you of the common salvation, it was needful for me to write unto you, and exhort you that ye should earnestly contend for the faith which was once delivered unto the saints." Jude 3
The modern church is catering to the carnal instead of preaching the whole counsel of God's Word (2 Corinthians 2:17; 2 Timothy 4:2-4). Beware of the cross-less false gospel being peddled by those God says are "accursed" for preaching "another gospel" (Galatians 1:6-9). They are the "enemies of the cross of Christ" our LORD (Philippians 3:18-19). | The Modern Church Exposed
God's will is for each of those He saves is to become grounded in a "daily" cross walk with Him (Luke 9:23-24).
Identity Check: As a blood-bought, born again saint of Christ, you're not a church member of a local church. Stop it. You are a born again, blood bought son/daughter of the King of all kings who came and died, was buried, and raised again from the dead to purchase you to Himself. You are a member of the one, universal body of Christ! You were bought with Christ's blood and belong to HIM and not some man's ministry, organization, or circus called "church" (1 Corinthians 6:19-20; 7:23; Isaiah 2:22).
SO you go to church yet aren't learning God's Word, aren't digging in it daily, diligently, aren't ministering to others? Wow! You are clearly "lukewarm" and have been snared in the trap of the devil, ready to be spued (rejected) as Jesus promised (Luke 3:15-16). Repent now and run for your life – lest you go to hell with the wicked (Matthew 24:10-13; Revelation 3:15-16).
Christine Farr writes: "Subject: Questions on The Truth About Church Attendance'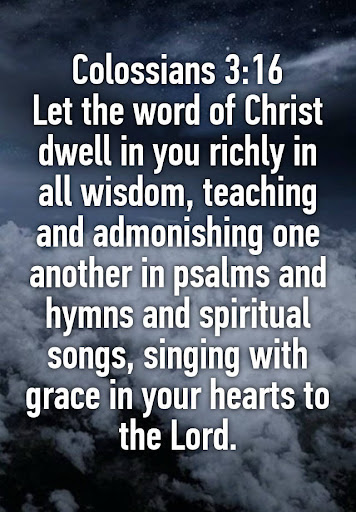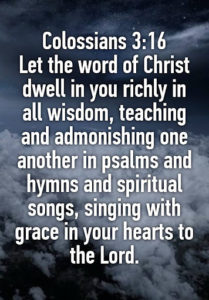 UPDATE FROM A DEAR SISTER WHO READ THIS POST AND LISTENED TO THE PODCAST:
Christine Farr writes: "Subject: Questions on The Truth About Church Attendance
Message: You wrote, 'Think about this: How many church-attending Christians do you personally know who are on fire, Christ-glorifying, Scripture-literate daily disciples?' Well, this is one of the issues I was contending with: Here I sit (with my husband), a student of the Word, not a scholar by any measure but a serious student who has a pretty good grasp of the Scriptures. And all around me are babes in Christ who have been like that (babes) for as long as I've known them! AND they are more faithful to church than I am (and more faithful to church than to God!). But I am the one growing and learning …. and they are still in grade school, babes. And my education has not come to me solely from the preaching of the Word but mostly (99%) from my own personal studies. I also see this contradiction. So, I talked to the Lord about It, and He began to stir something in me that caused me to feel like sitting in church was a waste of time as I could use that time to be home at my desk studying and learning the Word. The fact that my husband was on the same page with me was a confirmation that God was working. Then my dear Christian sister said the most profound thing to me when I explained my situation, 'You've outgrown that pastor.' God knows how to answer our prayers!"
WE SHOULD CONSIDER STARTING a fellowship grounded in Christ, upon His Word….. "finding a church" is futility in these final days and nothing but a trap. Simply facilitate a gathering (Hebrews 10:25). We must be HIS church 😉  Check this out: Fellowship Defined by Holy Scripture
There's no doubt that most church gatherings offer at least some measure of edification for believers. Yet, we must take a step back and ask this question: Just what has the modern church–all this attending church–really produced?
Think about this: How many church attending "Christians" do you personally know who are on fire, Christ-glorifying, Scripture-literate daily disciples?
If God is calling you out of the church attendance lifestyle, which has robbed, ruined, wasted, and damned untold millions, obey Him. It's late. Isn't it time to mobilize and use your faculties, your life, your energies and resources for Christ's kingdom and cease building the church businesses of sinful men?
Isn't it time we stopped funding the frauds and their carnal aspirations and agendas?
Jesus never told us to just "huddle up" or to make gathering together an end in and of itself. No, He commanded us to …
"Go ye into all the world, and preach the gospel to every creature." (Mark 16:15)
"Occupy till I come." (Luke 19:13)
etc.
If it be for this reason alone, all true disciples today, in this final hour, should depart from the modern church:
"I know thy works, that thou art neither cold nor hot: I would thou wert cold or hot. 16 So then because thou art lukewarm, and neither cold nor hot, I will spue thee out of my mouth." Revelation 3:15-16
According to Christ, all it takes to go to hell is to get saved and then die lukewarm.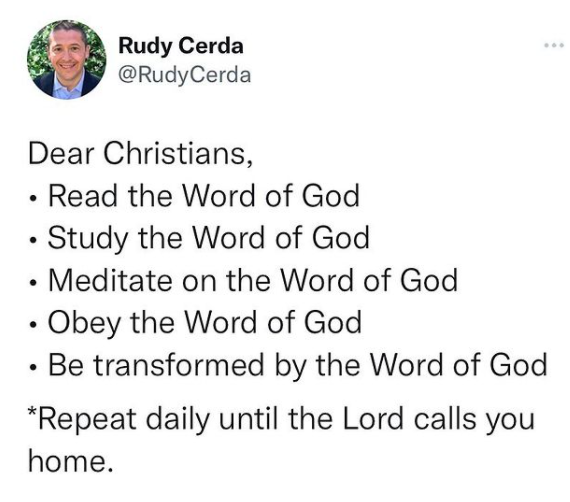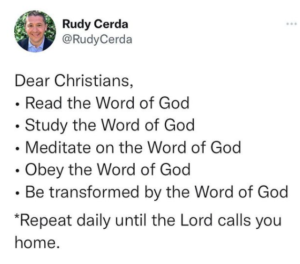 Oh and it's not till you come out of Sodom as did Lot, that you look back from a distance and see the Christ-denying catastrophe of the modern church for what it is – bellowing with smoke, up in flames, torched from Heaven!
"And I heard another voice from heaven, saying, Come out of her, my people, that ye be not partakers of her sins, and that ye receive not of her plagues." Revelation 18:4
Read the Bible for yourself beloved. Read it daily, thoroughly, intentionally, intently – to know its Author – the One who shed His blood to save you unto Himself (John 17:3).
"Study to shew thyself approved unto God (you do it!), a workman that needeth not to be ashamed, rightly dividing the word of truth." 2 Timothy 2:15
Did John the Baptist corner himself in a weekly mutual admiration society clown show call the "church"? No. Did Jesus and His apostles? No. The fellowship spoken of in the often misused verse of Hebrews 10:25 is not at all what we see in the modern church world.
You allegiance is first to God and then to His people – daily – and not some church business that is doing nothing to root and ground you deeply into Christ. | Rooted and Grounded in Christ
"As ye have therefore received Christ Jesus the Lord, so walk ye in him: 7 Rooted and built up in him, and stablished in the faith, as ye have been taught, abounding therein with thanksgiving. 8 Beware lest any man spoil you through philosophy and vain deceit, after the tradition of men, after the rudiments of the world, and not after Christ. 9 For in him dwelleth all the fulness of the Godhead bodily. 10 And ye are complete in him, which is the head of all principality and power:" Colossians 2:6-10
True fellowship in the New Testament record looks more like Acts 2:42-47.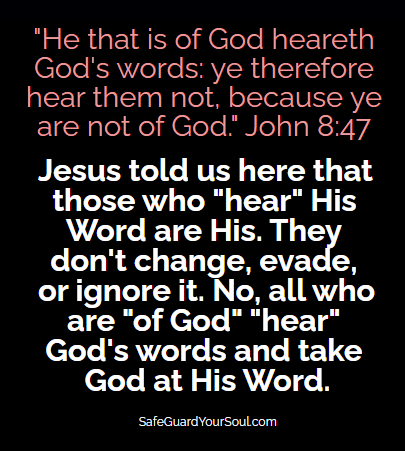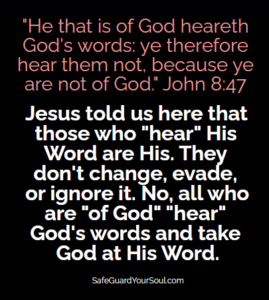 "And they continued stedfastly in the apostles' doctrine and fellowship, and in breaking of bread, and in prayers. 43 And fear came upon every soul: and many wonders and signs were done by the apostles. 44 And all that believed were together, and had all things common; 45 And sold their possessions and goods, and parted them to all men, as every man had need. 46 And they, continuing daily with one accord in the temple, and breaking bread from house to house, did eat their meat with gladness and singleness of heart, 47 Praising God, and having favour with all the people. And the Lord added to the church daily such as should be saved." Acts 2:42-47
Only the LORD Himself can add to His blood-bought church in the earth. Notice "THE LORD ADDED TO THE CHURCH daily such as should be saved" in contrast to false leaders building their own nickels, noses, and numbers via church membership, etc. (Acts 2:47) Mere men who seek to "church the unchurched" are self-willed rebels operating under their own self-serving greedy agenda, using the name of the LORD in vain to build their own empires – void of essential biblical truths such as the virgin birth and divinity of Jesus Christ, hell, judgment to come, the imperative of repentance, holiness, etc. Only Christ, the Head of His body, can add to HIS church which He promised He would "build." … "I will build MY church." (Matthew 16:18) While enterprising antichrist's build their own "churches", Christ is building His one remnant body, organically!
Just as is the case with your body, your spiritual immune system is made healthy by the intake of clean healthy foods, right? Right. Ingesting the words of God daily, plentifully, diligently, and voraciously, is essential to your spiritual health (Jeremiah 15:16).
Nicks Salvation Don't Let a Building
Wolves who Deceive, Devour, and Defund
Top 12 Missing Essential Doctrines in the Modern Church World [podcast]